A Thousand Years of Ancestral Connections in One Interactive Chart
When it comes to royal and aristocratic families throughout Europe, you might be surprised to learn that many of these families (even those that are ruling countries hundreds of miles apart) share numerous common ancestors. This amazing interactive visualization from Nadieh Bremer lets you navigate through these outrageously interconnected family trees. She has done the painstakingly delicate work of laying out all of these ancestral connections in a way that allows you to connect familial relationships over a one thousand year period.
Click below to see the interactive visualization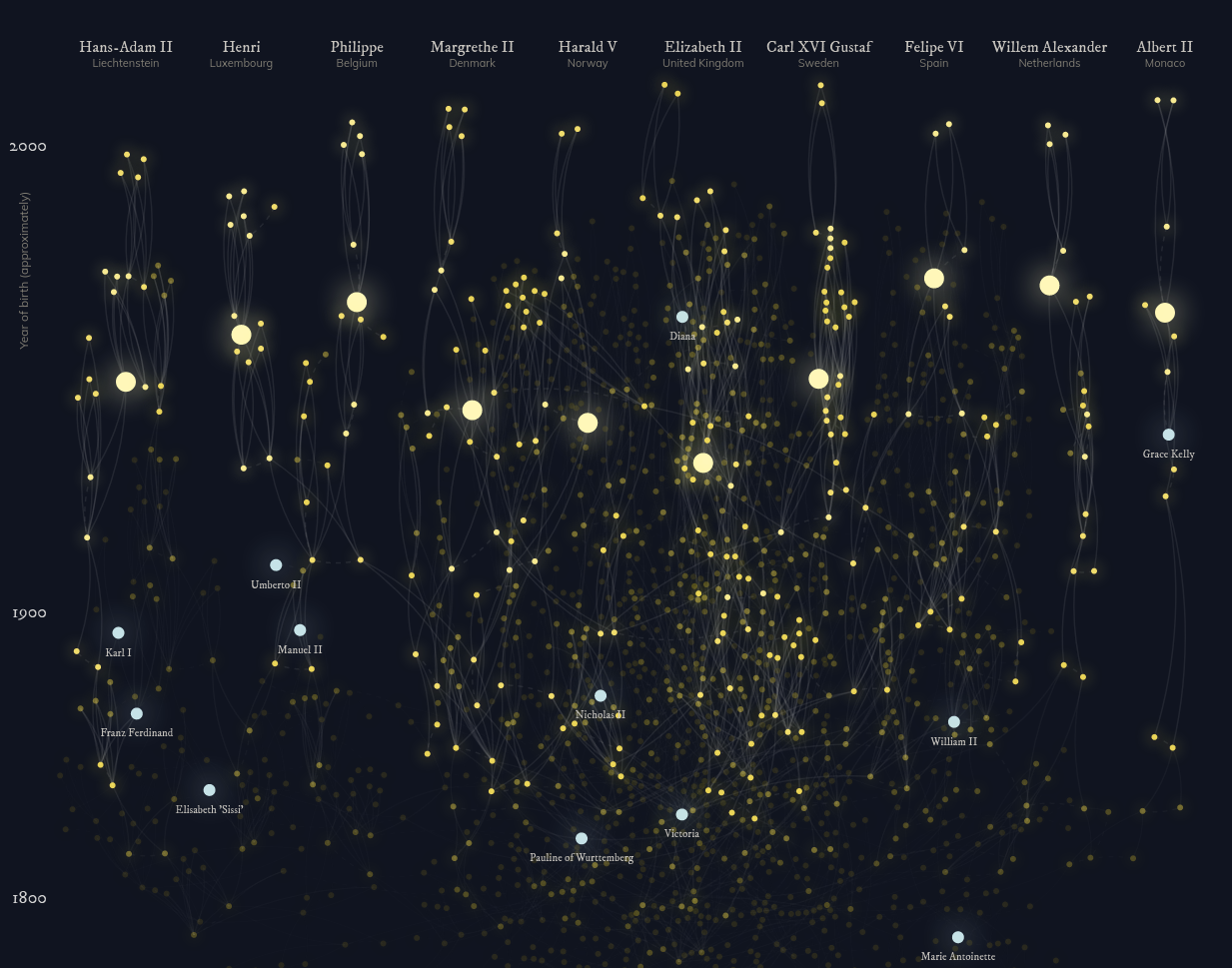 This incredible interactive chart begins at the start of the 11th century and consists of thousands of colored dots, that each represent a person, that can be clicked on to reveal connections to others who came both before and after them. At the top of the chart is ten of the current monarchs and leaders of royal families in Europe. Each and every one of them can be tied back to ancestors that they have in common.
In the days before much was known about incest, royal families would marry off young men and women to cousins, aunts, uncles, and even siblings. Queen Elizabeth II is even related to her late husband, Prince Philip; they're 3rd cousins! There are many different reasons why royals married within their own clan. These included increasing territory and power, creating stronger family ties, and so on. What they didn't know then is that inbreeding can lead to some serious genetic disorders. Hydrocephaly and Habsburg jaw were just two of the common disorders that can be attributed to inbreeding. Ferdinand I of Austria had both. Blood disorders like hemophilia also wreaked havoc in royal families, and has even led to the end of empires.
These Interactive Maps Reveal How the Vaccination Campaign is Going in Each State
COVID has taken the last year and a half of our lives hostage. There isn't a day that goes by where you don't hear someone say, "COVID-19" or, "pandemic". Today, most TV or radio news has shifted to focus on the COVID-19 vaccine.
Scientists agree that the only way out of this pandemic is to vaccinate a high percentage of the population to achieve herd immunity. The exact numbers required for herd immunity varies depending on who you ask but it believed to be in the percentage rage of 75% to 85%. Vaccines began distribution in the United States in early December and since then, over 266 million vaccine doses have been administered in the general population. These interactive visualizations from NPR.org is updated regularly to show how the vaccine rollout is moving throughout the US.
Click below to zoom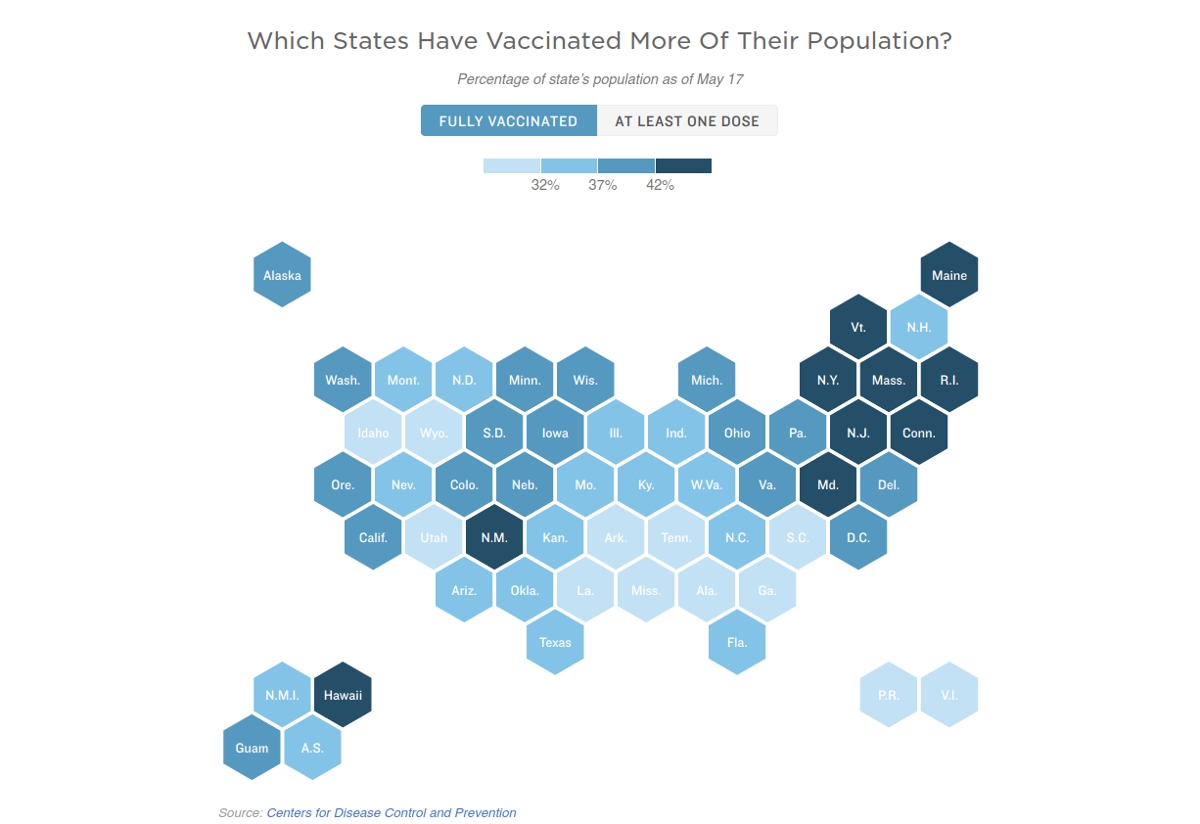 There are five different graphs that organize and display the data from the CDC. The first graph uses a U.S. hexagon heatmap. The different shades represent how much of a state's population is vaccinated. You can toggle between fully vaccinated and those that have received the first dose to see how each state is progressing.
The second graph is a bar chart that shows how many doses have been given, per day, in the US since December 15th. The highest day was April 1st when 4,284,392 doses were administered. Unfortunately, vaccination numbers have trending downward since then.
The third graph down shows a projected chart of when the majority of people in each state will be fully vaccinated. Rhode Island is in the lead projecting 85% of the entire state to be vaccinated by July 10th, 2021. Mississippi is the last state projected to have 85% of the population vaccinated but not until December of 2022. These projections change on a daily basis based on each state's weekly vaccination rate.
The forth visual is a bubble chart (specifically a clustered force layout) which represents which states lead the race to get their population vaccinated as well as the state's population size. Maine currently leads the race with 48.7 of their population fully vaccinated.
The final section on the page is a table showing how the vaccine rollout is going in each state. You can toggle between vaccination rates by age (percent of those over 18 and those over 65) as well as the percentage of doses used by each state. Now that vaccinations have been approved for people 12 years and older, this table will likely need to be updated to include those new numbers.
The U.S. Cities with the Best and Worst Internet Access
In many ways, the Internet has become an absolute necessity in our daily lives. For many over the past year, working from home has simply become part of the daily routine. Stanford research has shown that as of June 2020, 42% of the labor force in the United States was working at home amidst the coronavirus pandemic.
From Theater Seat Store, this interactive map analyzes which cities across the United States are the most and least connected. For the convenience of the reader, this interactive look allows the user to view the data as a map or a list.
Click below to zoom

These are the 25 cities across America that have the highest percentages of homes that have internet access.
Johns Creek, GA: 100%
South Jordan, UT: 99.20%
Flower Mound, TX: 99.20%
Fishers, IN: 99.00%
Naperville, IL: 99.00%
Bellevue, WA: 99.00%
Chino Hills, CA: 98.70%
Wesley Chapel, FL: 98.50%
Centreville, VA: 98.50%
San Ramon, CA: 98.40%
Centennial, CO: 98.40%
The Hammocks, FL: 98.30%
Maple Grove, MN: 98.30%
Hillsboro, OR: 98.30%
Cary, NC: 98.30%
San Clemente, CA: 98.20%
Yorba Linda, CA: 98.20%
Redmond, WA: 98.20%
Pleasanton, CA: 98.20%
Highlands Ranch, CO: 98.20%
College Station, TX: 98.20%
League City, TX: 98.20%
Gilbert, AZ: 98.10%
Lehi, UT: 98.00%
Redondo Beach, CA: 97.90%
Here are 25 worst cities in the United States with the highest percentage of households without internet access.
Harlingen, TX: 30.20%
Gary, Indiana: 29.30%
Pharr, TX: 28.50%
Cleveland, OH: 27.30%
Miami, FL: 25.60%
Shreveport, LA: 25.50%
Flint, MI: 24.70%
East Los Angeles, CA: 24.70%
Bossier City, LA: 24.70%
Decatur, IL: 24.50%
Albany, GA: 24.10%
Lawrence, MA: 23.90%
Newark, NJ: 23.70%
Trenton, NJ: 23.70%
Camden, NJ: 23.50%
Lynwood, CA: 23.10%
Hialeah, FL: 22.90%
Memphis, TN: 22.80%
Reading, PA: 21.60%
Mount Vernon, NY: 21.10%
St. Joseph, MI: 21.00%
Waterbury, CT: 20.80%
New Rochelle, NY: 20.70%
Fort Smith, AK: 20.50%
Fall River, MA: 20.30%
Interactive Map of the Most Spoken Language Families
There are 6,500 languages spoken in the world today. That may seem like a staggering amount of different vocabulary, but what you may not realize is that most of these languages can be tied to one of the ten most spoken families of languages. This comprehensive interactive visualization was compiled with information from The World Atlas of Language Structures which is a database of structural properties of languages.
Click below to zoom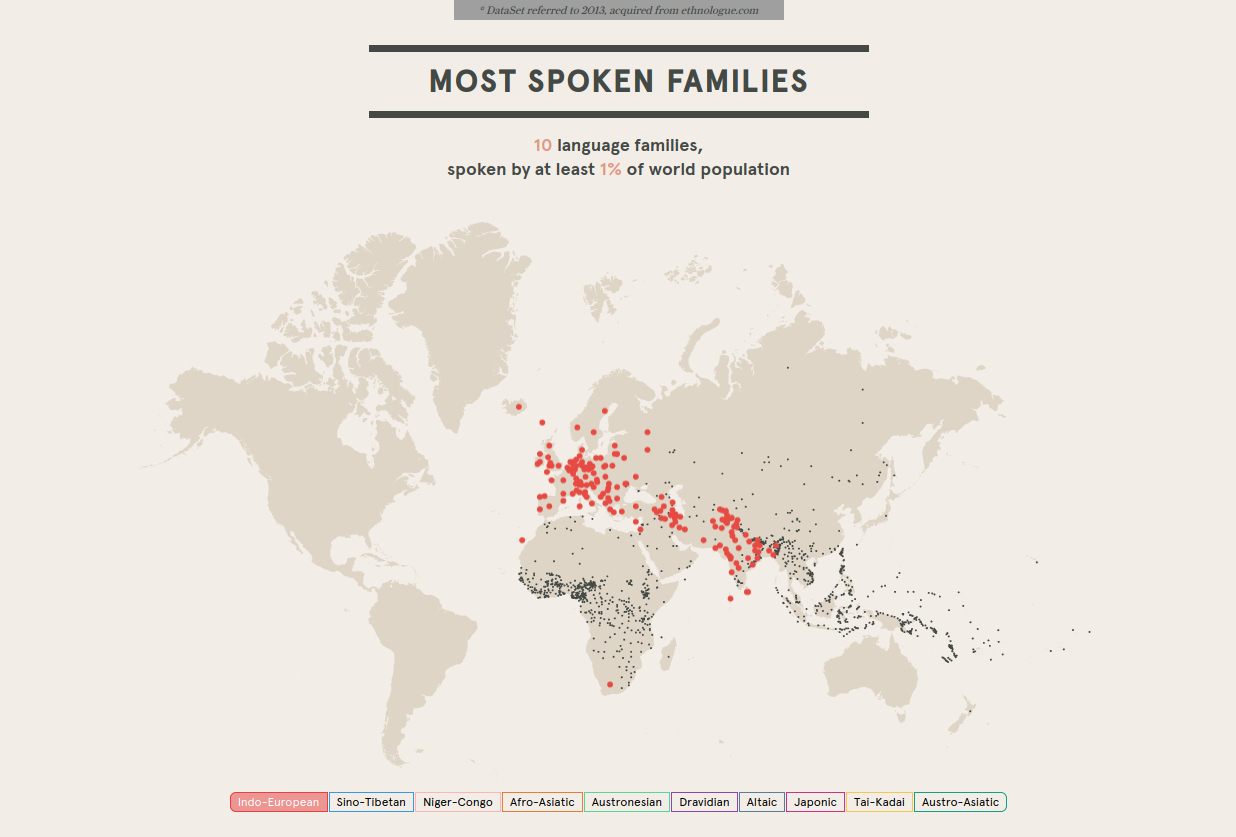 Click here for the original interactive version
This data allowed experts to break down the world's languages into the following ten categories: Indo-European, Sino-Tibetan, Niger-Congo, Afro-Asiatic, Austronesian, Dravidian, Altaic, Japonic, Tai-Kadai and Austro-Asiatic. Over 86 percent of the world's population speak one of these ten most spoken language families.
This visualization put together by the team at the Puff Puff Project shows how the worlds languages came to be. It also displays the ten most spoken languages in the world by one million speakers. Shown with colored dots in various sizes you can see not only the most spoken languages in the world but from which family they originated from.
The top ten most spoken languages by millions of speakers are Mandarin (848 million), Spanish (406 million), English (335 million), Hindi (260 million), Portuguese (202 million), Bengali (193 million), Russian (162 million), Japanese (122 million), Javanese (84 million) and German (83 million).
There is also a cool section on the "Loanwords" of various languages. These are words that are adopted from a different language with little or no modification. There is an average of 14.68 exchange words among languages across the globe. Clicking on this interactive map (the last map on the bottom of the page) shows you just how far loanwords from the top ten most spoken languages have traveled and what languages use them in their own vernacular.