How the Price of a Big Mac Has Changed Around the World (2000-2022)
The iconic Big Mac is a two-beef patty, three bun delicacy topped with iceberg lettuce, American cheese, pickles, chopped onions and the super secret Mac Sauce. In 1968, it was so popular with its limited release in Pennsylvania that it was rolled out to every McDonald's restaurant across the United States. That popularity never waned and there is now an entire economic phenomenon known as 'burgernomics' modeled from the Big Mac. Economists will use the price of the big mac as a way to gauge inflation rates and economics across globe. Today the Big Mac is up 40% from 2010. We can see in this video visualization by /u/jcceagle that follows the price of a Big Mac over the last 20 years, just how different cost can be across the globe and over time.
In the year 2000 Norway had the most expensive Big Mac for $4.09, while in the Philippines it cost $1.17. Eight years later, Norway still tops the charts with the most expensive Big Mac but instead of just over four dollars, it increased to $7.88. At that time in the US a Big Mac cost $3.57 while the cheapest was found in Malaysia for $1.70 and the Philippines increased to $1.96. In July 2017 the most expensive Big Mac was down across the board from 2008 to $6.74 in Switzerland. That same year a Big Mac in the US would have cost you $5.30 and $1.70 in the Ukraine. The video also shows an index of currency valued relative to the US dollar where you can see the values changes across the different currency around the world.
Chart Shows Inflation is Outpacing Teacher Salaries (1990-2022)
Schools in the US are facing a lot of problems and one of the biggest is how they treat their teachers. If you have ever been on the r/Teachers subreddit then you know exactly what I am talking about. The subreddit is becoming more and more filled with complaints about teaching. The complaints range from disinterested kids and unruly parents to administrators that seem to care about state-sponsored standardized test scores more than anything else.  You would think that with all the teaching shortages and the upheaval created by the COVID-19 pandemic, teachers would be seeing an increase in salaries, but this graph shows that new teachers today are actually earning 11% less than their peers from 30 years ago.
Click below to zoom
With inflation in mind a starting teachers salary today should be around $46,762 but today they are only making around $41,780 on average. Looking at the graph you can see that since 1990 the salary with inflation and the actual starting salary have been pretty close to one another until you get to 2022 where you see such a large difference. If things don't change soon, students will continue to suffer. Students are already considered to be behind due to disruptions from the pandemic. Good teachers are needed now more than ever, so let's pay them what they deserve.
150 Years of U.S. National Debt in One Chart
Today, the national debt of the United States of America stands at an eye-watering 28 trillion dollars and rising. The CARES Act of 2020 and other stimulus bills due to COVID have added massive increases in a short period of time. To see how we got to this place to being with Visual Capitalist has this great interactive timeline of US debt over the past 150 years.
Click below to use the interactive version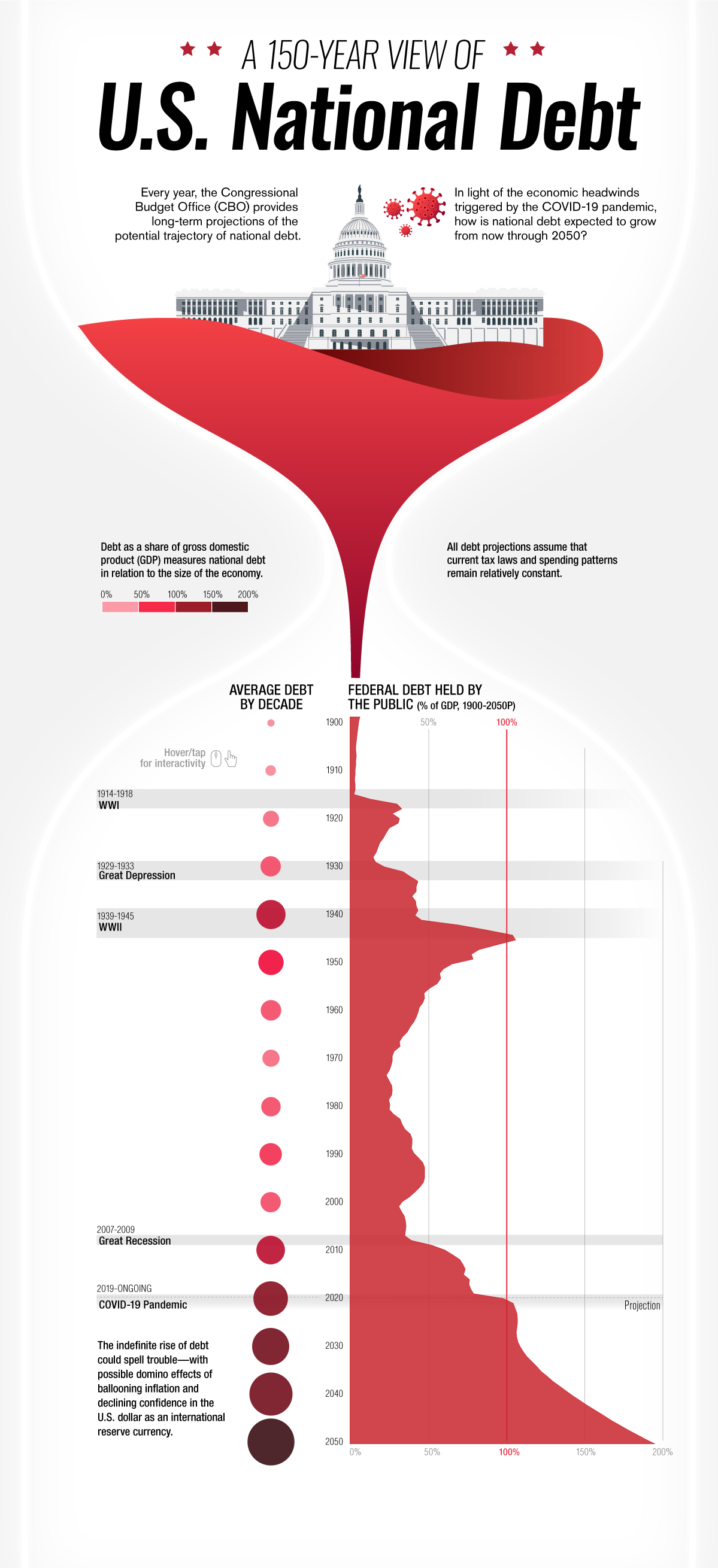 Starting in the year 1900 only 4.8% of the total national debt was held by the public. After World War I in 1910 that percentage jumped to 10. In 1920 following the Great Depression that number doubled to 22.9%. Ten years later that number would be in the billions, 16 billion to be exact with President Roosevelt's New Deal in 1930. World War II would see this number jump to 40 billion or 75.1% of the GDP. The Korean War of 1950 would add hundreds of billions to the debt clock in only ten years bringing the total in 1950 to $257 billion but bringing the GDP down to 56.8%. The next big increase would come in 1980 when president Reagan introduced his tax cuts causing the gross debt to jump to over 900 billion. Ten years later it would see another massive jump to over $3,233 billion dollars with the Gulf War. Thirty years later the COVID-19 pandemic caused the average debt held by the public to sky rocket to 105.6 percent in 2020 , over $27,748 billion dollars. By 2050 it is estimated that the percentage of debt held by the public will be almost 200 percent.
New Timeline Shows Average Global Temperatures for Every Month From 1880 Through 2021
The subject of climate change is one that continues to be heavily debated, and with good reason. From the NASA Goddard Institute for Space Studies, here is a visual representation of the monthly global mean temperature, spanning from 1880 through 2021. The visual is laid out where the each year can be read as a clock, in terms of the months going clockwise, along with colors to indicate their average temperatures during those times of the year.
Click below to zoom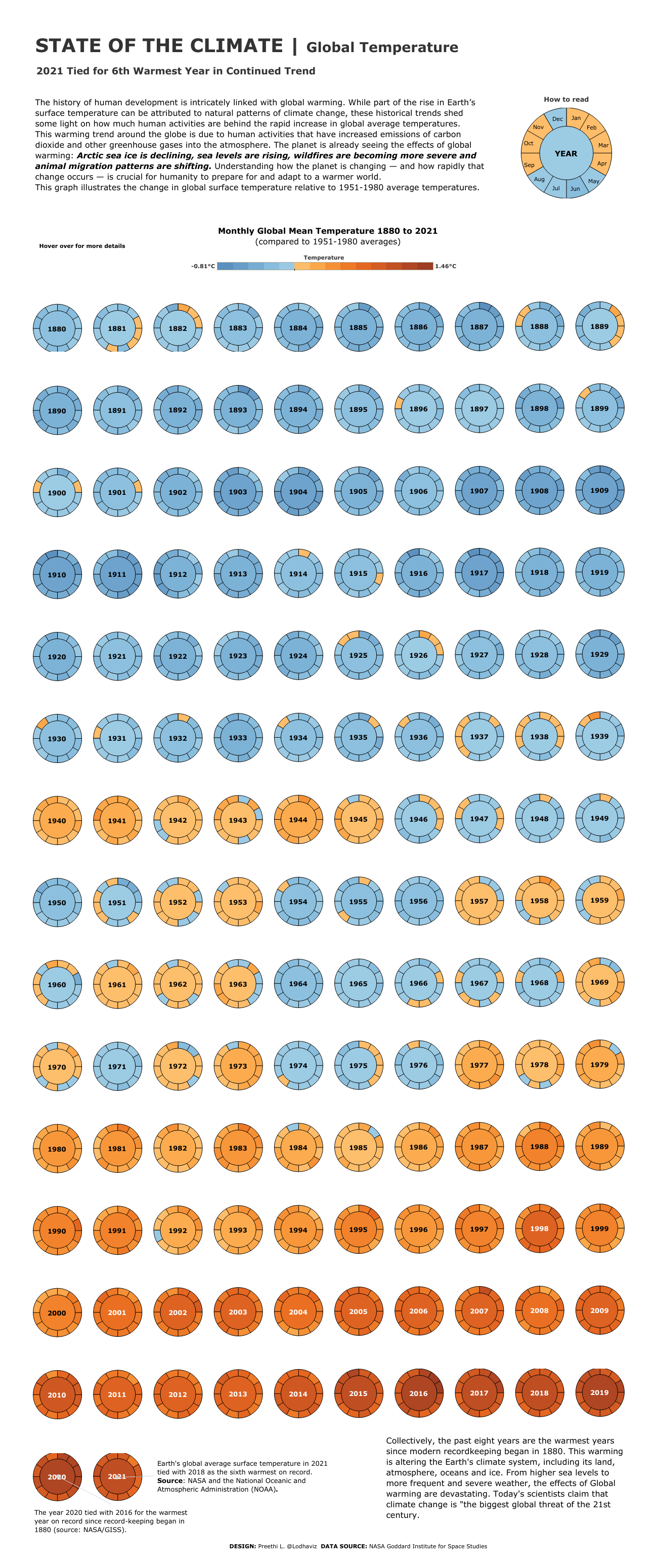 Did you know that since 1880, when modern record-keeping began, that the last eight years have been the warmest? Earth's climate system is being altered by this consistent warming, and we're seeing that the effects of Global Warming and becoming verse than ever before.
Climate change is will undoubtedly affect every country in the world, however it will hit some countries much harder than others. Six places from around the world that will prove to be especially vulnerable in regards to the impending impacts of climate change include Haiti, Nigeria, Yemen, Manila, Kiribati, and United Arab Emirates. They will all face changes for one reason or another, however all are scary.
In United Arab Emirates, for example, the sea levels have continued to race at an uncomfortable pace, and are at risk of facing water stress, which puts pressure on the UAE to spend much more energy and resources than they currently are on cooling.
According to the visual, and per NASA and the National Oceanic and Atmospheric Administration (NOAA), the global average surface temperature on Earth just last year in 2021 was tied with 2018 as being the sixth warmest year on record during that span. According to scientists around the globe today, the the climate change that we're experiencing here on Earth is being referred to as "the biggest global threat of the 21st century."