What Brands Does Nestlé Own?
Nestlé is estimated to own over 2,000 brands in over 186 countries, making it the largest food company in the world. Some major brands that Nestlé owns include Gerber, Poland Spring, Kit Kat, Starbucks Coffee at Home, DiGiorno, Hot Pockets, Lean Cuisine, Häagen-Dazs, Purina, Friskies, and much more. This chart meticulously crafted by WyomingLLCAttorney.com sheds light on the staggering empire that Nestlé has built since its founding in 1866:
Click below to zoom

Despite the unavoidable abundance of logos on the chart, we appreciate how it has been organized in an easy-to-digest style with helpful categories and "containers" for the brands. The neutral background places emphasis on the brand logos themselves, and the everyday objects such as the baby bottle, cereal box, coffee mug, and dog bowl reveals just how much Nestlé has infiltrated the everyday consumer market.
Why is Nestle evil?
While evil is a strong word, Nestlé has been embroiled in quite a few unethical controversies throughout the years. One of the most infamous marketing ploys that Nestlé executed was when they convinced mothers in third world countries that they needed to feed their babies formula, which is less healthy and more pricey than breast milk. Nestlé aggressively marketed formula despite the wealth of research that supported the benefits of breast milk. Many significant organizations such as International Baby Food Action Network and Save the Children argued that the promotion of infant formula over breastfeeding led to health issues and deaths among babies in less developed countries. This was due to factors such as poor water quality (since formula must be mixed with water), using less formula than required due to prices, and natural milk supply dwindling due to not being used, thus forcing a reliance on formula. Low literacy rates in developing nations also contributed, because the mothers could not read the sterilization instructions.
While Nestlé has since pivoted its marketing strategy for formula to support breast milk as the first choice, it is important to be informed. This chart can help those who wish to learn more about the baby brands they own.
A Visual Guide to the World's Largest Bodies of Water
Did you know that about 71% of Earth's surface is covered with water? Between the large salt water oceans and long fresh water rivers, water makes up a significant part of our planet. Some particular bodies of water like the Pacific Ocean make up the majority of water on Earth. This visualization from TowerPaddleBoards.com illustrated 50 of the largest bodies of water on Earth.
Click below to zoom

The graphic depicts the Earth's oceans, 15 largest seas, 15 largest lakes, and 15 largest river systems in an interesting way. It illustrated the outlines of each body of water and includes a photograph of the water system within the boundaries. The visualizations of the river systems also include the streams connected to the systems.
These are the 10 largest bodies of water in the world:
Pacific Ocean: 60 million square miles
Atlantic Ocean: 41 million square miles
Indian Ocean: 27.2 million square miles
Southern Ocean: 7.8 million square miles
Arctic Ocean: 5.4 million square miles
Philippine Sea: 2.1 million square miles
Coral Sea: 1.8 million square miles
Arabian Sea: 1.4 million square miles
South China Sea: 1.3 million square miles
Weddell Sea: 1 million square miles
The Pacific Ocean makes up about 46% of the water surface on Earth and 32% of the planet's total surface. It's larger than all of the land area on Earth combined! It is also home to the Mariana Trench, the deepest oceanic trench on Earth with a maximum known depth of 36,037 feet.
Photographer Visualizes One Year in a Single Picture
If you want to see a unique visualization, check out this photo by Eirik Solheim. At first you might not see what makes this photo so special but after a closer look you may start to realize that this photo is actually comprised of many different snap shots in time. This is actually 3,888 photos to be exact, taken every day for an entire year put together to form what he calls 'One Year in One Image'.
Click below to zoom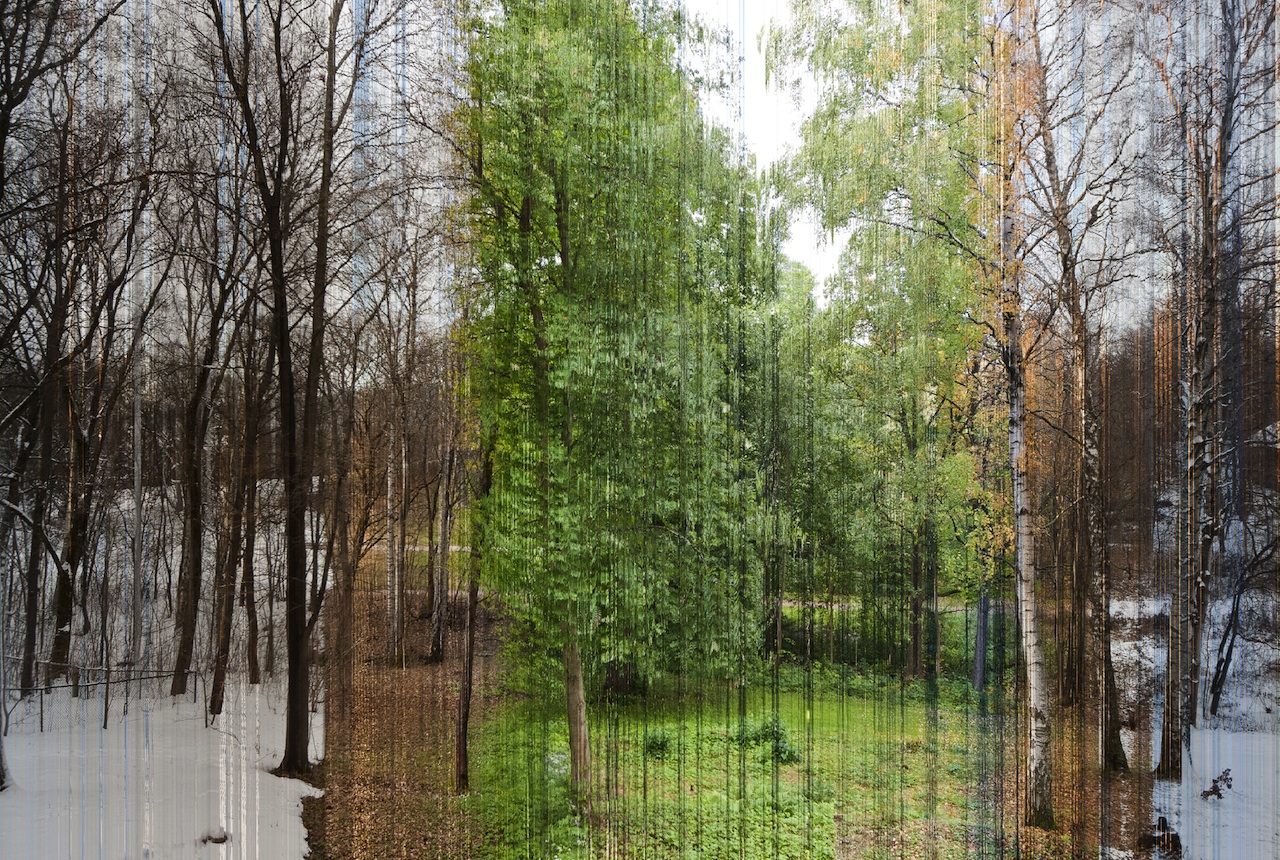 Starting on the left with January and ending with December on the right you can clearly see each season change. Located in Oslo, Norway, Eirik set up an SLR camera in his window and kept it in the same spot for one whole year. He would snap an image every half hour using the same focus point and f stop. At the end of the year he had 16,000 photos. Since the resolution of each image was 3888×2592 Eirik decided to select 3,888 images to create this photo. Next, he had to find out how to split each photo into a line of data. He already knew he wanted to create 3888 vertical lines that were all 2592 pixels high for the final photo but trying to manage this by hand in Photoshop would have taken a very long time. So he asked some of his followers for some programming help to make the process automated. Using a script developed by Jo Oterhals, Nikolai Kristiansen and Aslak Hellesoy he was able to complete his vision.
New Chart Shows 80 Jobs That Pay $50,000+ And Don't Require a Degree
Student debt is a massive issue in the United States – by the end of 2020, student debt broke a staggering record of $1.7 trillion. That is a 4% increase from the prior year, which may not seem significant, but 4% of $1.7 trillion is $68 billion. The average student debt per person is $30,062, which is nearly 10 grand higher than 10 years ago. The dire status of student debt in America is compelling people to seek out high-paying jobs that do not require a degree. The U.S. Career Institute has created a useful chart using the U.S. Bureau of Labor Statistics data to showcase the 80 highest-paying jobs that do not require a formal degree.
Click below to zoom

While some of these jobs do require certification, others offer excellent salary potential with no formal education at all. For example, farm labor contractors earn a median wage of $61,910 and do not need any formal educational credential. Of course, these jobs require hard work, dedication, and knowledge, and people with jobs in these fields should never be underestimated or undervalued simply because they do not have an "expensive piece of paper" from a college or university. After all, flying a commercial plane certainly demands a high level of precision, skill, and on-the-job training! Hopefully this chart will provide inspiration to those who wish to embark on their own career paths utilizing talents that they cultivate themselves without the cost and time required by formal academia.