How Much Car Manufacturers Make Every Second
We know that major companies are making a fortune on a daily basis, but how much are they really making when you break it down to the second? PartsGeek.com put together this chart analyzing how much 19 major car brands are making each and every second using a unique and colorful radial histogram, all based on 2019's numbers.
Click below to zoom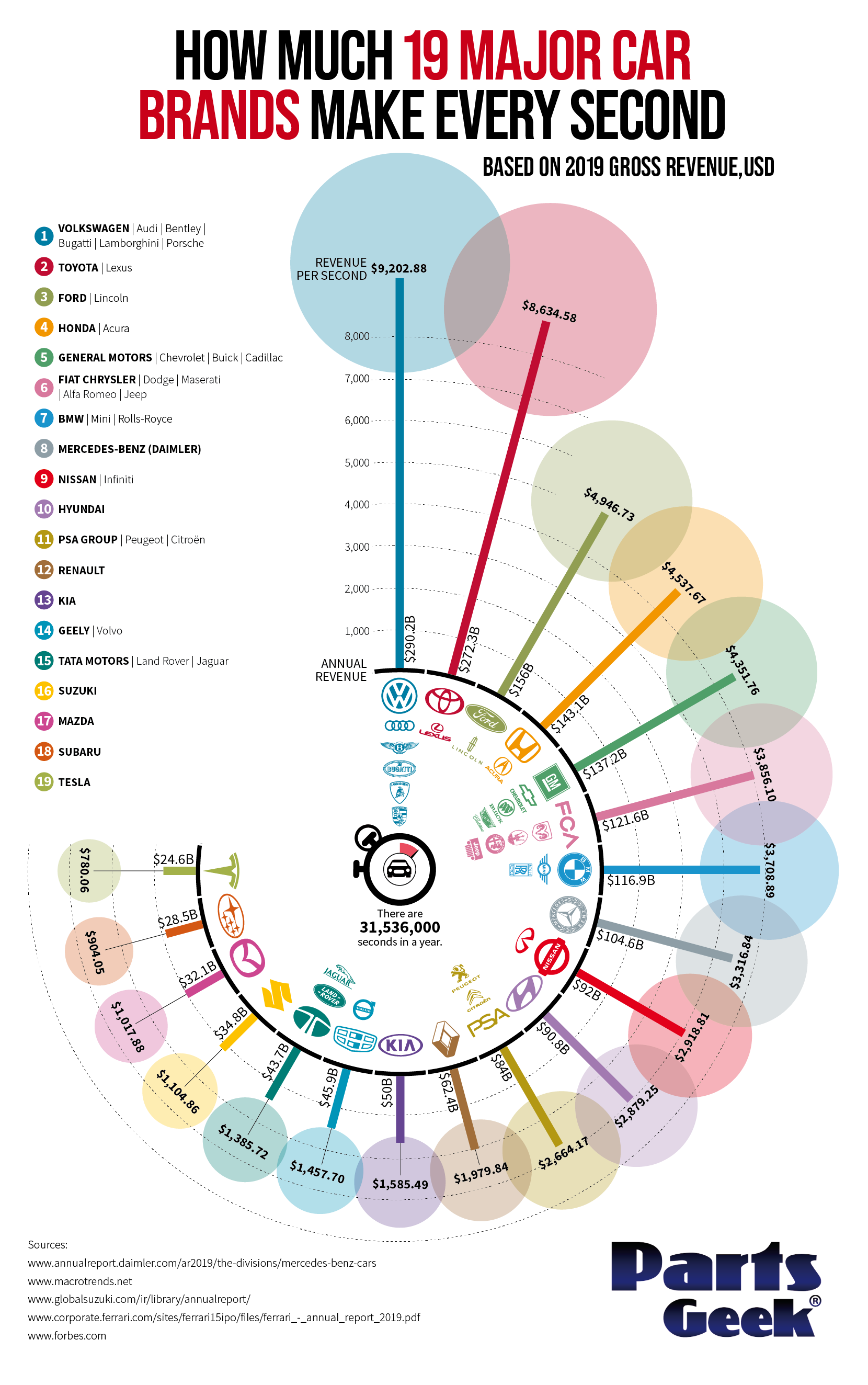 Here's how much these major car brands made in 2019, along with how much they made per second over the course of the year:
Volkswagen: $290.2B ($9,202.88 per second)
Toyota: $272.3B ($8,634.58 per second)
Ford: $156B ($4,946.73 per second)
Honda: $143.1B ($4,537.67 per second)
General Motors: $137.2B ($4,351.76 per second)
Fiat Chrysler: $121.6B ($3,856.10 per second)
BMW: $116.9B ($3,708.89 per second)
Mercedes-Benz: $104.6B ($3,316.84 per second)
Nissan: $92B ($2,918.81 per second)
Hyundai: $90.8B ($2,879.25 per second)
PSA Group: $84B ($2,664.17 per second)
Renault: $62.4B ($1,979.84 per second)
Kia: $50B ($1,585.49 per second)
Geely: $45.9B ($1,457.70 per second)
Tata Motors: $43.7B ($1,385.72 per second)
Suzuki: $34.8B ($1,104.86 per second)
Mazda: $32.1B ($1,017.88 per second)
Subaru: $28.5B ($904.05 per second)
Tesla: $24.6B ($780.06 per second)
Volkswagen tops the list, making an incredible $9,202.88 per second! The German automaker was founded in 1937 by the German Labour Front. The automaker's biggest market is actually in China, which accounts for roughly 40% of Volkswagen's sales and profits.
Tesla rounds up the pack at a revenue of $780.06 per second. Even so, their stock price has seen what has been described as a meteoric rise as investors seem to believe that owner Elon Musk will soon lead the company to the top of the auto market.
Which Countries Produce the Most Gemstones?
Gems like rubies, emeralds, and diamonds are found in jewelry all over the world. Some countries are known for their prolific gemstone production. Do you know the countries are the biggest sources of each gemstone?
BriteCo, a jewelry insurance company, analyzed data from the U.S. Geological Survey and the International Gem Society to visualize the countries that produce the most of each type of gemstone.
Click below to zoom

The graphic utilizes a world map to show which country produces the most of many different types of gems. The visualization also includes beautiful depictions of each gem included on the map as well as the kilograms of gemstones produced between 2016 and 2020.
These are the top-producing countries of some of the most popular gems:
Amethyst: Zambia (4,465,166 kilograms)
Diamond: Russia (22,720 kilograms)
Emerald: Zambia (129,400 kilograms)
Garnet: Tanzania (765,768 kilograms)
Pearl: Burma (9,245 kilograms)
Quartz: Brazil (69,830,000 kilograms)
Ruby: Tanzania (99,000 kilograms)
Sapphire: Kenya (45,339 kilograms)
Topaz: Nigeria (77,793 kilograms)
Turquoise: Iran (105,000 kilograms)
Overall, the top producer of gems around the world is Tanzania. The country is the top producer of six gemstones on the list (aquamarine, garnet, ruby, sunstone, tanzanite, and tourmaline). In fact, the name tanzanite was given to the gem by jewelry giant Tiffany & Co. in the 1960s to highlight how it can only be found in Tanzania. The mining area for tanzanite is just 7 kilometers (4.3 miles) long and 2 kilometers (1.2 miles) wide in the Manyara region of Tanzania. Tanzanite was named as a December birthstone in 2002 by the American Gem Trade Association.
The Fastest Growing Sports in America 
Classic sports like baseball, football, and basketball have long been some of the most popular sports in the United States. However, in recent years, other sports have been increasing in popularity. Researchers at ReCreate analyzed data from the Sports & Fitness Industry Association to create a graphic displaying the sports that are growing the fastest in the United States.
Click below to zoom

The visualization lists the growth of each sport's popularity in the last four years and color codes the information based on the type of sport (team sport, racket sport, winter sport, water sport, individual sport, or outdoor sport).
The sport that is growing fastest in the U.S. is pickleball, a racket sport similar to tennis that can be played both indoors and outdoors. Pickleball has seen a 171.1% increase in participation in the last four years and has an estimated 4.8 million players. It originally started in the 1960s as a children's game but has since become very popular with adults as well. In 2022, it was named the state sport of Washington.
The second fastest-growing sport in America is alpine touring, which has increased 115% in popularity over the last four years. Alpine touring is a type of backcountry skiing that utilizes special bindings so participants can ascend hills with heels unlocked and lock heels back in to descend. This allows for mobility when climbing and safety when going downhill.
The third sport on the list is winter fat biking. This unique sport, which has increased in popularity by 69.4%, involves riding a bicycle with oversized wheels in the snow. The big wheels make it easier for riders to peddle through the slushy snow and terrain.
How many sports on this list have you played?
The Most Promiscuous Countries in the World
Wondering where in the world you're most likely to get some action? The NapLab team created a Global Promiscuity Index that compares different factors including average number of sexual partners, STD rates, mean age when virginity was lost, and how much of the population finds premarital sex morally acceptable. See which country ranked highest!
Click below to zoom

The visualization utilizes a heat map of the world to show which countries rank highest and lowest on the list. Underneath the world map is an explanation of how the scores were calculated as well as a breakdown of all the data for each country that is included.
The country that earned the top spot on the promiscuity list is Australia, with an index score of 360.14. The mean age that Australians lost their virginity is 17.9, and the average number of sexual partners is 13.3. 81% of people think that premarital sex between adults is not a moral issue. Prostitution is also legal in the country.
Of the 45 countries included in the graphic, the country that ranks last on the list is India. The mean age when residents lose their virginity is 22.9 and the average number of sexual partners is 3. Only 21% of people in India think that premarital sex is morally acceptable.
The following are the top scores for each of the factors included in the ranking:
Mean Age Virginity Was Lost: Iceland (15.6 years)
Average Number of Sexual Partners: Turkey (14.5)
STD Rate Per 100,000 People: South Africa (32,054)
Percentage of People Who Think Premarital Sex is Morally Acceptable: France (94%)