If You Play Animal Crossing, You Need This Flower Guide
Undoubtedly, one of the most popular video games of 2020 has been Animal Crossing: New Horizons, which was released on the Nintendo Switch back in March. In fact, it took the world by storm. Upon release there were suddenly adults and children alike playing and talking about the game seemingly everywhere you looked. The series, which debuted as a hit on the Nintendo Gamecube in 2001, has now become a franchise with nine great games over several of Nintendo's gaming platforms.
Click below to zoom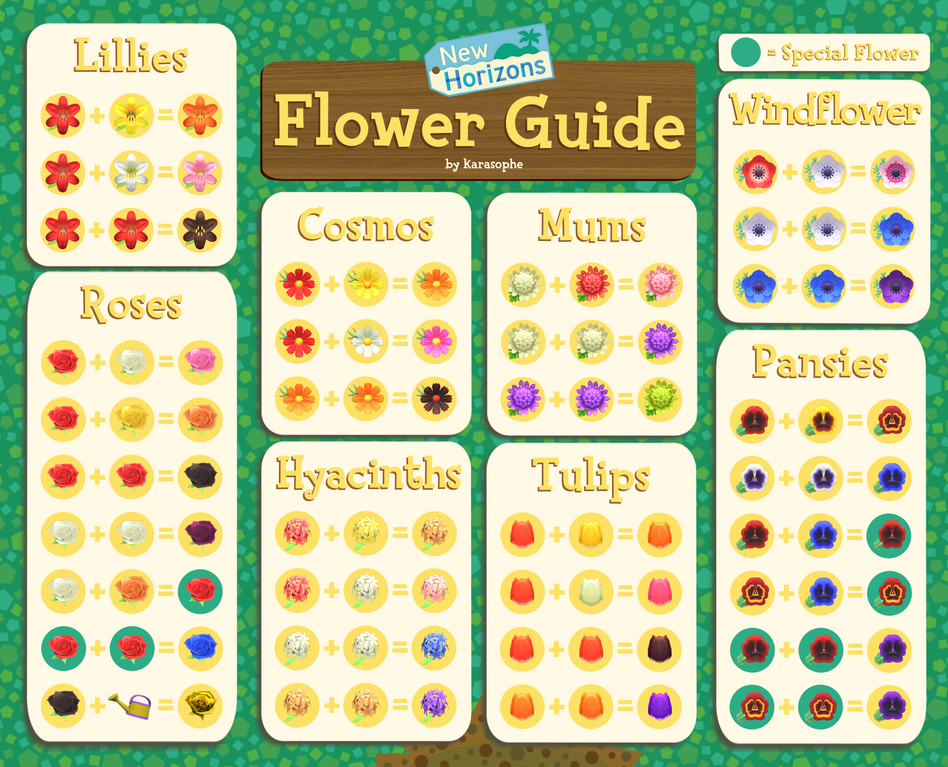 This simple but gorgeous visual guide, from Reddit user Karasophe and shared in the Animal Crossing Subreddit, looks at the several different types of flowers that can be found in the latest installment of the Animal Crossing series.
As you've seen, it not only includes what flowers you can find, but also what combinations you can make by planting certain flowers close to together. There are lillies, roses, cosmos, hyacinths, mums, tulips, windflowers, and pansies.
To date, Animal Crossing: New Horizons has sold more than 13.4 million copies worldwide. According to Wikipedia, the game is currently the sixth most sold game for the Nintendo Switch. The only games that have outsold it are from the major Mario, Super Smash Bros., The Legend of Zelda, and Pokemon franchises; that's great company to keep! Have you been playing it and building up your island paradise?
Where in the U.S. Have the Highest (and Lowest) High School Graduation Rates?
The United States is a colossal country with an incredible range of beliefs, livelihoods, and experiences. One thing that unifies the vast majority of America is school. Federal laws require that children receive some form of education (public, private, homeschooling, etc.) for a period of time. In 2021, the average high school graduation rate in the United States was 85.3%. This incredibly detailed chart by the U.S. Career Institute explores how this rate varies across U.S. counties.
Click below to zoom

Visually, I really appreciate the use of formal, "prestigious" colors for the heat map and throughout the chart. The header font is excellent; I am planning to use it in some of my own projects! The diploma-like border is a nice touch. Let's take a closer look at the extra-large and small counties so we can get a more complete picture of how graduation rates vary across America.
Here are the top five extra-large counties with the high school highest graduation rates:
Alleghany, Pennsylvania – 95%
Oakland, Michigan – 94%
Collin, Texas – 94%
Montgomery, Pennsylvania – 94%
King, Washington – 93%
And here are the five extra-large counties with the lowest high school graduation rates:
Bronx, NY – 73%
Kern, California – 74%
Fresno, California – 76%
El Paso, Texas – 78%
Los Angeles, California – 79%
Here are the top 5 small counties with the highest high school graduation rates:
Falls Church City, Virginia – 99%
Clear Creek, Colorado – 99%
Petroleum, Montana – 99%
Morgan, Utah – 98%
Gilpin, Colorado – 98%
And lastly, here are the top 5 small counties with the lowest high school graduation rates:
Kenedy, Texas – 26%
Presidio, Texas – 53%
Hudspeth, Texas – 56%
Clark, Idaho – 60%
Issaquena, Mississippi – 61%
I suppose not everything is bigger in Texas after all. All kidding aside, I looked into why the education system in Texas is failing so many children. Some issues I encountered are low teacher salary, dropouts from traditional schooling in favor of trade school or other alternatives, gun violence, mental health struggles, and conflict surrounding how to assess children's performance. It is such a massive state, so it is no wonder that reform comes slowly and with a lot of resistance.
Every Coin the U.S. Mint has Produced Over the Past 100 Years, Visualized
When you were growing up, do you remember your parents having a big cardboard U.S. map with slots for the official state quarters to fit into? When I was a kid, it was all the rage to collect those special shiny emblems and it was always exciting to acquire a new state coin. My parents filled about 60% of the board, and eventually the hype wore off and we ended up using the quarters for laundry. This made me wonder, "how many coins have there been made in the United States?" Fortunately, this fascinating visualization by WizardPins.com answers that question and more:
Click below to zoom

I really love the elegant, minimalist color scheme – it has a gilded, "expensive" appearance that perfectly suits the topic. The fonts chosen throughout elevate this classy appearance, creating a cohesive chart that delivers an incredible amount of information in a refined way.
Between 1921 and 2020, the U.S. Mint has produced 816,138,372,612 coins which amounts to $169,541,902,128 billion in today's dollars! I like to imagine being Scrooge McDuck and swimming in a shimmering ocean of all of those coins. In reality, doing that would probably be cold, smelly, and unpleasant, but it is still a fun daydream. I was most curious about how many pennies there are in the United States and found the answer promptly; over 66 billion pennies have been produced by the U.S. Mint. I also discovered that it actually costs the government 2 cents to produce one penny, which means it lost $76 million in 2020 by producing over $7.5 billion pennies. Seems like the copper is making us more "coppoor". Sorry, I could not resist.
Which Countries Offer the Most Mandated Maternity Leave Around the World?
There is no denying that navigating parenthood is challenging, especially during a pandemic. If you are in the United States, you have to overcome the additional obstacle of parental leave, or lack thereof. Despite the fact that most developed countries in the world offer federally mandated paid parental leave, the United States does not. In fact, the U.S. has the enormous dishonor of being considered the only wealthy nation that offers no national paid parental leave. Let's take a look at how parental leave compares across the globe.
Click below to zoom

As showcased by this chart created by PlaygroundEquipment.com, European countries such as Estonia, Bulgaria, and Hungary excel at providing their citizens with ample paid parental leave. On the map, the United States sticks out like a sore thumb. So why does this matter? The benefits of paid leave are well-documented. Here are just a handful of the benefits:
Supports children's growth and development
Supports the physical and emotional health of the entire family unit
Supports family economic security
Benefits businesses and the economy by boosting productivity, employee retention, morale, and labor force participation
In studies of California's paid leave program, around 90% of businesses reported either a positive or neutral impact on productivity and nearly all businesses (99%) highlighted positive or neutral effects on employee morale. 87% of businesses reported no increase in costs and 9% even reported savings thanks to lower rates of employee turnover and reduced spending on employee benefits. Perhaps it is time for America to catch up with the rest of the world.
Subject matter aside, it is truly a beautiful visualization! The header is bold and eye-catching, with the woman's hair flowing down and leading the eye to the vibrant map. The country charts are dynamic and striking, and it has an overall energy that we hope can spark interest in paid parental leave reform.