All 4 Avengers Infinity Saga Films Visualized in a Single GIF
The Marvel Cinematic Universe is the most beloved superhero film franchise ever conceived and the four-film Avengers Infinity Saga is easily its crowning achievement. With Avengers: Endgame closing up the saga in 2019 to glowing reviews and box office records, it became the highest grossing superhero film saga of all time.
Today's animated visual is a little bit out of the ordinary, but we couldn't resist sharing. Alistair Williams, of AW-Illustration.com, (who shared the animation on Reddit) chronicles each of the Infinity Saga films in a creative and beautiful way. As each frame of the animation passes, every nook and cranny fills with the iconic moments and critical plot points of each film. The result is really fun and makes us want to stop what we're doing to re-watch the whole MCU!
Check out the animation below:
If you're like us and want to see all of the tiny, masterfully illustrated details in a higher resolution, we've included a static version each film's visualization individually below.
(Click on each image to zoom)
Avengers (2012)
Our favorite detail: The hidden nod to the post credit scene with The Other and Thanos. We were so young and innocent back then; we could have never known what Thanos had in store for us.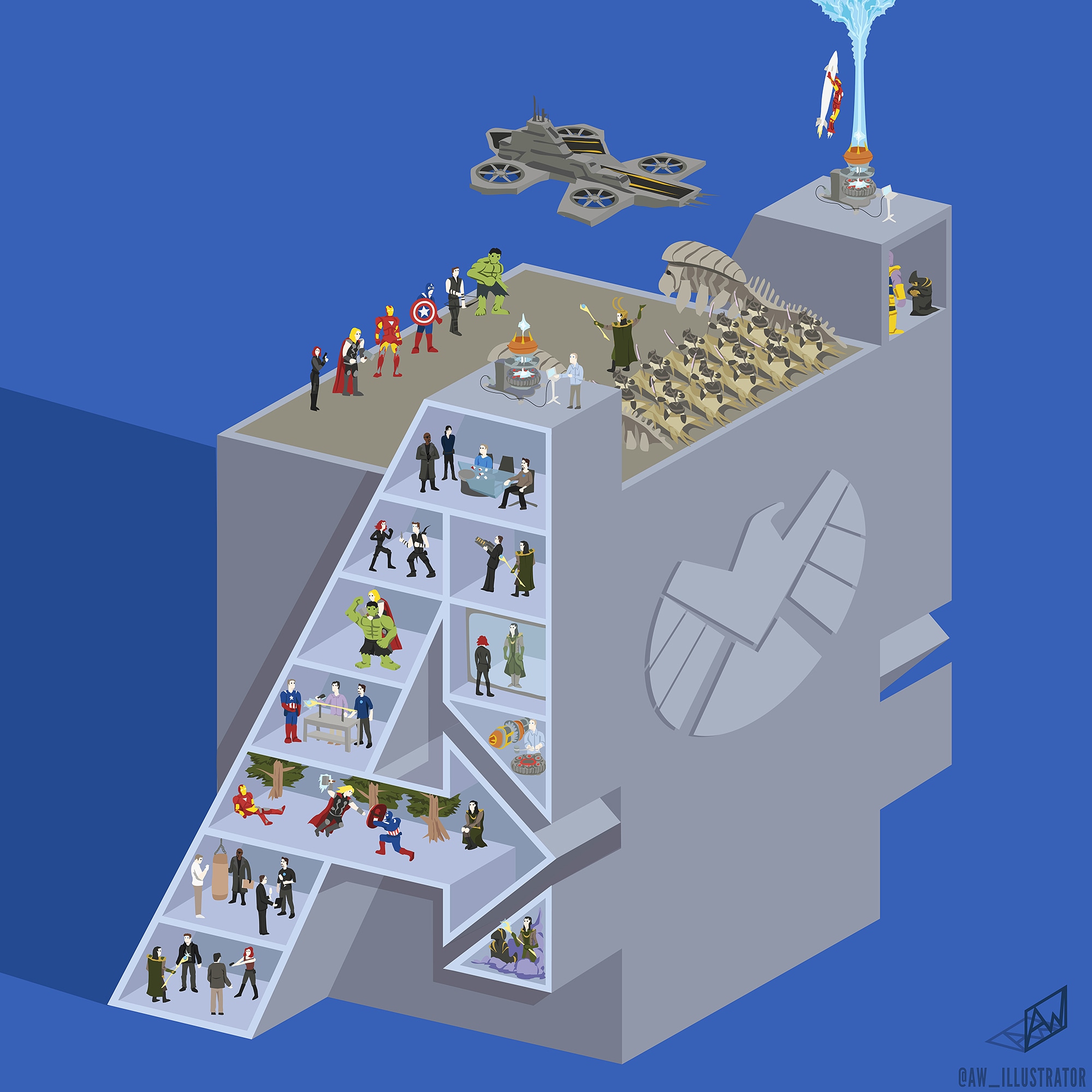 Avengers: Age of Ultron (2015)
Our favorite detail: Just like the city of Sokovia in the film, the platform is cracked and rising into the air.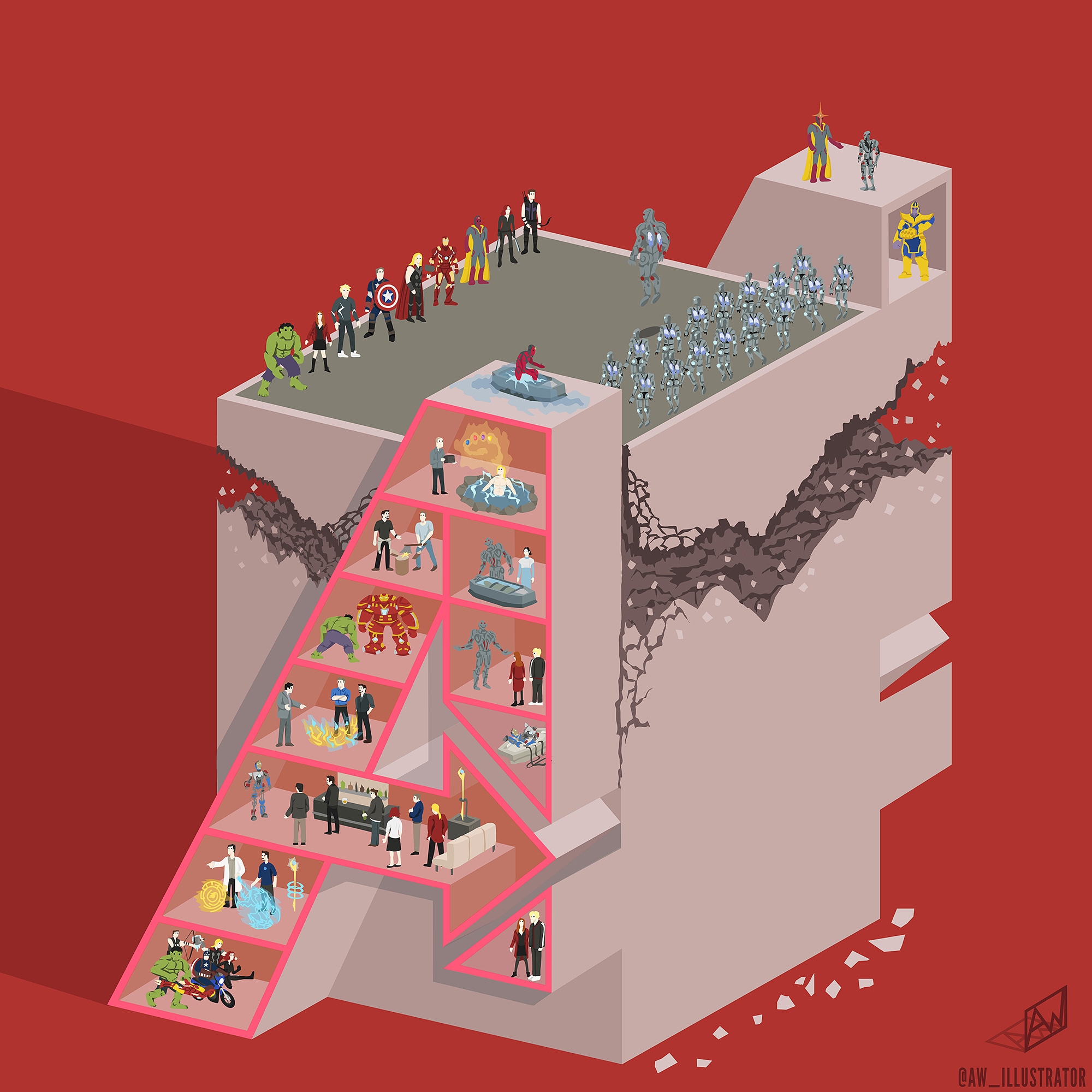 Avengers: Infinity War (2018)
Our favorite detail: It's going to have to be a tie between Star-Lord pointing his quad blaster at Thanos and the platform itself slowly disintegrating away.
Avengers: Endgame (2019)
Our favorite detail: Just as it was my favorite moment in the films, it's the resurrected heroes emerging from Doctor Strange's inter-dimensional portals, just in time to save the day.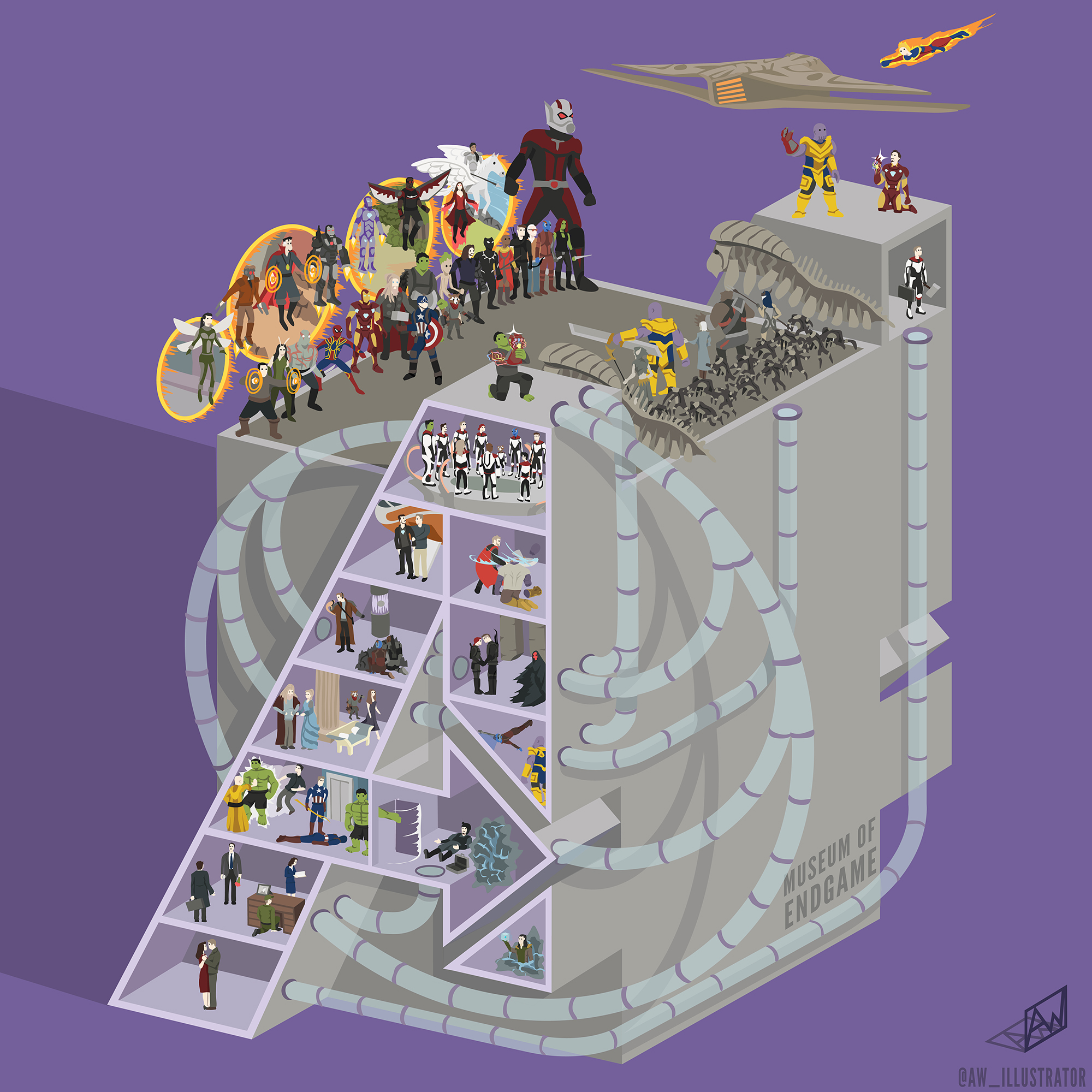 The Deadliest Building Collapses of All Time
People aren't perfect. Mistakes happen. Sometimes a mistake can cause an inconvenience and some mistakes have more severe consequences. If an architect, engineer, or builder makes a mistake those consequences can be deadly. Unfortunately, there have been a number of devastating structure collapses throughout history that have claimed a huge number of lives. Some were due to the negligence or incompetence of those who built it and some had other causes such as natural disasters or terrorism. This map and visualization from ForneyVault reveals the 30 deadliest building failures in history. Check it out here:
Click below to zoom

The map above cleverly visualizes each building collapse using 3-D bars on a grid world map; the height of each bar represents the death toll. Towering above the rest is the deadliest building collapse in history which took place in 27 C.E. in ancient Rome when a poorly constructed amphitheater collapsed, killing 20,000 people. Next up took place in 1809 when 4,000 people perished after a floating bridge collapsed in Portugal.
The most recent on the list is another sad tale of negligence by those who built the structure. In 2016 in Taiwan, a residential building collapsed after an earthquake, 116 people were killed. At first, it seemed like it was a natural collapse resulting from the earthquake but it became apparent after searching the rubble that cooking oil cans had been used as structural materials and that the concrete had been mixed with other materials, rendering the building unsafe.
We were surprised to see that the infamous Surfside condominum collapse which took place near Miami in 2021 does not make the list with its 98 fatalities as the 30th and final building collapse incident on the list involved 111 deaths.
What Every Patch and Insignia Means on a U.S. Military Uniform
Military uniforms in the United States are as recognizable as they are iconic. Whether it's in films such as Top Gun Maverick, television shows like M.A.S.H., video games like Call of Duty, or in real life, Americans are exposed to U.S. military uniforms on a regular basis. Most often represented is the active duty combat uniform which is officially called the battle dress uniform or BDU. This camouflaged uniform is complete with a series of patches indicating the identity of the soldier, the branch the soldier is enlisted in, their rank and so much more. What do all of those patches and pins mean? Luckily, the folks at Wizard Pins have created this ultimate visual guide to what every patch you might find on a military uniform means.
Click below to zoom

Differences between military patches on Army, Marine Corps, Navy, Air Force, Coast Guard, and even the newly formed Space Force are surprisingly similar. Differences appear to be largely thematic between each military branch. For example, rank patches on U.S. Air Force uniforms resemble wings. Other patches are reserved for those belonging to special divisions, units, and those who have special skills. The visual does an exceptional job of explaining what each patch signifies and where they can be found.
On combat uniforms, rank patches are intentionally modest in appearance to prevent enemy combatants from being able to easily identify leadership from a distance. U.S. Army uniforms, U.S. Marine Corps uniforms, U.S. Navy uniforms, U.S. Coast Guard uniforms, U.S. Air Force uniforms, and U.S. Space Force uniforms may have subtle differences, but they are all uniforms representing one of the largest military forces on the planet.
The Colleges With the Most Alumni Who Are Now CEOs of Fortune 500 Companies
Each year, Fortune Magazine recognizes the 500 largest companies across the United States, with the ranking being determined by the annual revenue earned by each of those companies. This list includes both private companies and companies that are publicly traded. Leading these companies are CEOs that are not only worth millions of dollars, but have seen much success throughout their careers.
From the team at Academic Influence comes this fascinating visualization that looks at which colleges and universities that have the most alumni as CEOs of Fortune 500 companies.
Click below to zoom

Which universities have the most alumni now working as CEOs?
According to the research by the team at Academic Influence, it was found that these were colleges and universities that had at least ten alumni who were now the CEOs of Fortune 500 companies.
Harvard University: 41
University of Pennsylvania: 23
Stanford University: 22
Northwestern University: 20
Columbia University: 18
University of Chicago: 15
University of Michigan: 12
Cornell University: 10
Dartmouth University: 10
University of Virginia: 10
Founded in 1936, Harvard University is one of the most prestigious universities in the entire world. Due to the university's illustrious history, it's no surprise that they take claim to having the most alumni who are now in prominent positions as CEOs. Per the research from Academic Influence, it was found that of the 41 alumni who are now serving as CEOs of Fortune 500 companies, 35 of them had completed graduate programs at Harvard University. Some of the more notable companies that includes this alumni as CEOs today include Amazon (Andy Jassy), JPMorgan Chase (Jamie Dimon), Citigroup (Jane Fraser), Prudential Financial (Charles F. Lowrey), McDonald's (Chris Kempczinski), Mastercard (Michael Miebach) and Kellogg (Steve Cahillane).
This visualization also includes several interesting points of data, in particular listing out what the most common undergraduate degree programs were of Fortune 500 CEOs. Leading this ranking was engineering degrees, where 96 of the CEOs included had, with the breakdown of engineering degrees including studies in mechanical engineering (26), electrical engineering (23), chemical engineering (17), unspecified engineering (12), industrial engineering (6), civil engineering (5), petroleum engineering (3) and other types of engineering (17).
Per their research, here were the nine most common undergraduate degrees of Fortune 500 CEOs.
Engineering: 96
Economics: 59
Business administration: 40
Accounting: 36
Finance: 12
Computer science: 11
Marketing: 9
Political science: 8
Mathematics: 8