All 4 Avengers Infinity Saga Films Visualized in a Single GIF
The Marvel Cinematic Universe is the most beloved superhero film franchise ever conceived and the four-film Avengers Infinity Saga is easily its crowning achievement. With Avengers: Endgame closing up the saga in 2019 to glowing reviews and box office records, it became the highest grossing superhero film saga of all time.
Today's animated visual is a little bit out of the ordinary, but we couldn't resist sharing. Alistair Williams, of AW-Illustration.com, (who shared the animation on Reddit) chronicles each of the Infinity Saga films in a creative and beautiful way. As each frame of the animation passes, every nook and cranny fills with the iconic moments and critical plot points of each film. The result is really fun and makes us want to stop what we're doing to re-watch the whole MCU!
Check out the animation below:
If you're like us and want to see all of the tiny, masterfully illustrated details in a higher resolution, we've included a static version each film's visualization individually below.
(Click on each image to zoom)
Avengers (2012)
Our favorite detail: The hidden nod to the post credit scene with The Other and Thanos. We were so young and innocent back then; we could have never known what Thanos had in store for us.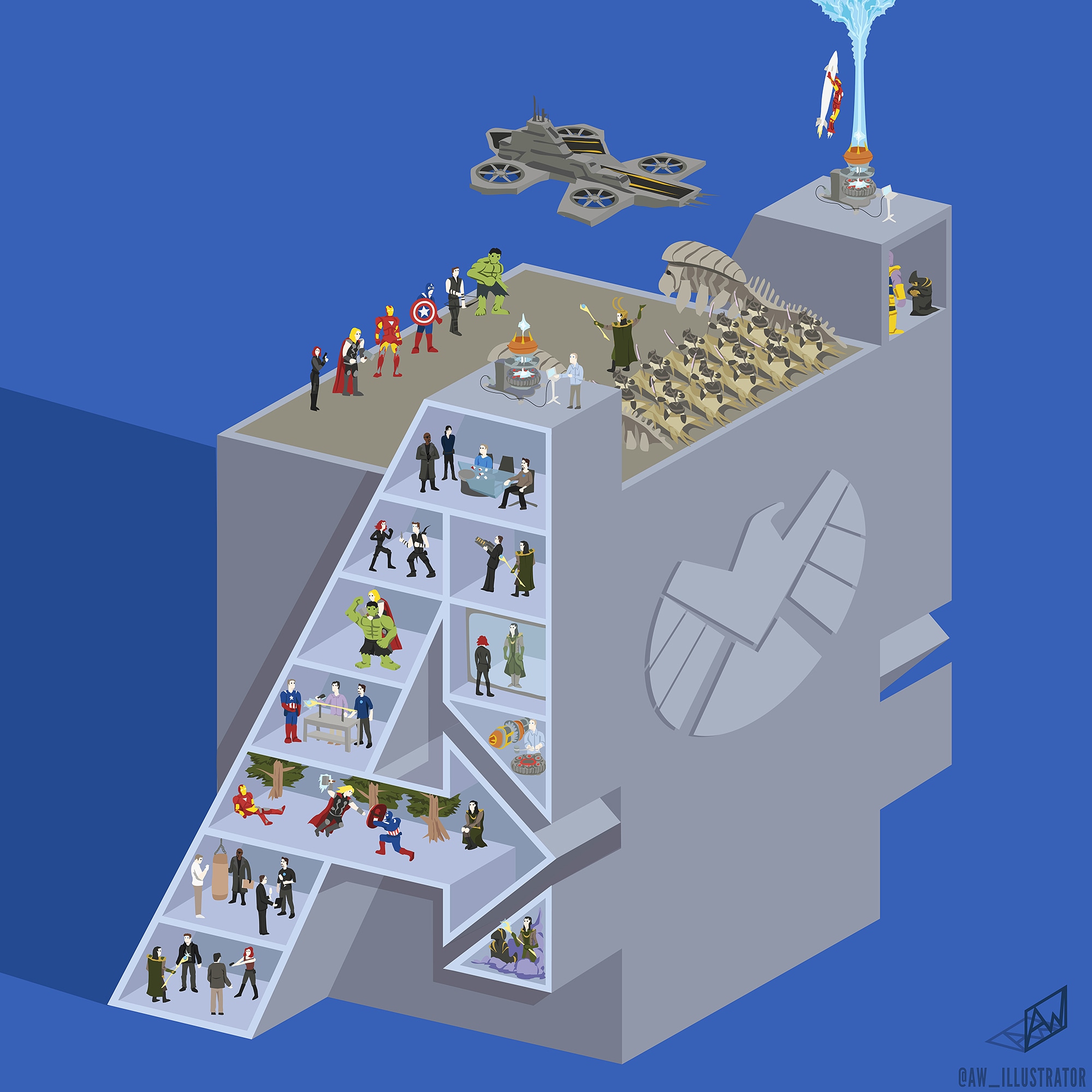 Avengers: Age of Ultron (2015)
Our favorite detail: Just like the city of Sokovia in the film, the platform is cracked and rising into the air.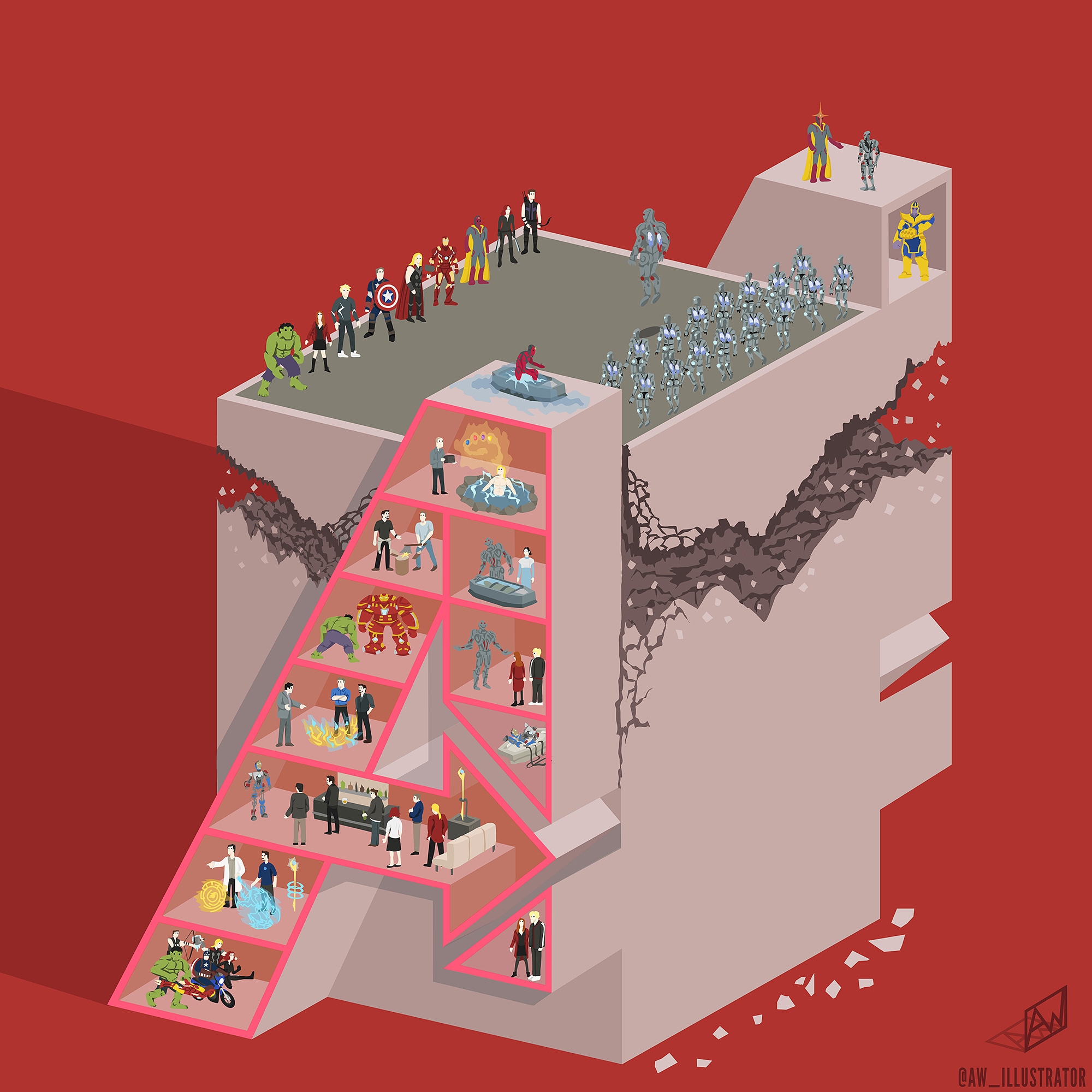 Avengers: Infinity War (2018)
Our favorite detail: It's going to have to be a tie between Star-Lord pointing his quad blaster at Thanos and the platform itself slowly disintegrating away.
Avengers: Endgame (2019)
Our favorite detail: Just as it was my favorite moment in the films, it's the resurrected heroes emerging from Doctor Strange's inter-dimensional portals, just in time to save the day.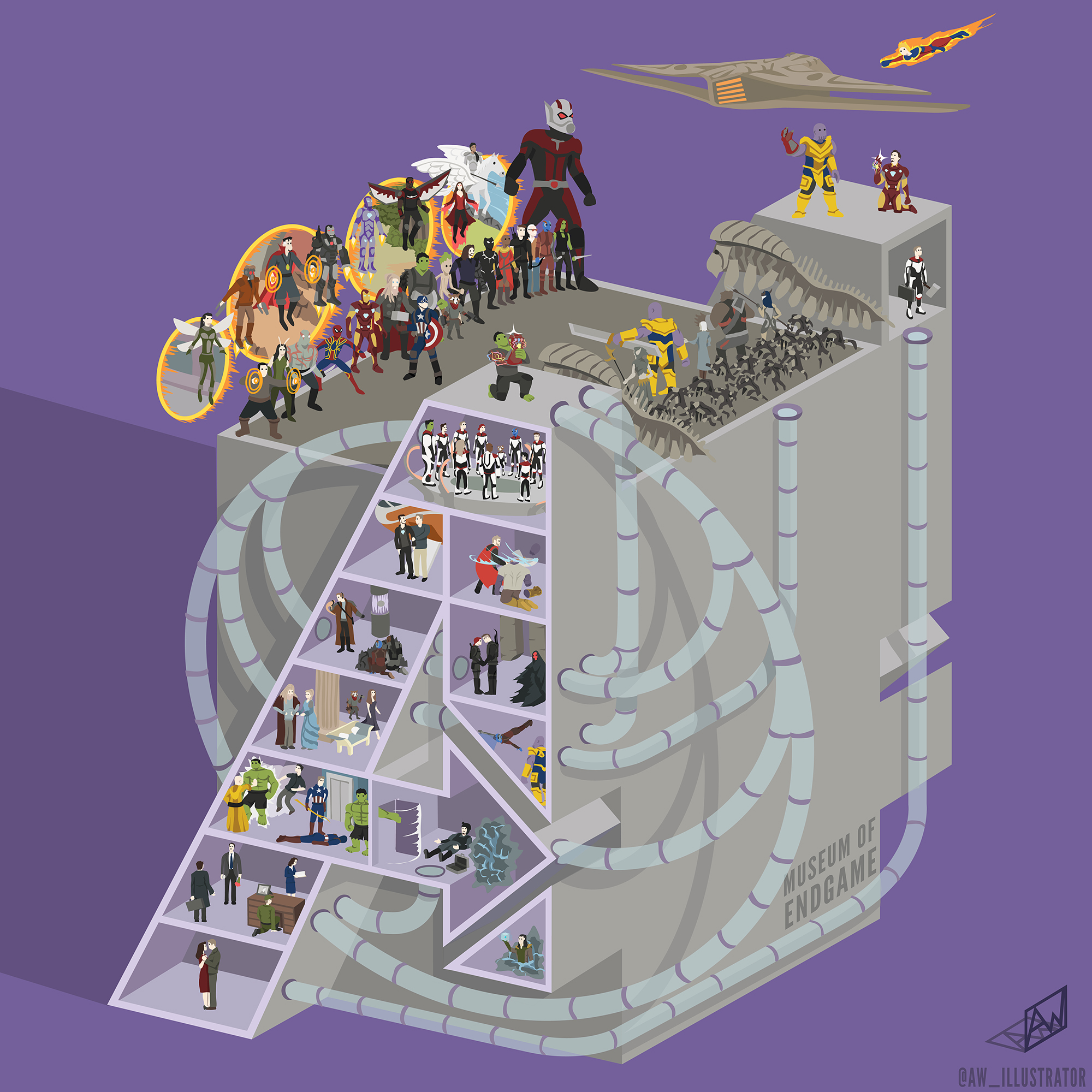 Every Company Owned by Amazon
Do you need shoes? Zappos! Do you need prescriptions? PillPack! Do you need organic produce? Whole Foods! Do you need home security? Ring! Do you want to stream games to your friends or make money? Twitch! Do you want to listen to audiobooks while you walk your dog? Audible! Do you need dog food for that dog? Wag! Do you want to read book reviews? Goodreads! Do you want to read movie reviews? IMDb! You may be surprised to learn that all of these companies operate under one leader: Amazon. Take a look at this eye-opening chart by SMB Compass exploring everything that Amazon owns.
Click below to zoom

Amazon has been making bold acquisitions from the get-go and has infiltrated practically every market. Amazon's most recent acquisition was of MGM Holdings in 2021 for a hefty price tag of $8.45 billion. You may recognize MGM by its renowned roaring lion, which is now a fitting representation of Amazon's retail domination. Amazon's biggest acquisition was in 2017 when it purchased Whole Foods Market for $13.7 billion, igniting its venture into the grocery industry. Since then, Amazon has given Whole Foods delivery "wings" – customers can order groceries and receive them in as little as two hours! In 2014, Amazon acquired live-streaming platform Twitch for $970 million, which many were shocked about at the time. It was a smart move considering the video game industry continues to grow, earn passionate fans, and influence society as a whole.
What Companies Does Berkshire Hathaway Own?
Most people know Warren Buffett for being one of the most famous billionaires in the world. However, some may not know that he is the Chairman and CEO of Berkshire Hathaway, a multinational investment conglomerate that earned $276 billion in revenue in 2021. As of 2022, Warren Buffet has an estimated net worth of $125 billion. He was born in Omaha, NE, which is also the home of Berkshire Hathaway's headquarters. What does Berkshire Hathaway actually do, and what companies do they have a stake in? The team at IndyFin.com researched all of the companies that Berkshire Hathaway owns and has a stake in to create the below visualization.
Click below to zoom

Berkshire Hathaway controls more than 60 companies and partially owns 20 more. These are just a few of the famous companies that Berkshire Hathaway owns:
GEICO
PacifiCorp
Benjamin Moore
Dairy Queen
Oriental Trading Company
See's Candy Shops
Berkshire Hathaway also partially owns the following companies:
Apple
Kraft Heinz
American Express
Bank of America
Coca-Cola
Bank of New York
Mitsubishi
Verizon
General Motors
Chevron
There are companies considered to be the "Four Giants" of Berkshire Hathaway as they contribute to a large portion of their value. Berkshire's insurance companies are the biggest of the giants. Buffett considers this to be the biggest sector of the company and thinks sales volume will only increase in coming years. Next on the list is technology powerhouse Apple, which earned $365 billion in revenue in 2021. Rounding out the list are BNSF Railway Company, one of North America's largest freight railroads, and Berkshire Hathaway Energy (BHE).
A Visual Compendium of Life Advice from 50 Children's Characters
You don't have to be a kid to appreciate the lessons and moral anecdotes from films, television shows, and books geared towards children. These stories often dispense advice that is valuable for people of all ages.
Which children's characters have the most inspiring life advice?
Click below to zoom
The design team at AAA State of Play created a unique visualization that highlights 50 of the best life lessons from beloved children's characters. The graphic utilizes a unique style to depict the characters. The vector-style geometric faces depict a clean look, allowing for the positive messages of the quotes to really stand out.
Some of the most compelling quotes included in the graphic:
"Our fate lies within us, you only have to be brave enough to see it." – Merida from Brave
"The flower that blooms in adversity is the most rare and beautiful of all." – Emperor of China from Mulan
Your identity is your most valuable possession. Protect it." – Elastigirl from The Incredibles
"When bad things happen, I know you want to believe they are a joke, but sometimes life is scary and dark. That is why we must find the light." – BMO from Adventure Time
"Fairy tales can come true. You gotta make them happen, it all depends on you." – Tiana from The Princess and the Frog
A little consideration, a little thought for others, makes all the difference." – Eeyore from Winnie-the-Pooh
"In every job that must be done there is an element of fun." – Mary Poppins
Which quote resonates the most with you?