Photographer Visualizes One Year in a Single Picture
If you want to see a unique visualization, check out this photo by Eirik Solheim. At first you might not see what makes this photo so special but after a closer look you may start to realize that this photo is actually comprised of many different snap shots in time. This is actually 3,888 photos to be exact, taken every day for an entire year put together to form what he calls 'One Year in One Image'.
Click below to zoom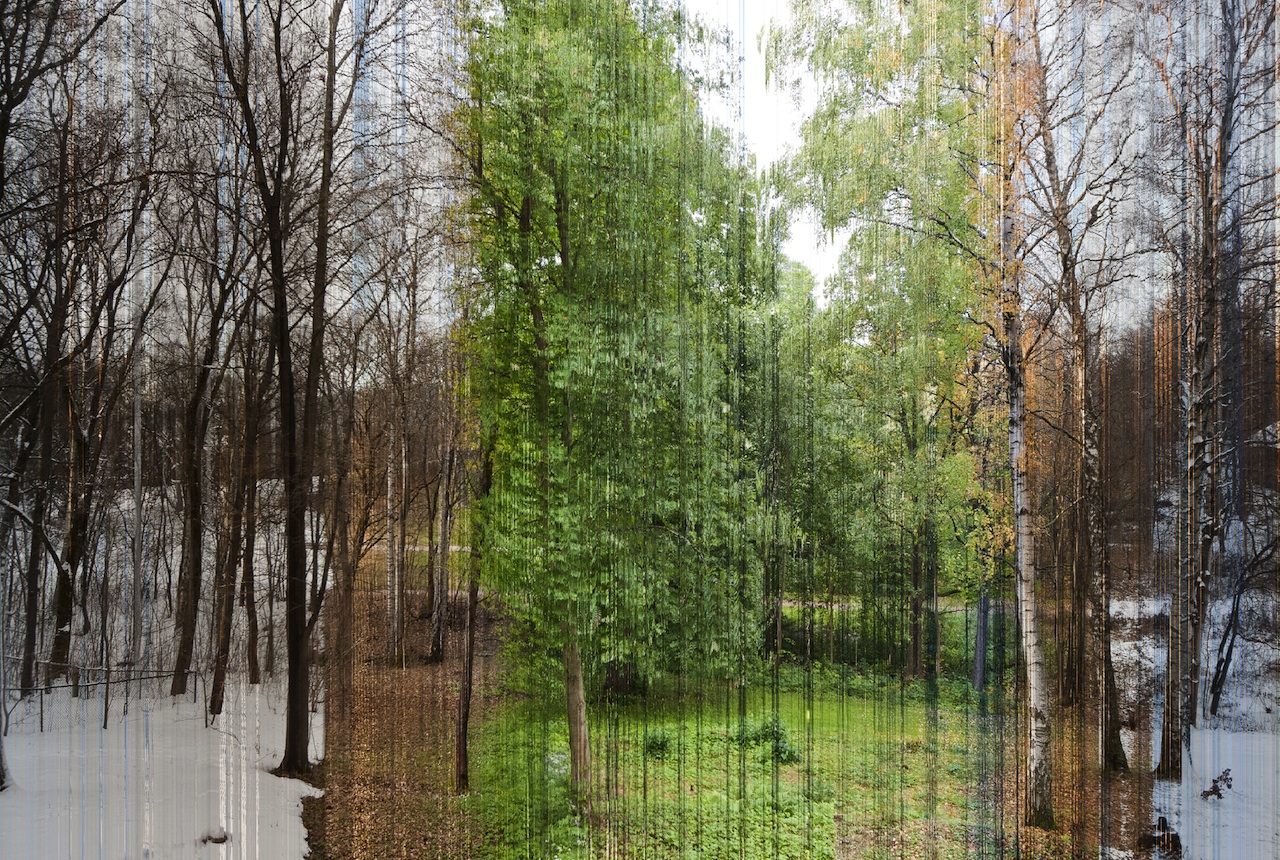 Starting on the left with January and ending with December on the right you can clearly see each season change. Located in Oslo, Norway, Eirik set up an SLR camera in his window and kept it in the same spot for one whole year. He would snap an image every half hour using the same focus point and f stop. At the end of the year he had 16,000 photos. Since the resolution of each image was 3888×2592 Eirik decided to select 3,888 images to create this photo. Next, he had to find out how to split each photo into a line of data. He already knew he wanted to create 3888 vertical lines that were all 2592 pixels high for the final photo but trying to manage this by hand in Photoshop would have taken a very long time. So he asked some of his followers for some programming help to make the process automated. Using a script developed by Jo Oterhals, Nikolai Kristiansen and Aslak Hellesoy he was able to complete his vision.
What Really Happens When You Recycle?
Most of us do our best to recycle when we can. From cardboard boxes to plastic drink containers, doing our part to recycle reduces waste and helps protect our planet. Is what we're doing enough to offset the impact of wasteful materials on the environment? And how does single-stream recycling really work?
The visualization below created by O.Berk outlines what happens after you put paper, plastic, aluminum, and steel in the recycling bin.
Click below to zoom

The graphic utilizes a flow chart to visualize how different materials are recycled based on a single-stream recycling process, which is where recyclables of all different types are placed in the same bin and sorted later at the facility. There are a number of processes that help sort materials at the recycling center:
Rotary screen separators help to sort paper products by pushing them up to wheels with air. The paper products stay up while the heavier objects fall to another conveyor belt underneath.
Cross belt magnets attract steel and other iron-containing metals to separate them from the rest.
Air classifiers are fans that push light products (such as plastic and aluminum) towards a conveyor belt above. Glass products fall to a conveyor belt below where they are then recycled.
Eddy current separators are spinning drums that create magnetic field that helps magnetize aluminum and push it towards a conveyor belt.
Infrared sensors use light reflection to determine different types of plastics. Then, a puff of air helps push them onto the correct conveyor belt based on the number indicated on the product.
The Deadliest Building Collapses of All Time
People aren't perfect. Mistakes happen. Sometimes a mistake can cause an inconvenience and some mistakes have more severe consequences. If an architect, engineer, or builder makes a mistake those consequences can be deadly. Unfortunately, there have been a number of devastating structure collapses throughout history that have claimed a huge number of lives. Some were due to the negligence or incompetence of those who built it and some had other causes such as natural disasters or terrorism. This map and visualization from ForneyVault reveals the 30 deadliest building failures in history. Check it out here:
Click below to zoom

The map above cleverly visualizes each building collapse using 3-D bars on a grid world map; the height of each bar represents the death toll. Towering above the rest is the deadliest building collapse in history which took place in 27 C.E. in ancient Rome when a poorly constructed amphitheater collapsed, killing 20,000 people. Next up took place in 1809 when 4,000 people perished after a floating bridge collapsed in Portugal.
The most recent on the list is another sad tale of negligence by those who built the structure. In 2016 in Taiwan, a residential building collapsed after an earthquake, 116 people were killed. At first, it seemed like it was a natural collapse resulting from the earthquake but it became apparent after searching the rubble that cooking oil cans had been used as structural materials and that the concrete had been mixed with other materials, rendering the building unsafe.
We were surprised to see that the infamous Surfside condominum collapse which took place near Miami in 2021 does not make the list with its 98 fatalities as the 30th and final building collapse incident on the list involved 111 deaths.
What Every Patch and Insignia Means on a U.S. Military Uniform
Military uniforms in the United States are as recognizable as they are iconic. Whether it's in films such as Top Gun Maverick, television shows like M.A.S.H., video games like Call of Duty, or in real life, Americans are exposed to U.S. military uniforms on a regular basis. Most often represented is the active duty combat uniform which is officially called the battle dress uniform or BDU. This camouflaged uniform is complete with a series of patches indicating the identity of the soldier, the branch the soldier is enlisted in, their rank and so much more. What do all of those patches and pins mean? Luckily, the folks at Wizard Pins have created this ultimate visual guide to what every patch you might find on a military uniform means.
Click below to zoom

Differences between military patches on Army, Marine Corps, Navy, Air Force, Coast Guard, and even the newly formed Space Force are surprisingly similar. Differences appear to be largely thematic between each military branch. For example, rank patches on U.S. Air Force uniforms resemble wings. Other patches are reserved for those belonging to special divisions, units, and those who have special skills. The visual does an exceptional job of explaining what each patch signifies and where they can be found.
On combat uniforms, rank patches are intentionally modest in appearance to prevent enemy combatants from being able to easily identify leadership from a distance. U.S. Army uniforms, U.S. Marine Corps uniforms, U.S. Navy uniforms, U.S. Coast Guard uniforms, U.S. Air Force uniforms, and U.S. Space Force uniforms may have subtle differences, but they are all uniforms representing one of the largest military forces on the planet.