New Chart Shows 80 Jobs That Pay $50,000+ And Don't Require a Degree
Student debt is a massive issue in the United States – by the end of 2020, student debt broke a staggering record of $1.7 trillion. That is a 4% increase from the prior year, which may not seem significant, but 4% of $1.7 trillion is $68 billion. The average student debt per person is $30,062, which is nearly 10 grand higher than 10 years ago. The dire status of student debt in America is compelling people to seek out high-paying jobs that do not require a degree. The U.S. Career Institute has created a useful chart using the U.S. Bureau of Labor Statistics data to showcase the 80 highest-paying jobs that do not require a formal degree.
Click below to zoom

While some of these jobs do require certification, others offer excellent salary potential with no formal education at all. For example, farm labor contractors earn a median wage of $61,910 and do not need any formal educational credential. Of course, these jobs require hard work, dedication, and knowledge, and people with jobs in these fields should never be underestimated or undervalued simply because they do not have an "expensive piece of paper" from a college or university. After all, flying a commercial plane certainly demands a high level of precision, skill, and on-the-job training! Hopefully this chart will provide inspiration to those who wish to embark on their own career paths utilizing talents that they cultivate themselves without the cost and time required by formal academia.
The Dark Side and the Light – An Awe-Inspiring Star Wars Character Connection Map
The Star Wars universe is an ever-evolving masterpiece of imagination and storytelling. One of the most celebrated and captivating facets of the Star Wars universe is the eclectic cast of characters woven into sprawling history. From swashbuckling smugglers and shrewd princesses to fearsome Sith lords and gritty bounty hunters, there are countless unforgettable characters that transcend fiction and win our hearts. Data artist Dr. Kirell Benzi has created this hypnotic visualization that is more than meets the eye. It captures the connections between different characters in the Star Wars universe – 20,000 of them, in fact! The more you look at it, the more connections and correlations emerge.
Click below to zoom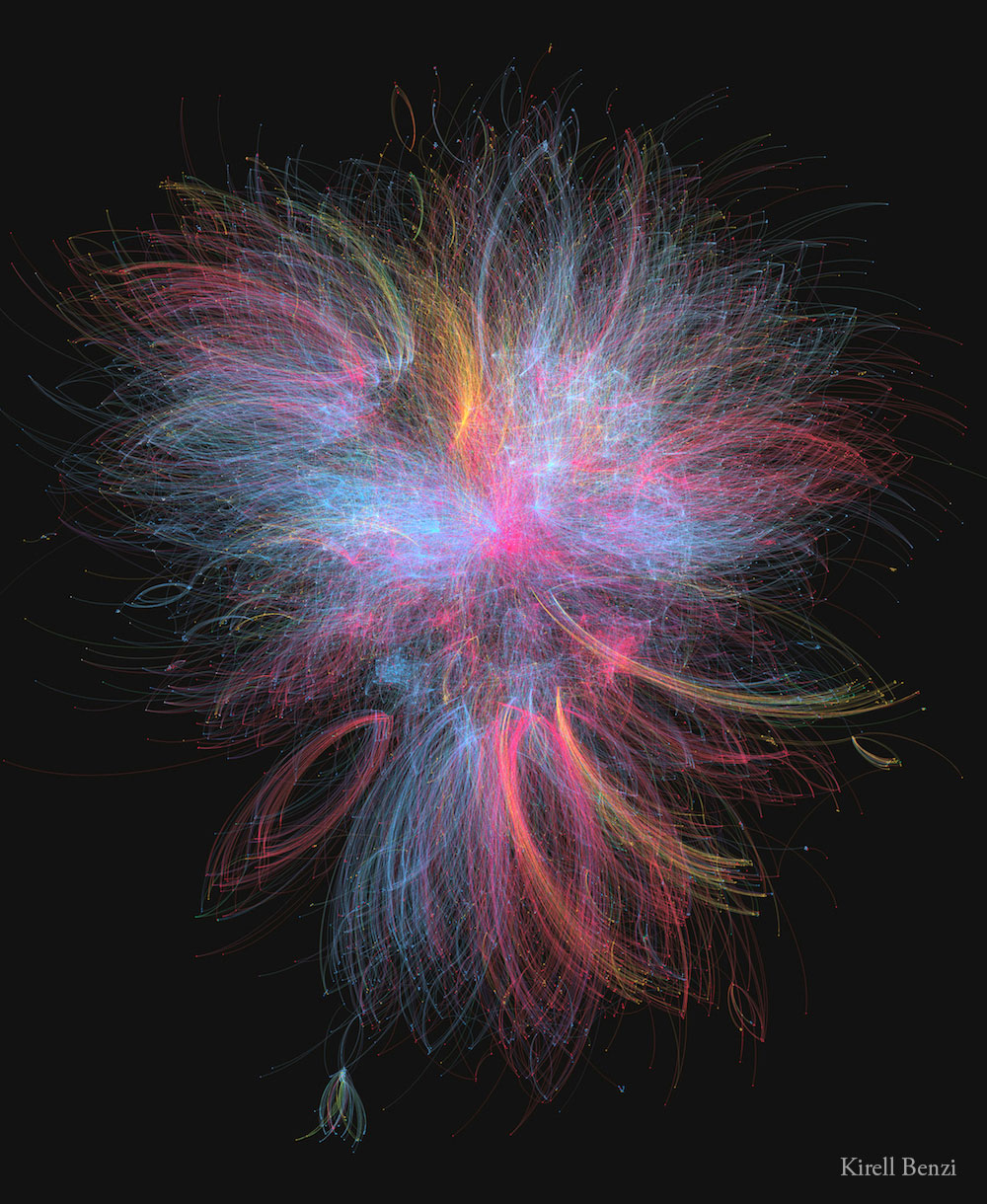 Each character is represented by a single node, which are connected by color-colored lines (or edges) to represent an association between the characters. The shades of blue represent the Jedi, the Republic, and the light side of the Force. The darker shades of red represent the Empire and Sith. The yellow nodes expose bounty hunters and other criminals. For example, when a bounty hunter and a Jedi interact, the line appears more green. When a Sith lord and a criminal interact, the line appears more orange. The designer states: "If you pay attention to the center of the picture, you can see the two most influential characters of the whole galaxy: Anakin Skywalker and Emperor Palpatine." All together, it crystallizes the conflict that rages across the galaxy in a stunning and ethereal way. There truly are infinite ways for data to be beautiful. May the Force be with you!
The Most Popular Board Games Based on Units Sold
Board games have been used as a way to pass the time for many years, thousands of years in fact. With so many different board games that have been created and played for many years, which have proved to be the most popular games to play? The team at Fun.com created this fun visual that ranks the best-selling board games of all time.
Click below to zoom

Created to look like a game board of its own, it weaves its way through the 20 board games that have sold the most copies since they were first introduced. The best-selling board game of all time is Chess, which was first introduced back in 1200. While the total number of Chess games sold is unknown, it continues to sell more than 3 million copies every year in just the U.S. alone. Another board game classic, Checkers, is the second best-selling board game of all time. It has sold an estimated 50 billion units since it was first introduced over five-thousand years ago in 3000 B.C.E.! Another popular board game, Backgammon, was also introduced during this time. The 88 million units of the modern version of Backgammon that have been sold put it at eighth best-selling on the list. In addition to the estimated number of units sold, each board game also includes the year it was introduced and the number of players needed to play. It's interesting to see just how long some of the most popular board games have been around for. Which of these classic board games is your favorite one to play?
How Prom Dress Styles Have Evolved Over Time
When you think of prom the first image that may pop into your head is a sea of colorful and extravagant dresses dancing the night away. The style of dresses you're picturing, though, will depend entirely on the decade that you attended prom. Fashion trends are always evolving and that proves especially true when it comes to prom dress styles, as seen in this visual from popular fashion brand Lulus.
Click below to zoom

It starts with the early 1900s Victorian Era and travels through current day trends on a fashion blast through the past of the most popular prom dress styles from every decade. Here you'll find the free and fun flapper dresses of the 1920s to the long and flowing bohemian dresses of the 1970s. As you go through the timeline of dresses it's interesting to note how popular movies or celebrities had an impact on a decade's fashion trends. The popularity of "Gone With the Wild" in the 1940s brought back the Victorian-Era style dresses that had been popular forty years prior. Pop stars like Britney Spears and Christina Aguilera influenced the prom dress styles that were popular in the 2000s. As the dress styles change from decade to decade, one thing about prom remains the same and that is the desire to get decked out in fancy attire and dance the night away with friends and  classmates. And to see who is crowned Prom King and Prom Queen, of course! What type of prom dress do you think will emerge as one of the most popular styles of the 2020s?