A Timeline of the Most Destructive and Notable Computer Viruses in History
How does a computer virus infect a system? Much like a biological virus, computer viruses spread and replicate from one host to another, infecting a large number of computers quickly and causing mayhem and destruction. Computer programmers use languages like C, C++, C#, Java, Perl, PHP and more to write computer programs, this code can also be used to create viruses with malicious intent. Creating a computer virus is not illegal, but if it causes harm to other systems, the person who created it may be held liable for damages. Some of the world's most infamous and devastating computer viruses can be found here in a timeline from HP.
Click below to zoom
Researchers agree that the first computer virus was circulated back in 1971. Called the Creeper virus, this program infected computers in a non-malicious way, simply putting a message up that said "I'm the creeper, catch me if you can."
Computer viruses didn't get big media attention until 1988 when the Morris worm was released causing over 228 million in damage in today's money. In the early 2000's when personal email was truly starting to take off, computer viruses exploded through mass-emailing schemes. The ILOVEYOU virus (released in 2000) was a fake love letter that would send itself to every contact in a person's email list once opened. In 2001, a virus called KLEZ was estimated to infect over 7% of the computers in the entire world by sending fake emails and tricking victims into opening them by pretending to be trusted senders. It caused over 48 billion dollars in damage after inflation making it the 2nd most destructive virus on this timeline.
Every Coin the U.S. Mint has Produced Over the Past 100 Years, Visualized
When you were growing up, do you remember your parents having a big cardboard U.S. map with slots for the official state quarters to fit into? When I was a kid, it was all the rage to collect those special shiny emblems and it was always exciting to acquire a new state coin. My parents filled about 60% of the board, and eventually the hype wore off and we ended up using the quarters for laundry. This made me wonder, "how many coins have there been made in the United States?" Fortunately, this fascinating visualization by WizardPins.com answers that question and more:
Click below to zoom

I really love the elegant, minimalist color scheme – it has a gilded, "expensive" appearance that perfectly suits the topic. The fonts chosen throughout elevate this classy appearance, creating a cohesive chart that delivers an incredible amount of information in a refined way.
Between 1921 and 2020, the U.S. Mint has produced 816,138,372,612 coins which amounts to $169,541,902,128 billion in today's dollars! I like to imagine being Scrooge McDuck and swimming in a shimmering ocean of all of those coins. In reality, doing that would probably be cold, smelly, and unpleasant, but it is still a fun daydream. I was most curious about how many pennies there are in the United States and found the answer promptly; over 66 billion pennies have been produced by the U.S. Mint. I also discovered that it actually costs the government 2 cents to produce one penny, which means it lost $76 million in 2020 by producing over $7.5 billion pennies. Seems like the copper is making us more "coppoor". Sorry, I could not resist.
The 20 Largest Cities in the World from 2800 BC to 2100 AD
Let's take a incredible journey through history to see the world's largest cities over time with this animated visualization. This video, created by CityGlobeTour on YouTube, reveals the 20 largest cities in the world at any given moment throughout history from 2800 BC to 2100 AD. Hit play to live through the rise and fall of nearly every civilization of human history.
Play by play:
Starting in the year 2800 BC, the largest city by population was Uruk, Iraq. At a population of 80,000 people, Uruk had double the number of the next largest city which was also located in Iraq, the city of Larak; which had a population of 40,000. Out of the 14 cities listed in the year 2800, ten are located in Iraq, three are in Syria and one is in Iran. By 2500 BC, Uruk's population is still the largest however it has shrunk to just over 46,000 people and the city of Mari in Syria has moved up the list with a population of 43,853. Just a few hundred years before in 2730 BC, the city of Mari had a population of just 13,797. Jumping even further to 2000 BC the moving chart shows that Egypt and Pakistan are added to the mix and in 1930 BC the city of Memphis Egypt jumps into the number one spot with a population of 56,517. It isn't until the year 1660 BC that China pops up on the list and very quickly jumps to the top four largest with the city of Erlitou, population of 39,813. In 1500 BC Greece has had a boom in the city of Knossos, population of 42,857. It isn't until the year 1300 BC that a city has a population of more than 100 thousand. Thebes (Luxor) in Egypt tops the list with 100,726 people in the city. As you can see, this animated bar graph is super interesting, and spoiler alert: it gets even more interesting! As you continue your way through the animation, you'll notice the US first appear in the year 1834 with New York City's population of 255,797!
The Nature Timespiral Reveals the History of Earth From the Big Bang Until Today
In the grand scheme of time and space, the existence of humanity is a mere drip in the ocean of reality. Or is it? Either way, this utterly breathtaking visualization by Pablo Carlos Budassi shows us how we are just a tiny thread in a colossal tapestry of stardust:
Click below to zoom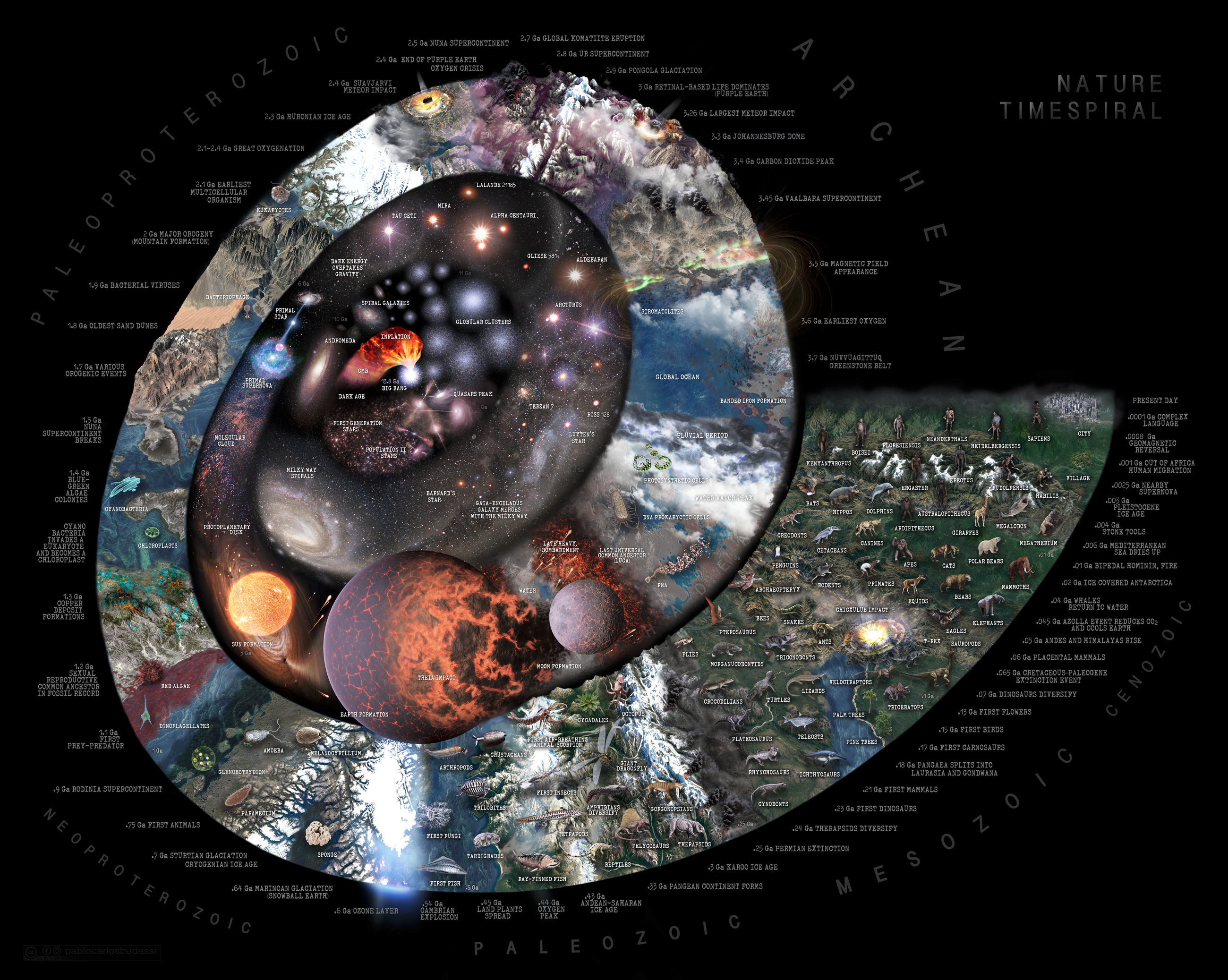 It is no easy task to visualize the entire history of the planet in a gorgeous, mesmerizing way, but illustrator Budassi has achieved it. When I first saw this visualization, I literally gasped and immediately investigated if it is available for purchase because I would love to see it on my wall everyday (and I would be honored to support such a talented artist). It somehow remains minimalist while capturing an incredible wealth of information and detail. The colors convey the timeline of cataclysmic events that have created the lush, diverse world we call home today.
I also love beautiful things that I can learn from while admiring them. For example, I had no idea what the last universal common ancestor (LUCA) was. Around 4 billion years ago (the Earth and moon formed 4.5 billion years ago, for context), LUCA existed. It is believed that this microbe was the beginning of life on Earth, making it the first ancestor of all living creatures. There is evidence that it lived a somewhat alien lifestyle, thriving deep underground in iron-sulfur hydrothermal events. It did not breathe air and was capable of producing its own food using the dark, metal-rich environment surrounding it. Gotta love a strong, independent microbe!