Charting Brett Favre's 508 Career Touchdown Passes
From 1992 through his retirement in 2010, there were very few Quarterbacks who were better than Brett Favre in the NFL. Over the course of his legendary career, the Pro Football Hall of Fame inductee and Green Bay Packers legend registered 71,838 passing yards and 508 touchdown passes. Not only that, but he was the NFL's MVP three consecutive years in a row (1995-1997) and was elected to eleven Pro Bowls.
From Billy Anneken, this visual shows who caught touchdown passes from Brett Favre over #4's career, which spanned 20 seasons in the National Football League.
Click below to zoom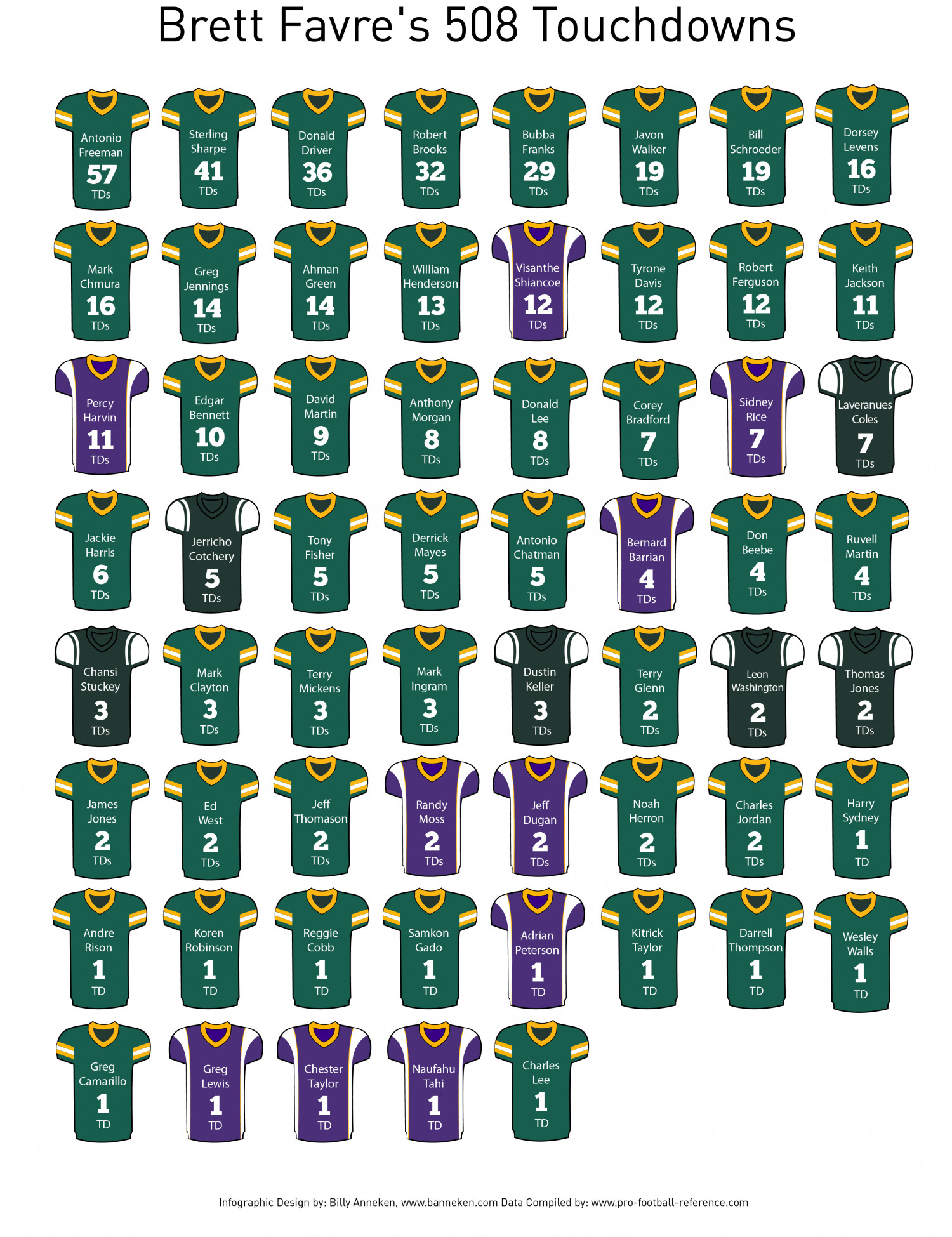 Over the course of his storied NFL career, Brett Favre threw for 508 touchdown passes. Of these 508 scores through the air, a total of 61 players caught them across Favre's stints with three different teams — the Green Bay Packers, the New York Jets and the Minnesota Vikings. His scores were spread across to six different Jets players, ten different Vikings players, and 45 different Packers players.
The player with the most touchdown receptions from Brett Favre was Antonio Freeman, who found the end zone on 57 occasions. Freeman was originally drafted by the Green Bay Packers in the third round of the 1995 NFL Draft, and would spend time with the Packers from 1995 – 2001. He would later have stints with both the Philadelphia Eagles and the Miami Dolphins. Today, Antonio Freeman is a member of the Green Bay Packers Hall of Fame.
Here are the receivers who caught touchdowns from the legendary Brett Favre, along with how many scores from the Hall of Famer.
Antonio Freeman: 57 touchdowns
Sterling Sharpe: 41 touchdowns
Donald Driver: 36 touchdowns
Robert Brooks: 32 touchdowns
Bubba Franks: 29 touchdowns
Jason Walker: 19 touchdowns
Bill Schroeder: 19 touchdowns
Dosey Levens: 16 touchdowns
Mark Chmura: 16 touchdowns
Greg Jennings: 14 touchdowns
Ahman Green: 14 touchdowns
William Henderson: 13 touchdowns
Visanthe Schiancoe: 12 touchdowns
Tyrone Davis: 12 touchdowns
Robert Ferguson: 12 touchdowns
Keith Jackson: 11 touchdowns
Percy Harvin: 11 touchdowns
Edgar Bennett: 10 touchdowns
David Martin: 9 touchdowns
Anthony Morgan: 8 touchdowns
Donald Lee: 8 touchdowns
Corey Bradford: 7 touchdowns
Sidney Rice: 7 touchdowns
Laveranues Coles: 7 touchdowns
Jackie Harris: 6 touchdowns
Jerricho Cotchery: 5 touchdowns
Tony Fisher: 5 touchdowns
Derrick Mayes: 5 touchdowns
Antonio Chatman: 5 touchdowns
Berrnard Barrian: 4 touchdowns
Don Beebe: 4 touchdowns
Ruvell Martin: 4 touchdowns
Chansi Stuckey: 3 touchdowns
Mark Clayton: 3 touchdowns
Terry Mickens: 3 touchdowns
Mark Ingram: 3 touchdowns
Dustin Keller: 3 touchdowns
Terry Glenn: 2 touchdowns
Leon Washington: 2 touchdowns
Thomas Jones: 2 touchdowns
James Jones: 2 touchdowns
Ed West: 2 touchdowns
Jeff Thomason: 2 touchdowns
Randy Moss: 2 touchdowns
Jeff Dugan: 2 touchdowns
Noah Herron: 2 touchdowns
Charles Jordan: 2 touchdowns
Harry Sydney: 1 touchdown
Andre Rison: 1 touchdown
Koren Robinson: 1 touchdown
Reggie Cobb: 1 touchdown
Samkon Gado: 1 touchdown
Adrian Peterson: 1 touchdown
Kitrick Taylor: 1 touchdown
Darrell Thompson: 1 touchdown
Wesley Walls: 1 touchdown
Greg Camarillo: 1 touchdown
Greg Lewis: 1 touchdown
Chester Taylor: 1 touchdown
Naufahu Tahi: 1 touchdown
Charles Lee: 1 touchdown
Where in the US Has Rent Become Most (and Least) Affordable?
The pandemic saw a large shift in many aspects of daily life with many people completely shifting their entire location as well. Texas saw the largest increase in new residents by far with tens of thousands moving to Kaufman, Comal and Rockwall county. Florida was another state that saw a large increase of new folks in the neighborhood. Many of these people citing job loss, unhappiness with their states representatives in government and cost of living as their reasons for moving. Rent and mortgage rates have played a large roll also in where residents are leaving and flocking to and who can blame them? A NYC one bedroom apartment averages close to $4,000 a month where as a one bedroom in El Paso Texas averages around $810 per month. This great chart from Housinglist.com shows where in the US Rent is the most and least affordable.
Click below to zoom

You may already know the outrageous cost of living in NYC, Miami, Boston and LA, but did you know Tampa, Florida, Detroit, Michigan and Rochester, New York will cost you above average in rent? Rochester only has a median income of $37,395 and median rent for a one bedroom there is just over $1200 per month making their percentage of household income going to rent for the year almost 36%. To compare, if you want to rent a one bedroom in Wichita Kansas it will only cost you under $700 or just 15.49% of household income for the year. Where would you choose to live on this map? Are you seeing these prices reflected in your area?
The Largest Mergers of All Time, Adjusted for Inflation
When talking about the world's largest mergers and acquisitions, it is interesting to see how some companies surged while others have lost so much. According to this visualization, adjusted for inflation in 2022, the largest acquisition was in 1999 when Vodafone purchased German cell company Mannesmann for $297.7 billion dollars. Since that purchase, only the Time Warner acquisition by AOL has even come close, selling for $286.4 billion just one year later in 2000. Read on to learn more in this interesting piece from /u/giteam on Reddit.
Click below to zoom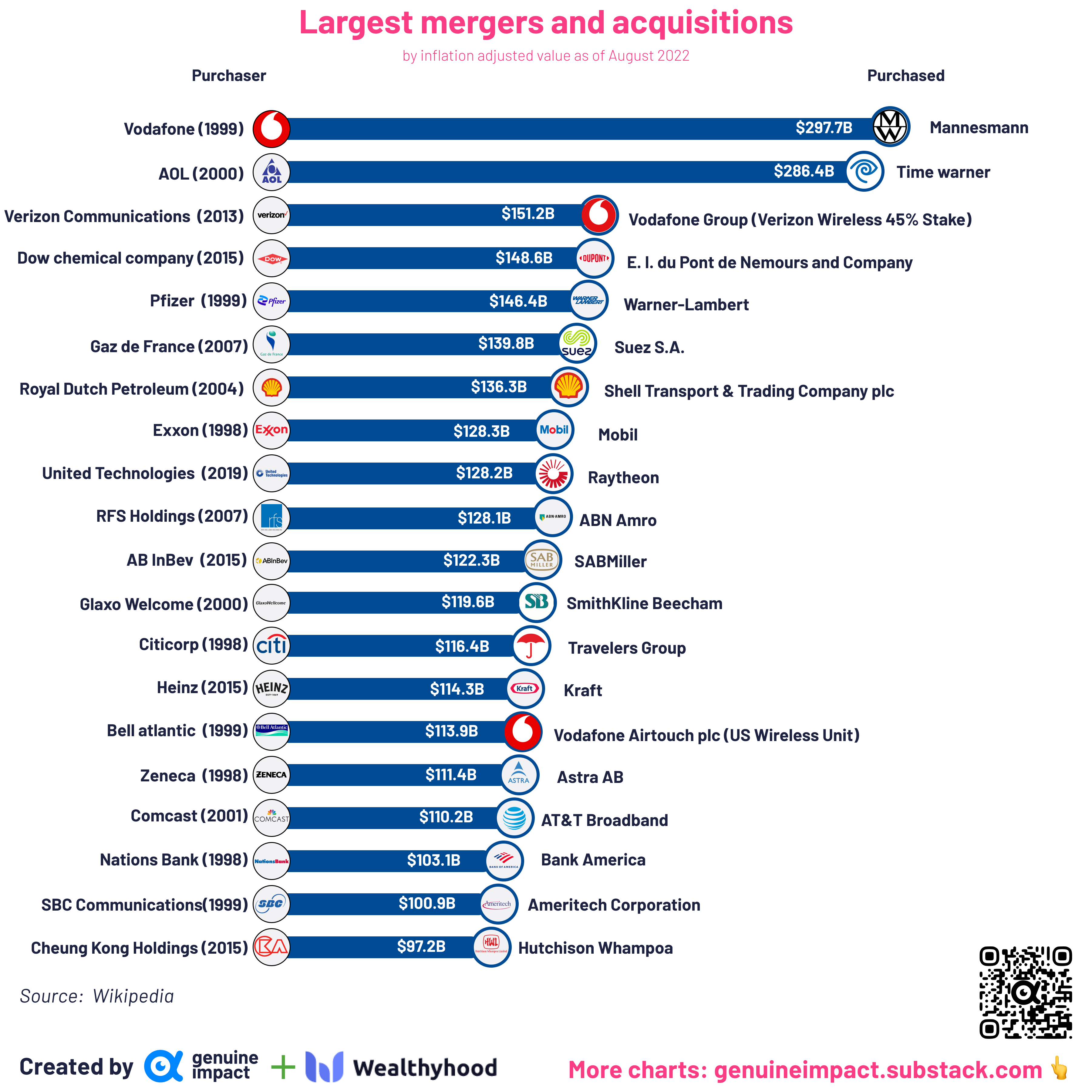 In 1998, Exxon purchased Mobil for $128.3 billion, which shows the enormity of the Vodafone merger. Another major acquisition on this list by a company you have probably heard of is Kraft, which was purchased by Heinz in 2015 for $114.3 billion. AT&T is another well-known business that was purchased by Comcast in 2001 for $110.2 billion. Travelers Insurance Group was purchased by Citicorp in 1998. Let's continue down the list to see other major mergers from the past. In 1999, pharmaceutical giant Pfizer purchased Warner-Lambert for $146.4 billion. Gaz de France purchased Suez S.A in 2007 for $139.8 billion. Dutch Petroleum purchased Shell Transport & Trading Company for $136.3 billion in 2004. RFS Holdings purchased ABN Amro in 2007 for $128.1 billion. AB InBev purchased SABMiller for $122.3 billion in 2015. Glaxo Welcome purchased SmithKline Beecham for $119.6 billion in 2000. Bell Atlantic then purchased Vodafone Airtouch for $113.9 billion in 1999. Zeneca purchased Astra AB, becoming Astra Zeneca in 1998 for $111.4 billion. Nations Bank also purchased Bank of America in 1998 for $103.1 billion.
New Chart Shows That Steve Ballmer is the Wealthiest Sports Owner in the World
From 2000 through 2014, Steve Ballmer served as the chief of Microsoft, and has gone on to become one of the richest people on Earth. Not only did he make his name with Microsoft, but Steve Ballmer is also a prominent name in the world of professional sports, as the owner of the Los Angeles Clippers franchise in the National Basketball Association. In fact, not only is Steve Ballmer is the richest owner in the entire league, but he's also the richest owner in all of professional sports.
This fascinating visualization from the research team at Madison Trust considered all sports and leagues around the world to determine who the richest sports teams owners actually are, developing a list of the top thirty overall. Their team factored in several sports into their research, including basketball, soccer, football, cricket, formula 1, hockey, and baseball.
Click below to zoom

Who is the richest owner in the NFL?
The National Football League is indisputably the most popular sport in the United States, and no NFL owner is wealthier than Rob Walton of the Denver Broncos, who is worth an estimated $59.8 billion. Not only is Rob Walton the richest owner in the National Football League, but he's also one of the richest individuals in the world in general, and is also the heir to the fortune of Walmart. Following Rob Walton, the richest owners in the NFL would be David Tepper of the Carolina Panthers (worth $16.7 billion), Stan Kroenke of the Los Angeles Rams (worth $10.7 billion), Jerry Jones of the Dallas Cowboys (worth $8.9 billion), and Shahid Khan of the Jacksonville Jaguars (worth $8 billion).