New Maps Show the Most Popular Beer by State
According to a recent student conducted by by Grillio, the most popular beer brand and beer variety in each state varies widely across the United States. To visualize this data, Grillio created a series of maps showing which brands and varieties reign supreme in each state.
Click below to zoom

On the brands map, one noticeable trend is the dominance of Corona in the Eastern and Southern states. In fact, Corona claims the top spot in a total of 21 states. Modelo, on the other hand, has a strong presence in the west, with 7 states choosing it as their favorite brand. This is no surprise considering the Hispanic influence of those regions.
It's interesting to see how regional preferences play a role in the popularity of certain beer brands and how American-made beers don't have as much of a hold as you might expect. While Budweiser may be a nationwide staple, it's clear that imports such as Corona and Modelo Especial hold a special place in the hearts (and beer fridges) of many Americans.
On the first map, specifically about types of beer by state, ale appears to dominate across the nation from coast to coast. One exception is the Midwestern states such as Minnesota, Wisconsin, Michigan, Iowa, Indiana, and Missouri where stouts take the top spot. I'd imagine this is likely due to the harsh winters the area is known for. The Northwestern United States prefers Pale Ale and Pilsner but sticks with the nationwide trend of light beers being the favorite.
The Biggest Company in Every Country Around the World
Have you ever wondered how many people have an iPhone? There are over 1.2 billion iPhone users in the world! Here are a few other mind-blowing Apple statistics; according to Counterpoint Research, Apple has around a 16% market share of the global smartphone industry and a 50% market share of the US smartphone industry. These impressive statistics make sense when you consider how Apple is the biggest company in the world by market value! We love this new fascinating chart (you can find the full list if you follow that link) of the biggest companies in every country.
Click below to zoom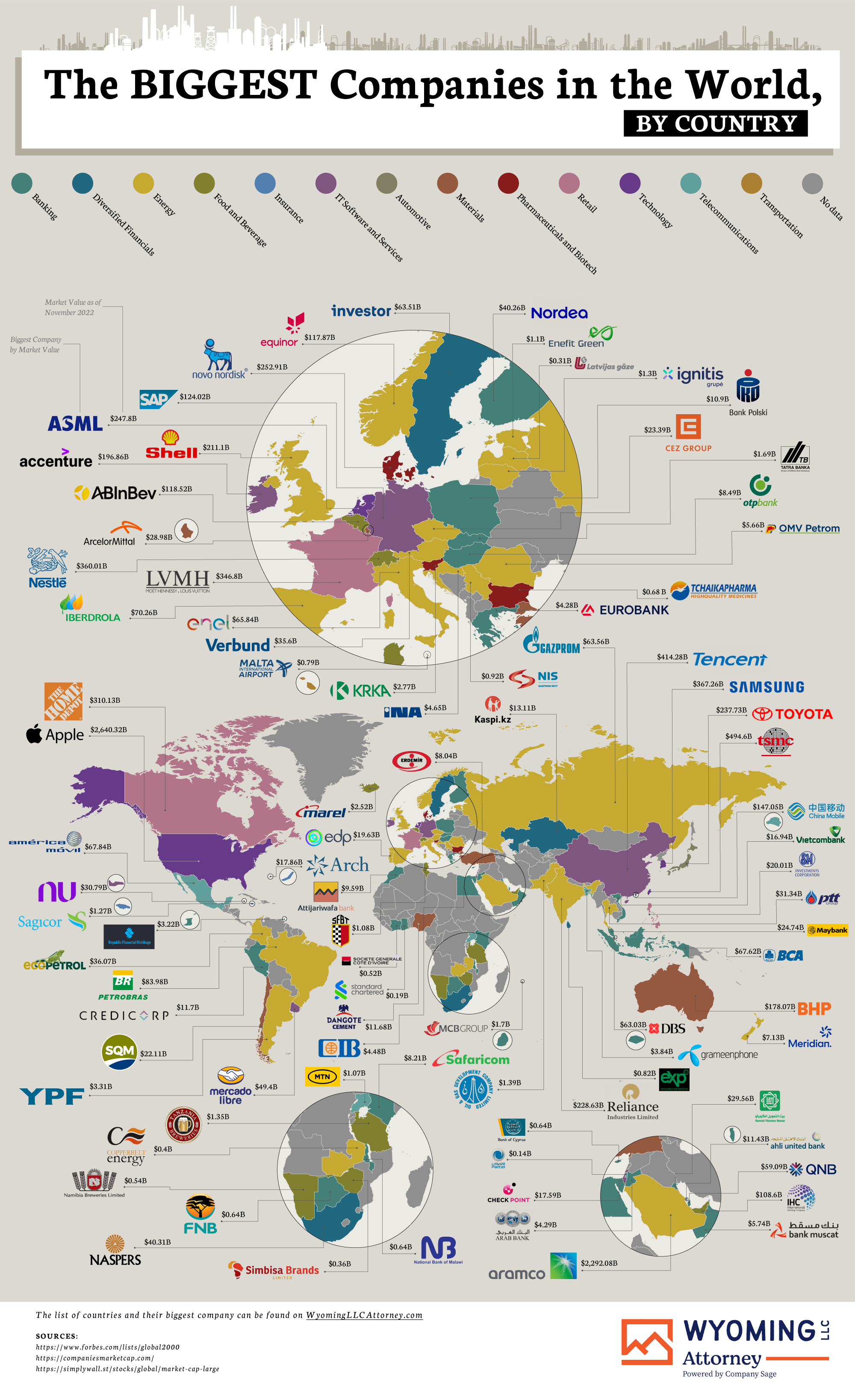 From a design perspective, I appreciate just how much information is packed on here in a structured, digestible way. The color coding provides quick insights into the leading industry in every country. The page provides additional knowledge on the world's leading companies. Not only does Apple have the greatest market value in the world at $2.64 trillion, it is also the largest tech company by revenue. They are the second largest phone manufacturer after Samsung, which is South Korea's largest company with a market value of $367.3 billion. A gander through the master list of most valuable companies on the page shows that many are in the banking industry, followed closely by the energy industry. Out of the 90 companies explored, 24 are banks and 23 are in the energy sector. Technology also excels; the biggest company in Asia is the Taiwan Semiconductor Manufacturing Co. with a market value of $494.6 billion. Founded in 1987, it was the first dedicated semiconductor foundry and has been leading the pack ever since.
Maps Show What Matters Most To People Around the World
What matters most to you? What do you find most fulfilling? What would a happy life look like to you? While the answers to these questions are profoundly influenced by your own personal experiences and background, your homeland may play a role too. This simple and beautiful chart by MoveHub.com explores what matters most in every country based on the Organisation for Economic Co-operation and Development Better Life Index.
Click below to zoom

I find this visualization absolutely captivating and genius; the key made from a wave of colors unites grace and functionality, and the maps are easy to comprehend. You can spot outliers with ease – for example, Georgia, Papua New Guinea, and Slovenia are among the only countries that value environment the most. Community is another rare top value with only Bhutan and Zimbabwe at a quick scan. What about jobs? We spend most of our time at work, so you would think jobs would have a bigger fan base, but I have only found Moldova! Many Scandinavian countries value life satisfaction the most – they may be onto something, because they are also among the happiest countries in the world!
Overall, it is both soothing and thought-provoking in its simplicity. I love charts like these because it makes me reflect both inward and outward – the world truly is a mosaic of cultures with diverse values, priorities, and "recipes" for happiness! Be sure to explore the Better Life Index – it is fascinating! It delves deeper into the data behind the responses and offers more insight into each country. For example, the top five for the United States are life satisfaction, health, education, work-life balance, and environment.
Where in the US Has Rent Become Most (and Least) Affordable?
The pandemic saw a large shift in many aspects of daily life with many people completely shifting their entire location as well. Texas saw the largest increase in new residents by far with tens of thousands moving to Kaufman, Comal and Rockwall county. Florida was another state that saw a large increase of new folks in the neighborhood. Many of these people citing job loss, unhappiness with their states representatives in government and cost of living as their reasons for moving. Rent and mortgage rates have played a large roll also in where residents are leaving and flocking to and who can blame them? A NYC one bedroom apartment averages close to $4,000 a month where as a one bedroom in El Paso Texas averages around $810 per month. This great chart from Housinglist.com shows where in the US Rent is the most and least affordable.
Click below to zoom

You may already know the outrageous cost of living in NYC, Miami, Boston and LA, but did you know Tampa, Florida, Detroit, Michigan and Rochester, New York will cost you above average in rent? Rochester only has a median income of $37,395 and median rent for a one bedroom there is just over $1200 per month making their percentage of household income going to rent for the year almost 36%. To compare, if you want to rent a one bedroom in Wichita Kansas it will only cost you under $700 or just 15.49% of household income for the year. Where would you choose to live on this map? Are you seeing these prices reflected in your area?