How Big of a House Can You Get for $1M Around the United States?
A million dollars is a million dollars, right? Well, it turns out that a million dollars can go a lot further in some U.S. cities than it can in others. This new 3D bar graph map visualization from RoofClaim.com reveals just how far (or not so far) your dollar can go when it comes to buying a house. The results are fascinating:
Click below to zoom

In Detroit, Michigan, you can buy a 22,000-plus square foot mega-mansion for $1 million. That's nearly half the size of a football field. And in Memphis, Tennessee, you can get a similarly-sized 17,847 sq ft home for the same amount of money. Although, the local market in Memphis seems to be turning around this year.
On the other end of the spectrum, the real estate market in San Francisco is a whole different story. With one million dollars you'd only be able to get about 909 square feet. In Detroit, a home of that size would only run you about $40,905. But, just because housing prices are low, doesn't mean it's a good buy. Be sure to do your own research.

So why is it that real estate markets in the same country can be priced so wildly different? Well, that's a complicated answer. A lot of factors come into play when it comes to real estate value in a specific city. Some include housing availability, crime rate, the job market, waterfront or other favorable views, and more. In San Francisco, it's emerging that housing prices are so high that even highly paid tech workers can't afford to live there.
How does your local city or town stack up? Let us know in the comments!
The Average Terrain Colors of Countries Around the World
When you think about countries with an abundance of desert like Egypt, you generally think of yellow and orange sand colors. Likewise, countries with rainforests like Brazil most likely generate thoughts of deep greens. What color are the rest of the countries in the world?
Data visualization artist Erin Davis used satellite imagery from Sentinel-2 to illustrate the average color of the terrain in countries around the world.
Click below to zoom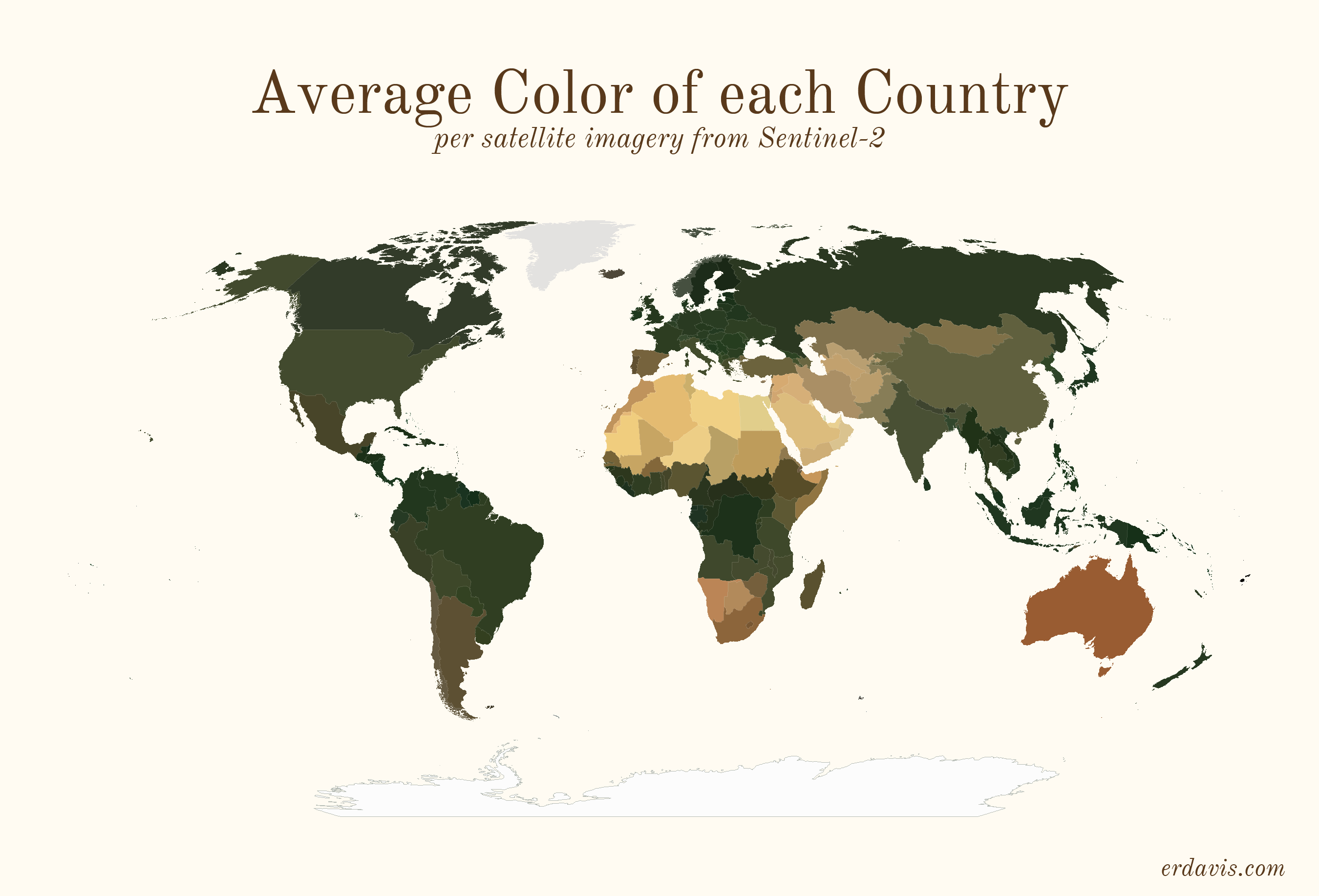 The graphics use a choropleth map visualization to show the average color of the terrain in each country. Some countries, like snow-covered Greenland and Antarctica, are clearly colored how one would expect. Others take on a darker or more jewel-toned hue that reflects their unique landscapes.
The artist also illustrated the average color of each county in the United States for a more granular view of the country. The visualization highlights the forest-rich regions of the Northeast, Mid-Atlantic, and South East as well as well as the rugged physical geography of southwestern states like Arizona and New Mexico.
Click below to zoom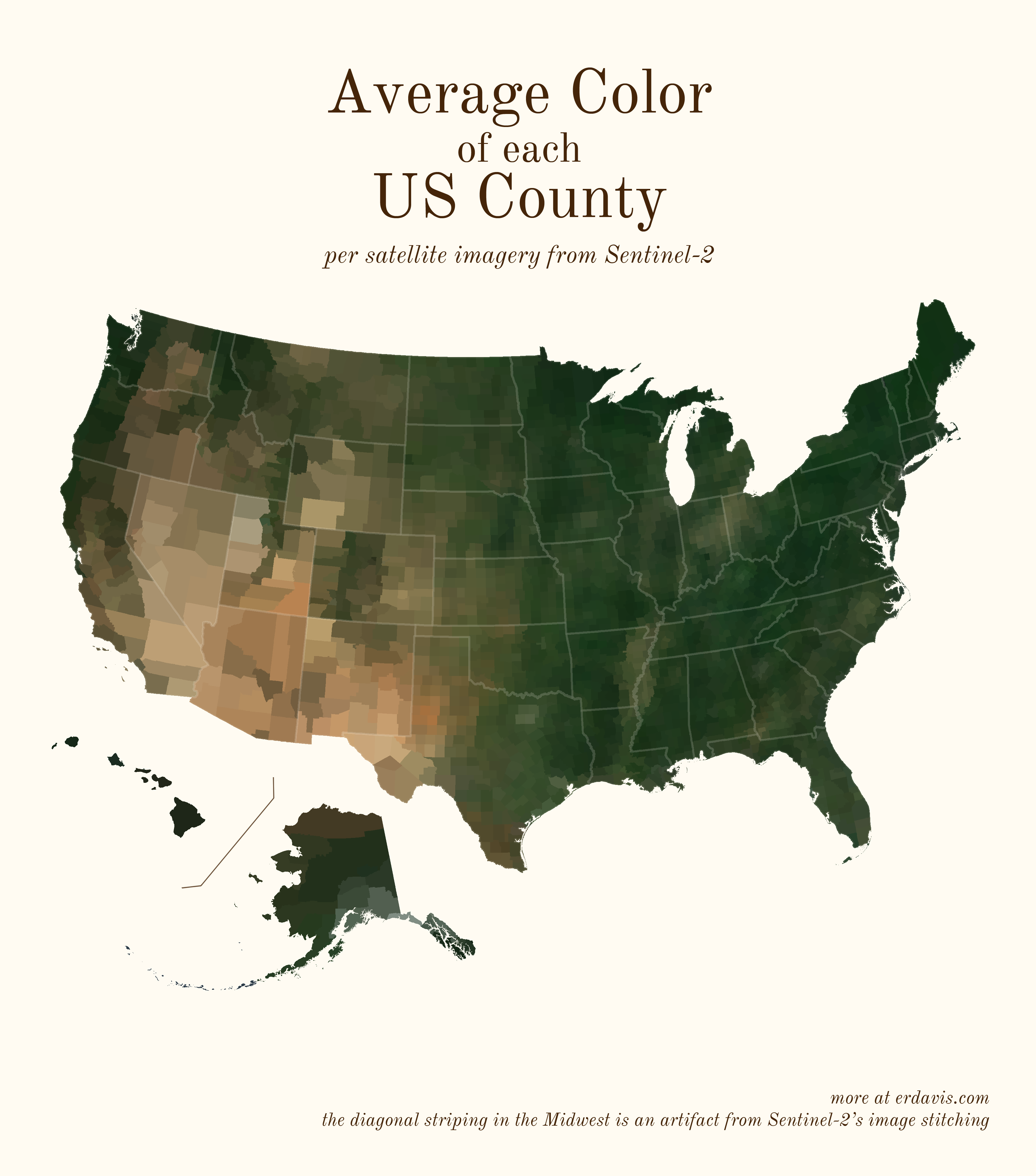 There are five major classes of land biomes in the world: forests, deserts, savannah, tundra, and grasslands. The nature of these biomes heavily impact the color of the areas picked up by satellite. These are the divisions of each biome around the world:
Forests (40.1%): Forest biomes are populated by various species of deciduous and evergreen trees. This type of biome also includes rainforests, one of the most important forests in the world.
Deserts (25.9%): Deserts are categorized as areas with very little rainfall. Daytime temperatures are typically high and nighttime temperatures are low.
Savannah (16.7%): Savannah is tropical grasslands that are somewhere between lush tropical rainforests and desert regions. Their rainfalls typically occur during summer months, which means it evaporates quickly. These areas are prone to drought.
Tundra (10.5%): The climate of the tundra is extreme cold. Temperatures in the winter often go below freezing and plant life is either nonexistent or dormant for much of the year.
Grasslands (6.8%): Grasslands (also known as the Prairies in North America and the Pampas in South America) are temperate regions with warm summers and cool winters.
The Countries With the Fastest Internet Speeds in the World
Singapore is home to the fastest average internet speed in the world, where the average download speed is an incredible 238.59 megabits per second. There are many theories as to why this is, with what being that Singapore was founded with a compact and easily upgradable infrastructure. Not only that, but in Singapore, the economic freedom has led to a society that's more high-speed and connected.
From Hewlett Packard, this visualization takes a look at where in the world you can find the fastest internet speeds, both in terms of average broadband and mobile speeds.
Click below to zoom

The fastest fixed broadband internet in the world can be found in Singapore, where the average speed is 238.59 megabits per second. According to the data, these are the 20 countries with the fastest fixed broadband internet.
Singapore: 238.59 megabits per second
Hong Kong: 231.70 megabits per second
Thailand: 217.70 megabits per second
Romania: 205.89 megabits per second
Denmark: 197.27 megabits per second
Spain: 189.50 megabits per second
Hungary: 187.52 megabits per second
Liechtenstein: 186.46 megabits per second
Monaco: 185.48 megabits per second
France: 184.77 megabits per second
Switzerland: 183.88 megabits per second
United States: 180.84 megabits per second
South Korea: 176.95 megabits per second
Andorra: 172.41 megabits per second
Chile: 171.88 megabits per second
Macau: 167.56 megabits per second
Sweden: 165.52 megabits per second
China: 163.83 megabits per second
Canada: 158.69 megabits per second
Norway: 153.36 megabits per second
In terms of the fastest cellular internet speeds, it's the United Arab Emirates that takes the top spot, with an average speed of 178.52 megabits per second. These are the 15 countries from around the world that have the fastest cellular internet speeds on average.
United Arab Emirates: 178.52 megabits per second
South Korea: 170.52 megabits per second
Qatar: 167.40 megabits per second
China: 150.40 megabits per second
Saudi Arabia: 133.73 megabits per second
Norway: 118.20 megabits per second
Australia: 109.33 megabits per second
Netherlands: 103.37 megabits per second
Bulgaria: 96.27 megabits per second
Switzerland: 95.27 megabits per second
Canada: 93.87 megabits per second
Kuwait: 92.94 megabits per second
Luxembourg: 91.74 megabits per second
Cyprus: 87.55 megabits per second
Sweden: 83.44 megabits per second
Which National Park is the Closest to Where You Live?
If you've ever wondered which of the sixty-three National Parks that are scattered throughout the United States is closest to you, then wonder no more! We came across this map that breaks the country down into 63 regions, to show which National Park is the closest for every area in the United States. While we originally found this map visual shared in the r/dataisbeautiful subreddit, it was originally created by esri using the Thiessen (Voronoi) polygon tool.
Click below to zoom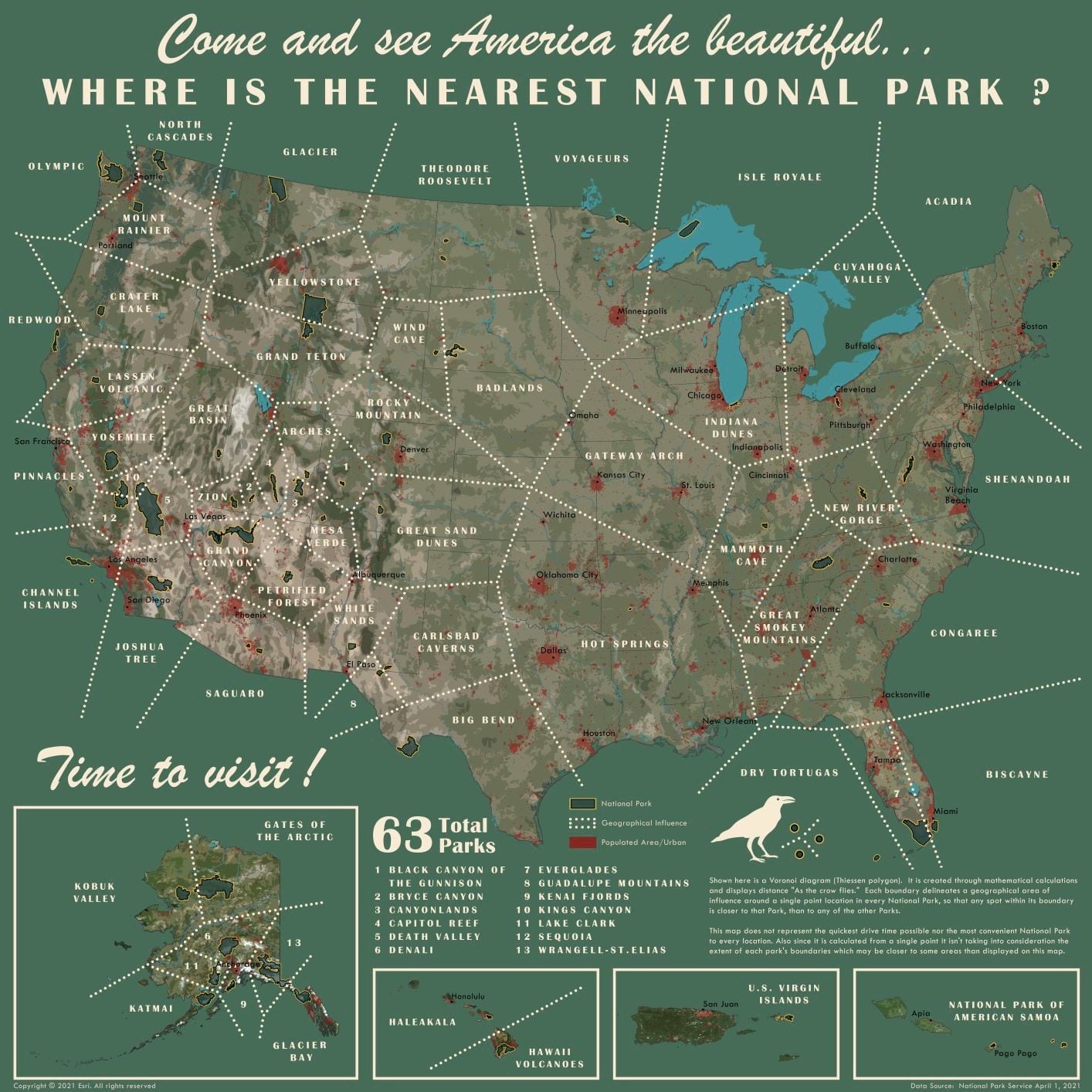 If you're also picking up vintage vibes from this map, that's because it was designed to be reminiscent of vintage National Park posters. An excellent design choice in our opinion! How did they determine which National Park was the closest to every area in the U.S.? The distance in each boundary is displayed "as the crow flies" so any spot within each National Park's boundary is closer to that park than to any other. Although these boundaries do not take into account the shortest drive time or the most convenient National Park to each location. Looking at the map you can see that there are a lot more National Park options on the western part of the country than on the eastern. This is due to the west having a lot more open land available when the National Park Service began in 1916, while the eastern side of the country had a lot more of its land already developed at that time. Which of the sixty-three National Parks is the closest to you!?