The Availability of Water Around the World
As the human race expands it is also depleting natural resources at an alarming rate. The entire planet has less than 1 percent of freshwater available for human consumption and 70 percent of that usable water is utilized for farming and livestock. People may be surprised to learn that the average meat eaters diet in the US consumes 1,320 gallons of water a day to generate. Areas around the world where malnutrition is a problem are often the same areas that droughts and flooding hit the hardest. When water becomes scarce, so does the food supply. Today's visualization comes to us from Roman Zydyk who shared his work in the visualization subreddit. He created this piece using Tableau. Check it out:
Click below to zoom: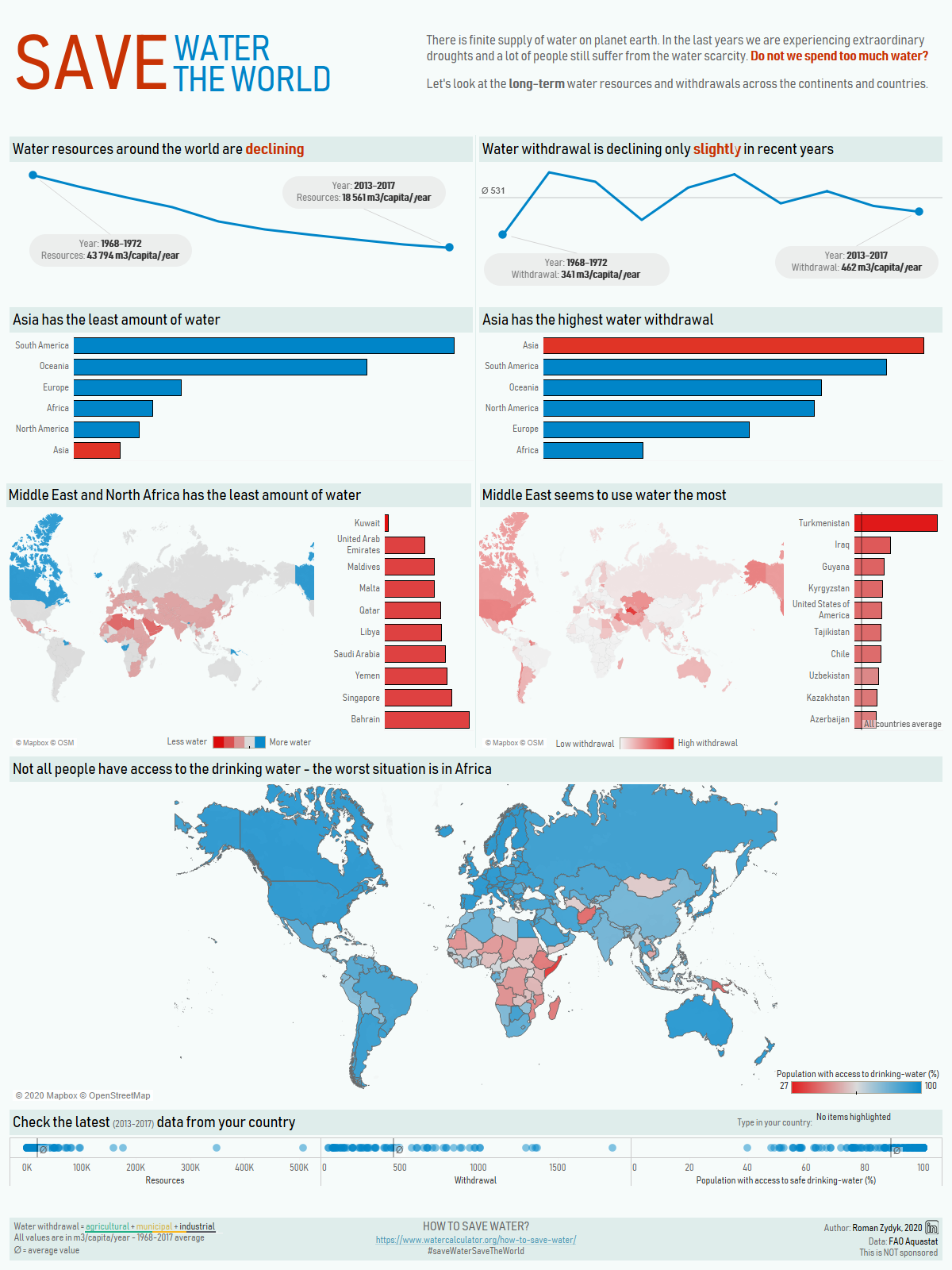 Fast Facts:
Asia is the continent with the least amount of water and North America is second behind it.
South America is the continent with the most fresh water reserves available. 
The country of Turkmenistan in the Middle East uses the most water in the world on agriculture.
Africa is the continent with the worst access to clean drinking water for its population.
780 million people (approx.1 in 9) live without access to an improved water source.
An improved water source is any process that protects water from outside contamination, such as fecal matter.
There are many simple ways you can help conserve water. We all know taking shorter showers helps but did you know that taking a bath will save more water then even the quickest showers? If you are someone who gardens or likes to water the lawn, you could install a rain barrel to collect run off and reuse it for irrigation. Another great way to save water, time and your hands is to wash dishes in the dishwasher. Using an Energy Star certified appliance can use as little as three gallons per load opposed to cleaning them in the sink, which can use over 25 gallons. Doing your job to conserve water benefits our society now and the many generations that will hopefully follow it. 
Other great water conservation resources:
This Map Shows Mobile Data Costs in Almost Every Country on the Planet
Mobile phones truly rule the world – around 91% of people own a mobile phone and 83.32% of people own a smartphone! In fact, you may be reading this on your smartphone right now from the convenience and comfort of your own couch! In order to make the most of our mobile devices, we need access to data. Not all access to data is created equal; the price of one gigabyte of data in one country may be vastly different than another, even if they are right beside each other. So where are people paying the most for their cell phone bill? The team at VoiceNation has created a fascinating visualization of the average cost of cell phone data around the world. Check it out:
Click below to zoom

To put things into perspective, consider that the global average cost of 1 GB of data is $4.07. Compare that to the most expensive country, Equatorial Guinea, where people pay an average of $49.67 for 1 GB! Israel has the least expensive data in the world at just $.05 per 1 GB. What can you do with 1 GB of data? According to MakeUseOf.com, 1 GB of data equals five hours of mobile web browsing, 30 minutes of HD video streaming, five hours of mobile gaming, and 18 hours of music streaming. That means in the most expensive country, it could cost around $200 just to watch a movie on your phone! In Israel, you could watch it for $.20. Overall, this chart is effective at conveying mobile data prices around the world in a quick and compelling way. How much do you pay for mobile data and where do you live? We would love to hear from you in the comments!
Which Cities Truly Never Sleep? This Chart Shows the Cities With the Most Night Workers
The world never truly sleeps – humans are working hard around the clock trying to make a living, provide for their families, afford their hobbies, or just make it to the next meal. While many of us are blissfully sinking into our pillows, night shift workers are just beginning their "day" of work. A typical night shift, or third shift, involves working from 11:00 PM to 7:00 AM or 5 PM to 2 AM. So where are these night workers most abundant? NapLab has created a chart exploring the U.S. cities with the most people working night jobs. Before you scroll down, take a guess at the top city. I did my first time discovering it – I'll share my answer below!
Click below to zoom

My initial guess was Detroit, Michigan. I have never been, but something about it just oozes "burning the midnight oil". What was your guess? Comment below! In reality, the top city with the most night workers is Las Vegas, Nevada, which actually makes absolute sense considering its reputation for a dazzling, chaotic and never-ending nightlife. 16.53% of Vegas' workforce works the night shift! After all, you would never expect a city with the monikers "Sin City", "Neon Capital of the World", "Entertainment Capital of the World" and "City of Light" to become a quiet little hamlet once the sun sets. I felt a little better when I discovered that my guess, Detroit, ranks 28th with 11.93% of the workforce manning the night shift.
Overall, I appreciate the overall feel of the chart – the colors convey the topic exceptionally, and the header is lovely and eye-catching. I have never seen this data visualized before, so I appreciate the opportunity to learn something new about the culture and economy of America.
U.S. Cities Where Home Prices Have Increased the Most Since the Pandemic
The COVID-19 pandemic has impacted prices and expenses across the board. From groceries to living costs, most people are feeling a hit to their wallets. Housing costs in particular have been rising exponentially. Where in the United States have they been rising the most?
The following visualization shows where in the U.S. home prices have increased the most since the pandemic. The graphic utilizes a pin map at the top to indicate where each of the cities are located, and then uses a column range chart to depict the change in home prices between January 2020 and July 2022.
Click below to zoom

These are the cities that have seen the biggest increase in home prices since the beginning of the pandemic in 2020:
Cape Coral, FL: 85.96%
Round Rock, TX: 80.94%
St. Petersburg, FL: 76.92%
Port St. Lucie, FL: 72.88%
Clearwater, FL: 71.09%
Surprise, AZ: 69.93%
Nampa, ID: 69.69%
Tampa, FL: 69.35%
Austin, TX: 69.05%
Gilbert, AZ: 68.54%
Unsurprisingly, since many employees are now allowed to work from home, warmer locations have become popular places for relocation. This could play a part in why home prices are increasing in states like Florida and Arizona.
On the flip side, these are the cities where home prices have risen the least since the pandemic:
Odessa, TX: -1.98%
Midland, TX: 6.27%
Washington, DC: 10.47%
San Francisco, CA: 11.27%
Las Cruces, NM: 11.35%
New York, NY: 12.95%
Laredo, TX: 15.85%
Boston, MA: 15.91%
Minneapolis, MN: 16.72%
Shreveport, LA: 16.96%
Odessa, TX is the only place where home prices have decreased. Major cities like San Francisco, New York City, and Boston have also experienced low levels of home price increases, likely due to many people leaving large cities during the pandemic.
Which city on the list is most surprising to you?