The Availability of Water Around the World
As the human race expands it is also depleting natural resources at an alarming rate. The entire planet has less than 1 percent of freshwater available for human consumption and 70 percent of that usable water is utilized for farming and livestock. People may be surprised to learn that the average meat eaters diet in the US consumes 1,320 gallons of water a day to generate. Areas around the world where malnutrition is a problem are often the same areas that droughts and flooding hit the hardest. When water becomes scarce, so does the food supply. Today's visualization comes to us from Roman Zydyk who shared his work in the visualization subreddit. He created this piece using Tableau. Check it out:
Click below to zoom: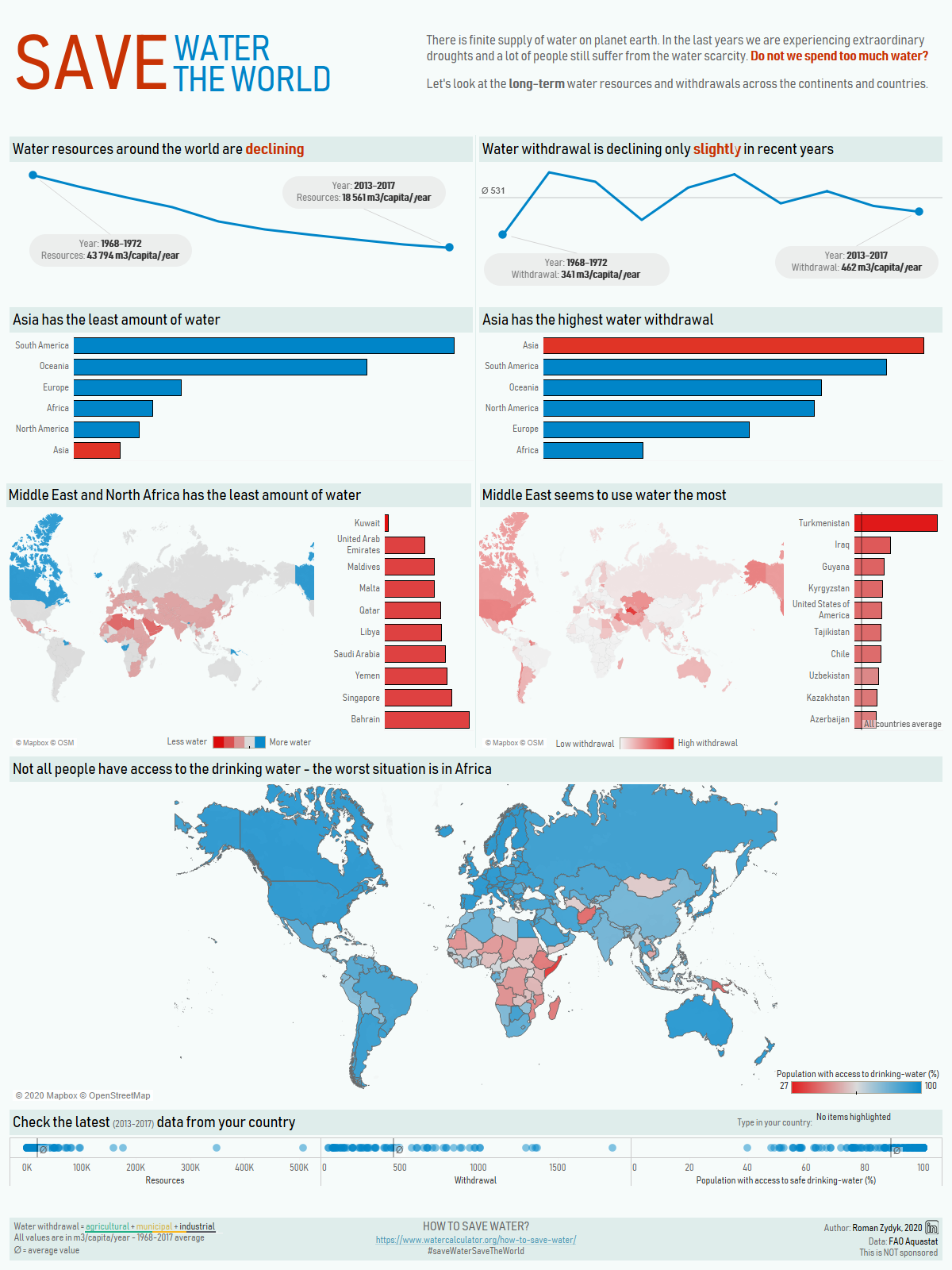 Fast Facts:
Asia is the continent with the least amount of water and North America is second behind it.
South America is the continent with the most fresh water reserves available. 
The country of Turkmenistan in the Middle East uses the most water in the world on agriculture.
Africa is the continent with the worst access to clean drinking water for its population.
780 million people (approx.1 in 9) live without access to an improved water source.
An improved water source is any process that protects water from outside contamination, such as fecal matter.
There are many simple ways you can help conserve water. We all know taking shorter showers helps but did you know that taking a bath will save more water then even the quickest showers? If you are someone who gardens or likes to water the lawn, you could install a rain barrel to collect run off and reuse it for irrigation. Another great way to save water, time and your hands is to wash dishes in the dishwasher. Using an Energy Star certified appliance can use as little as three gallons per load opposed to cleaning them in the sink, which can use over 25 gallons. Doing your job to conserve water benefits our society now and the many generations that will hopefully follow it. 
Other great water conservation resources:
Where in the U.S. Have the Highest (and Lowest) High School Graduation Rates?
The United States is a colossal country with an incredible range of beliefs, livelihoods, and experiences. One thing that unifies the vast majority of America is school. Federal laws require that children receive some form of education (public, private, homeschooling, etc.) for a period of time. In 2021, the average high school graduation rate in the United States was 85.3%. This incredibly detailed chart by the U.S. Career Institute explores how this rate varies across U.S. counties.
Click below to zoom

Visually, I really appreciate the use of formal, "prestigious" colors for the heat map and throughout the chart. The header font is excellent; I am planning to use it in some of my own projects! The diploma-like border is a nice touch. Let's take a closer look at the extra-large and small counties so we can get a more complete picture of how graduation rates vary across America.
Here are the top five extra-large counties with the high school highest graduation rates:
Alleghany, Pennsylvania – 95%
Oakland, Michigan – 94%
Collin, Texas – 94%
Montgomery, Pennsylvania – 94%
King, Washington – 93%
And here are the five extra-large counties with the lowest high school graduation rates:
Bronx, NY – 73%
Kern, California – 74%
Fresno, California – 76%
El Paso, Texas – 78%
Los Angeles, California – 79%
Here are the top 5 small counties with the highest high school graduation rates:
Falls Church City, Virginia – 99%
Clear Creek, Colorado – 99%
Petroleum, Montana – 99%
Morgan, Utah – 98%
Gilpin, Colorado – 98%
And lastly, here are the top 5 small counties with the lowest high school graduation rates:
Kenedy, Texas – 26%
Presidio, Texas – 53%
Hudspeth, Texas – 56%
Clark, Idaho – 60%
Issaquena, Mississippi – 61%
I suppose not everything is bigger in Texas after all. All kidding aside, I looked into why the education system in Texas is failing so many children. Some issues I encountered are low teacher salary, dropouts from traditional schooling in favor of trade school or other alternatives, gun violence, mental health struggles, and conflict surrounding how to assess children's performance. It is such a massive state, so it is no wonder that reform comes slowly and with a lot of resistance.
Which Countries Offer the Most Mandated Maternity Leave Around the World?
There is no denying that navigating parenthood is challenging, especially during a pandemic. If you are in the United States, you have to overcome the additional obstacle of parental leave, or lack thereof. Despite the fact that most developed countries in the world offer federally mandated paid parental leave, the United States does not. In fact, the U.S. has the enormous dishonor of being considered the only wealthy nation that offers no national paid parental leave. Let's take a look at how parental leave compares across the globe.
Click below to zoom

As showcased by this chart created by PlaygroundEquipment.com, European countries such as Estonia, Bulgaria, and Hungary excel at providing their citizens with ample paid parental leave. On the map, the United States sticks out like a sore thumb. So why does this matter? The benefits of paid leave are well-documented. Here are just a handful of the benefits:
Supports children's growth and development
Supports the physical and emotional health of the entire family unit
Supports family economic security
Benefits businesses and the economy by boosting productivity, employee retention, morale, and labor force participation
In studies of California's paid leave program, around 90% of businesses reported either a positive or neutral impact on productivity and nearly all businesses (99%) highlighted positive or neutral effects on employee morale. 87% of businesses reported no increase in costs and 9% even reported savings thanks to lower rates of employee turnover and reduced spending on employee benefits. Perhaps it is time for America to catch up with the rest of the world.
Subject matter aside, it is truly a beautiful visualization! The header is bold and eye-catching, with the woman's hair flowing down and leading the eye to the vibrant map. The country charts are dynamic and striking, and it has an overall energy that we hope can spark interest in paid parental leave reform.
New Map Shows the Oldest Business in (Almost) Every Country in the World
When you think of old businesses, do you think of your grandfather's barber shop from the 1950's or that amazing Italian restaurant in the city from the 1880's? What about a distillery from the 1700's? Or a winery from the 800's! This amazing chart from the team at Cloud Peak Law Group shows the oldest continually running businesses in every country around the world and some may surprise you.
Click below to zoom

The map is comprised of 165 countries with a date range from 578 AD to 1999. A few notable mentions that caught my eye would be the first one listed on the map from the year 578, Kongō Gumi, a family-owned construction company that began centuries building Buddhist temples in Japan. Over 200 years later would be the next oldest on the map, also said to be the oldest restaurant in the world, St. Peter Stiftskulinarum in Austria. This incredible building is just one of Austria's unique treasures and must-see tourist spots. Located in St Peter's Abbey in the city of Salzburg, this restaurant has had many famous guests including Christopher Columbus, astrologer Johann Georg Faust, and Wolfgang Amadeus Mozart. On the opposite side of the spectrum, it is interesting to see the businesses who have the youngest timeline for their countries oldest business. In equatorial Guinea, Guinea Equatorial Airlines, which was started in 1996, is their oldest running business. In Kosovo, the Meridian Corporation is the oldest running business in the country, and it was only started 23 years ago.