Popular Chip Brands Ranked by the Percentage of Air in Their Bags
When shopping, there's actually quite a bit of misleading packaging out there that you need to be careful of. When it comes to snacks, you've surely noticed that when you open the bag or canister of tasty chips, the packages aren't always exactly full.
Here's a look at several popular brands of potato chips, and how much "air" is typically in each package. The reason for this is a process called "slack fill," which some even think makes the snacks have a better taste. By allowing this space in the packaging, the package is better protected from damage during transit, according to manufacturers.
Based on this, a bag of Cheetos has the most air at 59%. The lowest shown here would be Fritos at 19%.
This pictorial fraction chart visualization was created by Reddit user /u/doughilarious and was originally shared in the /r/DataisBeautiful Subreddit.
Click below to zoom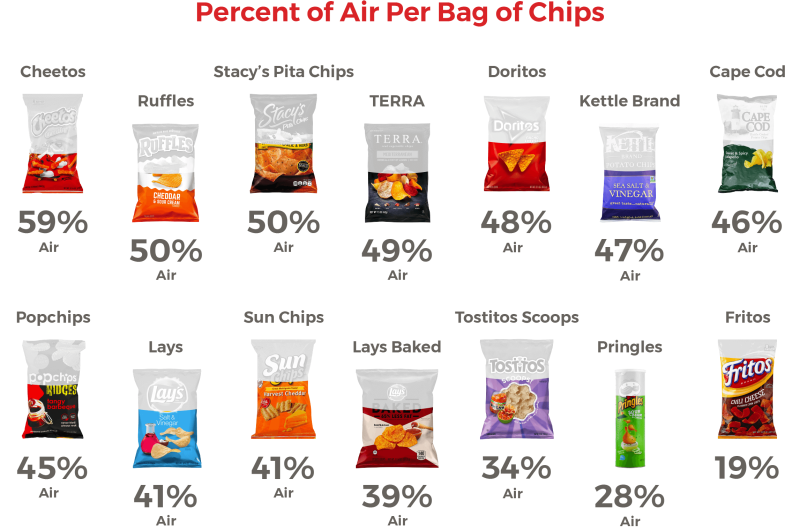 Here's how they break down as far as air in the bag goes:
Cheetos: 59% air
Ruffles: 50% air
Stacy's Pita Chips: 50% air
TERRA: 49% air
Doritos: 48% air
Kettle Brand: 47% air
Cape Cod: 46% air
Popchips: 45% air
Lays: 41% air
Sun Chips: 41% air
Lays Baked: 39% air
Tostitos Scoops: 34% air
Pringles: 28% air
Fritos: 19% air
By putting this extra space in the bag, chips are given a longer shelf life, moisture is kept away, and it keeps the chips whole. Keeping the moisture away is incredibly important, because it allows the snacks to stay nice and tasty until you're ready to eat them.
The prices on these different brands can vary as well, so where are you really getting the best bang for your buck when it comes to potato chips? What do you think?
Every Company Owned by Amazon
Do you need shoes? Zappos! Do you need prescriptions? PillPack! Do you need organic produce? Whole Foods! Do you need home security? Ring! Do you want to stream games to your friends or make money? Twitch! Do you want to listen to audiobooks while you walk your dog? Audible! Do you need dog food for that dog? Wag! Do you want to read book reviews? Goodreads! Do you want to read movie reviews? IMDb! You may be surprised to learn that all of these companies operate under one leader: Amazon. Take a look at this eye-opening chart by SMB Compass exploring everything that Amazon owns.
Click below to zoom

Amazon has been making bold acquisitions from the get-go and has infiltrated practically every market. Amazon's most recent acquisition was of MGM Holdings in 2021 for a hefty price tag of $8.45 billion. You may recognize MGM by its renowned roaring lion, which is now a fitting representation of Amazon's retail domination. Amazon's biggest acquisition was in 2017 when it purchased Whole Foods Market for $13.7 billion, igniting its venture into the grocery industry. Since then, Amazon has given Whole Foods delivery "wings" – customers can order groceries and receive them in as little as two hours! In 2014, Amazon acquired live-streaming platform Twitch for $970 million, which many were shocked about at the time. It was a smart move considering the video game industry continues to grow, earn passionate fans, and influence society as a whole.
How Much Teachers Spend on Their Classrooms in One School Year
It was twenty years ago that the educator expense deduction was set, and today, tax time is always a difficult reminder for teachers across the United States that the deduction itself isn't quite enough. The educator expense deduction has allowed teachers to deduct up to $250.00 for out-of-pocket classroom expenses since 2002, and the maximum amount has remained the same today.
Click below to zoom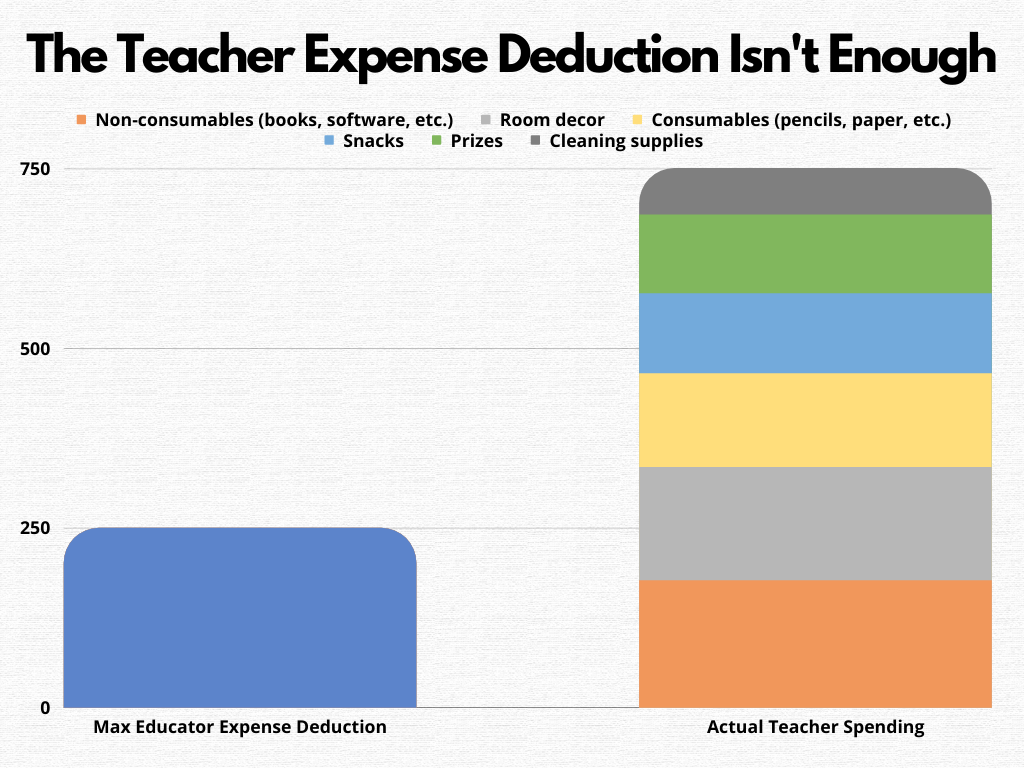 One of the major issues lies in that on average each year, teachers are spending an average of $750.00 of their own money for classroom expenses, which is an astounding three times more than they're able to deduct around tax time. In the United States alone, teachers have spent about $2.8 billion of their own money, for their students, on supplies like pencils, paper, cleaning supplies, books, software and more.
A look at this visualization, found via My eLearning World shows the breakdown of how teachers are spending on their classrooms, with this pie chart broken down into six different areas. The leading area of expense is the non-consumable supplies, which includes books and software.
Non-consumable supplies (books, software, etc.): 23.6%
Class decor: 21%
Consumable supplies (pencils, paper, etc.): 17.4%
Food & snacks: 14.8%
Prizes: 14.6%
Cleaning supplies: 8.6%
Teacher salaries have not been keeping up with inflation either. Since 2015 alone, the spending on classroom supplies for teachers has increased approximately 25%, yet they're still only able to deduct $250.00 at maximum at tax time. Some have even said that the cost of classroom supplies is $250.00 each month.
Per NPR, it's reported that about 55% of those who are still teaching as a profession are strongly considering leaving the career behind for something else, much sooner than they had originally planned to. With an estimated 567,000 less teachers than there were prior to the COVID-19 pandemic hit, the shortage of educators in the United States is alarming, but perhaps with good reason.
The Oldest Businesses in the United States
Across America, there are many businesses still in operation that are older than the Declaration of Independence! Since the dawn of the United States, establishing a business to serve the people and make a living has been a cornerstone of the American spirit. This fascinating chart created by the team at Wyoming Trust & LLC Attorney is a celebration of the pioneering backbone of the the United States:
Click below to zoom
Did you know that the Jim Beam Distillery has been in operation since George Washington was president? It was established in 1975, making it the oldest business in Kentucky. That's why I love gathering content to share with Chartistry; you get to learn all sorts of obscure trivia!
The oldest business in the United States that is still operational is the Shirley Plantation in Charles City, Virginia. The grounds were first established in 1613 by English merchant and politician Sir Thomas West, 3rd Baron De La Warr. Here is another fun fact about the baron; the bay, river, a Native American people, and a U.S. state were all named "Delaware" after him.
The second oldest business in America is Tuttle's Red Barn in Dover, New Hampshire, established in 1632. There are claims that it is the oldest known family-owned farm in America, but this has been challenged. It has been passed down across eleven generations since John Tuttle arrived in the New World with a land grant from Charles II of England. It was originally 20 acres, but it expanded to its peak of 240 acres during the 20th century. Nowadays, the farm's largest crop is sweet corn.