Popular Chip Brands Ranked by the Percentage of Air in Their Bags
When shopping, there's actually quite a bit of misleading packaging out there that you need to be careful of. When it comes to snacks, you've surely noticed that when you open the bag or canister of tasty chips, the packages aren't always exactly full.
Here's a look at several popular brands of potato chips, and how much "air" is typically in each package. The reason for this is a process called "slack fill," which some even think makes the snacks have a better taste. By allowing this space in the packaging, the package is better protected from damage during transit, according to manufacturers.
Based on this, a bag of Cheetos has the most air at 59%. The lowest shown here would be Fritos at 19%.
This pictorial fraction chart visualization was created by Reddit user /u/doughilarious and was originally shared in the /r/DataisBeautiful Subreddit.
Click below to zoom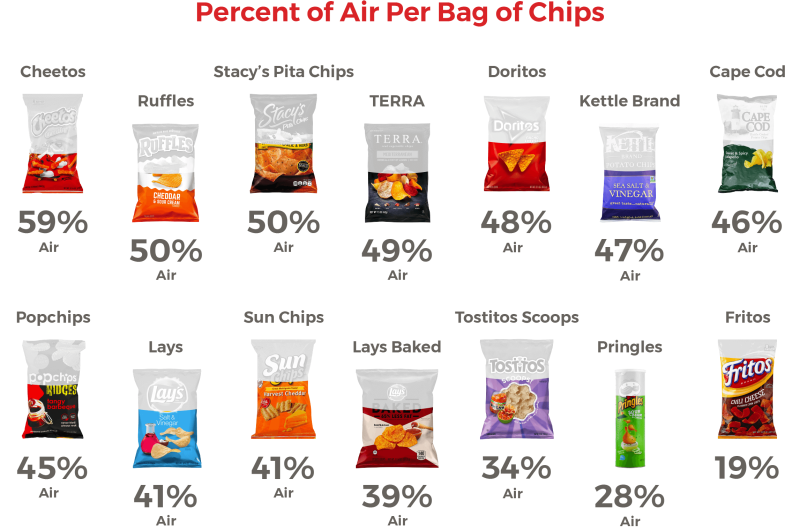 Here's how they break down as far as air in the bag goes:
Cheetos: 59% air
Ruffles: 50% air
Stacy's Pita Chips: 50% air
TERRA: 49% air
Doritos: 48% air
Kettle Brand: 47% air
Cape Cod: 46% air
Popchips: 45% air
Lays: 41% air
Sun Chips: 41% air
Lays Baked: 39% air
Tostitos Scoops: 34% air
Pringles: 28% air
Fritos: 19% air
By putting this extra space in the bag, chips are given a longer shelf life, moisture is kept away, and it keeps the chips whole. Keeping the moisture away is incredibly important, because it allows the snacks to stay nice and tasty until you're ready to eat them.
The prices on these different brands can vary as well, so where are you really getting the best bang for your buck when it comes to potato chips? What do you think?
What Is The Preferred Online News Sites For Each State To Get Their News From?
Fake news has become a hot-button issue in recent years, with many questioning where they and others are getting their news from. So, where is everyone getting their news from? One company, Semrush, sought the answer to this question by finding which news websites each U.S. state was searching for the most.
Click below to zoom

Utilizing the Google Trends tool, they found the popularity scores of each of the 15 most popular news websites (based on unique monthly viewers) for all fifty states. These popularity scores rank the states on a scale of 0 to 100, with 100 going to the state where the website's name made up the highest proportion of total searches. Some states were found to score a 100 for multiple news sites, while other states didn't score a 100 for any of them. To determine the most searched news site in each state, Semrush selected the one that earned the highest popularity score for that state. The states in the map were filled-in with the logo for their most searched news site, making it easy to see popularity trends for the news websites across the United States. The deep south and parts of the "The Great American West" prove loyal to Fox News; while much of the southwest prefers to get their information from Yahoo! News. CNN is the top choice for those in the northern East Coast states, with ABC News a close second. This is just brushing the surface of what this visual has to offer, check it out for yourself to see which states were found to have the most interest in searching for news sites, as well as the top 5 metro areas where each of the 15 news sites is searched for the most.
Where Can You Get the Most Real Estate for $1M? How About the Least?
The COVID-19 pandemic has disrupted the entire world, including the stock market. Some business's saw massive gains while others have faced bankruptcy. The housing market did something unusual, however. During times of national and world crises, the housing markets have typically slowed and prices have dropped. In the spring of 2020, that is exactly what happened, the pandemic disrupted home sales during a time considered to be the hottest real estate season. However, since then the real estate market has bounded back impressively. Home sale inventory is low across the US, which means the market is extremely competitive and sellers are getting multiple bids above asking price. Depending on where you are looking to purchase a home in the US will determine how much you will pay per square foot. This chart from Rate.com shows where you can get the most and the least real estate for $1 million dollars in America.
Click below to zoom

In the number one spot for the most square feet per million is the city of Flint, Michigan. This city became infamous for the health crisis that began in 2014 due to the city's water supply. The city was already facing an extreme budget crisis when they changed to a new water source from a treated water supply plant in Detroit to the Flint River. This hurt the city even further and tanked the real estate market. Currently, you can purchase 33,333.33 square feet for $1 million. That is just $30 a square foot. On the opposite side of the graph, you have a city where a single square foot will cost you over $4,000. That city is Palo Alto, California and you better have a lot more than a million dollars because even that much money will only get you around 238 square feet, which is less than the size of a standard shed.
32 Products with the Highest Markup
Society has been trained not to blink an eye when paying two bucks for a bottle of water, or shelling out ten dollars for a bucket of movie theater popcorn that would cost next to nothing when made at home. However, a bottle of water typically only costs five cents to make, and the wholesale price of popcorn is about 35 cents. When we pay astronomical prices for such products, we are often paying more for convenience, experience, inflation, and societal pressures than we are for actual materials or labor. Products that are rip-offs are aplenty, but with the knowledge offered by this visualization from Swagbucks.com, we can become more savvy and informed consumers:
Click below to zoom

We appreciate the simple and striking data visualization, which is easy to interpret quickly while having a bold emotional impact. The proportional bubbles used to convey percentages do an excellent job in capturing just how monumental these product markups are. Sometimes it makes sense to pay more for the enjoyment and experience (for example, buying a mixed drink at a restaurant), but many of these are infuriating. A funeral casket costing $1,295 often goes for around $325 wholesale. Even in death, it is impossible to escape price-gouging. Also, why is printer ink so expensive? Turns out, many printing companies use an outdated "razor-and-blades model", where they sell printers cheaply at a loss and attempt to make up for it with ink sales. They also purposely program their printers to prevent the usage of more affordable third-party cartridges by using microchips and firmware updates. Even more reason to be angry when your printer suddenly stops functioning again.
Here are the top 5 products with the biggest markups:
Text messages (without an unlimited plan) – 6,000%
Bottled water – $4,000%
Brand-name prescription drugs – 200-3,300%
High school ring – 1,329%
Movie theater popcorn – 1,275%