The United States Ranked by the Length of Their Wikipedia Articles
The Data Is Beautiful Subreddit has long been a favorite stomping ground of the staff here at The Chartistry. In fact, it was beautiful data visualizations that I was introduced to there that first ignited my love for charts. As you might have guessed, today's visualization comes from this very place. Unlike most visualizations we feature here, this one proves that a good visualization doesn't need to be beautiful; sometimes they just need to be functional.
Reddit user Gullyn1 has created a simple map that reveals the United States by the length of their Wikipedia articles. You can find the original Reddit post here. Gullyn1 explains in a comment that they used Wikipedia's API and Python to create the map.
Click below to zoom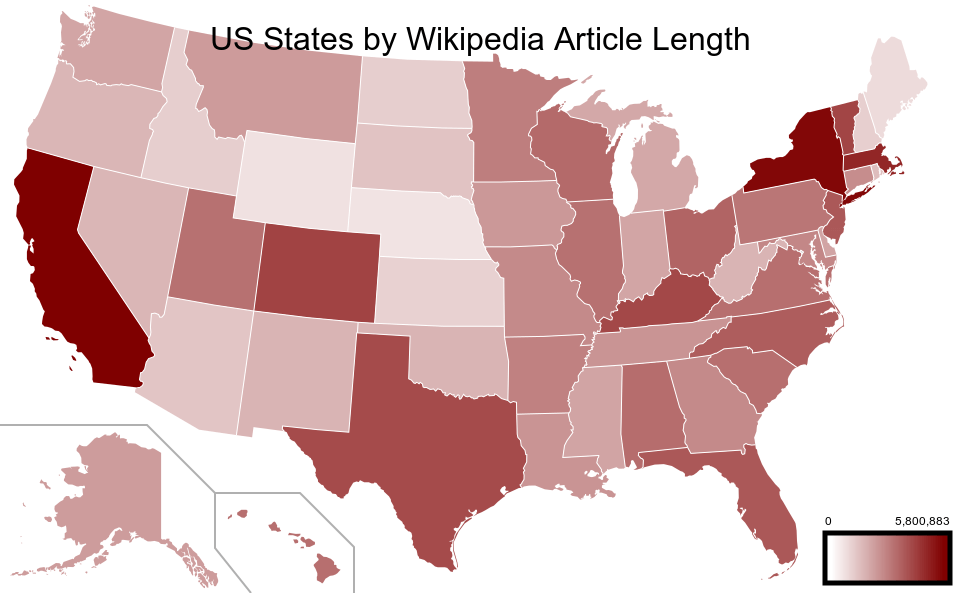 At a glance, it appears that New York and California are the clear front runners. It's unclear why some articles are longer than others but if I had to guess, I'd wager that it's the states with the most history and those that have had the most notable events (both positive and negative). According to the raw data, California is the longest at 5,810,441 bytes for its main and sub-articles and New York comes in as a close second place with 5,655,709 bytes.
"This is great and all, but isn't this map just showing a trend that the states with the highest populations also have the longest Wikipedia articles?" You might be right! That's why I was especially happy to see that Gullyn1 created an additional map that adjusts for population. See it here:
The United States Ranked by The Length of Their Wikipedia Articles Per Capita (in Bytes)
Click below to zoom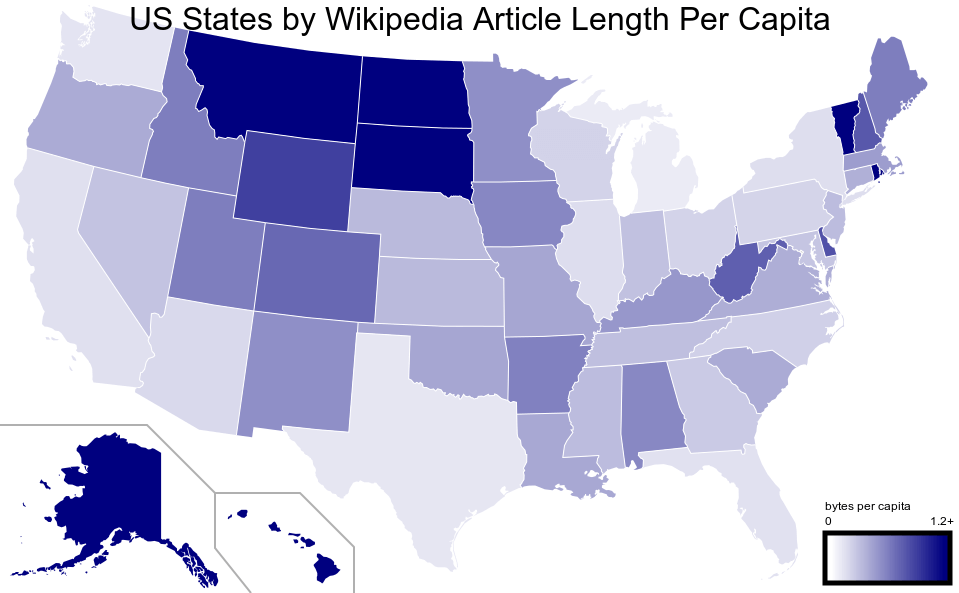 When you look at the data like this, interesting and more meaningful trends begin to emerge. After adjusting for population, Montana, North and South Dakota, Vermont, Rhode Island, Alaska, and Hawaii are the new front runners.
Where in the United States Are People the Most Sleep-Deprived?
Sleep deprivation can be so harmful and distressing that it has been used as a form of torture and interrogation for centuries! Around 50 to 70 million Americans experience sleep deprivation with 35.2% of all adults sleeping less than seven hours each night on average. Of course, many factors influence sleep deprivation trends, including age, occupation, race, and location. So where in the United States do adults struggle the most with getting proper sleep? The team at Charlotte's Web has analyzed data from the University of Wisconsin Public Health Institute to find the most sleep-deprived areas in every state.
Click below to zoom

There are many "cities that never sleep" in the United States, it seems. Many of the states and counties that struggle the most with getting adequate sleep appear to be in the South. In McGreary County, Kentucky and Mingo County, West Virginia, 49% of adults reported insufficient sleep! The U.S. Average is 35%, so that is a concerning degree higher. West Virginia also struggles significantly with mental health – another fascinating chart by Charlotte's Web sheds light on how 30 out of the 50 U.S. counties with the poorest mental health are located in West Virginia (including the top 10). While I am sure lack of sleep is not the driving factor in these alarming statistics, I am sure it is all connected. From a design perspective, I really appreciate how the muted yellow, somber blue, and open eye capture the sense of dreariness that comes from lack of sleep. And then you have the punchy colors of the U.S. map, much like the unrelenting responsibilities that hit hard each day no matter how tired you are. I am not sure if this is how the designer intended it, but it works!
The Places in the United States With the Worst Mental Health, Mapped
"Whether an illness affects your heart, your leg or your brain, it's still an illness, and there should be no distinction. It's time to tell everyone who's dealing with a mental health issue that they're not alone, and that getting support and treatment isn't a sign of weakness, it's a sign of strength." ~ Michelle Obama
More than half of people with mental illness do not receive help for their struggles. This is greatly influenced by the stigma, prejudice, and discrimination that is prevalent in many societies and communities. A 2016 study on mental health stigma concluded that "there is no country, society or culture where people with mental illness have the same societal value as people without mental illness." America is no exception, although the severity varies across regions. While stigma is not the sole cause of people struggling with mental illness, it certainly contributes to it. The team at Charlotte's Web has created an insightful visualization of where people in the United States have the poorest mental health.
Click below to zoom

These numbers are self-reported, which is alarming because it makes you wonder how many people are slipping through the cracks due to stigma, lack of awareness, societal influences, and other factors. West Virginia is by far the most concerning – it tops the state chart and contains the majority of the counties with the poorest mental health. Depression, anxiety, bipolar disorder, and schizophrenia rates are among the highest in the nation. In the Healthiest Communities Ranking, the average score among West Virginia's counties was around 28 out of 100. The five poorest-scoring counties for mental health were all in West Virginia. Another study found that 24.62% of adults in West Virginia are struggling with mental illness. What could be going on in West Virginia? A major contributor is stigma – West Virginia has a culture of independence and grit, so it is often frowned upon to seek help for mental illness. Lack of access to proper care is another factor; the rate of mental health providers per 100,000 people is 45% below average than the rest of America.
Charts like this give us an opportunity to fight stigma. No one should have to suffer in silence. If you are someone you know is struggling, there are options.
New Map Shows Where Kids Eat the Most Sugar per Week
It is no secret that sugar does more harm than good – especially for children! Studies show a negative impact on learning, memory, and academic performance. It is also linked to obesity, fatty liver disease, diabetes, heart disease, asthma, and gout. Of course, cutting down is far easier said than done, especially when 70% of packaged foods and 80% of kids' foods have added sugar! Of course, a sweet treat now and then most likely won't have a long-term harmful impact, but it can be hard to place boundaries on sugar, especially with children. The American Heart Association reports that American children consume an average of 81 grams of added sugar per day – that is 65 pounds of added sugar per year! Where do children in the U.S. eat the most sugar? The team at MainStreetSmiles.com conducted an intriguing survey of parents on how many sugary snacks their children consume per week and day.
Click below to zoom

Do any of the results surprise you? I was honestly quite shocked by Pennsylvania, where parents reported an average of 3.266 sugary snacks consumed per day! I did a little digging on why this might be and found a few possible explanations. Pennsylvania is known as the "snack capital of the world", the Pretzel Belt, and the Snack Belt – it is home to Hershey's, Utz, Snyder, Just Born (Peeps, Mike & Ike's), Breyer's, and other major snack companies. Overall, it has a thriving snack food scene! While snacks are wonderful, moderation is key. Check out the Cincinnati Children's Hospital's tips on how to reduce sugar in your child's diet. Overall, I love the color scheme and adorable header – I just want to take a bite out of those letters! The proportionate donuts are such a clever way to visualize the rankings. Fun and functional!