A Visual Compendium of Life Advice from 50 Children's Characters
You don't have to be a kid to appreciate the lessons and moral anecdotes from films, television shows, and books geared towards children. These stories often dispense advice that is valuable for people of all ages.
Which children's characters have the most inspiring life advice?
Click below to zoom
The design team at AAA State of Play created a unique visualization that highlights 50 of the best life lessons from beloved children's characters. The graphic utilizes a unique style to depict the characters. The vector-style geometric faces depict a clean look, allowing for the positive messages of the quotes to really stand out.
Some of the most compelling quotes included in the graphic:
"Our fate lies within us, you only have to be brave enough to see it." – Merida from Brave
"The flower that blooms in adversity is the most rare and beautiful of all." – Emperor of China from Mulan
Your identity is your most valuable possession. Protect it." – Elastigirl from The Incredibles
"When bad things happen, I know you want to believe they are a joke, but sometimes life is scary and dark. That is why we must find the light." – BMO from Adventure Time
"Fairy tales can come true. You gotta make them happen, it all depends on you." – Tiana from The Princess and the Frog
A little consideration, a little thought for others, makes all the difference." – Eeyore from Winnie-the-Pooh
"In every job that must be done there is an element of fun." – Mary Poppins
Which quote resonates the most with you?
The Biggest Divorce Settlements in History
Divorces can not only be messy, they can be quite costly too! According to this chart of the most expensive divorces of all time, some of the most high profile divorces of our time came with a hefty settlement. This chart was created by the research team at WyomingLLCAttorney.com, who we assume knows a thing or two about divorces and how expensive they can actually be. Check out the chart below to see which celebrities and business tycoons ended up having to pay the most money to their ex-spouse during the divorce. Nine out of the forty-four divorces included ended with a settlement in the billions!
Click below to zoom

Why do some divorces end with a large settlement? This is often the outcome when a couple divorces and one spouse earns a lot more money than the other, as long as there was no pre-nup in place before they got married. Divorce settlements have even led to the other spouse becoming a billionaire overnight. One such case of this was the infamous divorce between Amazon founder, Jeff Bezos, and his wife Mackenzie Scott. The two married long before Amazon became one of the most valuable brands in the world; and when they divorced in 2019 Mackenzie got 25% of the couple's Amazon stock, which was worth a whopping $38 billion. Their divorce settlement instantly turned Mackenzie Scott into not only a billionaire, but one of the world's richest women at the time. Which famous couple's split were you surprised to see on the list of the most expensive divorces of all time?
How to Pick a Perfect Watermelon
It is almost watermelon season! That means venturing to the grocery store or market and to choose the most perfect, juicy, ripe, flavorful specimen from the bunch. How do you choose the perfect watermelon? How can you tell a watermelon is ripe? Eagle Eye Produce has created this simple and helpful visualization of how to pick the most wonderful watermelon to make your summer dreams come true: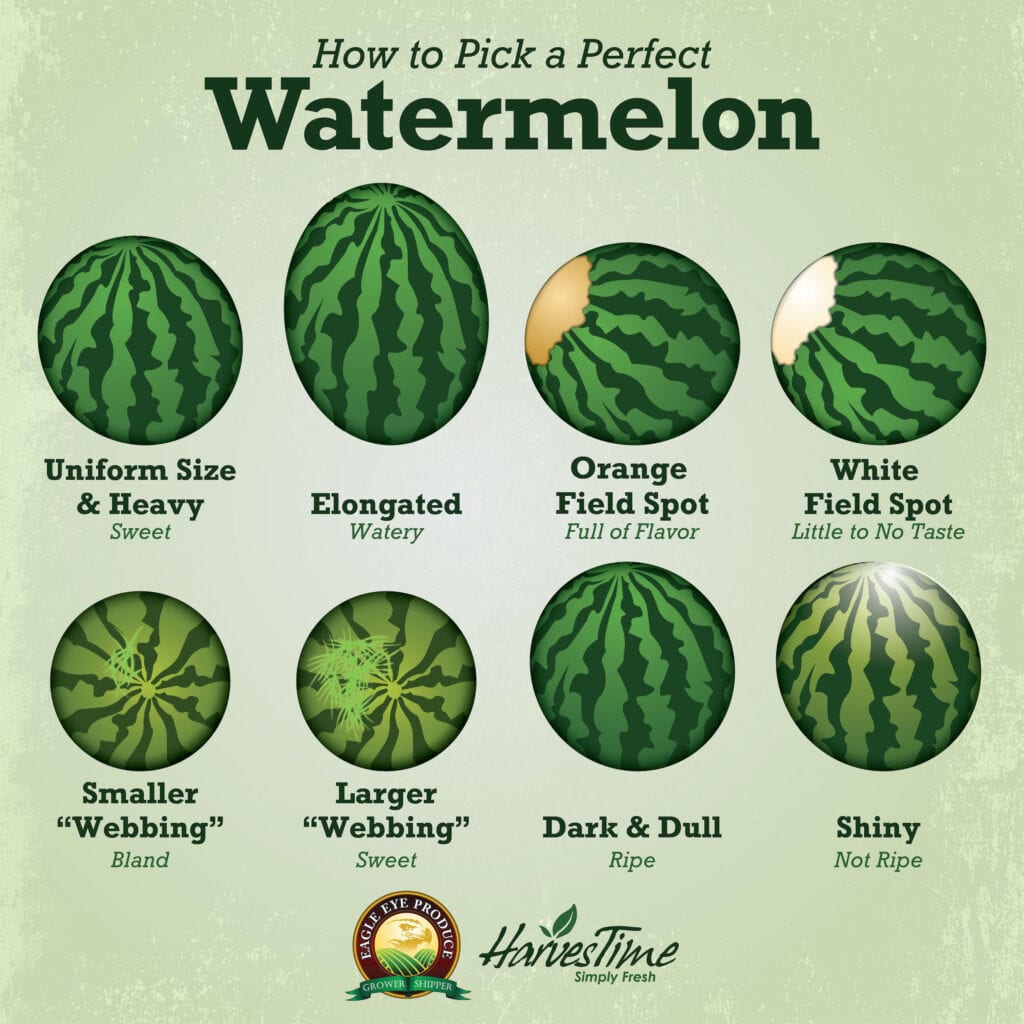 In addition to the visual guide, Eagle Eye Produce also provided these tips for choosing the perfect watermelon:
Choose a watermelon that is uniform in size – both oval and round are okay. The important thing is to avoid irregular bumps.
Choose a watermelon that is heavy for its size. This usually indicates a sweeter, juicier fruit.
Look for a creamy orange field spot. A field spot is where the watermelon was resting on the ground. The darker the spot, the longer the watermelon was on the vine. This maximizes flavor.
A white field spot may be a sign that the melon is not quite ripe.
Larger webbing or "sugar spots" means that the melon is seeping out sugar and could be an indicator of a sweet taste.
Dark, dull melons are typically ripe while shiny melons are unripe.
There are many wonderful ways to enjoy the ripe melon you just picked out! It is so important to stay hydrated while having fun in the sun (especially if alcohol is involved), so here are some infused water recipes to try out with watermelon and other tasty fruits and herb
The Ultimate Visual Guide to Boy Scout Patches and What They Mean
The Boy Scouts of America was established in 1910 – ever since, invaluable qualities such as integrity, courage, teamwork, and survival skills have been cultivated and challenged in the youths who join. Boy Scouts can earn a myriad of patches that represent their achievements, ranging from simple colored shoulder loops to indicate the level of scouting the Scout has reached to individual merit badges in skills such as swimming, first aid, environmental science, archery, communication, citizenship in the community, wood carving, and even family life! One thing I love about patches of all kinds is how they translate a broader concept into a small design, much like logos! The team at WizardPins.com has created this fantastic visual guide to Boy Scout patches and what they mean:
Click below to zoom

There are so many cool designs on here! I am especially fond of the Wood Carving, Camping, and Arrow of Light patches. There are over 135 merit badges that Scouts can earn. How are Boy Scout patches earned? For merit badges, a scout must complete requirements with their badge counselor that help demonstrate a skillful understanding of the badge's subject. For example, in order to earn a Hiking merit badge, the Scout must take four 10-mile hikes and one 20-mile hike with written plans and follow-up reports. I am actually shocked that a 20-mile hike is necessary – that is a colossal challenge even for a well-seasoned adult! It even says that Scouts are permitted to stop for just one meal. Goodness gracious! Way to go, Boy Scouts.