Cities that Saw the Most Small Business Openings Through the Years
Many Americans have ambitions of opening their own business. From restaurants to clothing boutiques, small businesses are one of the hallmarks of the American dream. People from cities all over the country scout out the perfect locations to start their small businesses.
This visualization from WizardPins.com illustrates which U.S. cities had the most small business openings each year between 2009 and 2018.
Click below to zoom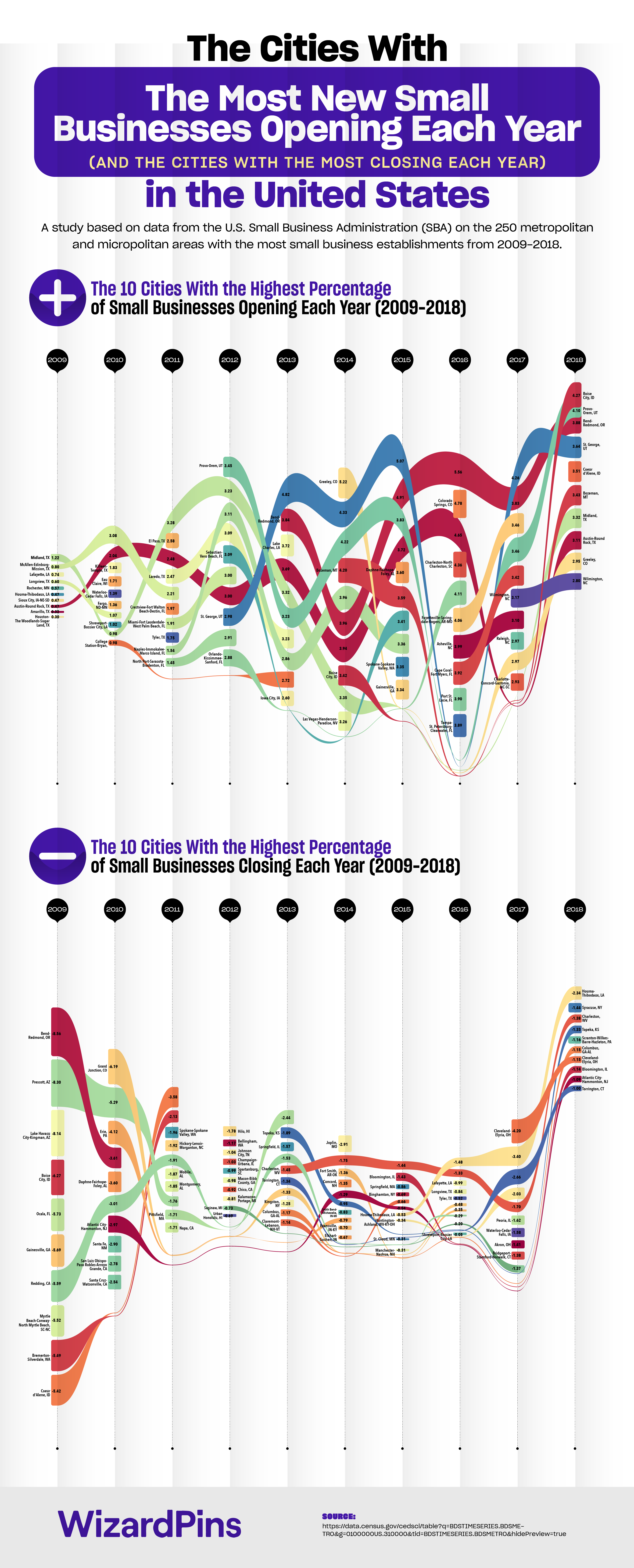 The image utilizes sorted stream graphs to visualize the 10 cities that had the highest percentage of new small business openings each year. It also contains a contrasting graph that illustrates the U.S. cities with the highest percentage of small business closings each year. Some cities (like Austin-Round Rock, TX and Midland, TX) manage to make the list nearly every year. In contrast, Charleston, WV sadly has experienced the one of the highest rates of small business closures since 2013.
As of 2018, these are the U.S. cities that have the highest percentages of small business openings:
Boise City, ID — 4.274% increase
Provo/Orem, UT — 4.109% increase
Bend/Redmond, OR — 3.889% increase
St. George, UT — 3.64% increase
Coeur d'Alene, ID — 3.518% increase
Bozeman, MT — 3.434% increase
Midland, TX — 3.326% increase
Austin/Round Rock, TX — 3.11% increase
Greeley, CO — 2.959% increase
Wilmington, NC — 2.802% increase
Surprisingly, Idaho cities make the list multiple times. Boise, Idaho's capital city, saw a more than 4% increase in small business openings in 2018. This makes them the city with the highest rate of small business openings in the country. Coming in at the number five spot is Coeur d'Alene. It's the largest city in North Idaho
Animated Timeline Shows Nuclear Warheads by Country Over Time
A nuclear warhead is a highly advanced and meticulously engineered device designed to release an immense amount of energy through nuclear fission or fusion reactions. Comprising fissile materials, triggering mechanisms, and containment structures, it operates by initiating a chain reaction within the atomic nucleus, leading to a catastrophic explosion that far surpasses the destructive power of conventional explosives. The controlled release of nuclear energy in warheads underscores their devastating potential, shaping global security dynamics and emphasizing the critical importance of preventing their use.
[OC] Nuclear Warheads by Country
by u/PieChartPirate in dataisbeautiful

This visualization, as posted by Reddit user PieChartPirate, shows off the nuclear warheads by country, specifically from 1950 through 2022. The visualization was created with SJVisualizer, and the source for the data came from Wikipedia. This is a fascinating look at this information, which by 2022, shows that the worldwide leader in terms of nuclear warheads is Russia with 5,889. Following Russia are the United States (5,244), China (410), France (290), United Kingdom (225), Pakistan (170), India (164), Israel (90), and North Korea (50).
According to the data, if you were to go all the way back to 1951, which is where this visualization starts, only two countries are represented – those being the United States (with 320 at the time) and the Soviet Union (with 7 at the time). Within ten years, more countries were topping the rankings, as by 1961, the United States had 19,381 nuclear warheads, the Soviet Union saw a dramatic jump from 7 to 1,874, the United Kingdom had 65, and France possessed just two.
Illustrated Timeline Shows the Evolution of Women's Swimwear
This new illustrated timeline comes to us from Lulus.com, a women's fashion company based in California, and shows the fascinating evolution of swimwear over time. From classical antiquity to modern day, swim suits for women have gone through some significant changes. Over time, women's swimwear have gone from fully nude to fully clothed to the bikinis and one-piece swimsuits you commonly see today. Without further ado, here is the evolution of female swimsuit styles.
Click below to zoom

Starting off in the 8th to 5th century BCE, you'll notice the featured swimwear style is not unlike swimsuits you might see today. Over the next one thousand years (up until the 16th century) swimwear remained scantily clad or even nonexistent. It was in the 17th century, however, that things made a dramatic turn to a prudish approach to swimming. And things didn't get and less prude for quite a few hundred years! Women often swam fully clothed in what looked like night gowns in the 17th and 18th century, and evolved into bathing outfits with loose fitting pants and blouses that covered nearly all of the woman's skin.
In the 20th century, skin started to make its debut once again. In the western world, showing more and more skin became commonplace as one and (eventually) two piece bathing suits emerged. If you visit a public beach or public pool today, you can expect to see a wide range of swimsuits on women. It makes one think: what will women's swimwear look like in another hundred years?
How Prom Dress Styles Have Evolved Over Time
When you think of prom the first image that may pop into your head is a sea of colorful and extravagant dresses dancing the night away. The style of dresses you're picturing, though, will depend entirely on the decade that you attended prom. Fashion trends are always evolving and that proves especially true when it comes to prom dress styles, as seen in this visual from popular fashion brand Lulus.
Click below to zoom

It starts with the early 1900s Victorian Era and travels through current day trends on a fashion blast through the past of the most popular prom dress styles from every decade. Here you'll find the free and fun flapper dresses of the 1920s to the long and flowing bohemian dresses of the 1970s. As you go through the timeline of dresses it's interesting to note how popular movies or celebrities had an impact on a decade's fashion trends. The popularity of "Gone With the Wild" in the 1940s brought back the Victorian-Era style dresses that had been popular forty years prior. Pop stars like Britney Spears and Christina Aguilera influenced the prom dress styles that were popular in the 2000s. As the dress styles change from decade to decade, one thing about prom remains the same and that is the desire to get decked out in fancy attire and dance the night away with friends and  classmates. And to see who is crowned Prom King and Prom Queen, of course! What type of prom dress do you think will emerge as one of the most popular styles of the 2020s?