Countries by Their Share of the Earth's Surface
The total surface area of the Earth is about 197 million square miles. Only about 29% of that area is land; which means the vast majority is covered in water. Looking at this fun and interesting visualization from VisualCapitalist.com you can easily see just how vast the words oceans are compared to land surface area. This information is presented in a gorgeous donut chart which is an efficient and one of our favorite ways to display data when you want to show comparisons. You can think of a donut chart just like a pie chart with the center cut out, this allows the viewer to see the differences easier when compared to slices in a pie chart. Check it out here:
Click below to zoom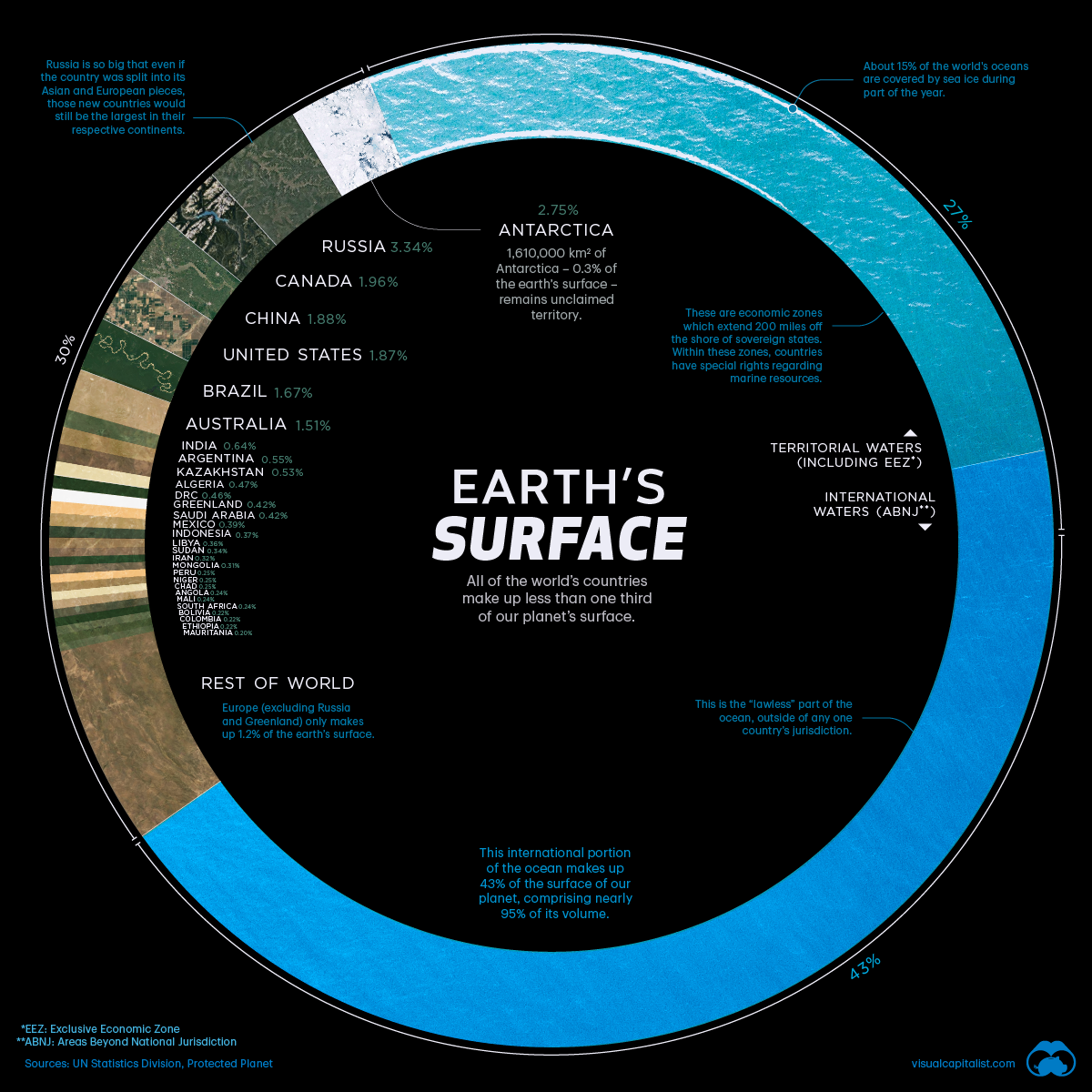 Now, let's dive into this graphic. Using data from the UNSD (the United Nations Statistics Division), this visualization breaks down individual countries' share of the Earth's surface. Russia, Canada, and China are the largest countries by surface area. Russia takes up a whopping 3.35% of the Earth's land followed not-so-closely by Canada at 1.96%. The continent of Antarctica also takes up a large percentage of Earth's surface area at 2.75% although .3% of that remains unclaimed and uninhabitable. Other nations that have a combined land mass of over 1% include the US at 1.87%, Brazil at 1.67%, and Australia at 1.51% respectively. There are a total of 195 countries and other regions that make the remaining 1% of the Earth's surface area. The smallest on this list is the country of Monaco at just 499 acres and Vatican City, the smallest country in the world, taking up just 109 acres of the Earth's surface.
The 25 Most Popular Country Code Domain Extensions in the World by Number of Active Domains
Have you ever given much thought to the web domains you are typing in? Individual addresses that take you to places across the globe in seconds. Some domain names are funny while others are straight business. Some domains like thelongestdomainnameintheworldandthensomeandthensomemoreandmore.com just aim to beat a Guinness World Record. What makes up a domain name? Many people don't know that behind the words in a domain name is a numbered IP address. When you purchase a domain name, it comes with a unique address that the computers use to communicate with and get you to where you want to go. A domain is made up separate parts. The user created domain followed by a dot and then the domain extension. The top-level domain as it is called refers to these extensions. The most common top-level domains being .com, .net, and .org. There are also country specific TLD's and this graphic from Nominus.com gets into the specifics of these CCTLDs.
Click below to zoom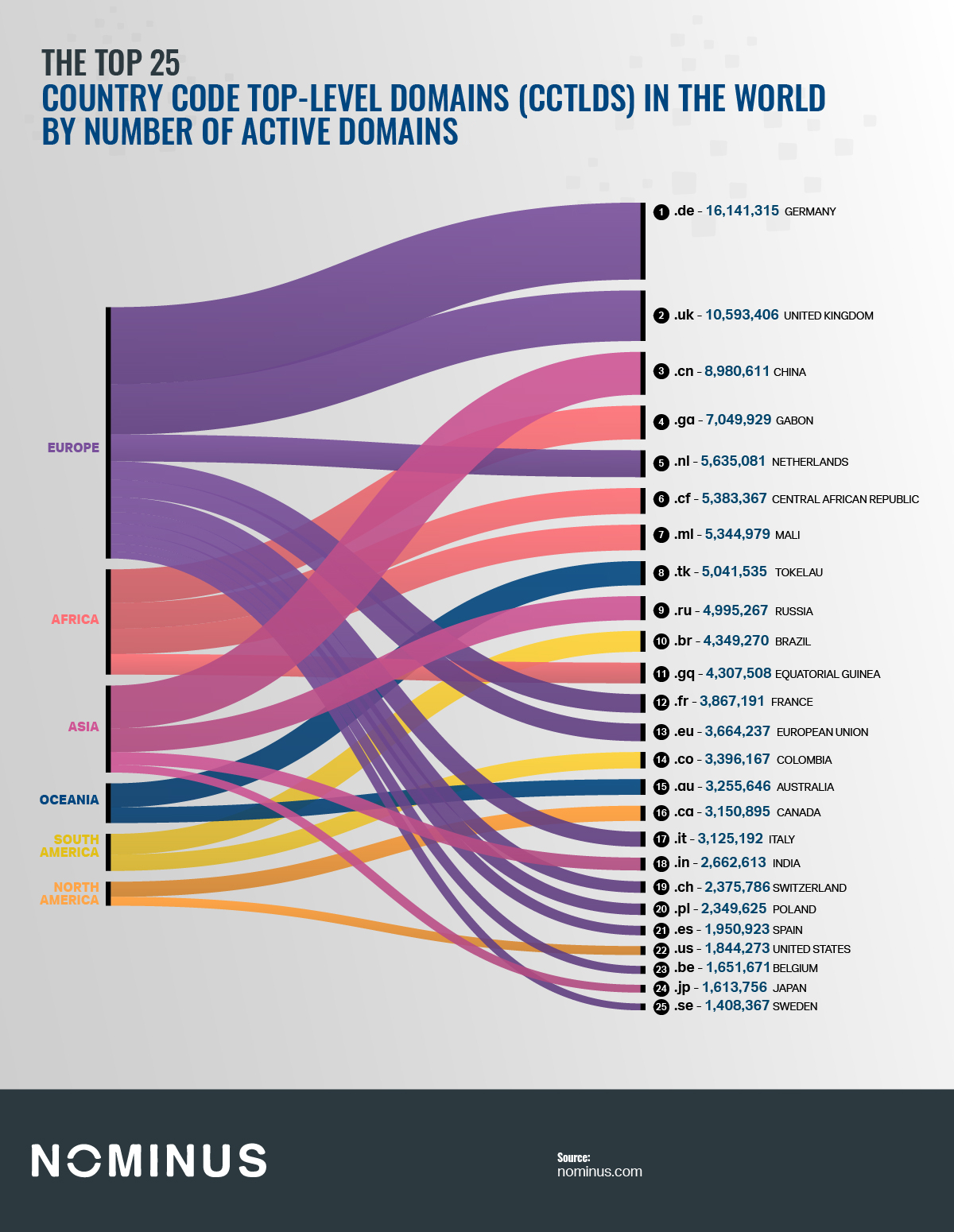 The country specific extension with the most active domains is .de from Germany with 16,141,315. Number two is .uk out of the United Kingdom with 10,593,404 active domains. Number three is .cn from China with 8,980,611 active domains. You can go through each country on this list and see on the map how many country specific active domains there are. Even Antarctica has its own CCTLD even though it is not its own country it still has 102 active domains registered with the extension .aq. Visit the original article to see more visualizations on the top country code top-level domains in the world, generic TLDs, sponsored TLDs, reserved TLDs and more.
Which Country Produces the Most Oil?
Did you know that the United States is both the world's largest oil producer and consumer? I learned that from this striking visualization from Visual Capital's Elements page, which provides data-driven designs to reveal the state of our natural world and provoke discussion. Check it out:
Click below to zoom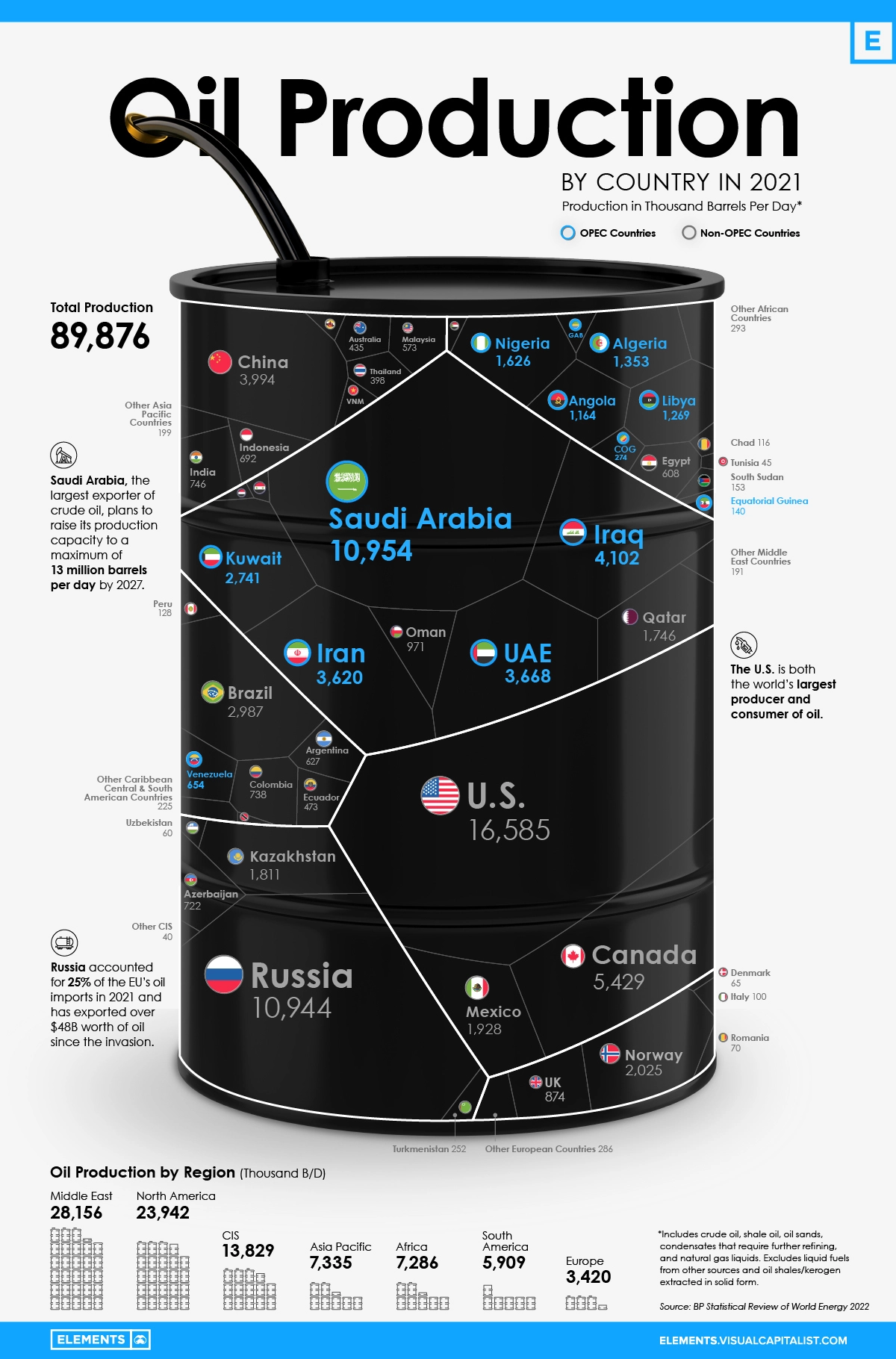 I really love how simple yet compelling this graphic is – it conveys information quickly while also providing engaging tidbits in the margins. The page also provides a search function so you can check how different countries compare in what percentage of the world's oil they produce in a day. This got me curious – where does U.S. oil come from? According to the U.S. Energy Information Administration, 42.4% of American oil comes from Texas.
With all this in mind, it begs the question: when will the world's oil run out? We rely on oil for so many facets of daily life, so facing the reality that oil can and will run out if we do not take action is daunting. As with all topics related to energy and the environment, there are conflicting answers. The Worldometer predicts that there are 47 years of oil left at current consumption levels, which is also confirmed by Discover Magazine's analysis. However, scientists agree that there will theoretically always be a way to extract oil with the right technology. That does not necessarily mean it will be affordable – the harder a resource is to acquire, the more expensive it typically is. All in all, now is the time to pursue alternative, sustainable means of living and thriving on the only planet we have (currently)!
This Map Shows Mobile Data Costs in Almost Every Country on the Planet
Mobile phones truly rule the world – around 91% of people own a mobile phone and 83.32% of people own a smartphone! In fact, you may be reading this on your smartphone right now from the convenience and comfort of your own couch! In order to make the most of our mobile devices, we need access to data. Not all access to data is created equal; the price of one gigabyte of data in one country may be vastly different than another, even if they are right beside each other. So where are people paying the most for their cell phone bill? The team at VoiceNation has created a fascinating visualization of the average cost of cell phone data around the world. Check it out:
Click below to zoom

To put things into perspective, consider that the global average cost of 1 GB of data is $4.07. Compare that to the most expensive country, Equatorial Guinea, where people pay an average of $49.67 for 1 GB! Israel has the least expensive data in the world at just $.05 per 1 GB. What can you do with 1 GB of data? According to MakeUseOf.com, 1 GB of data equals five hours of mobile web browsing, 30 minutes of HD video streaming, five hours of mobile gaming, and 18 hours of music streaming. That means in the most expensive country, it could cost around $200 just to watch a movie on your phone! In Israel, you could watch it for $.20. Overall, this chart is effective at conveying mobile data prices around the world in a quick and compelling way. How much do you pay for mobile data and where do you live? We would love to hear from you in the comments!