How Much of Your Country's Oil Comes From Russia?
Oil prices have been surging to unprecedented heights across the United States since Russia invaded Ukraine on February 24th. Russia is the world's largest exporter of oil to international markets and the second largest crude oil exporter after Saudi Arabia. About 60% of Russia's oil exports go to the European Union and 20% go to China. So as the war continues and countries worldwide impose sanctions against Russian imports, what does that mean for international gas prices and other oil-reliant industries? That depends on how much each country's oil comes from Russia. Check out this simple visualization from news network Aljazeera:
Click below to zoom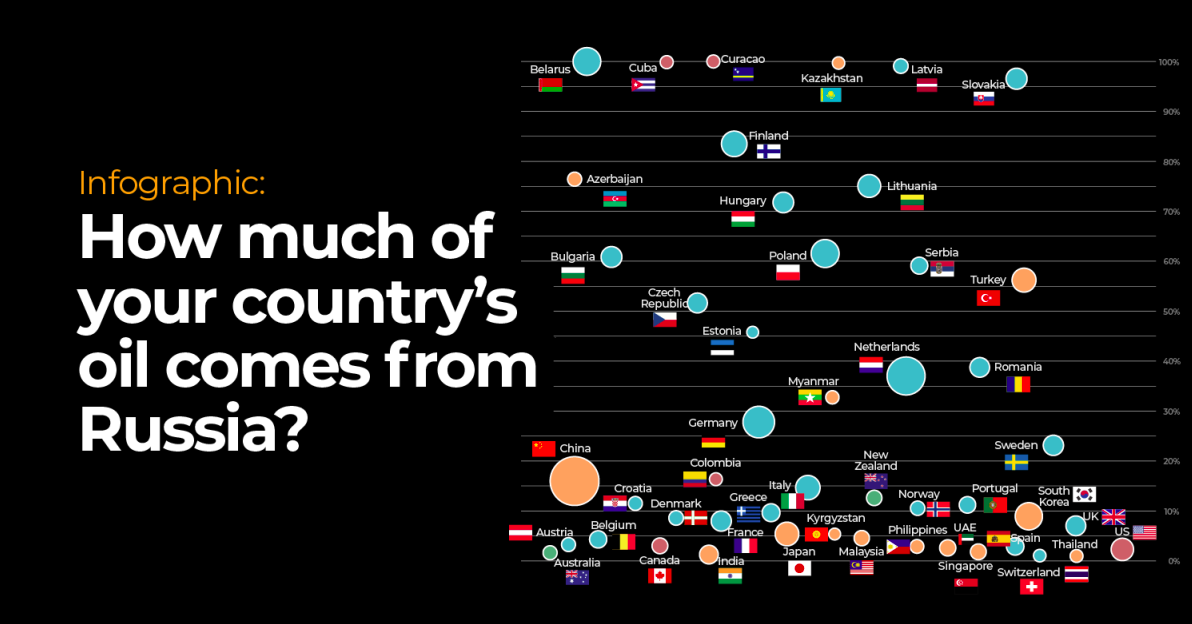 As a designer, I appreciate how the single-axis scatter plot is minimalist and effective at conveying information quickly. Countries such as Belarus, Cuba, Curacao, and Kazakhstan rely (or relied) 100% on Russian oil. The United States is low on the chart, but it still imported a significant chunk of oil from Russia in 2021. You can see the breakdown of U.S. oil imports with these charts by the Wall Street Journal:
Click below to zoom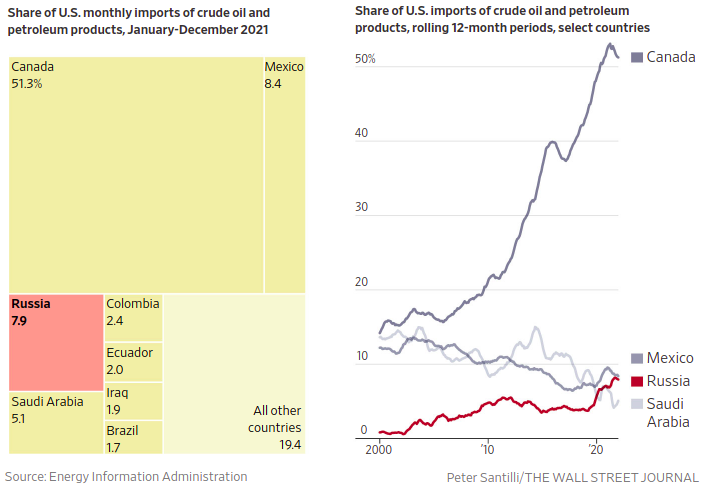 Despite the painful gas prices and foreboding projections, we must also acknowledge that Ukraine is under invasion and in dire need of support. Here is a round-up of resources on how to help Ukraine:
Where in the US Has Rent Become Most (and Least) Affordable?
The pandemic saw a large shift in many aspects of daily life with many people completely shifting their entire location as well. Texas saw the largest increase in new residents by far with tens of thousands moving to Kaufman, Comal and Rockwall county. Florida was another state that saw a large increase of new folks in the neighborhood. Many of these people citing job loss, unhappiness with their states representatives in government and cost of living as their reasons for moving. Rent and mortgage rates have played a large roll also in where residents are leaving and flocking to and who can blame them? A NYC one bedroom apartment averages close to $4,000 a month where as a one bedroom in El Paso Texas averages around $810 per month. This great chart from Housinglist.com shows where in the US Rent is the most and least affordable.
Click below to zoom

You may already know the outrageous cost of living in NYC, Miami, Boston and LA, but did you know Tampa, Florida, Detroit, Michigan and Rochester, New York will cost you above average in rent? Rochester only has a median income of $37,395 and median rent for a one bedroom there is just over $1200 per month making their percentage of household income going to rent for the year almost 36%. To compare, if you want to rent a one bedroom in Wichita Kansas it will only cost you under $700 or just 15.49% of household income for the year. Where would you choose to live on this map? Are you seeing these prices reflected in your area?
The Largest Mergers of All Time, Adjusted for Inflation
When talking about the world's largest mergers and acquisitions, it is interesting to see how some companies surged while others have lost so much. According to this visualization, adjusted for inflation in 2022, the largest acquisition was in 1999 when Vodafone purchased German cell company Mannesmann for $297.7 billion dollars. Since that purchase, only the Time Warner acquisition by AOL has even come close, selling for $286.4 billion just one year later in 2000. Read on to learn more in this interesting piece from /u/giteam on Reddit.
Click below to zoom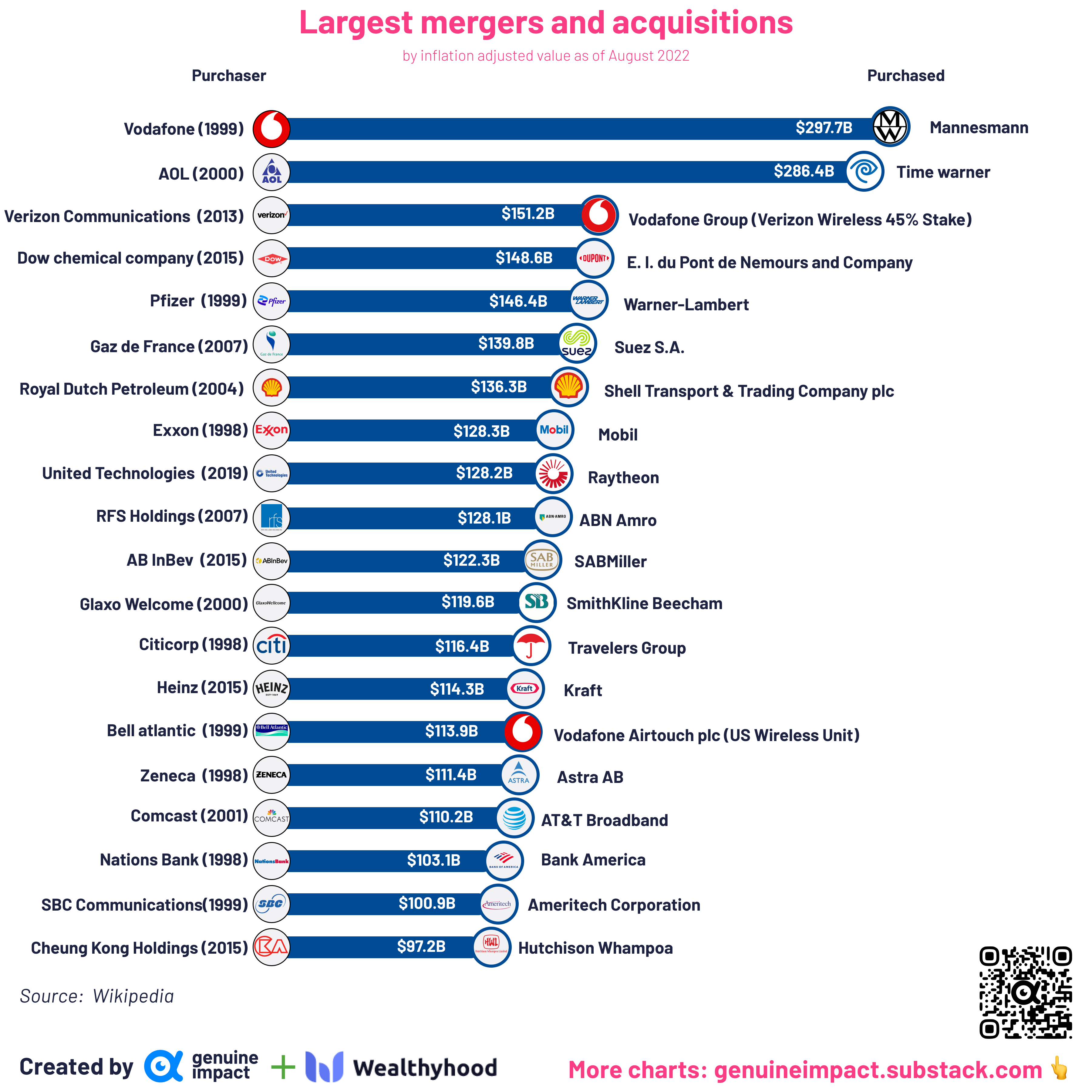 In 1998, Exxon purchased Mobil for $128.3 billion, which shows the enormity of the Vodafone merger. Another major acquisition on this list by a company you have probably heard of is Kraft, which was purchased by Heinz in 2015 for $114.3 billion. AT&T is another well-known business that was purchased by Comcast in 2001 for $110.2 billion. Travelers Insurance Group was purchased by Citicorp in 1998. Let's continue down the list to see other major mergers from the past. In 1999, pharmaceutical giant Pfizer purchased Warner-Lambert for $146.4 billion. Gaz de France purchased Suez S.A in 2007 for $139.8 billion. Dutch Petroleum purchased Shell Transport & Trading Company for $136.3 billion in 2004. RFS Holdings purchased ABN Amro in 2007 for $128.1 billion. AB InBev purchased SABMiller for $122.3 billion in 2015. Glaxo Welcome purchased SmithKline Beecham for $119.6 billion in 2000. Bell Atlantic then purchased Vodafone Airtouch for $113.9 billion in 1999. Zeneca purchased Astra AB, becoming Astra Zeneca in 1998 for $111.4 billion. Nations Bank also purchased Bank of America in 1998 for $103.1 billion.
New Chart Shows That Steve Ballmer is the Wealthiest Sports Owner in the World
From 2000 through 2014, Steve Ballmer served as the chief of Microsoft, and has gone on to become one of the richest people on Earth. Not only did he make his name with Microsoft, but Steve Ballmer is also a prominent name in the world of professional sports, as the owner of the Los Angeles Clippers franchise in the National Basketball Association. In fact, not only is Steve Ballmer is the richest owner in the entire league, but he's also the richest owner in all of professional sports.
This fascinating visualization from the research team at Madison Trust considered all sports and leagues around the world to determine who the richest sports teams owners actually are, developing a list of the top thirty overall. Their team factored in several sports into their research, including basketball, soccer, football, cricket, formula 1, hockey, and baseball.
Click below to zoom

Who is the richest owner in the NFL?
The National Football League is indisputably the most popular sport in the United States, and no NFL owner is wealthier than Rob Walton of the Denver Broncos, who is worth an estimated $59.8 billion. Not only is Rob Walton the richest owner in the National Football League, but he's also one of the richest individuals in the world in general, and is also the heir to the fortune of Walmart. Following Rob Walton, the richest owners in the NFL would be David Tepper of the Carolina Panthers (worth $16.7 billion), Stan Kroenke of the Los Angeles Rams (worth $10.7 billion), Jerry Jones of the Dallas Cowboys (worth $8.9 billion), and Shahid Khan of the Jacksonville Jaguars (worth $8 billion).