World Countries Ranked by Olympic Medal Count
The road to the Olympic Games is a long grind that brings together only the top athletes of the world. To qualify, athletes are selected by their respective National Olympics Committee. Then, the International Olympic Committee sends out invitation letters to all NOC's a year prior the the start of the games. And the NOCs submit their chosen athletes. For these Olympic athletes, their training is a full time job. Many athletes train 20-30 hours or more per week. They also have coaches that develop a complete nutritional plan for them during this time. These athletes also take their recovery very seriously with massages and ice baths. Years of hard work with the goal of winning a medal for their country.
The moment an athlete wins an Olympic medal they are hounded by cameras and reporters. Press conferences and interviews are a must. Athletes will attend several events throughout the year after as well. This can include giving inspiring talks to schools, doing commercials and getting back to training if they are going for the games again in the next 4 years. So which countries have won the most Olympic medals?
Click below to zoom

Luckily we have this great visualization from Wizard Pins that breaks it all down for us. The most dominating country on this list by far is the United States. They have won a total of 2,976 medals. Breaking it down even further we can see from list that 2,655 of these medals come from summer and they include: 1069 gold, 842 silver, and 744 bronze. 321 of were won in the winter games with 111 gold, 117 silver and 93 bronze. You'd be surprised to know that while the United States has the most overall medals, they actually fall to second place for the Winter Olympics behind Norway.
Every NBA Team's Winning Percentage Since 2000
For nearly a decade, the Golden State Warriors have dominated the NBA. Since the 2015 season, the Warriors have appeared in the NBA Finals on six different occasions, and have won the League Championship four times. However, despite the franchise's massive success over the last handful of years, the Warriors had several below average seasons.
Due to those abysmal seasons before their great success, the franchise has an overall winning percentage of below 50% dating back just over twenty years. This visualization shows which NBA teams and the highest and lowest winning percentages in the National Basketball Association since the 1999-2000 season.
Click below to zoom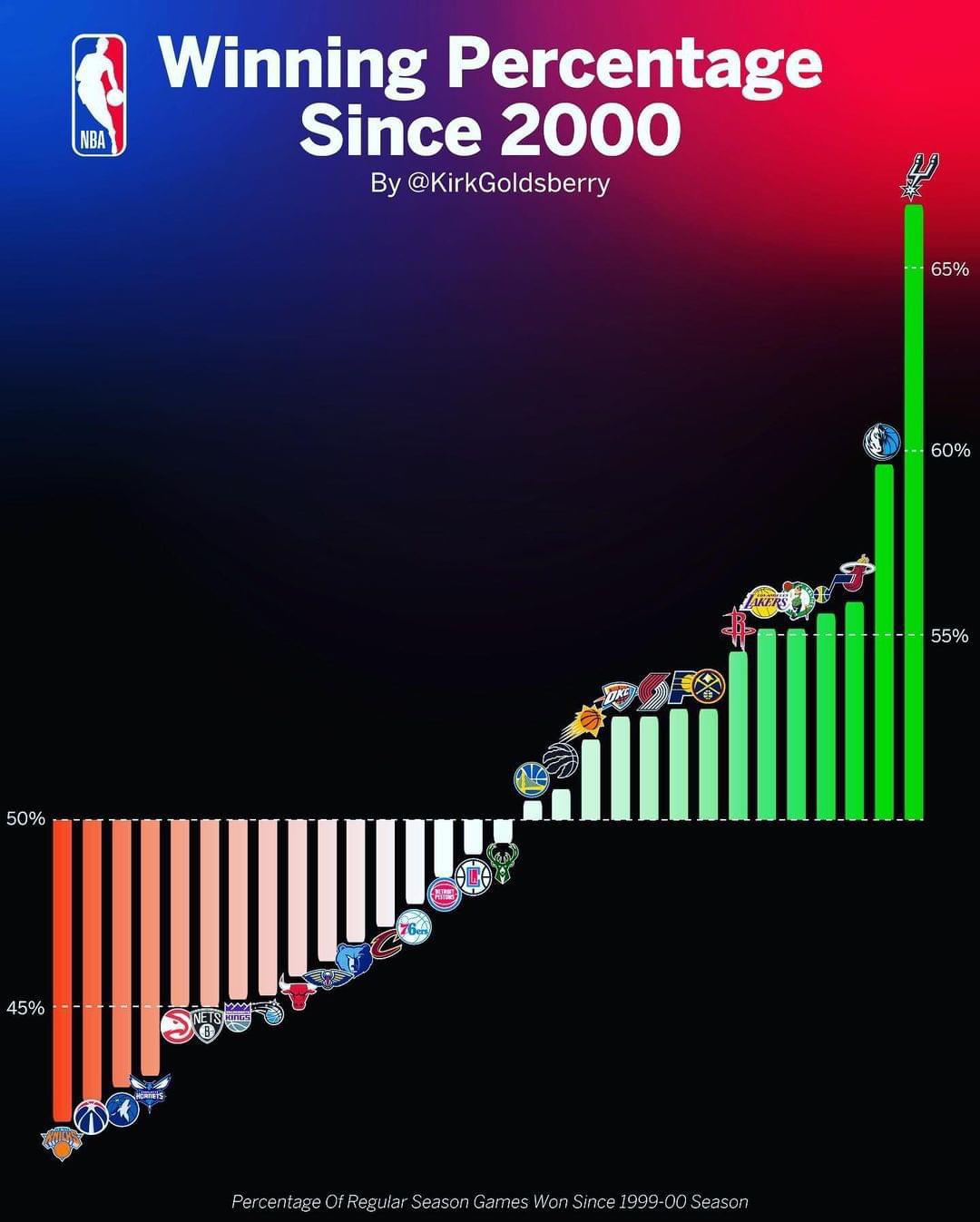 Which NBA team has won the most games since 2000?
Since the 1999-2000 NBA season, the San Antonio Spurs have won the more regular season games than any other franchise in the National Basketball Association. During this stretch, the San Antonio Spurs have won the NBA Finals on four occasions, and have played in the NBA Finals five different times. The Spurs saw their four NBA Championship wins during this time come against the New Jersey Nets (2002-03 season), Detroit Pistons (2004-05 season), Cleveland Cavaliers (2006-07 season), Miami Heat (2013-14 season).
Per the data on this visualization by NBA Analyst Kirk Goldsberry of ESPN, here's where various NBA teams fall in terms of their winning percentage since the 1999-2000 season through now. While exact winning percentages aren't listed for each of these NBA franchises, they do fall into different brackets.
Since 2000, the San Antonio Spurs are the only NBA franchise to win more than 65% of their regular season games.
Aside from the San Antonio Spurs, the Dallas Mavericks are the only team in the NBA to win at least 60% of their regular season contests.
Only five NBA franchises won between 55% and 59% of their regular season games: the Houston Rockets, Los Angeles Lakers, Boston Celtics, Utah Jazz and MIami Heat.
Seven NBA teams won between 50% and 54% of their regular season games since the 1999-2000 season: the Golden State Warriors, Toronto Raptors, Phoenix Suns, Oklahoma City Thunder, Portland Trail Blazers, Indiana Pacers and Denver Nuggets.
More than half of the teams in the NBA (16 NBA franchises) won less than 50% of their regular season games during this time: the New York Knicks, Washington Wizards, Minnesota Timberwolves, New Orleans / Charlotte Hornets, Atlanta Hawks, New Jersey / Brooklyn Nets, Sacramento Kings, Orlando Magic, Chicago Bulls, New Orleans Pelicans, Memphis Grizzlies, Cleveland Cavaliers, Philadelphia 76ers, Detroit Pistons, Los Angeles Clippers and Milwaukee Bucks.
The team with the worst winning percentage since the 1999-2000 NBA season was the New York Knicks.
The High School That Scores the Best in Math and Reading in Every State
What subject did you excel at during high school? What subject was the bane of your existence? For me, math was my arch nemesis and English was my best friend! I was fortunate to go to a high school with a solid reputation, mostly due to my parents doing research on the school district's quality of education when choosing a place to live. So how is the quality of a high school measured? Of course, there are countless factors that go into how good a school is that can be impossible to quantify. One concrete way to measure the quality of a school are test scores. The team at U.S. Career Institute explored math and reading proficiency scores across the nation to determine the best high school in every state. Check it out:
Click below to zoom

These math proficiency scores make me feel extra humble about my struggles with math! However, the best school in West Virginia has a math score of 48%, so I don't feel so bad. All kidding aside, standardized testing does not provide a complete picture of what a school has to offer; it ignores the developmental and experiential differences a student may have, or the school's focus on creativity and self-expression. Taking tests can be an overwhelming experience for some, and it may not accurately reflect their knowledge and potential for success. Regardless, test scores are still a valuable tool for gauging the caliber of education a student might receive through attendance.
From a design perspective, I love the choice of colors, they are ideal for an education-focused visualization without being cliché or overdone. The graphs are a compelling way to convey the data, making it easy to compare the math and reading proficiency scores of each state. I do wish there were photos of each school, but I appreciate the minimalist approach that focuses on the numbers efficiently.
The Colleges With the Most Alumni Who Are Now CEOs of Fortune 500 Companies
Each year, Fortune Magazine recognizes the 500 largest companies across the United States, with the ranking being determined by the annual revenue earned by each of those companies. This list includes both private companies and companies that are publicly traded. Leading these companies are CEOs that are not only worth millions of dollars, but have seen much success throughout their careers.
From the team at Academic Influence comes this fascinating visualization that looks at which colleges and universities that have the most alumni as CEOs of Fortune 500 companies.
Click below to zoom

Which universities have the most alumni now working as CEOs?
According to the research by the team at Academic Influence, it was found that these were colleges and universities that had at least ten alumni who were now the CEOs of Fortune 500 companies.
Harvard University: 41
University of Pennsylvania: 23
Stanford University: 22
Northwestern University: 20
Columbia University: 18
University of Chicago: 15
University of Michigan: 12
Cornell University: 10
Dartmouth University: 10
University of Virginia: 10
Founded in 1936, Harvard University is one of the most prestigious universities in the entire world. Due to the university's illustrious history, it's no surprise that they take claim to having the most alumni who are now in prominent positions as CEOs. Per the research from Academic Influence, it was found that of the 41 alumni who are now serving as CEOs of Fortune 500 companies, 35 of them had completed graduate programs at Harvard University. Some of the more notable companies that includes this alumni as CEOs today include Amazon (Andy Jassy), JPMorgan Chase (Jamie Dimon), Citigroup (Jane Fraser), Prudential Financial (Charles F. Lowrey), McDonald's (Chris Kempczinski), Mastercard (Michael Miebach) and Kellogg (Steve Cahillane).
This visualization also includes several interesting points of data, in particular listing out what the most common undergraduate degree programs were of Fortune 500 CEOs. Leading this ranking was engineering degrees, where 96 of the CEOs included had, with the breakdown of engineering degrees including studies in mechanical engineering (26), electrical engineering (23), chemical engineering (17), unspecified engineering (12), industrial engineering (6), civil engineering (5), petroleum engineering (3) and other types of engineering (17).
Per their research, here were the nine most common undergraduate degrees of Fortune 500 CEOs.
Engineering: 96
Economics: 59
Business administration: 40
Accounting: 36
Finance: 12
Computer science: 11
Marketing: 9
Political science: 8
Mathematics: 8