World Countries Ranked by Olympic Medal Count
The road to the Olympic Games is a long grind that brings together only the top athletes of the world. To qualify, athletes are selected by their respective National Olympics Committee. Then, the International Olympic Committee sends out invitation letters to all NOC's a year prior the the start of the games. And the NOCs submit their chosen athletes. For these Olympic athletes, their training is a full time job. Many athletes train 20-30 hours or more per week. They also have coaches that develop a complete nutritional plan for them during this time. These athletes also take their recovery very seriously with massages and ice baths. Years of hard work with the goal of winning a medal for their country.
The moment an athlete wins an Olympic medal they are hounded by cameras and reporters. Press conferences and interviews are a must. Athletes will attend several events throughout the year after as well. This can include giving inspiring talks to schools, doing commercials and getting back to training if they are going for the games again in the next 4 years. So which countries have won the most Olympic medals?
Click below to zoom

Luckily we have this great visualization from Wizard Pins that breaks it all down for us. The most dominating country on this list by far is the United States. They have won a total of 2,976 medals. Breaking it down even further we can see from list that 2,655 of these medals come from summer and they include: 1069 gold, 842 silver, and 744 bronze. 321 of were won in the winter games with 111 gold, 117 silver and 93 bronze. You'd be surprised to know that while the United States has the most overall medals, they actually fall to second place for the Winter Olympics behind Norway.
Where in the US Has Rent Become Most (and Least) Affordable?
The pandemic saw a large shift in many aspects of daily life with many people completely shifting their entire location as well. Texas saw the largest increase in new residents by far with tens of thousands moving to Kaufman, Comal and Rockwall county. Florida was another state that saw a large increase of new folks in the neighborhood. Many of these people citing job loss, unhappiness with their states representatives in government and cost of living as their reasons for moving. Rent and mortgage rates have played a large roll also in where residents are leaving and flocking to and who can blame them? A NYC one bedroom apartment averages close to $4,000 a month where as a one bedroom in El Paso Texas averages around $810 per month. This great chart from Housinglist.com shows where in the US Rent is the most and least affordable.
Click below to zoom

You may already know the outrageous cost of living in NYC, Miami, Boston and LA, but did you know Tampa, Florida, Detroit, Michigan and Rochester, New York will cost you above average in rent? Rochester only has a median income of $37,395 and median rent for a one bedroom there is just over $1200 per month making their percentage of household income going to rent for the year almost 36%. To compare, if you want to rent a one bedroom in Wichita Kansas it will only cost you under $700 or just 15.49% of household income for the year. Where would you choose to live on this map? Are you seeing these prices reflected in your area?
The Largest Mergers of All Time, Adjusted for Inflation
When talking about the world's largest mergers and acquisitions, it is interesting to see how some companies surged while others have lost so much. According to this visualization, adjusted for inflation in 2022, the largest acquisition was in 1999 when Vodafone purchased German cell company Mannesmann for $297.7 billion dollars. Since that purchase, only the Time Warner acquisition by AOL has even come close, selling for $286.4 billion just one year later in 2000. Read on to learn more in this interesting piece from /u/giteam on Reddit.
Click below to zoom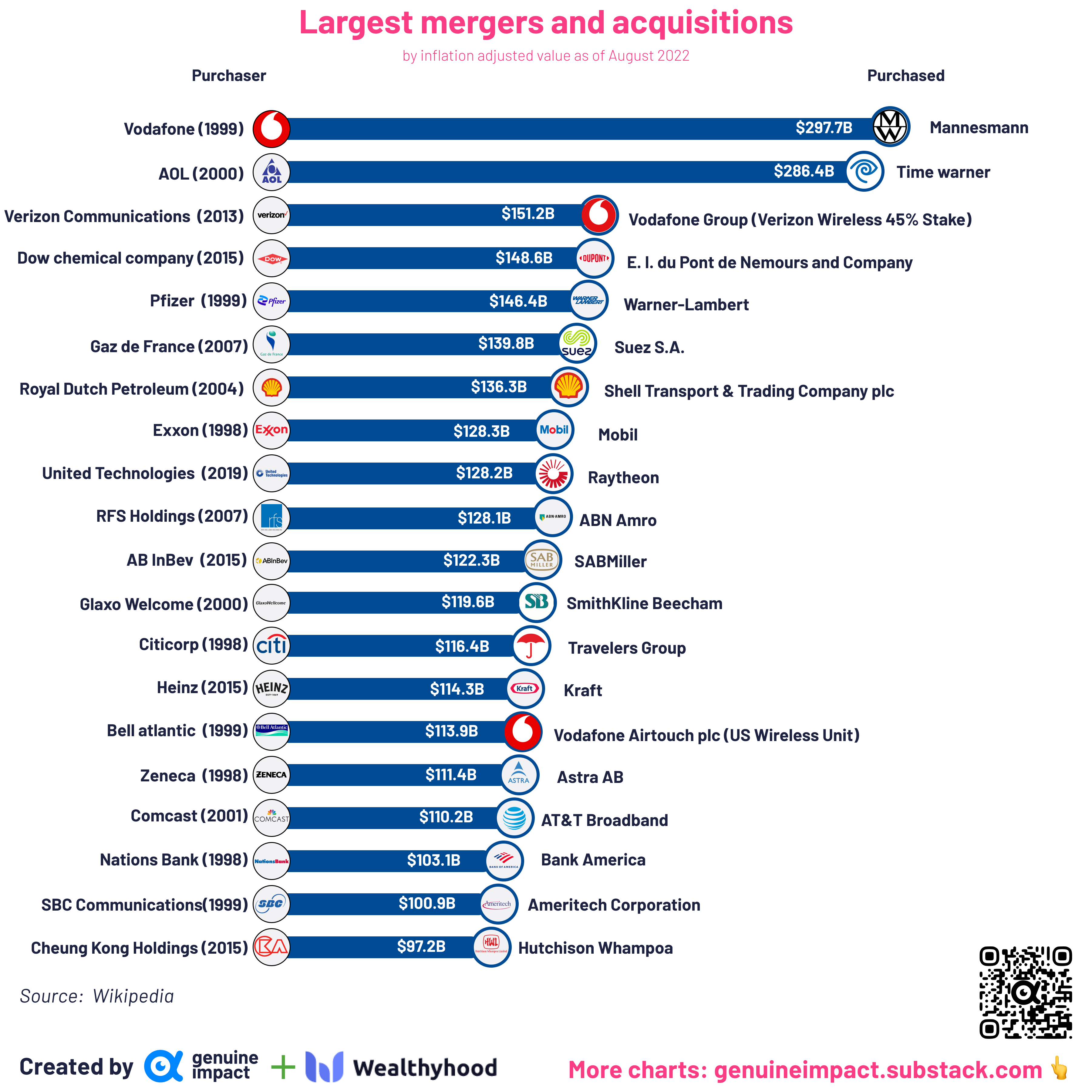 In 1998, Exxon purchased Mobil for $128.3 billion, which shows the enormity of the Vodafone merger. Another major acquisition on this list by a company you have probably heard of is Kraft, which was purchased by Heinz in 2015 for $114.3 billion. AT&T is another well-known business that was purchased by Comcast in 2001 for $110.2 billion. Travelers Insurance Group was purchased by Citicorp in 1998. Let's continue down the list to see other major mergers from the past. In 1999, pharmaceutical giant Pfizer purchased Warner-Lambert for $146.4 billion. Gaz de France purchased Suez S.A in 2007 for $139.8 billion. Dutch Petroleum purchased Shell Transport & Trading Company for $136.3 billion in 2004. RFS Holdings purchased ABN Amro in 2007 for $128.1 billion. AB InBev purchased SABMiller for $122.3 billion in 2015. Glaxo Welcome purchased SmithKline Beecham for $119.6 billion in 2000. Bell Atlantic then purchased Vodafone Airtouch for $113.9 billion in 1999. Zeneca purchased Astra AB, becoming Astra Zeneca in 1998 for $111.4 billion. Nations Bank also purchased Bank of America in 1998 for $103.1 billion.
New Chart Shows That Steve Ballmer is the Wealthiest Sports Owner in the World
From 2000 through 2014, Steve Ballmer served as the chief of Microsoft, and has gone on to become one of the richest people on Earth. Not only did he make his name with Microsoft, but Steve Ballmer is also a prominent name in the world of professional sports, as the owner of the Los Angeles Clippers franchise in the National Basketball Association. In fact, not only is Steve Ballmer is the richest owner in the entire league, but he's also the richest owner in all of professional sports.
This fascinating visualization from the research team at Madison Trust considered all sports and leagues around the world to determine who the richest sports teams owners actually are, developing a list of the top thirty overall. Their team factored in several sports into their research, including basketball, soccer, football, cricket, formula 1, hockey, and baseball.
Click below to zoom

Who is the richest owner in the NFL?
The National Football League is indisputably the most popular sport in the United States, and no NFL owner is wealthier than Rob Walton of the Denver Broncos, who is worth an estimated $59.8 billion. Not only is Rob Walton the richest owner in the National Football League, but he's also one of the richest individuals in the world in general, and is also the heir to the fortune of Walmart. Following Rob Walton, the richest owners in the NFL would be David Tepper of the Carolina Panthers (worth $16.7 billion), Stan Kroenke of the Los Angeles Rams (worth $10.7 billion), Jerry Jones of the Dallas Cowboys (worth $8.9 billion), and Shahid Khan of the Jacksonville Jaguars (worth $8 billion).