New Timeline Shows Average Global Temperatures for Every Month From 1880 Through 2021
The subject of climate change is one that continues to be heavily debated, and with good reason. From the NASA Goddard Institute for Space Studies, here is a visual representation of the monthly global mean temperature, spanning from 1880 through 2021. The visual is laid out where the each year can be read as a clock, in terms of the months going clockwise, along with colors to indicate their average temperatures during those times of the year.
Click below to zoom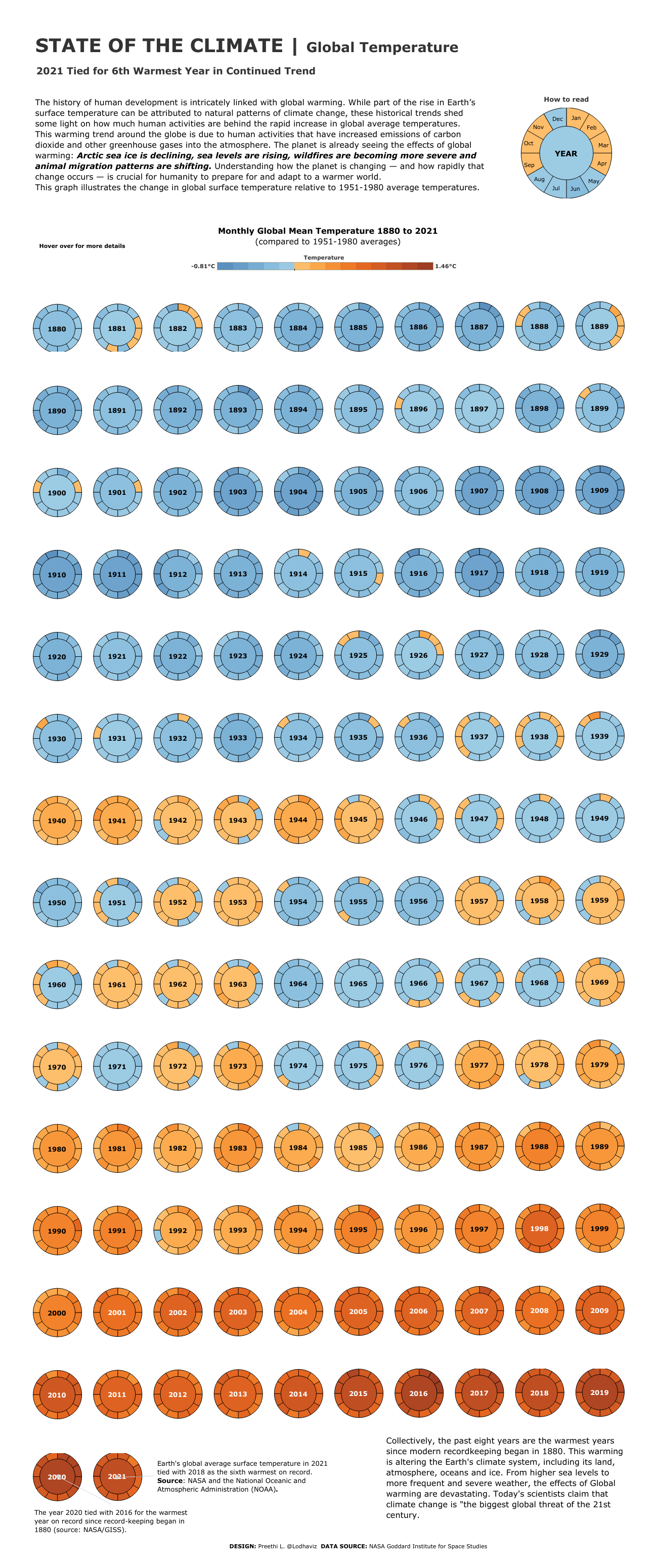 Did you know that since 1880, when modern record-keeping began, that the last eight years have been the warmest? Earth's climate system is being altered by this consistent warming, and we're seeing that the effects of Global Warming and becoming verse than ever before.
Climate change is will undoubtedly affect every country in the world, however it will hit some countries much harder than others. Six places from around the world that will prove to be especially vulnerable in regards to the impending impacts of climate change include Haiti, Nigeria, Yemen, Manila, Kiribati, and United Arab Emirates. They will all face changes for one reason or another, however all are scary.
In United Arab Emirates, for example, the sea levels have continued to race at an uncomfortable pace, and are at risk of facing water stress, which puts pressure on the UAE to spend much more energy and resources than they currently are on cooling.
According to the visual, and per NASA and the National Oceanic and Atmospheric Administration (NOAA), the global average surface temperature on Earth just last year in 2021 was tied with 2018 as being the sixth warmest year on record during that span. According to scientists around the globe today, the the climate change that we're experiencing here on Earth is being referred to as "the biggest global threat of the 21st century."
How Prom Dress Styles Have Evolved Over Time
When you think of prom the first image that may pop into your head is a sea of colorful and extravagant dresses dancing the night away. The style of dresses you're picturing, though, will depend entirely on the decade that you attended prom. Fashion trends are always evolving and that proves especially true when it comes to prom dress styles, as seen in this visual from popular fashion brand Lulus.
Click below to zoom

It starts with the early 1900s Victorian Era and travels through current day trends on a fashion blast through the past of the most popular prom dress styles from every decade. Here you'll find the free and fun flapper dresses of the 1920s to the long and flowing bohemian dresses of the 1970s. As you go through the timeline of dresses it's interesting to note how popular movies or celebrities had an impact on a decade's fashion trends. The popularity of "Gone With the Wild" in the 1940s brought back the Victorian-Era style dresses that had been popular forty years prior. Pop stars like Britney Spears and Christina Aguilera influenced the prom dress styles that were popular in the 2000s. As the dress styles change from decade to decade, one thing about prom remains the same and that is the desire to get decked out in fancy attire and dance the night away with friends and  classmates. And to see who is crowned Prom King and Prom Queen, of course! What type of prom dress do you think will emerge as one of the most popular styles of the 2020s?
Every Song Streamed More Than 1 Billion Times on Spotify, Visualized
Today's stunning visualization comes from Visual Capitalist in celebration of the Spotify's Billions Club! They have created a captivating chart showcasing every song on Spotify that has reached over one billion streams. With over 300+ songs, that is a tremendous amount of information, but they have executed it beautifully. The color scheme is immaculate and it flows with a graceful chaos.
Click below to zoom
I appreciate how they organized it by decade – this celebrates the legendary songs that have been able to transcend generations, such as Queen's "Don't Stop Me Now" and "Bohemian Rhapsody", Nirvana's "Smells Like Teen Spirit", and "September" by Earth, Wind and Fire. "Dream" by Fleetwood Mac also earned a place in the Billion Club – I wonder if that was sparked in part by the viral phenomenon of Nathan Apodaca cruising on his skateboard with a bottle of Ocean Spray to the classic 70s tune? The newer songs that have reached one billion are impressive in their own right – they catapulted to cult status in record time! "Heat Waves" by Glass Animals, "Blinding Lights" by the Weekend, "Dynamite" by BTS and "As It Was" by Harry Styles are particular favorites of mine. In fact, "As It Was" is currently the only 2022 song in the Billions Club! I also enjoyed the "Fastest Growing Followings" section tucked into the bottom like a little Easter egg – as a proud member of Army, I'm thrilled to see Jungkook and BTS are among the top 5. What is your favorite song in the Billions Club? Sound off in the comments below!
The Oldest Logos That Are Still in Use Today
Logos are powerful – they convey the entire essence and history of a brand within a single image. It is truly incredible to imagine how a designer can shape the entire legacy of a brand with their creations! While some company logos undergo immense transformations with the changing times, some stay true to their roots, maintaining imagery that resonates for generations. At Chartistry, we love learning about the history of design and marketing, so we were thrilled to discover this chart by ImageRelay. It explores the oldest logos that still exist today, dating all the way back to 1366.
Click below to zoom

It is fascinating to see how many of the logos underwent style changes but still maintained distinctive core elements – I love a brand that stays true to its story! So the oldest logo that still exists today belongs to Stella Artois, a Belgium beer company. It began as just the horn, but now sports an elegant banner. What is the horn on Stella Artois? The horn represents the Den Hoorn brewery in Leuven, Belgium, where Stella Artois traces its origins. In 1366, Stella Artois was a special brew given by the brewery as a holiday gift to the people of Leuven. The name "Stella", which means "star" in Latin, pays homage to that special occasion. The name "Artois" honors the De Hoorn Bew Master Sebastian Artois. Learning about the history of logos can be so fun, especially when they have protected the very elements that have defined the brand from the beginning.