The Largest Urban Parks Around the World
Parks are not limited to small suburbs and rural areas. In fact, many urban areas have vast park systems designed to provide recreation and peace to residents of big cities. These parks can include beautiful views of mountains, lakes, and streams, as well as recreational opportunities for boating and hiking. PlaygroundEquipment.com created a beautiful visualization to show where the largest urban parks in the world are located as well as some of the recreational activities they are used for.
Click below to zoom

The largest urban park on the planet is Chugach State Park in Anchorage, Alaska. This park is 495,199 acres and includes scenic views of the Chugach Mountains, Eklutna Lake, and Eklutna Glacier. People are able to walk the trails in favorable weather, and during winter, they can also utilize ATVs, snowmobiles, cross-country skis, snowshoes, and horses to travel the trails. Located in the city of Anchorage, this park provides endless hours of recreation for visitors.
The second-largest urban park in the world is Gatineau Park in Gatineau, Canada. At 89,205 acres, this popular park is located just outside of Ottawa and features trails, lakes, and caves to explore. The park is also home to more than 100 species of at-risk animals and plants as well as common species.
Third on the list is Table Mountain National Park, which is located in Cape Town, South Africa. This park is 54,610 acres and includes many recreational opportunities including visiting the land-based African Penguin colony which is one of the only colonies in the world.
Have you visited any of these amazing urban parks?
How to Pick a Perfect Watermelon
It is almost watermelon season! That means venturing to the grocery store or market and to choose the most perfect, juicy, ripe, flavorful specimen from the bunch. How do you choose the perfect watermelon? How can you tell a watermelon is ripe? Eagle Eye Produce has created this simple and helpful visualization of how to pick the most wonderful watermelon to make your summer dreams come true: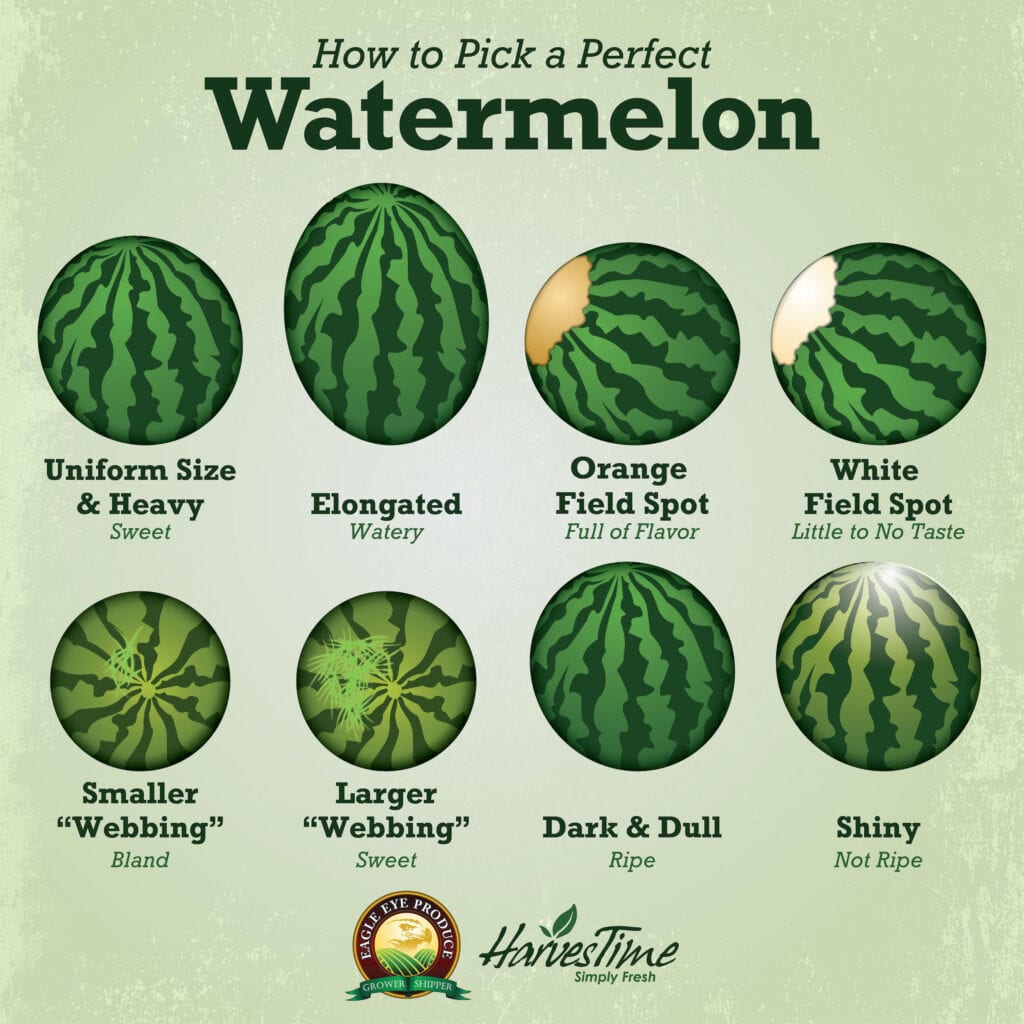 In addition to the visual guide, Eagle Eye Produce also provided these tips for choosing the perfect watermelon:
Choose a watermelon that is uniform in size – both oval and round are okay. The important thing is to avoid irregular bumps.
Choose a watermelon that is heavy for its size. This usually indicates a sweeter, juicier fruit.
Look for a creamy orange field spot. A field spot is where the watermelon was resting on the ground. The darker the spot, the longer the watermelon was on the vine. This maximizes flavor.
A white field spot may be a sign that the melon is not quite ripe.
Larger webbing or "sugar spots" means that the melon is seeping out sugar and could be an indicator of a sweet taste.
Dark, dull melons are typically ripe while shiny melons are unripe.
There are many wonderful ways to enjoy the ripe melon you just picked out! It is so important to stay hydrated while having fun in the sun (especially if alcohol is involved), so here are some infused water recipes to try out with watermelon and other tasty fruits and herb
The Ultimate Visual Guide to Boy Scout Patches and What They Mean
The Boy Scouts of America was established in 1910 – ever since, invaluable qualities such as integrity, courage, teamwork, and survival skills have been cultivated and challenged in the youths who join. Boy Scouts can earn a myriad of patches that represent their achievements, ranging from simple colored shoulder loops to indicate the level of scouting the Scout has reached to individual merit badges in skills such as swimming, first aid, environmental science, archery, communication, citizenship in the community, wood carving, and even family life! One thing I love about patches of all kinds is how they translate a broader concept into a small design, much like logos! The team at WizardPins.com has created this fantastic visual guide to Boy Scout patches and what they mean:
Click below to zoom

There are so many cool designs on here! I am especially fond of the Wood Carving, Camping, and Arrow of Light patches. There are over 135 merit badges that Scouts can earn. How are Boy Scout patches earned? For merit badges, a scout must complete requirements with their badge counselor that help demonstrate a skillful understanding of the badge's subject. For example, in order to earn a Hiking merit badge, the Scout must take four 10-mile hikes and one 20-mile hike with written plans and follow-up reports. I am actually shocked that a 20-mile hike is necessary – that is a colossal challenge even for a well-seasoned adult! It even says that Scouts are permitted to stop for just one meal. Goodness gracious! Way to go, Boy Scouts.
The Population Density of Europe (and the World) in Two 3-D Maps
How many people live in Europe? The population of Europe is around 745 million people, or 10% of the world population. Internationally recognized data analyst, mapmaker, author, and visual storyteller Alasdair Rae has transformed this figure into a captivating population density map of the entire continent! Check it out:
Click below to zoom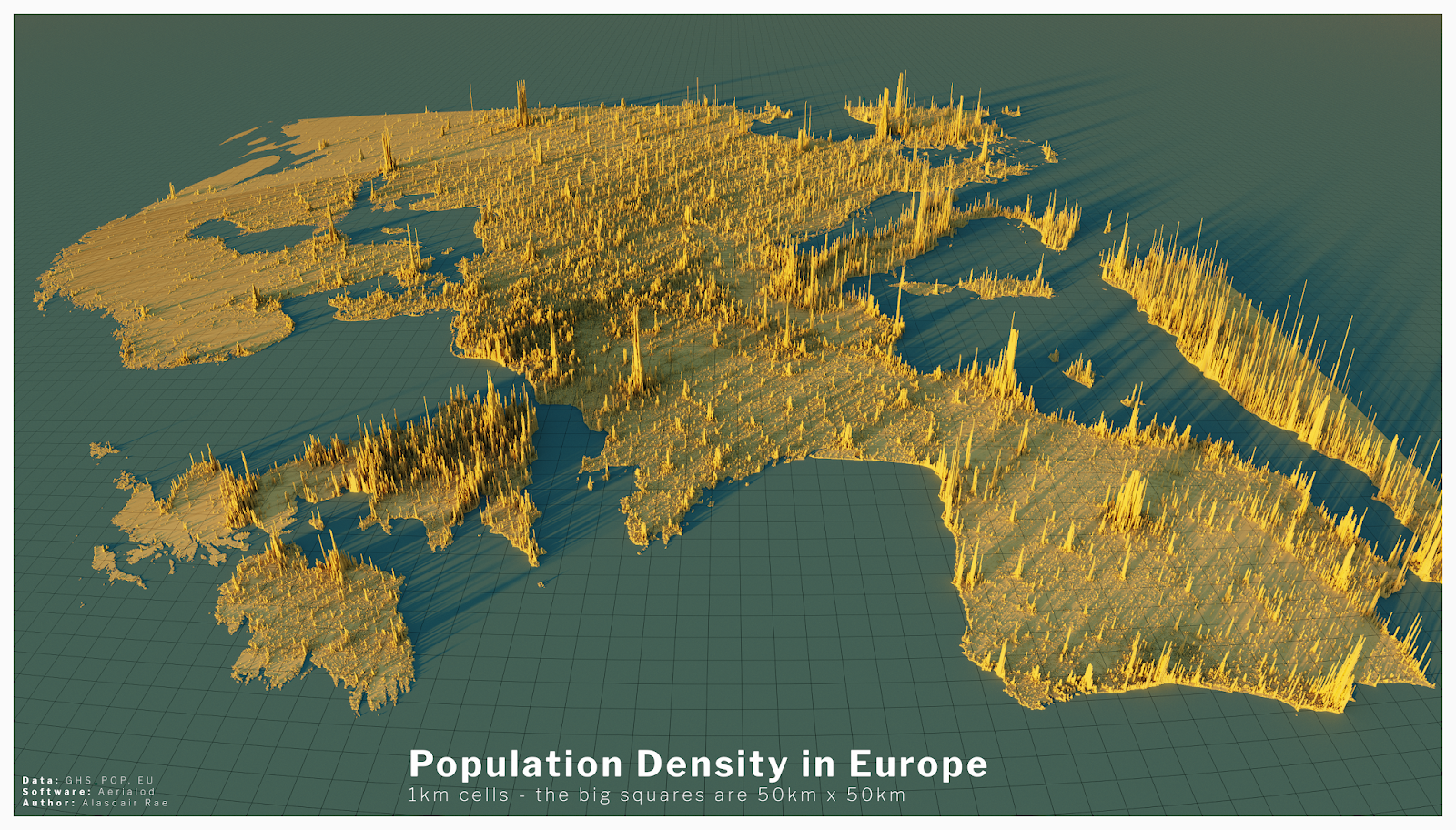 Rae states: "The maps below use 1km x 1km data and the height of the bars represents the number of people living in any one square. The big squares are 50km x 50km (about 30 miles) and are there to provide sense of scale. The highest 1km densities are found in Spain and France, and Madrid, Barcelona and Paris in particular where you get values of more than 50,000." You can explore more detailed sections of Europe here, as well as the creator's insights and methods. You can also other fascinating data visualizations, such as the most densely population square kilometer in every U.S. state!
This got me thinking – what would an entire world map made like this look like? He actually made a complete map too! I wanted to provide both maps to provide a more "big picture" understanding of scale.
Click below to zoom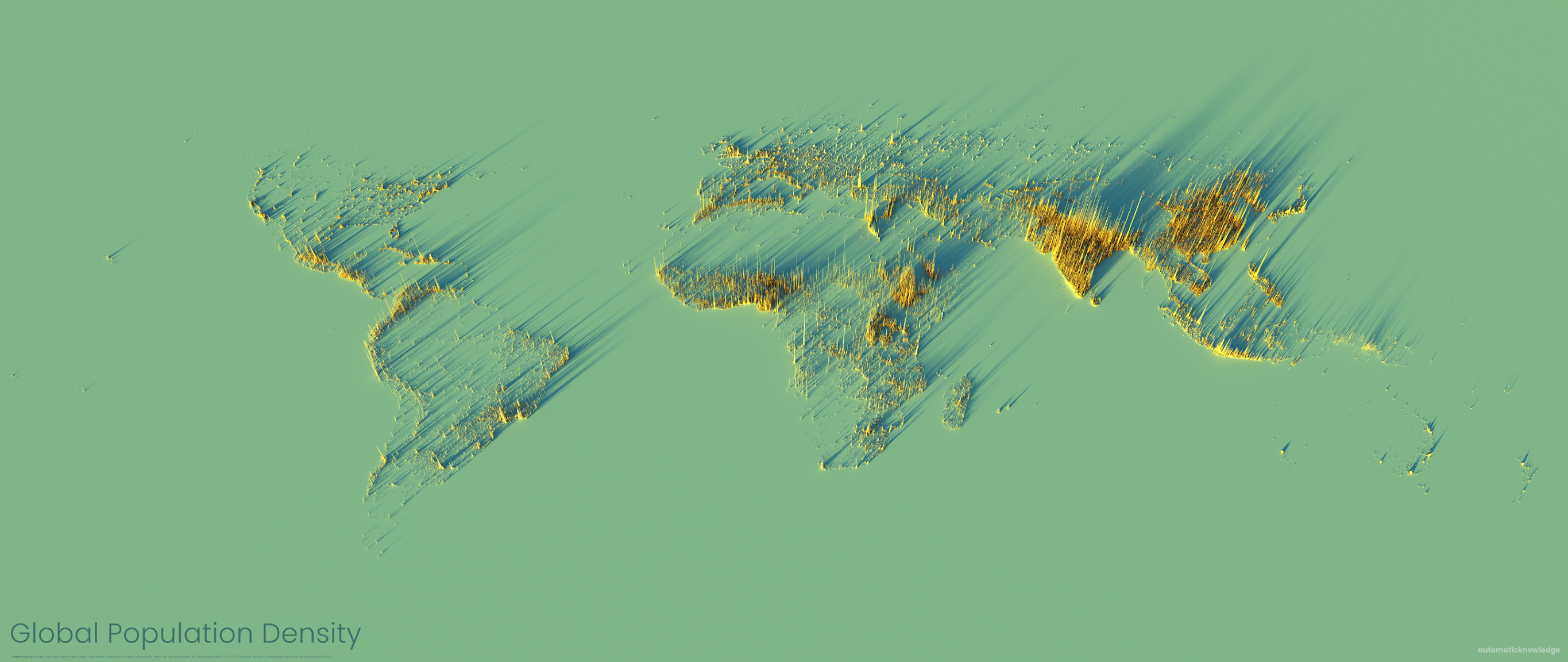 As you can see, in the grand scheme of the whole planet, Europe's population density seems so humble. So what are the most densely populated cities in the world based on people per square kilometer? Try to take a guess based off of this map (test your geography knowledge!) and then check the list:
Manila, Philippines (Asia) – 43,062
Mandaluyong, Philippines (Asia) – 38,495
Pateros, Philippines (Asia) – 37,061
Caloocan, Philippines (Asia) – 31,233
Bnei Brak, Israel (Asia) – 30,001
Kathmandu, Nepal (Asia) – 29,161
Dkaka, Bangladesh (Asia) – 29,069
Makati, Philippines (Asia) – 28,975
Port-au-Prince, Haiti (North America) – 27,395
Levallois-Perret, France (Europe) – 26,713
The European city with the highest population density is Levallois-Perret in France, but it is nearly 20,000 people per square kilometer less than Manila, the most densely populated city in the world. While Americans in New York City or Los Angeles may fret over crowds and traffic, the truth is, none of America's cities even rank in the top 50 for population density.