What Are the Fastest Growing and Declining Retail Companies During COVID-19?
Which retail companies have grown or declined the most in the past year? This proportional area chart from VisualCapitalist uses the size of different "price tags" to compare the change in brand value of some of the biggest companies in the world from 2019 to 2020. The VisualCapitalist team sourced data from from the Kantar brandZ Top 75 Most Valuable Global Retail Brands report and is especially interesting as it illustrates how the world has adjusted their shopping habits during the COVID-19 pandemic. Check out the full chart below:
Click below to zoom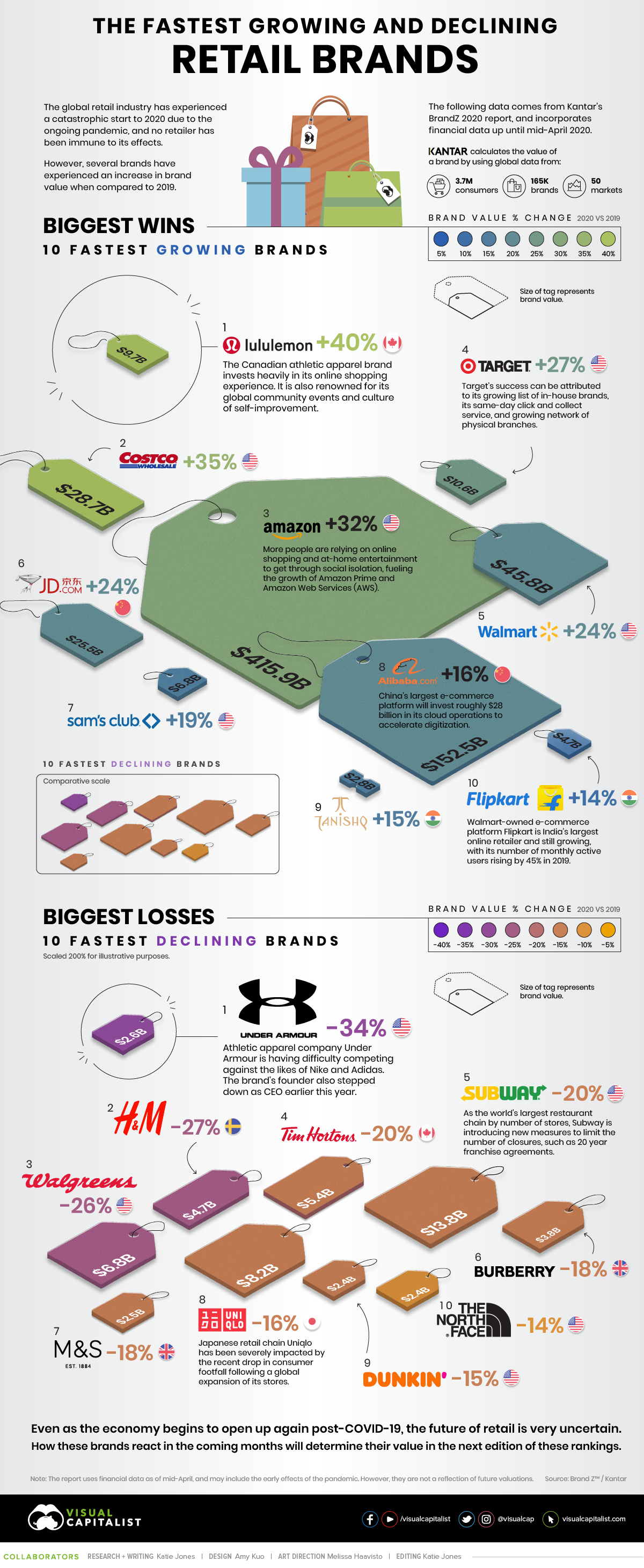 Which retail companies are faring the best during the coronavirus pandemic?
It shouldn't come as a surprise that major online retailers such as Amazon and Alibaba have won big over the past year. Without the ability to shop in physical retail stores that had been deemed nonessential, online retailers such as Amazon were an easy choice for shoppers. Perhaps somewhat surprising is the pandemics biggest retail winner: Lululemon. The apparel company has always had a heavy focus on online shopping and their brand value has now grown 40% over the past year as a result. Other winners include Costco, Walmart, Target, Sam's Club, and other large, traditionally brick and mortar establishments which have found creative ways to stay relevant and profitable during these troubling times.
What are the biggest retail losers during COVID-19?
The retail brands that saw the biggest decline over the past year include specialty fashion brands such as The North Face, H&M, and Burberry as well as fast food and coffee restaurants such as Subway, Tim Hortons, and Dunkin' Donuts. This can be due in part to compulsory store closures and an overall shift in consumer focus as people were stuck at home during lock downs. However, the fastest declining brand over the past year is Under Armour which has had problems dating long before the pandemic took hold. The company has seen a discouraging 34% drop in brand value since last year.
Only time will tell which companies will come out on top (and which might go out of business) by the time the pandemic comes to an end.
Real Estate Chart Reveals Your Money Has Only 50-80% of the Buying Power it Did 5 Years Ago
Houses aren't cheap these days. In fact, they are so not cheap that millions of young Americans are holding off on buying a home and are instead opting to rent for the foreseeable future. "Just how bad is it?", you might be wondering. Well, this new visualization from construction app maker Builder Pad forces you to look at the problems the United States is facing in the real estate market in an entirely new way. From this perspective, you are able to see how much smaller a house you'll be able to afford today vs. 2018 for the same amount of money. So, how much smaller has a $500,000 home become in your state?
Click below to zoom

In order to reveal which states have the fastest-rising real estate prices, Builder Pad analyzed median listing prices by state in two distinct ways. First, is by percentage of square feet lost over the five year period between 2018 and 2023. The state that was hit the hardest in this metric is Montana where a $500K house is now 50.15% smaller. Just typing that out blows my mind.
The second metric used in this study is square feet lost over the same 5-year period. The state that lost the most square feet in a $500,000 house is Kansas with a drop of 2,280.26 square feet. That's the equivalent of losing five (5!) two-car garages in living space. With virtually no end in sight for this real estate conundrum, what will be the straw that breaks the camel's back?
The Fastest-Growing Jobs in Health Care in the United States
Positions in the health care industry have always been in demand, especially since the start of the pandemic. Hospitals and doctor's offices all over the country are in need of trained medical professionals to help patients. Staffing workers in the industry was a struggle even before COVID-19 hit, and once it did, demand for health care workers was strongly in demand.
Which specific health care professions are expected to grow the most in the next few years? U.S. Career Institute looked at data from the U.S. Bureau of Labor Statistics and Indeed.com to display which medical professions are expected to grow the most from 2021-2031.
Click below to zoom

The graphic utilizes a scatter diagram to visualize the health care professions expected to grow the compared to their average salary.
The medical profession that is expected to grow the most by 2031 is nurse practitioners. The average salary for a nurse practitioner in the U.S. is $120,680, and the profession is expected to grow 46% by 2031. Nurse anesthetists and nurse midwives are next on the list, with an expected growth of 40% by 2031. The average annual salary is $123,780.
These are the top 10 health-related professions that are expected to grow through 2031:
Nurse practitioner — 46%
Nurse anesthetist — 40%
Physician assistant — 28%
Medical and health services manager — 28%
Epidemiologist — 26%
Occupational therapy assistant — 25%
Home health and personal care aide — 25%
Physical therapy assistant — 24%
Substance abuse, behavioral disorder, and mental health counselor — 22%
Speech-language pathologist — 21%
56 Military, Commercial, and Personal Aircraft Ranked by Top Speed
What can go nearly six times the speed of sound and cost $2.5 trillion dollars to build and operate (adjusted for inflation)? The answer is the North American X-15, hypersonic rocket-powered aircraft that achieved the fastest aircraft flying speed of all time on October 3rd, 1967 when it reached 4,520 miles per hour! That is an awe-inspiring 75 miles per minute and 1.25 miles per second. GlobalAir.com has launched a compelling (or propelling?) chart visualizing aircraft ranked by max flying speed. More than half of the aircraft shown are capable of flying faster than the sound of speed!
Click below to zoom

How fast is the sound of speed anyway? Mach 1, or the speed of sound, varies depending on the temperature of the air (or other medium) that it is passing through. So at sea level on planet Earth at around 60 degrees Fahrenheit, the speed of sound is approximately 767 miles per hour. That means that the North American X-15, an aircraft operated by the United States Air Force and the National Aeronautics and Space Administration, flew at a rate nearly six times as fast as the speed of sound. The record was achieved by William J. Knight, a Vietnam combat pilot and test pilot for the U.S. Air Force. During his 16 flights in the aircraft, Knight became one of the few non-NASA pilots to earn their Astronaut Wings by flying an airplane in space – this was achieved by reaching an altitude of 280,500 feet (53.125 miles). It truly is extraordinary how far aviation technology has come in a century!