Who are the Richest Millennials on the Planet?
There are around 2,755 billionaires currently on planet Earth (although we could temporarily subtract one while Jeff Bezos' rocket was in "space"). These billionaires have an estimated combined wealth of over 13 trillion dollars. And since the pandemic began, many have just gotten richer. Out of these thousands of billionaires, there are only 100 that were born between 1981 and 1996, making them part of the generation we call millennials. As a person who is also in their mid-thirties, I can't even begin to fathom what I would do with a billion dollars. I would love to ask the folks on this list of the World's 25 Richest Millennial Billionaires put together by Visual Capitalist, what their day-to-day life is like. Do they drink Starbucks like the rest of us? Watch Netflix like the rest of us? Stay at home in sweatpants like the rest of us? Ride hydrofoiI surfboards like the rest of us? Oh no, wait that is actually just something Mark Zuckerberg does. And he can do pretty much any activity he wants to do because he tops this list of millennial billionaires with a staggering $97 billion in net worth from his website Facebook.
Click below to zoom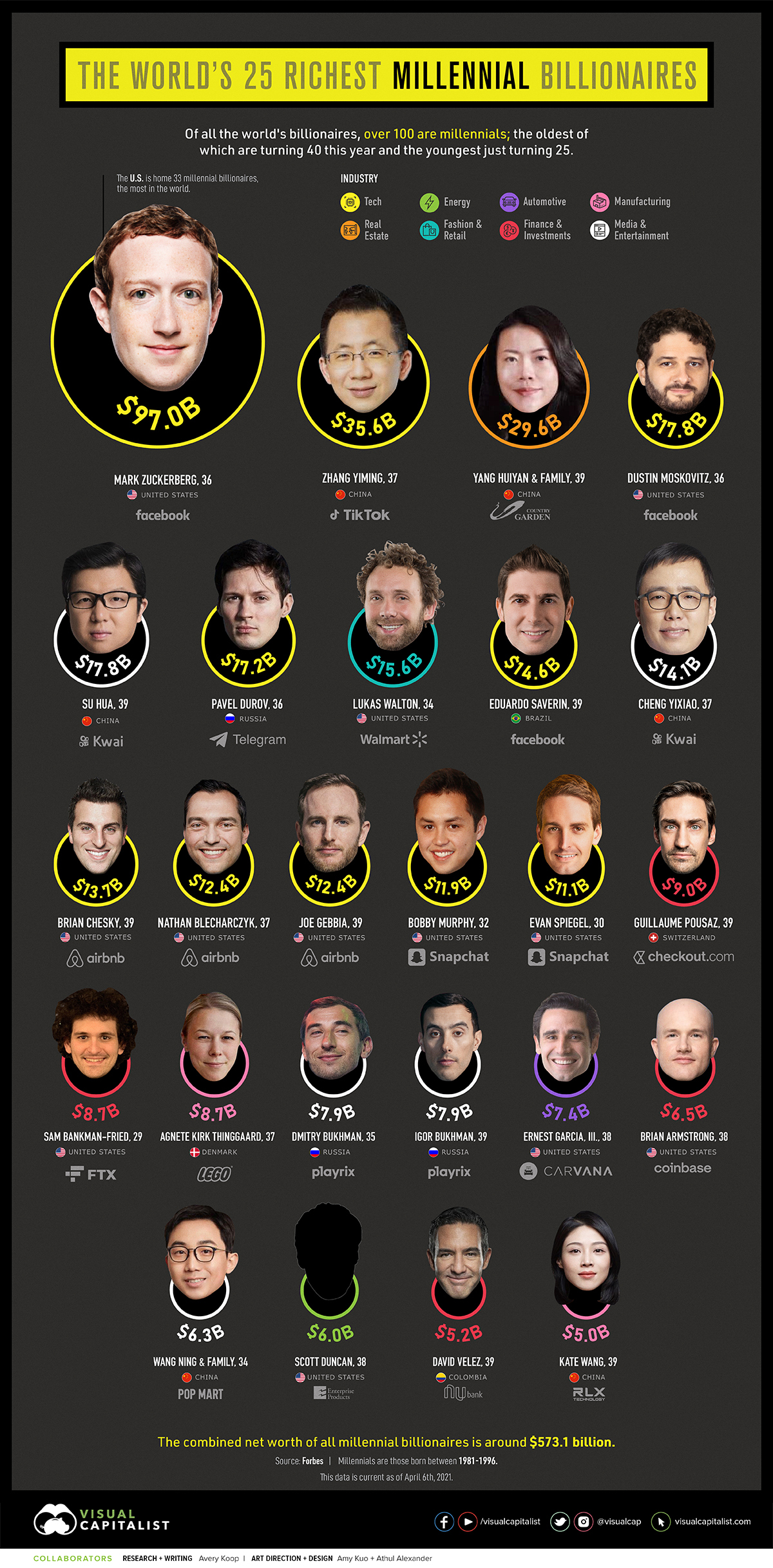 Next on the list is Chinese billionaire, 37-year-old Zhang Yiming who also made his money in the tech industry with an app many millennials use every day called TikTok. Yiming has made 35.6 billion dollars with his creative platform where users can make quirky short videos with music. The third spot on this list belongs to female billionaire, Yang Huiyan, 39, who made her billions with her family in China in the real estate industry with real estate.
Real Estate Chart Reveals Your Money Has Only 50-80% of the Buying Power it Did 5 Years Ago
Houses aren't cheap these days. In fact, they are so not cheap that millions of young Americans are holding off on buying a home and are instead opting to rent for the foreseeable future. "Just how bad is it?", you might be wondering. Well, this new visualization from construction app maker Builder Pad forces you to look at the problems the United States is facing in the real estate market in an entirely new way. From this perspective, you are able to see how much smaller a house you'll be able to afford today vs. 2018 for the same amount of money. So, how much smaller has a $500,000 home become in your state?
Click below to zoom

In order to reveal which states have the fastest-rising real estate prices, Builder Pad analyzed median listing prices by state in two distinct ways. First, is by percentage of square feet lost over the five year period between 2018 and 2023. The state that was hit the hardest in this metric is Montana where a $500K house is now 50.15% smaller. Just typing that out blows my mind.
The second metric used in this study is square feet lost over the same 5-year period. The state that lost the most square feet in a $500,000 house is Kansas with a drop of 2,280.26 square feet. That's the equivalent of losing five (5!) two-car garages in living space. With virtually no end in sight for this real estate conundrum, what will be the straw that breaks the camel's back?
The Fastest-Growing Jobs in Health Care in the United States
Positions in the health care industry have always been in demand, especially since the start of the pandemic. Hospitals and doctor's offices all over the country are in need of trained medical professionals to help patients. Staffing workers in the industry was a struggle even before COVID-19 hit, and once it did, demand for health care workers was strongly in demand.
Which specific health care professions are expected to grow the most in the next few years? U.S. Career Institute looked at data from the U.S. Bureau of Labor Statistics and Indeed.com to display which medical professions are expected to grow the most from 2021-2031.
Click below to zoom

The graphic utilizes a scatter diagram to visualize the health care professions expected to grow the compared to their average salary.
The medical profession that is expected to grow the most by 2031 is nurse practitioners. The average salary for a nurse practitioner in the U.S. is $120,680, and the profession is expected to grow 46% by 2031. Nurse anesthetists and nurse midwives are next on the list, with an expected growth of 40% by 2031. The average annual salary is $123,780.
These are the top 10 health-related professions that are expected to grow through 2031:
Nurse practitioner — 46%
Nurse anesthetist — 40%
Physician assistant — 28%
Medical and health services manager — 28%
Epidemiologist — 26%
Occupational therapy assistant — 25%
Home health and personal care aide — 25%
Physical therapy assistant — 24%
Substance abuse, behavioral disorder, and mental health counselor — 22%
Speech-language pathologist — 21%
56 Military, Commercial, and Personal Aircraft Ranked by Top Speed
What can go nearly six times the speed of sound and cost $2.5 trillion dollars to build and operate (adjusted for inflation)? The answer is the North American X-15, hypersonic rocket-powered aircraft that achieved the fastest aircraft flying speed of all time on October 3rd, 1967 when it reached 4,520 miles per hour! That is an awe-inspiring 75 miles per minute and 1.25 miles per second. GlobalAir.com has launched a compelling (or propelling?) chart visualizing aircraft ranked by max flying speed. More than half of the aircraft shown are capable of flying faster than the sound of speed!
Click below to zoom

How fast is the sound of speed anyway? Mach 1, or the speed of sound, varies depending on the temperature of the air (or other medium) that it is passing through. So at sea level on planet Earth at around 60 degrees Fahrenheit, the speed of sound is approximately 767 miles per hour. That means that the North American X-15, an aircraft operated by the United States Air Force and the National Aeronautics and Space Administration, flew at a rate nearly six times as fast as the speed of sound. The record was achieved by William J. Knight, a Vietnam combat pilot and test pilot for the U.S. Air Force. During his 16 flights in the aircraft, Knight became one of the few non-NASA pilots to earn their Astronaut Wings by flying an airplane in space – this was achieved by reaching an altitude of 280,500 feet (53.125 miles). It truly is extraordinary how far aviation technology has come in a century!