Who are the Richest Millennials on the Planet?
There are around 2,755 billionaires currently on planet Earth (although we could temporarily subtract one while Jeff Bezos' rocket was in "space"). These billionaires have an estimated combined wealth of over 13 trillion dollars. And since the pandemic began, many have just gotten richer. Out of these thousands of billionaires, there are only 100 that were born between 1981 and 1996, making them part of the generation we call millennials. As a person who is also in their mid-thirties, I can't even begin to fathom what I would do with a billion dollars. I would love to ask the folks on this list of the World's 25 Richest Millennial Billionaires put together by Visual Capitalist, what their day-to-day life is like. Do they drink Starbucks like the rest of us? Watch Netflix like the rest of us? Stay at home in sweatpants like the rest of us? Ride hydrofoiI surfboards like the rest of us? Oh no, wait that is actually just something Mark Zuckerberg does. And he can do pretty much any activity he wants to do because he tops this list of millennial billionaires with a staggering $97 billion in net worth from his website Facebook.
Click below to zoom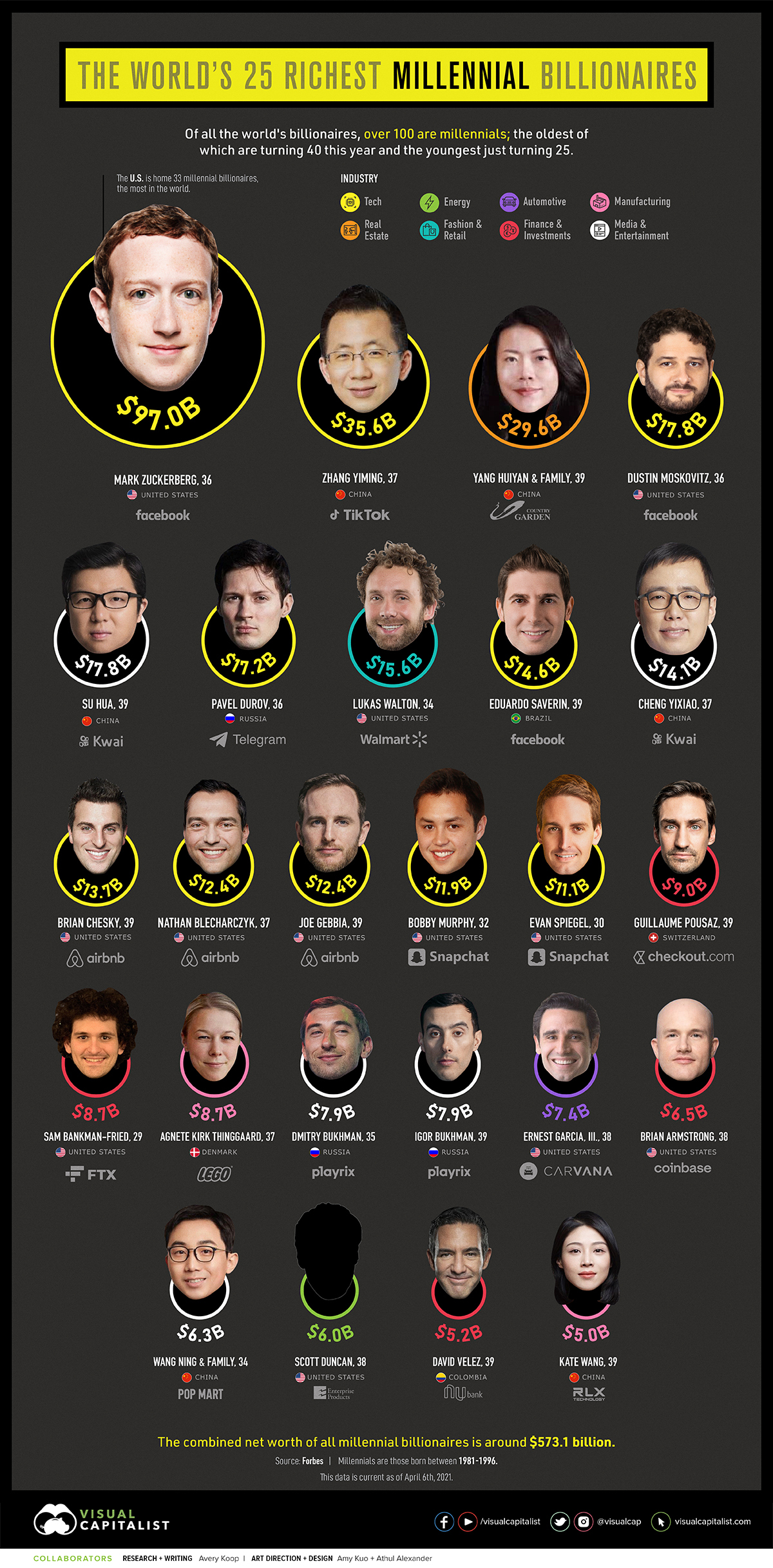 Next on the list is Chinese billionaire, 37-year-old Zhang Yiming who also made his money in the tech industry with an app many millennials use every day called TikTok. Yiming has made 35.6 billion dollars with his creative platform where users can make quirky short videos with music. The third spot on this list belongs to female billionaire, Yang Huiyan, 39, who made her billions with her family in China in the real estate industry with real estate.
The Most Profitable Companies by Industry
If you are reading this on mobile, there is a 55.79% chance that you have an iPhone in your hand right now. So it is now wonder that Apple is the most profitable company in the United States with a mind-blowing profit of $94.68 billion in 2021! It pays to be a tech company in America – Apple, Alphabet, Microsoft, and Intel all reign supreme for profitability in the U.S. However, America is a land of opportunity and innovation, so there are many industries that massively lucrative! The team at Cloud Peak Law Group has provided minimalist but striking visualization of the most profitable companies in every industry, including aerospace and defense, apparel, energy, health care, media, finances, and beyond.
Click below to zoom

The color coding makes it easy to spot trends in the industries that excel in the United States – lots of purples and grays (technology and investing/banking). Pfizer is the first healthcare company to appear on the chart – I wonder how different the rankings would be if COVID-19 never happened? According to The Guardian, Pfizer made nearly $37 billion in sales from its COVID-19 vaccine in 2021, making it one of the most lucrative products in history. The article is titled "Pfizer accused of pandemic profiteering as profits double", but we desperately needed the vaccine, so can that really be considered predatory? It is certainly a topic of moral ambiguity and debate. I appreciate how quick and easy it is to interpret this chart. Simple can be so effective!
These Are the Careers You Should Pursue If You Don't Want Your Job Stolen by Artificial Intelligence
The debut of ChatGPT has sparked a frenzy of curiosity, excitement, and concern about what artificial intelligence is capable of now and in the near future. Will robots be able to perform surgeries? Will they be able to create artistic masterpieces? Will they be able to perform music that moves the soul? Most alarmingly, will they be able to take jobs away from humanity? While some jobs are definitely at risk of automation, there are many kinds of jobs that artificial intelligence is deemed incapable of performing (for now). The team at U.S. Career Institute has created a fascinating visualization exploring the 65 jobs with the lowest risk of robotic automation. Check it out:
Click below to zoom

First off, I absolutely LOVE this design, especially the header! How could I not scroll down after seeing that eerily realistic robotic hand touching the globe. Is it trying to penetrate it to take over our jobs? Or is it merely curious? The color scheme, typography choices, and background all come together for an aesthetically pleasing effect. I was surprised to see choreographers as the 2nd occupation with a 0% probability of automation. I imagine artificial intelligence would be capable of scouring countless dance videos online, distinguish patterns, and string together moves that would be appealing and catchy. But perhaps the art of interpreting music and words with movement is purely human. Many of the top occupations involve social skills and emotional intelligence, so that makes a lot of sense. Are you worried about artificial intelligence becoming too embedded in the economy and daily life? We would love to hear your thoughts in the comments below!
Food Prices Are Skyrocketing Across the Nation, Here's Where The Problem is the Worst
It is no secret that grocery bills have become much more painful in recent months. Post-pandemic consumer demand, ongoing supply chain shortages, unstable weather patterns, geopolitical crises like the war in Ukraine, and overall inflation all contribute to the high price of food. Food prices have increased 13.5% between August 2021 and August 2022, which is double the overall inflation rate! As with most trends, the increase in prices varies across the United States – many cities are experiencing a significantly higher increase in grocery bills. Take Indianapolis, Indiana for example – grocery bills have increased a staggering 50.6%! The team at Nadric & Cohen Accident Injury Lawyers have compiled information from multiple databases to create a fascinating (and terrifying) visualization of how much more seven common foods cost in the 50 most populous cities.
Click below to zoom
The foods they have included are eggs, bread, whole milk, cheese, potatoes, apples, and chicken. It is getting more and more uncomfortable being an omelet enthusiast! I cannot believe that 16 ounces of cheese cost $10.39 in Oakland, California and 12 eggs cost $5.66 in Las Vegas, Nevada! I will say though that the exorbitant price of food these days has compelled me to become more creative and less wasteful with meals to get the most bang for my buck. How much is your grocery bill on average? Do you have any frugal but delicious meal ideas? I would love to hear about it in the comments!
From a design perspective, this visualization is well-organized and pleasant to read despite the abundance of information. The header is beautiful, although it pains me to imagine how much all of that would cost in real life. Whoever is buying those groceries is living large because they bought not one but TWO dozen eggs!