Who are the Richest Millennials on the Planet?
There are around 2,755 billionaires currently on planet Earth (although we could temporarily subtract one while Jeff Bezos' rocket was in "space"). These billionaires have an estimated combined wealth of over 13 trillion dollars. And since the pandemic began, many have just gotten richer. Out of these thousands of billionaires, there are only 100 that were born between 1981 and 1996, making them part of the generation we call millennials. As a person who is also in their mid-thirties, I can't even begin to fathom what I would do with a billion dollars. I would love to ask the folks on this list of the World's 25 Richest Millennial Billionaires put together by Visual Capitalist, what their day-to-day life is like. Do they drink Starbucks like the rest of us? Watch Netflix like the rest of us? Stay at home in sweatpants like the rest of us? Ride hydrofoiI surfboards like the rest of us? Oh no, wait that is actually just something Mark Zuckerberg does. And he can do pretty much any activity he wants to do because he tops this list of millennial billionaires with a staggering $97 billion in net worth from his website Facebook.
Click below to zoom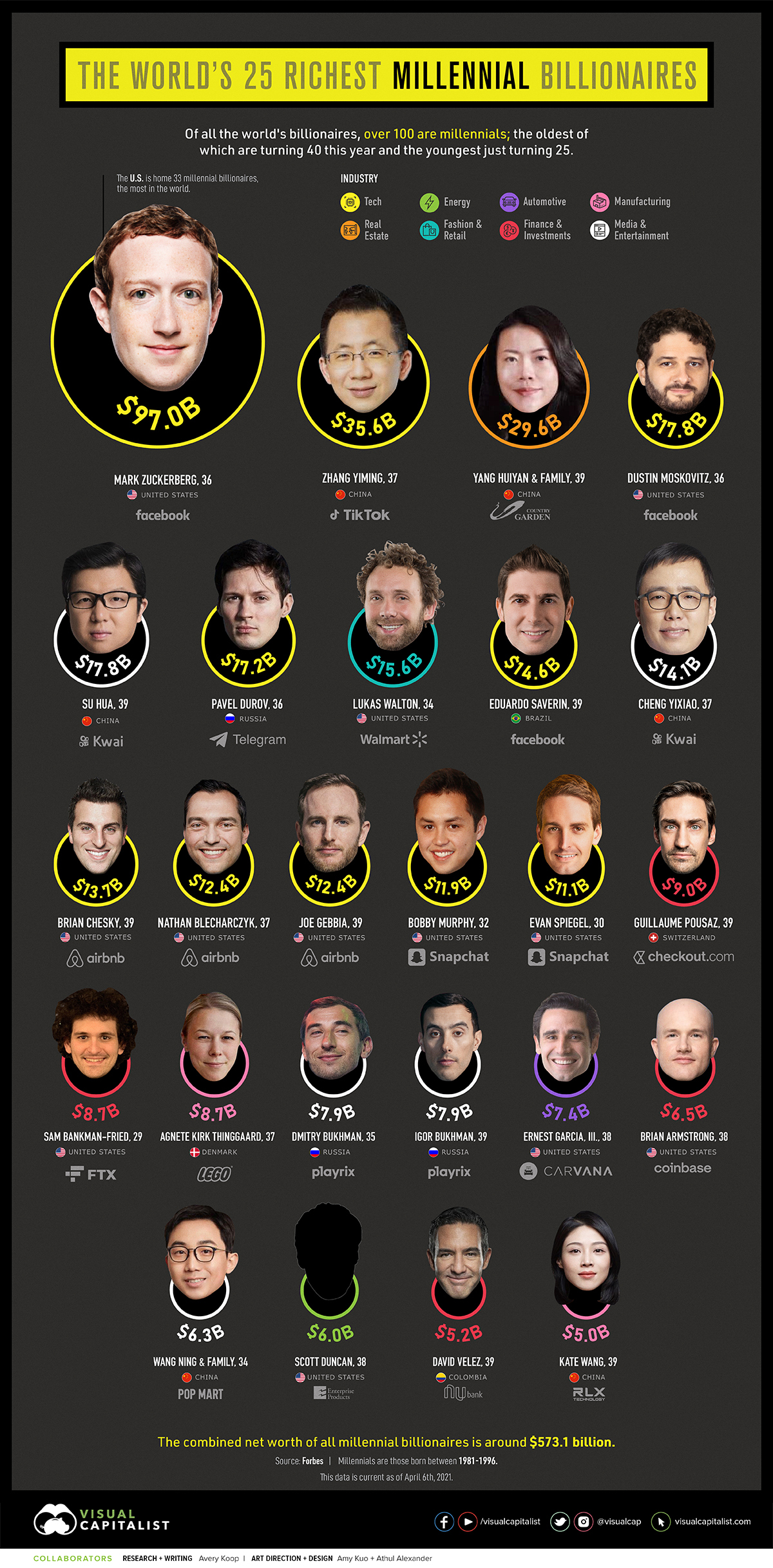 Next on the list is Chinese billionaire, 37-year-old Zhang Yiming who also made his money in the tech industry with an app many millennials use every day called TikTok. Yiming has made 35.6 billion dollars with his creative platform where users can make quirky short videos with music. The third spot on this list belongs to female billionaire, Yang Huiyan, 39, who made her billions with her family in China in the real estate industry with real estate.
A World of Languages in One Visualization
One of the most exquisite and elegantly designed visualizations I have encountered is this chart by designer Alberto Lucas López titled "A world of languages", which explores the incredible diversity of languages spoken around the world. The thoughtfully chosen colors, spherical format, organic yet minimalist layout, and simple elegance make for a pleasing graphic worthy of being framed on the wall.
Click below to zoom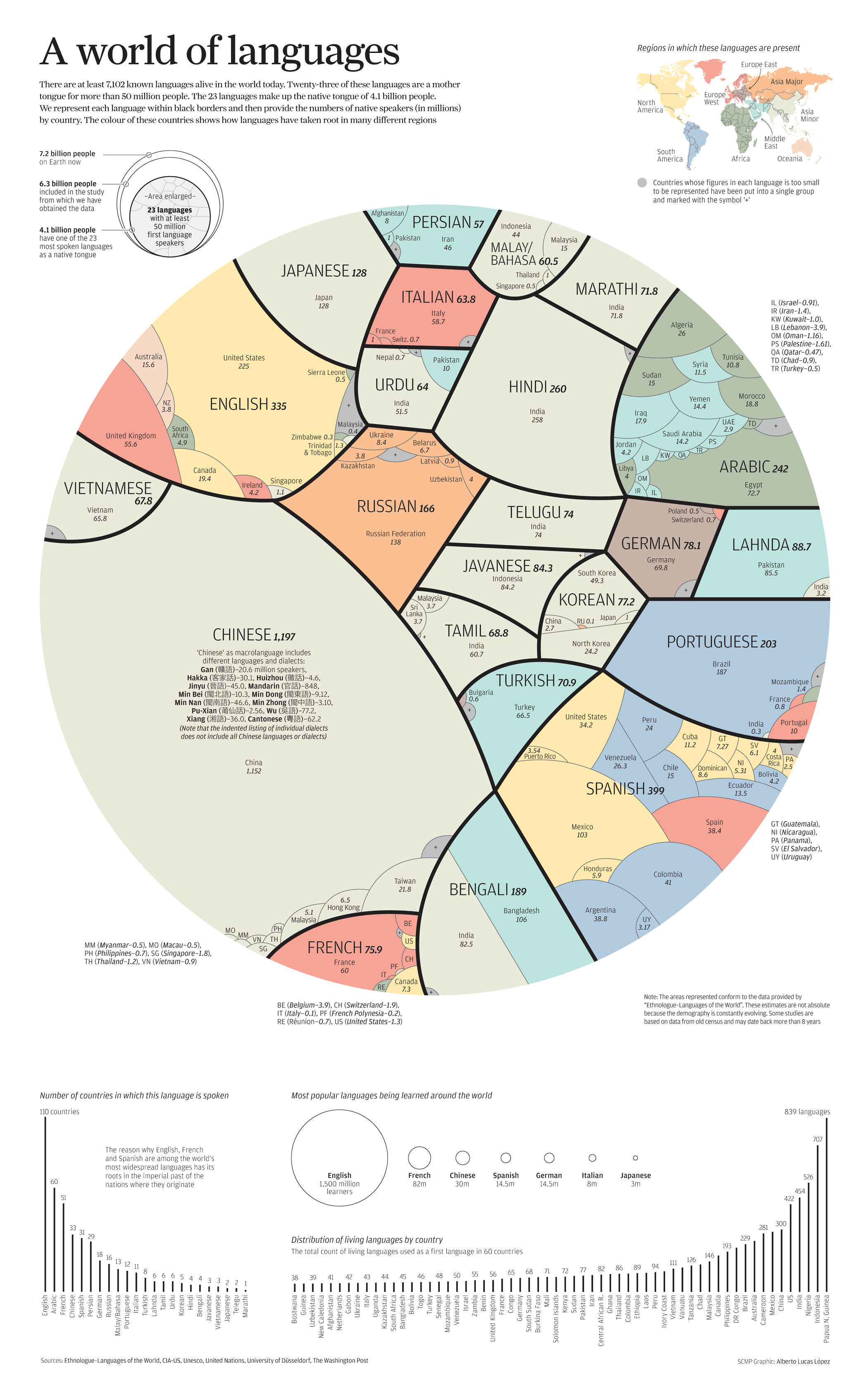 Did you know that there are at least 7,102 known languages that are alive in the world today? 23 of these languages serve as the primary form of communication for 4.1 billion people! The colors provide insight into the regions where the languages originate, which helps give a sense of the population, history, and power of these dialects. There are additional charts below the main feature that showcase the most popular languages being learned around the world, the number of countries in which the most prominent languages are spoken, and the distribution of living languages by country. It may come as no surprise that English is the most popular language to learn with 1,500 million learners!
This graphic also highlights the incredible linguistic diversity of Papua New Guinea. According to the chart, 839 languages are spoken in Papua New Guinea. Why is Papa New Guinea such a linguistic mosaic? There are many elements to Papua New Guinea's abundance of languages, but one of the most fascinating factors is how the rugged landscape (with mountains, jungles, and swaps) keeps tribes isolated, which preserves their languages.
Charting Brett Favre's 508 Career Touchdown Passes
From 1992 through his retirement in 2010, there were very few Quarterbacks who were better than Brett Favre in the NFL. Over the course of his legendary career, the Pro Football Hall of Fame inductee and Green Bay Packers legend registered 71,838 passing yards and 508 touchdown passes. Not only that, but he was the NFL's MVP three consecutive years in a row (1995-1997) and was elected to eleven Pro Bowls.
From Billy Anneken, this visual shows who caught touchdown passes from Brett Favre over #4's career, which spanned 20 seasons in the National Football League.
Click below to zoom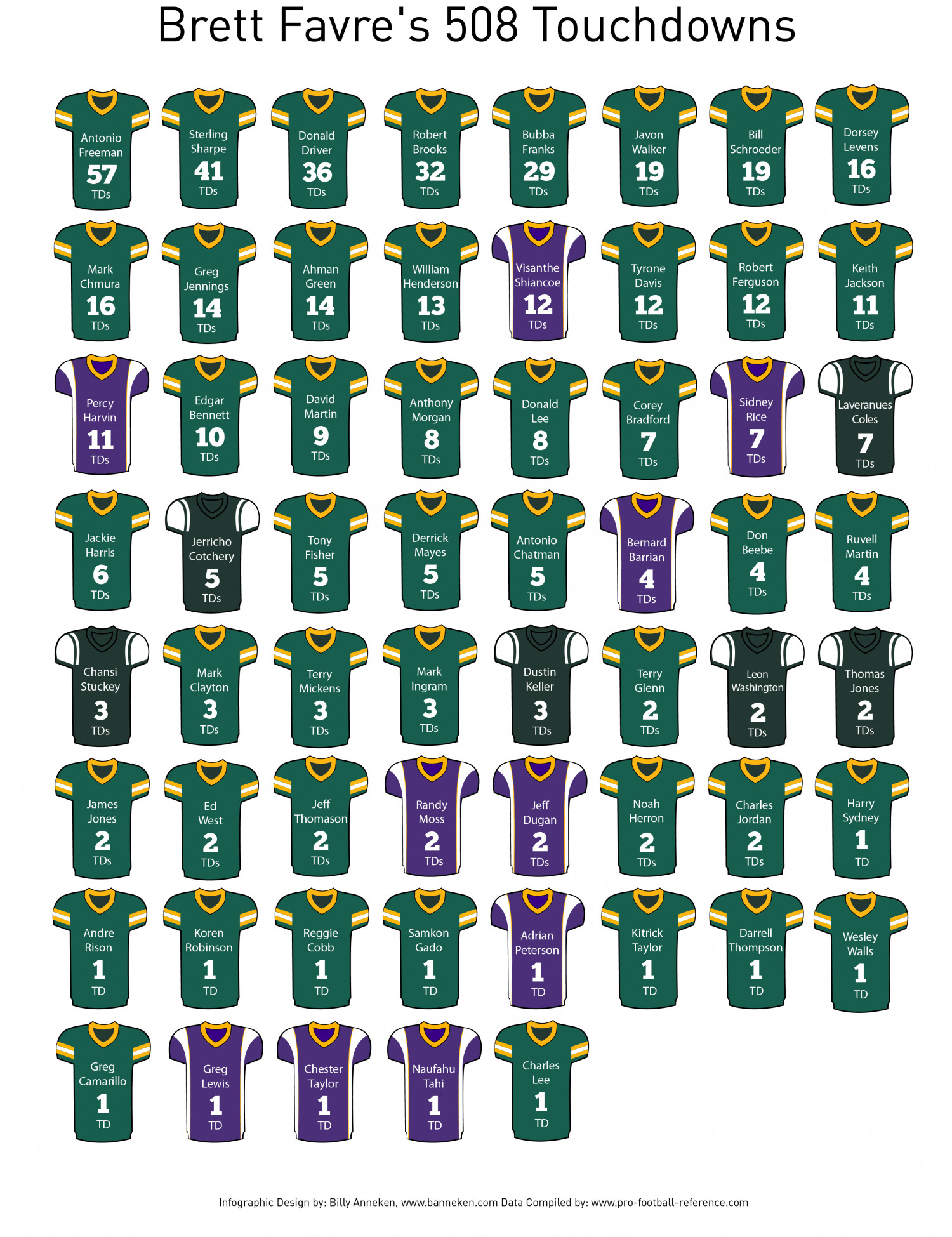 Over the course of his storied NFL career, Brett Favre threw for 508 touchdown passes. Of these 508 scores through the air, a total of 61 players caught them across Favre's stints with three different teams — the Green Bay Packers, the New York Jets and the Minnesota Vikings. His scores were spread across to six different Jets players, ten different Vikings players, and 45 different Packers players.
The player with the most touchdown receptions from Brett Favre was Antonio Freeman, who found the end zone on 57 occasions. Freeman was originally drafted by the Green Bay Packers in the third round of the 1995 NFL Draft, and would spend time with the Packers from 1995 – 2001. He would later have stints with both the Philadelphia Eagles and the Miami Dolphins. Today, Antonio Freeman is a member of the Green Bay Packers Hall of Fame.
Here are the receivers who caught touchdowns from the legendary Brett Favre, along with how many scores from the Hall of Famer.
Antonio Freeman: 57 touchdowns
Sterling Sharpe: 41 touchdowns
Donald Driver: 36 touchdowns
Robert Brooks: 32 touchdowns
Bubba Franks: 29 touchdowns
Jason Walker: 19 touchdowns
Bill Schroeder: 19 touchdowns
Dosey Levens: 16 touchdowns
Mark Chmura: 16 touchdowns
Greg Jennings: 14 touchdowns
Ahman Green: 14 touchdowns
William Henderson: 13 touchdowns
Visanthe Schiancoe: 12 touchdowns
Tyrone Davis: 12 touchdowns
Robert Ferguson: 12 touchdowns
Keith Jackson: 11 touchdowns
Percy Harvin: 11 touchdowns
Edgar Bennett: 10 touchdowns
David Martin: 9 touchdowns
Anthony Morgan: 8 touchdowns
Donald Lee: 8 touchdowns
Corey Bradford: 7 touchdowns
Sidney Rice: 7 touchdowns
Laveranues Coles: 7 touchdowns
Jackie Harris: 6 touchdowns
Jerricho Cotchery: 5 touchdowns
Tony Fisher: 5 touchdowns
Derrick Mayes: 5 touchdowns
Antonio Chatman: 5 touchdowns
Berrnard Barrian: 4 touchdowns
Don Beebe: 4 touchdowns
Ruvell Martin: 4 touchdowns
Chansi Stuckey: 3 touchdowns
Mark Clayton: 3 touchdowns
Terry Mickens: 3 touchdowns
Mark Ingram: 3 touchdowns
Dustin Keller: 3 touchdowns
Terry Glenn: 2 touchdowns
Leon Washington: 2 touchdowns
Thomas Jones: 2 touchdowns
James Jones: 2 touchdowns
Ed West: 2 touchdowns
Jeff Thomason: 2 touchdowns
Randy Moss: 2 touchdowns
Jeff Dugan: 2 touchdowns
Noah Herron: 2 touchdowns
Charles Jordan: 2 touchdowns
Harry Sydney: 1 touchdown
Andre Rison: 1 touchdown
Koren Robinson: 1 touchdown
Reggie Cobb: 1 touchdown
Samkon Gado: 1 touchdown
Adrian Peterson: 1 touchdown
Kitrick Taylor: 1 touchdown
Darrell Thompson: 1 touchdown
Wesley Walls: 1 touchdown
Greg Camarillo: 1 touchdown
Greg Lewis: 1 touchdown
Chester Taylor: 1 touchdown
Naufahu Tahi: 1 touchdown
Charles Lee: 1 touchdown
The Deadliest Animals in the World
Which animals are the deadliest and kill the most humans every year? According to this chart created by Reddit user u/Dremarious using information from the WorldAtlas; mosquitoes are the deadliest animal and are responsible for one million human deaths each year.
Click below to zoom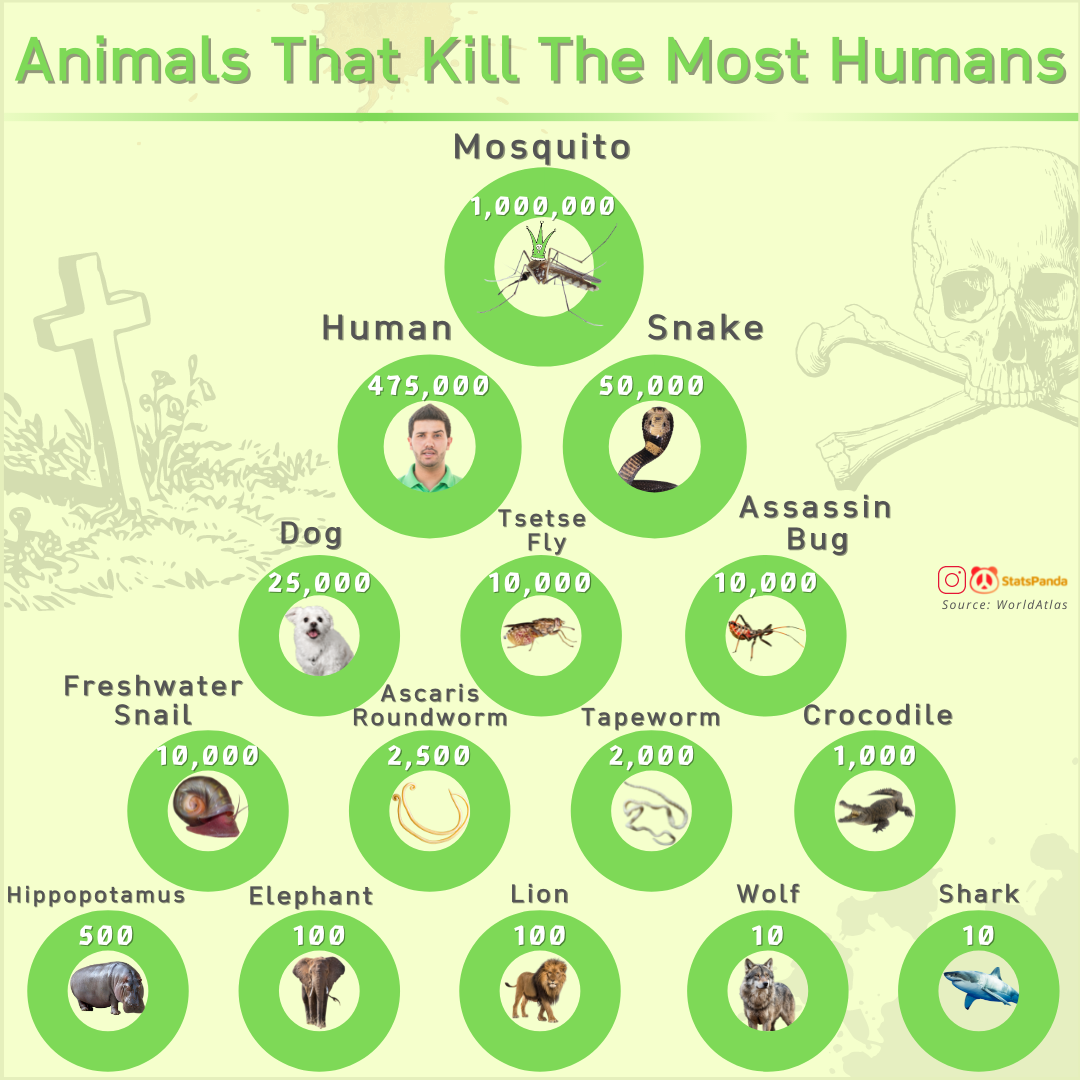 How can something so small be responsible for so many deaths? Malaria is easily spread by mosquito bites and is the main cause of these deaths. The second deadliest animal is near and dear to our hearts, the human. Humans are technically animals and they have been found to be the cause of 475,000 humans deaths every year. Your snake fears are founded as they are the third deadliest and responsible for 50,000 human deaths. The deadliest snake is the aggressive saw-scaled viper, which scientists believe is responsible for more human deaths than all other snake species combined. Man's best friend unfortunately found itself in 4th place. Dogs kill 25,000 humans every year, with rabies cited as a main cause for these large number of deaths. The appropriately named Assassin Bug, the Tsetse Fly, and the Freshwater Snail all tied for the fifth deadliest animals. They were all found to be responsible for 10,000 human deaths each year. How do larger animals rank in terms of human deaths they cause every year? The shark and wolf bring up the rear of the list with just 10 human deaths every year. Lions and elephants claim 100 lives, while the hippopotamus is more lethal with 500 human deaths. The crocodile is the only large animal on the list to kill more than one thousand people every year. Do you have any newfound fears after seeing this chart of deadly animals?