Who Owns Your Favorite Perfume?
When it comes to certain industries it seems like there are only a handful of corporations that own a majority of the brands that make up that industry. The fragrance and beauty industry is no different and the research team at FragranceX is here to prove it. They analyzed some of the world's biggest beauty companies to see just how many fragrance brands each of them own.
Click below to zoom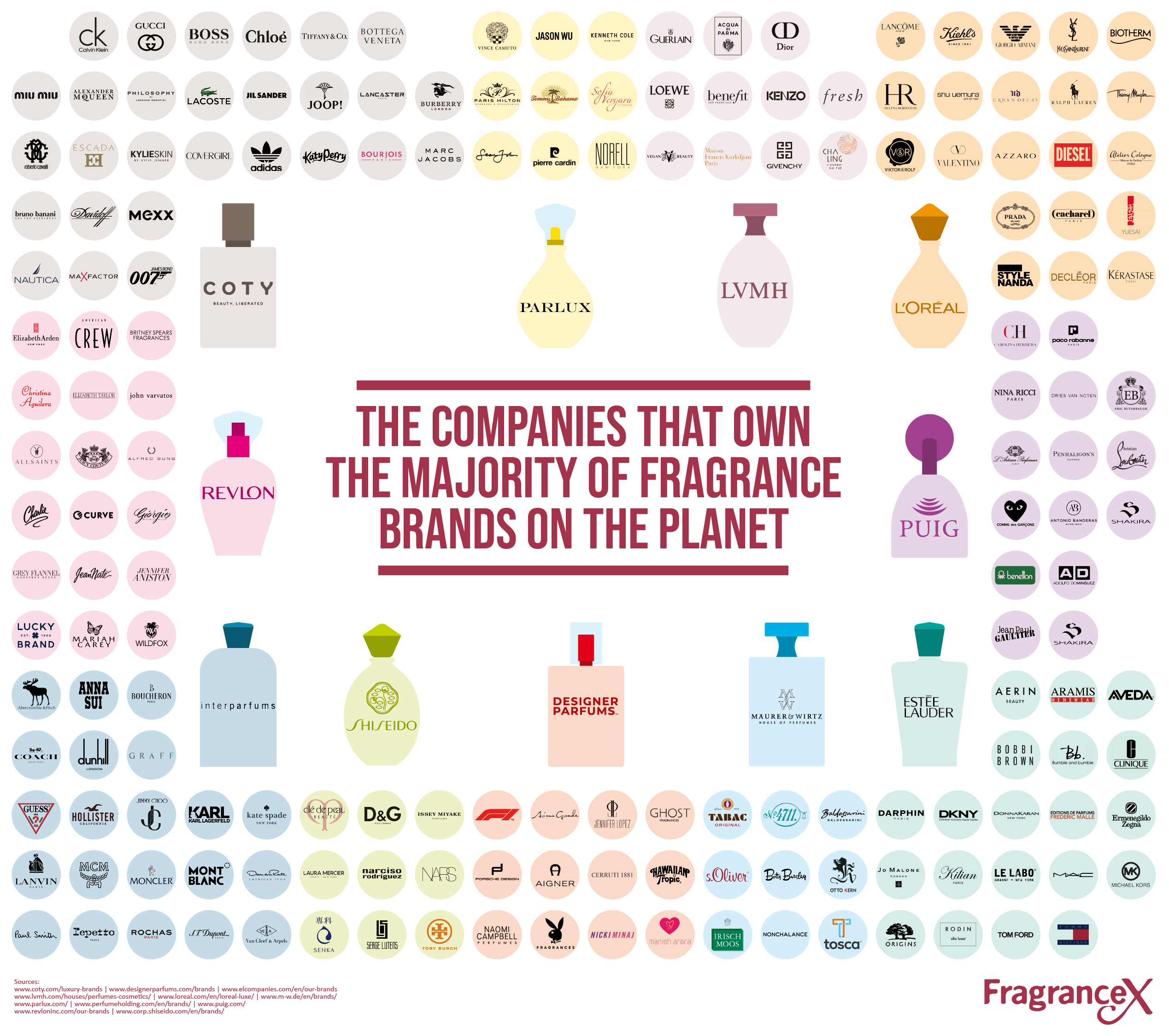 Just eleven beauty companies were found to own over 170 of the most popular perfume brands in the world. Which of these eleven companies can claim ownership over the most perfume brands? Coty has the honor of being the largest fragrance manufacturer and owns or licenses twenty-seven different fragrance brands, including popular ones like Calvin Klein and Hugo Boss. If you're wondering what the other ten beauty brands are that own a majority of perfume brands, they are: Parlux, LVMH, L'Oreal, Revlon, Puig, Estee Lauder, Maurer & Wirtz House of Perfumes, Designer Parfumes, Shiseido, and Interparfumes. Even if you don't recognize some of these giant beauty brands, you'll certainly recognize the names of the perfumes they own! An interesting detail you may notice as you look over the many fragrance brands is that even celebrity perfume brands are owned by these companies, rather than by the celebrity themselves. Did you know that many of these celebrities just lend their name and image to the fragrance company in exchange for a large sum of money, without actually claiming any ownership over "their" perfume brand. Which of these major beauty companies owns your favorite brand of perfume to wear?
The Nature Timespiral Reveals the History of Earth From the Big Bang Until Today
In the grand scheme of time and space, the existence of humanity is a mere drip in the ocean of reality. Or is it? Either way, this utterly breathtaking visualization by Pablo Carlos Budassi shows us how we are just a tiny thread in a colossal tapestry of stardust:
Click below to zoom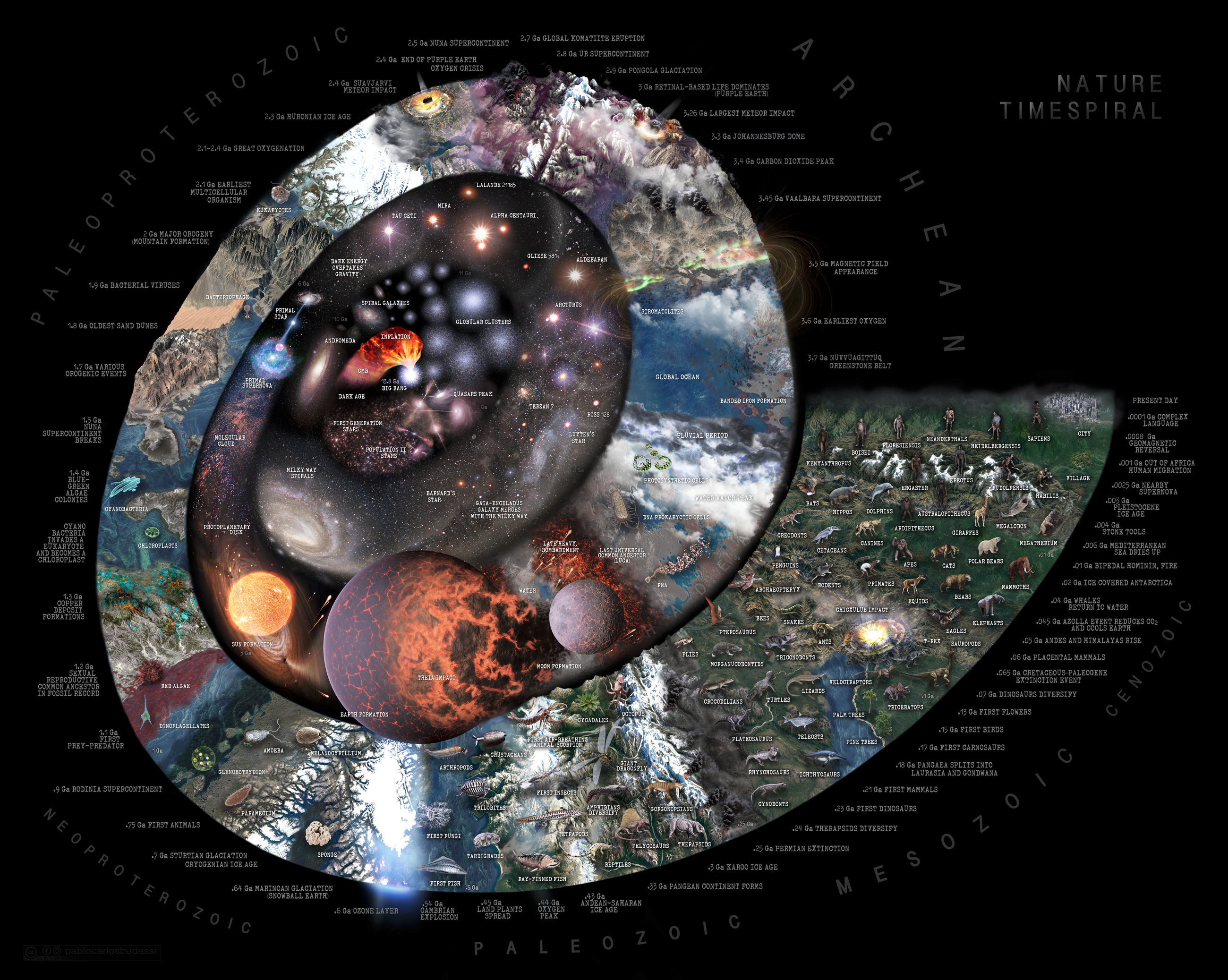 It is no easy task to visualize the entire history of the planet in a gorgeous, mesmerizing way, but illustrator Budassi has achieved it. When I first saw this visualization, I literally gasped and immediately investigated if it is available for purchase because I would love to see it on my wall everyday (and I would be honored to support such a talented artist). It somehow remains minimalist while capturing an incredible wealth of information and detail. The colors convey the timeline of cataclysmic events that have created the lush, diverse world we call home today.
I also love beautiful things that I can learn from while admiring them. For example, I had no idea what the last universal common ancestor (LUCA) was. Around 4 billion years ago (the Earth and moon formed 4.5 billion years ago, for context), LUCA existed. It is believed that this microbe was the beginning of life on Earth, making it the first ancestor of all living creatures. There is evidence that it lived a somewhat alien lifestyle, thriving deep underground in iron-sulfur hydrothermal events. It did not breathe air and was capable of producing its own food using the dark, metal-rich environment surrounding it. Gotta love a strong, independent microbe!
This Chart Visualizes the Largest Pharmaceutical Companies by Continent
The COVID-19 pandemic has brought pharmaceutical companies into the spotlight. Many have played an integral role in getting lifesaving vaccines to the public while at the same time making an incredible amount of money in the process. In the year 2020 the 50 largest drug companies made a combined revenue of more than $850 billion dollars. The biggest leader at the moment is Johnson and Johnson with a value of $428.66 billion dollars. This visualization made with data from Companies Market Cap shows the largest pharmaceutical companies ranked by market capitalization in the world.
Click below to zoom


Separated by continents, the company's wealth is represented by a graphic bubble where you can clearly see the standout giant J&J like the great red spot on Jupiter.  The 2nd largest on the list is the Swiss pharmaceutical company, Roche. According to the graphic they have a market cap value of $320.41 billion. North America accounts for more than 45% of the global pharmaceutical market with 6 of the top 10 largest.
New Visualization Shows How Long Angela Merkel Has Been in Office Compared to Other World Leaders
We discovered this simple and elegant visualization on Reddit, which was originally created by reddit user pierrebrt. He created the artwork for French newspaper Le Monde. It utilizes clean line work and bold colors to visualize how long chancellor Angela Merkel has been in office compared to other world leaders.
Click below to zoom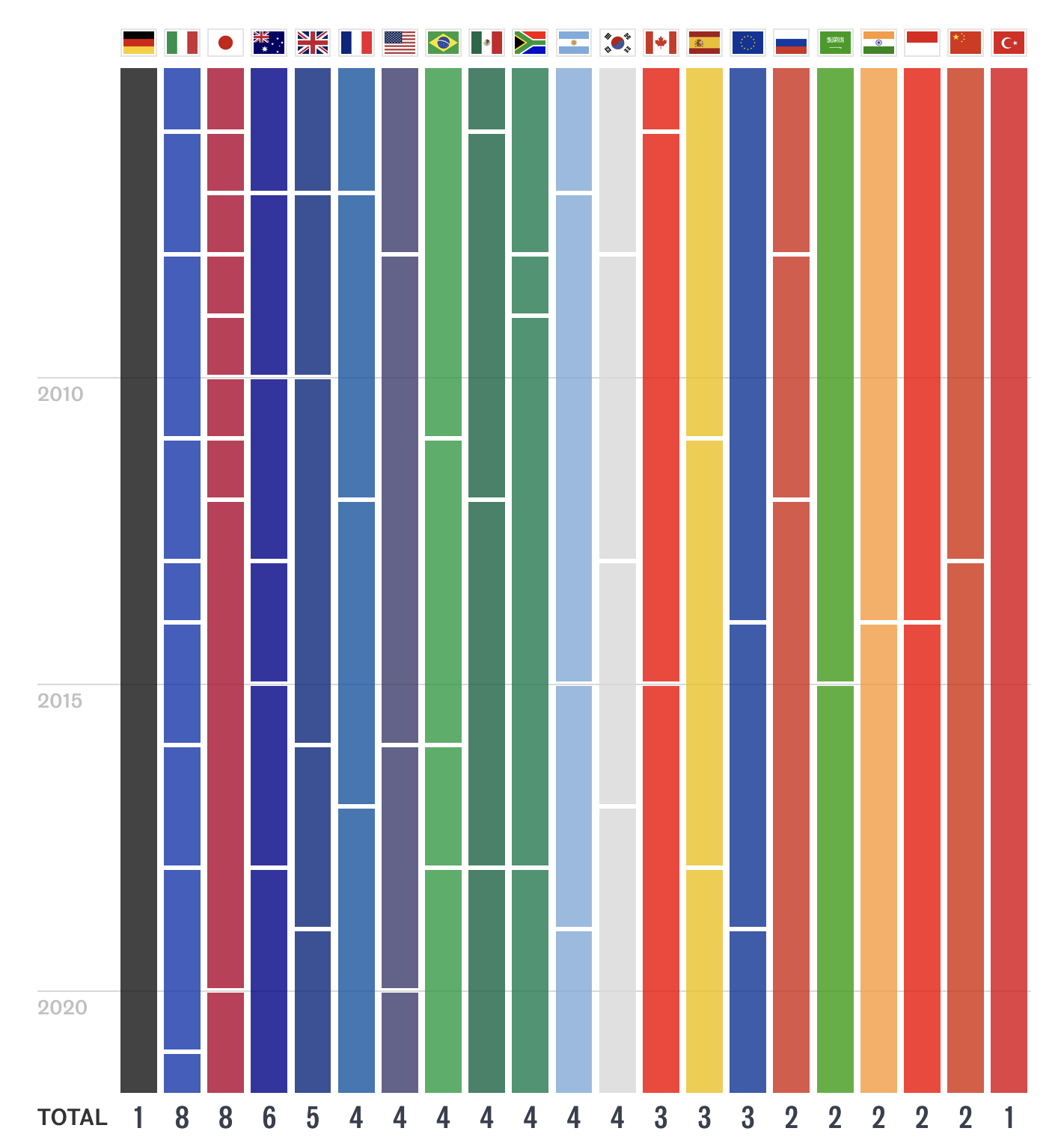 So, how long has Angela Merkel been chancellor? She was first elected in 2005, re-elected in 2009, 2013, and 2018. She is the first woman to be elected chancellor, and in 2014, she became the longest-serving head of government in the European Union. In 2021, she decided not to run again, which is historical in that it is the first time since the founding of the Federal Republic of Germany that the incumbent chancellor has not pursued reelection. Despite her incredibly long tenure, Pew Research Center found that confidence in her leadership is at an all-time high during her last full year in office.
The overall appearance of the graphic is stunning; the vertical lines suit the formal nature of the topic while the masterfully chosen cascade of colors captivates the audience. It conveys a lot of information quickly and effectively, and would make an excellent poster for anyone politically inclined. We also love the use of small flags to indicate the countries, and helpful numbers at the bottom as a quick reference guide to how many leaders that country has had throughout Merkel's duration in office. Who knew politics could be so beautiful and pure?