A Timeline of the Marvel Cinematic Universe
The Marvel Cinematic Universe (MCU) is one of the most popular and lucrative franchises in the world. It's the highest-grossing film franchise of all time, and also ranks very highly among the highest-grossing overall media franchises of all time beneath global powerhouses like Pokémon and Mickey Mouse. The movies and television series bounce around the timeline of the MCU, and the multitude of characters featured can make it hard to keep track of each hero's journey throughout the universe.
Reddit user AdamJGarrod posted an original visualization to the Data is Beautiful subreddit which tracks the path of each character chronologically through the movies and television series, starting with Captain America through the not-yet-released The Marvels.
Click below to zoom

The graphic, created using digital illustration program Procreate, maps the progress of the most popular heroes in the MCU through the films and TV series that they appear in. Chronologically, the first film in the universe is Captain America, which takes place during World War II. Using the visualization, fans can chart the journeys of the three main characters (Captain America, Bucky Barnes, and Nick Fury) as they make their way through the different movies and shows of the MCU.
It's also interesting to see where new characters first appeared in the MCU. Some of the heroes, like the Hulk and Iron Man, first appear in their respective eponymous films. Other characters, like Ant Man and Spider-Man, appear chronologically well before their own films were released.
Whether you're a diehard Marvel buff or a casual fan of the films, you're bound to find this unique visualization intriguing.
These are the Billionaires Who Own the Most Expensive Yachts in the World
When it comes to expensive toys for uber rich folk, the mega yacht might reign as the supreme status symbol. Sure, a private jet is cool, but does it come with a full-size basketball court, jacuzzi, restaurant or submarine? Super yachts have become a grand way to show off a billionaire lifestyle. The team at Staten Island Yachts did some digging to see just which have been the most expensive luxury liners ever built in the entire world.
Click below to zoom

The data art shows a detailed drawing of the vessel, each illustrated to scale, along with a portrait of the owner. Possibly the most expensive and elusive yacht listed is in the number one spot and called History Supreme. It's builder Stuart Hughes alleges the 100-foot yacht is covered in 22,000 pounds of gold and platinum and contains meteorites from space and T-Rex bones. Some skeptics will tell you it is absolutely not real and the biggest hoax in the industry, but Stuart Hughes still has photos of it up on his website.
Charting Brett Favre's 508 Career Touchdown Passes
From 1992 through his retirement in 2010, there were very few Quarterbacks who were better than Brett Favre in the NFL. Over the course of his legendary career, the Pro Football Hall of Fame inductee and Green Bay Packers legend registered 71,838 passing yards and 508 touchdown passes. Not only that, but he was the NFL's MVP three consecutive years in a row (1995-1997) and was elected to eleven Pro Bowls.
From Billy Anneken, this visual shows who caught touchdown passes from Brett Favre over #4's career, which spanned 20 seasons in the National Football League.
Click below to zoom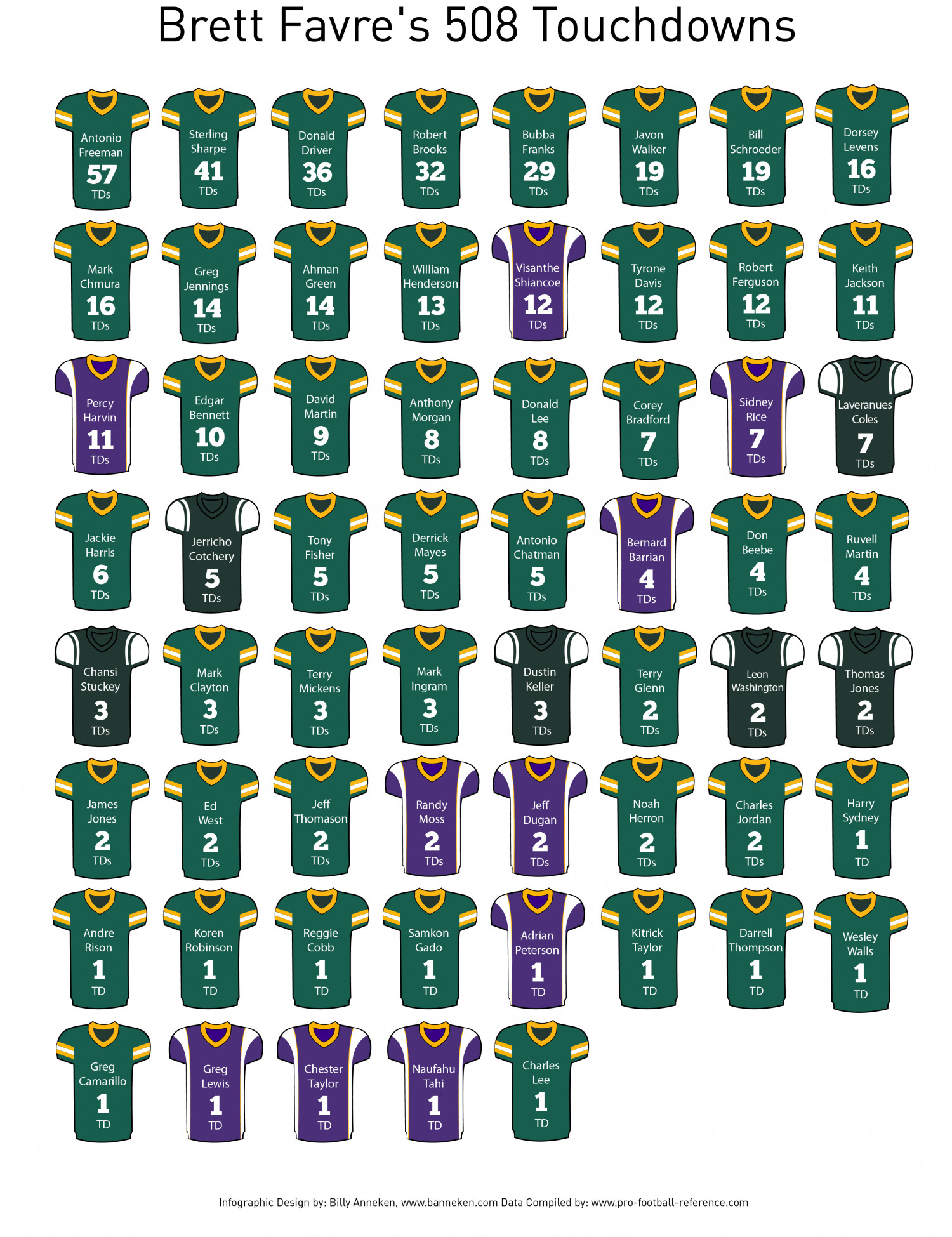 Over the course of his storied NFL career, Brett Favre threw for 508 touchdown passes. Of these 508 scores through the air, a total of 61 players caught them across Favre's stints with three different teams — the Green Bay Packers, the New York Jets and the Minnesota Vikings. His scores were spread across to six different Jets players, ten different Vikings players, and 45 different Packers players.
The player with the most touchdown receptions from Brett Favre was Antonio Freeman, who found the end zone on 57 occasions. Freeman was originally drafted by the Green Bay Packers in the third round of the 1995 NFL Draft, and would spend time with the Packers from 1995 – 2001. He would later have stints with both the Philadelphia Eagles and the Miami Dolphins. Today, Antonio Freeman is a member of the Green Bay Packers Hall of Fame.
Here are the receivers who caught touchdowns from the legendary Brett Favre, along with how many scores from the Hall of Famer.
Antonio Freeman: 57 touchdowns
Sterling Sharpe: 41 touchdowns
Donald Driver: 36 touchdowns
Robert Brooks: 32 touchdowns
Bubba Franks: 29 touchdowns
Jason Walker: 19 touchdowns
Bill Schroeder: 19 touchdowns
Dosey Levens: 16 touchdowns
Mark Chmura: 16 touchdowns
Greg Jennings: 14 touchdowns
Ahman Green: 14 touchdowns
William Henderson: 13 touchdowns
Visanthe Schiancoe: 12 touchdowns
Tyrone Davis: 12 touchdowns
Robert Ferguson: 12 touchdowns
Keith Jackson: 11 touchdowns
Percy Harvin: 11 touchdowns
Edgar Bennett: 10 touchdowns
David Martin: 9 touchdowns
Anthony Morgan: 8 touchdowns
Donald Lee: 8 touchdowns
Corey Bradford: 7 touchdowns
Sidney Rice: 7 touchdowns
Laveranues Coles: 7 touchdowns
Jackie Harris: 6 touchdowns
Jerricho Cotchery: 5 touchdowns
Tony Fisher: 5 touchdowns
Derrick Mayes: 5 touchdowns
Antonio Chatman: 5 touchdowns
Berrnard Barrian: 4 touchdowns
Don Beebe: 4 touchdowns
Ruvell Martin: 4 touchdowns
Chansi Stuckey: 3 touchdowns
Mark Clayton: 3 touchdowns
Terry Mickens: 3 touchdowns
Mark Ingram: 3 touchdowns
Dustin Keller: 3 touchdowns
Terry Glenn: 2 touchdowns
Leon Washington: 2 touchdowns
Thomas Jones: 2 touchdowns
James Jones: 2 touchdowns
Ed West: 2 touchdowns
Jeff Thomason: 2 touchdowns
Randy Moss: 2 touchdowns
Jeff Dugan: 2 touchdowns
Noah Herron: 2 touchdowns
Charles Jordan: 2 touchdowns
Harry Sydney: 1 touchdown
Andre Rison: 1 touchdown
Koren Robinson: 1 touchdown
Reggie Cobb: 1 touchdown
Samkon Gado: 1 touchdown
Adrian Peterson: 1 touchdown
Kitrick Taylor: 1 touchdown
Darrell Thompson: 1 touchdown
Wesley Walls: 1 touchdown
Greg Camarillo: 1 touchdown
Greg Lewis: 1 touchdown
Chester Taylor: 1 touchdown
Naufahu Tahi: 1 touchdown
Charles Lee: 1 touchdown
The Ultimate Guide to Sailing Knots
One of the most important skills to learn as a sailor is the art of knot tying. Knots can be used for so many things across the board. Fishing, crabbing, mooring, docking, sailing, anchoring and even saving lives on the water, just to name a few. A good knot verses a poorly tied knot could mean the difference of your boat floating away in the middle of the night or staying safely secured to the dock or mooring. This visual guide from the team at SeattleYachts.com illustrates 16 of most commonly used boat knots in the nautical world.
Click below to zoom

The half hitch is the first knot represented on the guide and it is touted as the quickest and easiest knot in the boating and sailing world. It is commonly the start of many other knots, like the double half hitch which is a more secure version its original. This knot can help keep boats securely tied to their docks without worry of slippage. The anchor hitch is another important knot represented on this graph. All boats need to use an anchor from time to time and this knot is made to hold heavy loads and also stay tight when there is slack in the line. Knowing the basics of knot tying is also a good survival skill to have. Knots can be used in shelter building, fishing and foraging for food, and even lassos like the bowline, which can be thrown into the water to help save someone who can't swim. Try your hand at some of these sailboat knots on this visualization and see how your skills compare.