Every Company Owned by Amazon
Do you need shoes? Zappos! Do you need prescriptions? PillPack! Do you need organic produce? Whole Foods! Do you need home security? Ring! Do you want to stream games to your friends or make money? Twitch! Do you want to listen to audiobooks while you walk your dog? Audible! Do you need dog food for that dog? Wag! Do you want to read book reviews? Goodreads! Do you want to read movie reviews? IMDb! You may be surprised to learn that all of these companies operate under one leader: Amazon. Take a look at this eye-opening chart by SMB Compass exploring everything that Amazon owns.
Click below to zoom

Amazon has been making bold acquisitions from the get-go and has infiltrated practically every market. Amazon's most recent acquisition was of MGM Holdings in 2021 for a hefty price tag of $8.45 billion. You may recognize MGM by its renowned roaring lion, which is now a fitting representation of Amazon's retail domination. Amazon's biggest acquisition was in 2017 when it purchased Whole Foods Market for $13.7 billion, igniting its venture into the grocery industry. Since then, Amazon has given Whole Foods delivery "wings" – customers can order groceries and receive them in as little as two hours! In 2014, Amazon acquired live-streaming platform Twitch for $970 million, which many were shocked about at the time. It was a smart move considering the video game industry continues to grow, earn passionate fans, and influence society as a whole.
The Colleges With the Most Alumni Who Are Now CEOs of Fortune 500 Companies
Each year, Fortune Magazine recognizes the 500 largest companies across the United States, with the ranking being determined by the annual revenue earned by each of those companies. This list includes both private companies and companies that are publicly traded. Leading these companies are CEOs that are not only worth millions of dollars, but have seen much success throughout their careers.
From the team at Academic Influence comes this fascinating visualization that looks at which colleges and universities that have the most alumni as CEOs of Fortune 500 companies.
Click below to zoom

Which universities have the most alumni now working as CEOs?
According to the research by the team at Academic Influence, it was found that these were colleges and universities that had at least ten alumni who were now the CEOs of Fortune 500 companies.
Harvard University: 41
University of Pennsylvania: 23
Stanford University: 22
Northwestern University: 20
Columbia University: 18
University of Chicago: 15
University of Michigan: 12
Cornell University: 10
Dartmouth University: 10
University of Virginia: 10
Founded in 1936, Harvard University is one of the most prestigious universities in the entire world. Due to the university's illustrious history, it's no surprise that they take claim to having the most alumni who are now in prominent positions as CEOs. Per the research from Academic Influence, it was found that of the 41 alumni who are now serving as CEOs of Fortune 500 companies, 35 of them had completed graduate programs at Harvard University. Some of the more notable companies that includes this alumni as CEOs today include Amazon (Andy Jassy), JPMorgan Chase (Jamie Dimon), Citigroup (Jane Fraser), Prudential Financial (Charles F. Lowrey), McDonald's (Chris Kempczinski), Mastercard (Michael Miebach) and Kellogg (Steve Cahillane).
This visualization also includes several interesting points of data, in particular listing out what the most common undergraduate degree programs were of Fortune 500 CEOs. Leading this ranking was engineering degrees, where 96 of the CEOs included had, with the breakdown of engineering degrees including studies in mechanical engineering (26), electrical engineering (23), chemical engineering (17), unspecified engineering (12), industrial engineering (6), civil engineering (5), petroleum engineering (3) and other types of engineering (17).
Per their research, here were the nine most common undergraduate degrees of Fortune 500 CEOs.
Engineering: 96
Economics: 59
Business administration: 40
Accounting: 36
Finance: 12
Computer science: 11
Marketing: 9
Political science: 8
Mathematics: 8
How Much the Top Banks Make Every Single Second
Banks are some of the most profitable companies in the world. Between corporate lending, investment banking, overdraft fees, and mortgage interest fees, there are many opportunities for banks to keep earning money.
Financial advisor review website Indyfin created a graphic that visualizes how much the top 30 banks in the world make per second. The results are pretty eye-opening.
Click below to zoom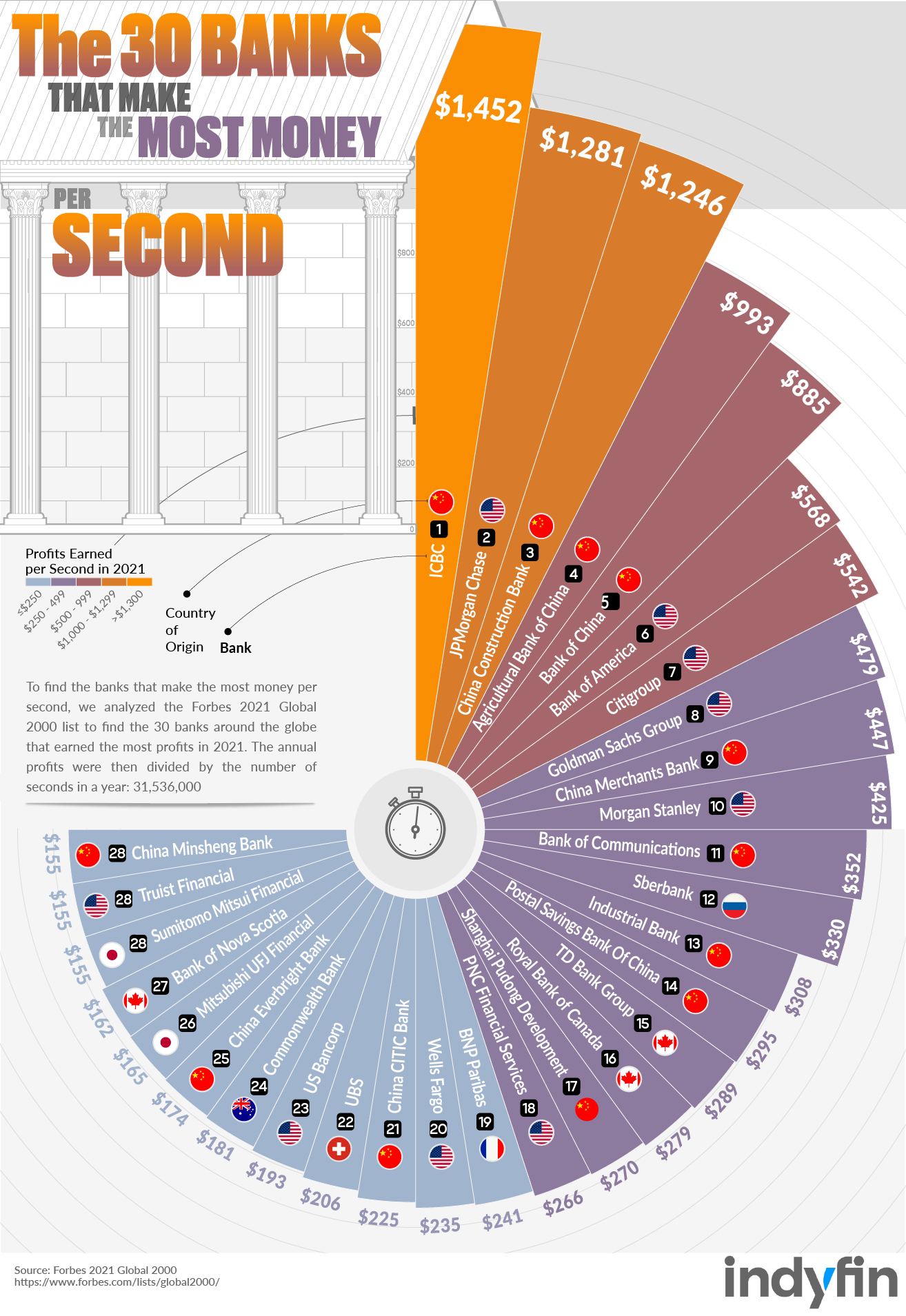 The graphic utilizes a radial histogram visualization to display the 30 banks that earn the most money per second (measured in U.S. dollars). The designers looked at data from the Forbes 2021 Global 2000 list to determine the banks around the world that earned the most in profit. The bars of the histogram also include the banks' rank and country of origin.
ICBC – which is based in Beijing, China – earned more money in 2021 than any other bank in the world. The bank earned $1,452 every second of 2021. It was founded in 1984 and offers many services including investment banking, consumer banking, global wealth management, credit cards, mortgage loans, and much more.
Of all the banks included on the graphic, twelve are located in China, nine are located in the United States, and three are located in Canada. The U.S.'s top bank is JPMorgan Chase, which earned $1,281 in 2021 and is headquartered in New York City. The top bank in Canada is TD Bank Group. The bank earned $289 in profits during 2021 and has its headquarters based in Toronto.
Which bank on the list is the most surprising to you?
How Much Teachers Spend on Their Classrooms in One School Year
It was twenty years ago that the educator expense deduction was set, and today, tax time is always a difficult reminder for teachers across the United States that the deduction itself isn't quite enough. The educator expense deduction has allowed teachers to deduct up to $250.00 for out-of-pocket classroom expenses since 2002, and the maximum amount has remained the same today.
Click below to zoom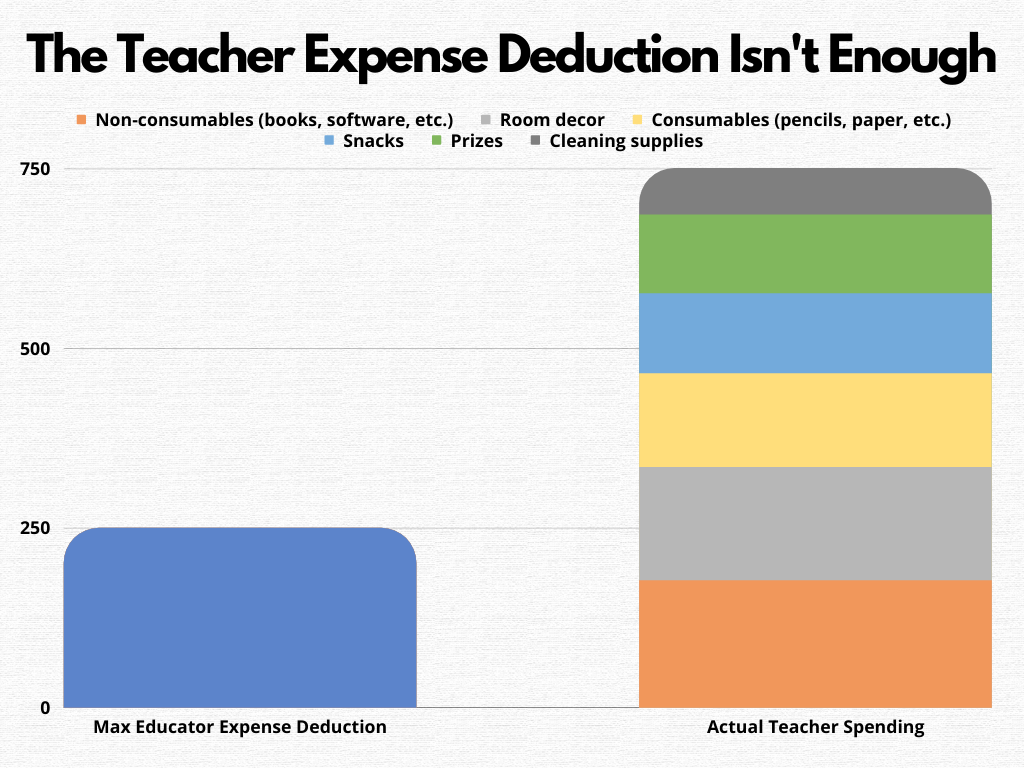 One of the major issues lies in that on average each year, teachers are spending an average of $750.00 of their own money for classroom expenses, which is an astounding three times more than they're able to deduct around tax time. In the United States alone, teachers have spent about $2.8 billion of their own money, for their students, on supplies like pencils, paper, cleaning supplies, books, software and more.
A look at this visualization, found via My eLearning World shows the breakdown of how teachers are spending on their classrooms, with this pie chart broken down into six different areas. The leading area of expense is the non-consumable supplies, which includes books and software.
Non-consumable supplies (books, software, etc.): 23.6%
Class decor: 21%
Consumable supplies (pencils, paper, etc.): 17.4%
Food & snacks: 14.8%
Prizes: 14.6%
Cleaning supplies: 8.6%
Teacher salaries have not been keeping up with inflation either. Since 2015 alone, the spending on classroom supplies for teachers has increased approximately 25%, yet they're still only able to deduct $250.00 at maximum at tax time. Some have even said that the cost of classroom supplies is $250.00 each month.
Per NPR, it's reported that about 55% of those who are still teaching as a profession are strongly considering leaving the career behind for something else, much sooner than they had originally planned to. With an estimated 567,000 less teachers than there were prior to the COVID-19 pandemic hit, the shortage of educators in the United States is alarming, but perhaps with good reason.