The Average Terrain Colors of Countries Around the World
When you think about countries with an abundance of desert like Egypt, you generally think of yellow and orange sand colors. Likewise, countries with rainforests like Brazil most likely generate thoughts of deep greens. What color are the rest of the countries in the world?
Data visualization artist Erin Davis used satellite imagery from Sentinel-2 to illustrate the average color of the terrain in countries around the world.
Click below to zoom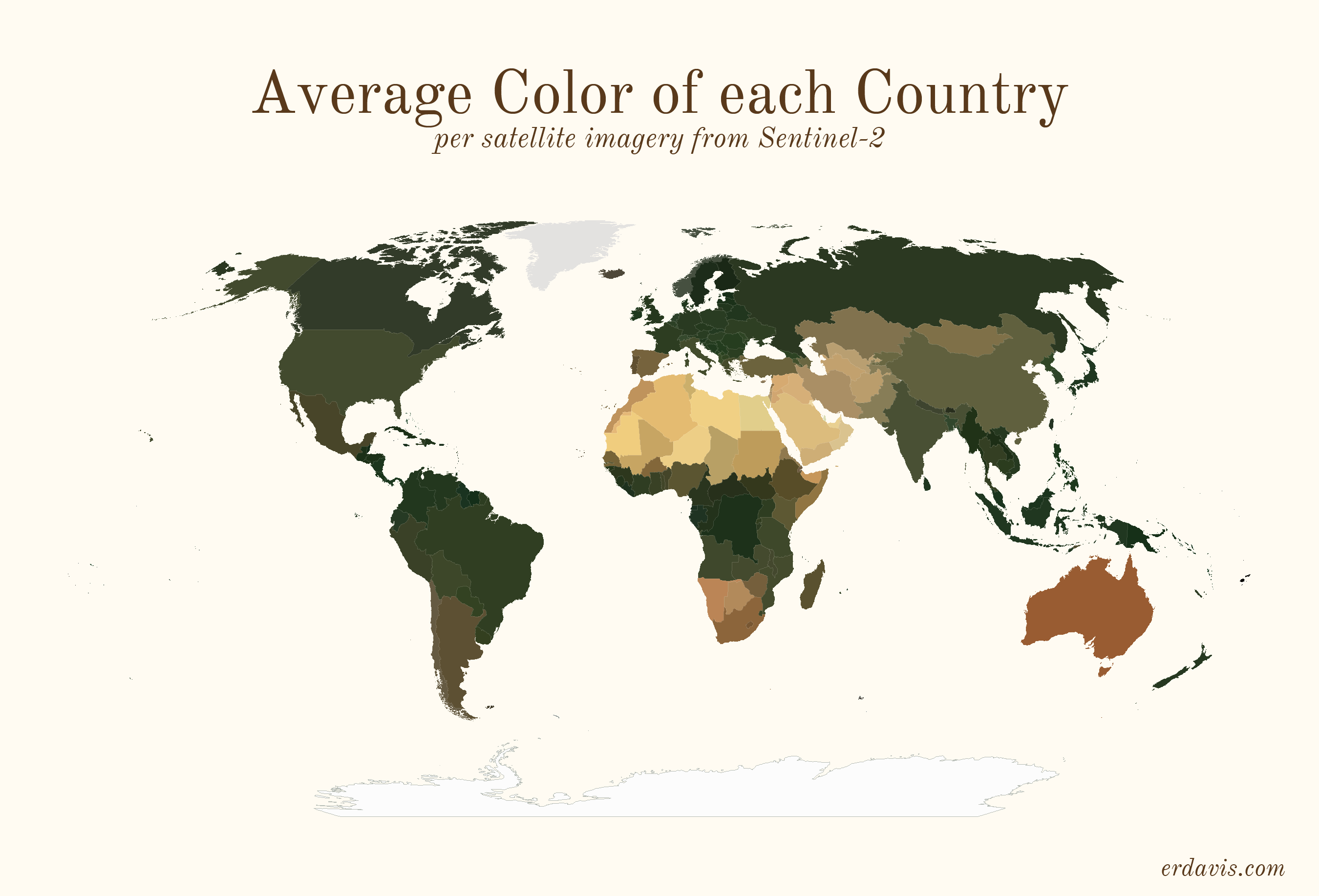 The graphics use a choropleth map visualization to show the average color of the terrain in each country. Some countries, like snow-covered Greenland and Antarctica, are clearly colored how one would expect. Others take on a darker or more jewel-toned hue that reflects their unique landscapes.
The artist also illustrated the average color of each county in the United States for a more granular view of the country. The visualization highlights the forest-rich regions of the Northeast, Mid-Atlantic, and South East as well as well as the rugged physical geography of southwestern states like Arizona and New Mexico.
Click below to zoom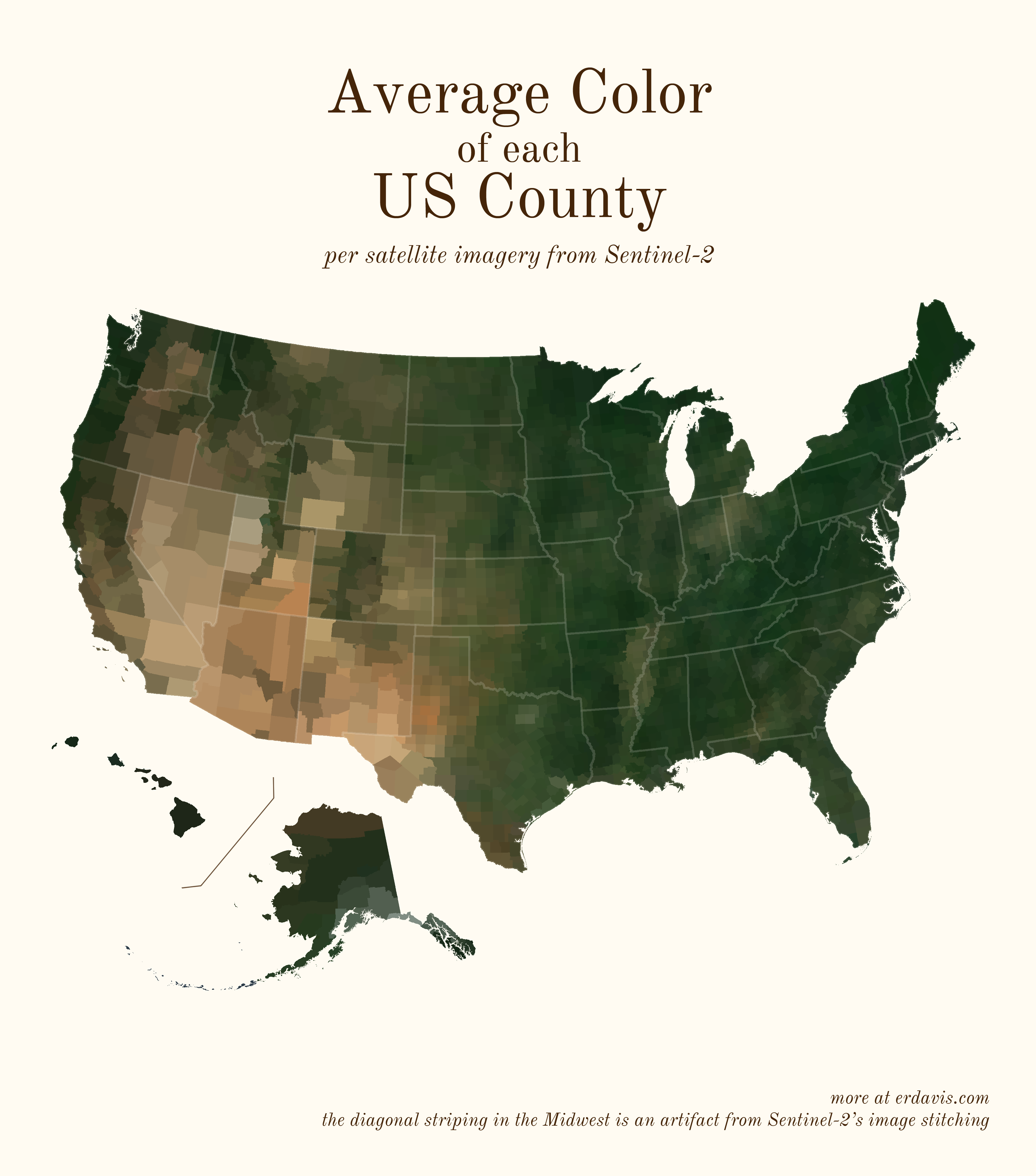 There are five major classes of land biomes in the world: forests, deserts, savannah, tundra, and grasslands. The nature of these biomes heavily impact the color of the areas picked up by satellite. These are the divisions of each biome around the world:
Forests (40.1%): Forest biomes are populated by various species of deciduous and evergreen trees. This type of biome also includes rainforests, one of the most important forests in the world.
Deserts (25.9%): Deserts are categorized as areas with very little rainfall. Daytime temperatures are typically high and nighttime temperatures are low.
Savannah (16.7%): Savannah is tropical grasslands that are somewhere between lush tropical rainforests and desert regions. Their rainfalls typically occur during summer months, which means it evaporates quickly. These areas are prone to drought.
Tundra (10.5%): The climate of the tundra is extreme cold. Temperatures in the winter often go below freezing and plant life is either nonexistent or dormant for much of the year.
Grasslands (6.8%): Grasslands (also known as the Prairies in North America and the Pampas in South America) are temperate regions with warm summers and cool winters.
The Oldest Businesses in the United States
Across America, there are many businesses still in operation that are older than the Declaration of Independence! Since the dawn of the United States, establishing a business to serve the people and make a living has been a cornerstone of the American spirit. This fascinating chart created by the team at Wyoming Trust & LLC Attorney is a celebration of the pioneering backbone of the the United States:
Click below to zoom
Did you know that the Jim Beam Distillery has been in operation since George Washington was president? It was established in 1975, making it the oldest business in Kentucky. That's why I love gathering content to share with Chartistry; you get to learn all sorts of obscure trivia!
The oldest business in the United States that is still operational is the Shirley Plantation in Charles City, Virginia. The grounds were first established in 1613 by English merchant and politician Sir Thomas West, 3rd Baron De La Warr. Here is another fun fact about the baron; the bay, river, a Native American people, and a U.S. state were all named "Delaware" after him.
The second oldest business in America is Tuttle's Red Barn in Dover, New Hampshire, established in 1632. There are claims that it is the oldest known family-owned farm in America, but this has been challenged. It has been passed down across eleven generations since John Tuttle arrived in the New World with a land grant from Charles II of England. It was originally 20 acres, but it expanded to its peak of 240 acres during the 20th century. Nowadays, the farm's largest crop is sweet corn.
Which State Has The Highest and the Lowest Rate of Boat Ownership?
Where in the United States do you think you would find the highest rate of boats per capita? If you guessed Minnesota, you would be correct! According to SIYachts.com's chart 'Which U.S. State has the Most Recreational Boats & Yachts per Capita?', there are 143.6 boats and yachts per 1,000 people in Minnesota. The state boasts the most named lakes in the country with 15,291 natural lakes; 11,824 of which are larger than 10 acres making them a great option to boat on. Due to the vast number of lakes across the state, Minnesota is known as the Land of 10,000 Lakes. Wisconsin has almost as many lakes as Minnesota with 15,074; although only 6,044 of the lakes are named. A lake is commonly left unnamed if it is too tiny, a farm pond, or a minor lake in a remote area.
Click below to zoom

On the flip side, which state do you think would have the lowest rate of boats and yachts per capita? You may be surprised to find that Hawaii ranked last in the nation with a rate of 8.5 boats and yachts per 1,000 people. Minnesota's rate per capita is seventeen times the rate in Hawaii! Why is the rate so low in a state that is surrounded by water? Apparently a lack of support for the industry and its necessary infrastructure is to blame. Hawaii's limited number of marinas are small in size, and many are in need of repair. This has led to a high cost for storing boats on land, another deterrent to the state's boating industry. Which states were you surprised to see had such a high, or low, rate of boat ownership?
What is the Most Troublesome Transmissible Disease Around the World?
Transmissible diseases, also known as infectious or communicable diseases, are illnesses that spread from person to person through breathing in an airborne disease, contact with an infected person's blood or bodily fluids, or being bitten by an infected insect. These diseases can range from being asymptomatic to being fatal. What is the most troublesome transmissible disease in each country?

The above visualization utilizes a Choropleth heat map to indicate the transmissible disease that is responsible for the most disability-adjusted life years (DALYs) lost in every country. Below, bubbles are used to represent the DALYs lost to each country's most dangerous transmissible disease.
The following are the 10 countries that have the most DALYs lost due to their respective most dangerous transmissible diseases:
India: 24,836.1 DALYs lost to tuberculosis
Nigeria: 16,230.4 DALYs lost to lower respiratory infections
Pakistan: 5,861.8 DALYs lost to lower respiratory infections
Indonesia: 4,985.2 DALYs lost to tuberculosis
South Africa: 4,637.9 DALYs lost to HIV/AIDS
Democratic Republic of the Congo: 4,586.6 DALYs lost to lower respiratory infections
China: 4,209.4 DALYs lost to lower respiratory infections
Ethiopia: 3,267.5 DALYs lost to lower respiratory infections
Mozambique: 3,163.5 DALYs lost to HIV/AIDS
Philippines: 2,166.6 DALYs lost to lower respiratory infections
India tops the list with nearly 25,000 life years lost due to tuberculosis. Tuberculosis is a bacterial disease that attacks the lungs. In 2020, an estimated 10 million people contracted tuberculosis, resulting in about 1.5 million deaths. Symptoms of tuberculosis include coughing, chest pain, weight loss, and fever.