These are the Billionaires Who Own the Most Expensive Yachts in the World
When it comes to expensive toys for uber rich folk, the mega yacht might reign as the supreme status symbol. Sure, a private jet is cool, but does it come with a full-size basketball court, jacuzzi, restaurant or submarine? Super yachts have become a grand way to show off a billionaire lifestyle. The team at Staten Island Yachts did some digging to see just which have been the most expensive luxury liners ever built in the entire world.
Click below to zoom

The data art shows a detailed drawing of the vessel, each illustrated to scale, along with a portrait of the owner. Possibly the most expensive and elusive yacht listed is in the number one spot and called History Supreme. It's builder Stuart Hughes alleges the 100-foot yacht is covered in 22,000 pounds of gold and platinum and contains meteorites from space and T-Rex bones. Some skeptics will tell you it is absolutely not real and the biggest hoax in the industry, but Stuart Hughes still has photos of it up on his website.
How Many Companies Does Elon Musk Own?
Elon Musk has become the richest person in the world thanks to his many investments in the tech world, but how many companies does he actually own? As of late summer 2023 Musk is running six different companies, including his newest venture xAI. His newest company is, as the name suggests, an Artificial Intelligence company that he founded in July 2023. He created this new company to be a rival to the creator of ChatGPT, OpenAI. Interestingly enough OpenAI is one of the companies that Elon Musk used to own, according to this chart created by Madison Trust Company.
Click below to zoom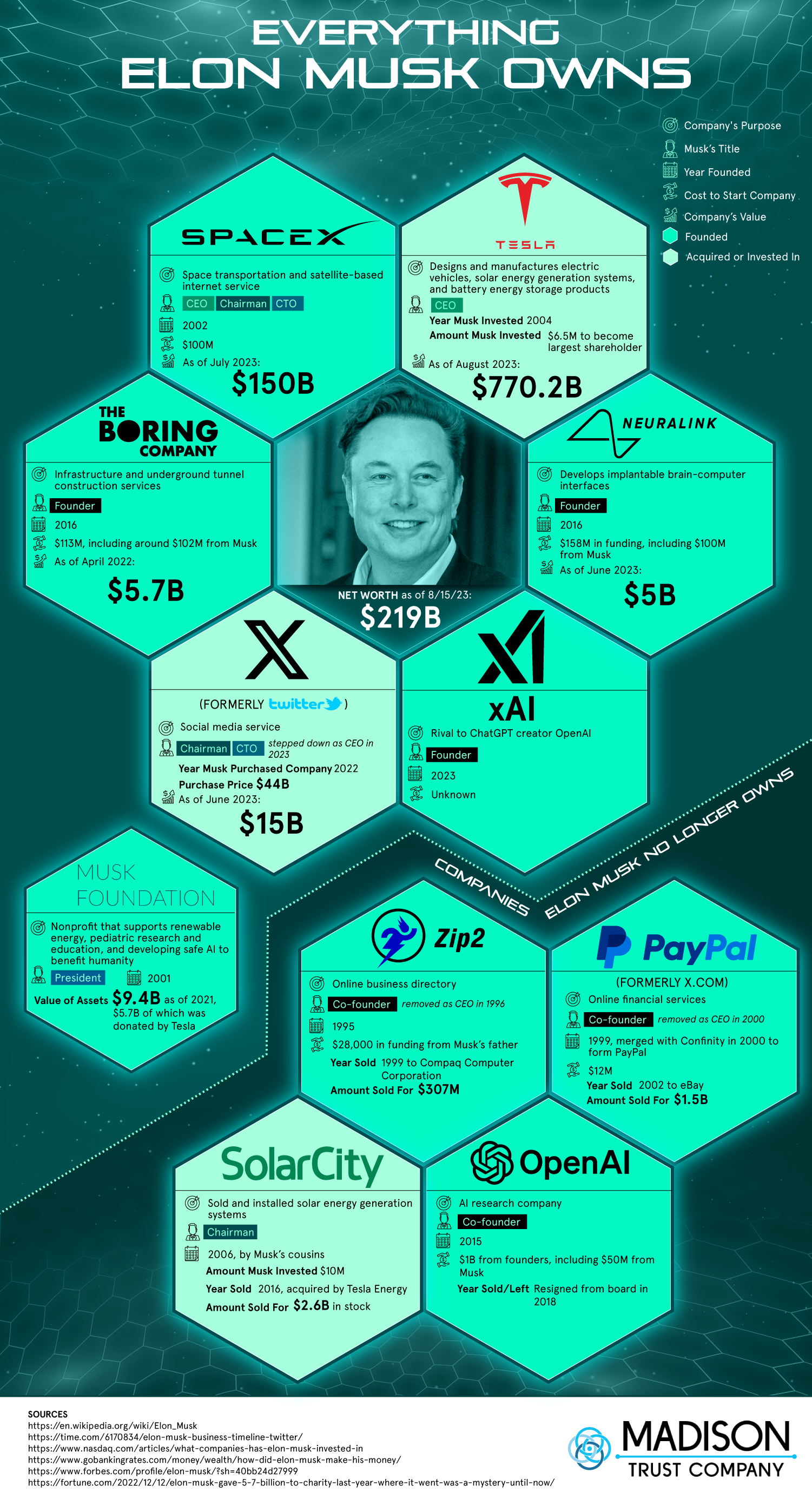 Their chart, entitled 'Everything Elon Musk Owns', has the six companies Elon Musk currently owns and the four companies he no longer has any stake in. It paints a descriptive picture of Elon Musk's rise to incredible wealth through the buying and selling of various tech companies since 1995. His rise to wealth started with creating online business directory Zip2, which he sold for $307 million after four years. His first big payday came from the $1.5 billion sale of PayPal to eBay in 2002. From there Musk invested in space transportation with SpaceX and electric vehicles with Tesla, both of which are valued at hundreds of billions of dollars today. But Elon Musk didn't stop there. He has also founded or invested in solar energy, AI research, underground tunnels, and even implantable brain-computer interfaces. Elon Musk's business interests are quite broad-ranging; it will be interesting to see what kind of technologies he invests in next.
56 Military, Commercial, and Personal Aircraft Ranked by Top Speed
What can go nearly six times the speed of sound and cost $2.5 trillion dollars to build and operate (adjusted for inflation)? The answer is the North American X-15, hypersonic rocket-powered aircraft that achieved the fastest aircraft flying speed of all time on October 3rd, 1967 when it reached 4,520 miles per hour! That is an awe-inspiring 75 miles per minute and 1.25 miles per second. GlobalAir.com has launched a compelling (or propelling?) chart visualizing aircraft ranked by max flying speed. More than half of the aircraft shown are capable of flying faster than the sound of speed!
Click below to zoom

How fast is the sound of speed anyway? Mach 1, or the speed of sound, varies depending on the temperature of the air (or other medium) that it is passing through. So at sea level on planet Earth at around 60 degrees Fahrenheit, the speed of sound is approximately 767 miles per hour. That means that the North American X-15, an aircraft operated by the United States Air Force and the National Aeronautics and Space Administration, flew at a rate nearly six times as fast as the speed of sound. The record was achieved by William J. Knight, a Vietnam combat pilot and test pilot for the U.S. Air Force. During his 16 flights in the aircraft, Knight became one of the few non-NASA pilots to earn their Astronaut Wings by flying an airplane in space – this was achieved by reaching an altitude of 280,500 feet (53.125 miles). It truly is extraordinary how far aviation technology has come in a century!
The Biggest Divorce Settlements in History
Divorces can not only be messy, they can be quite costly too! According to this chart of the most expensive divorces of all time, some of the most high profile divorces of our time came with a hefty settlement. This chart was created by the research team at WyomingLLCAttorney.com, who we assume knows a thing or two about divorces and how expensive they can actually be. Check out the chart below to see which celebrities and business tycoons ended up having to pay the most money to their ex-spouse during the divorce. Nine out of the forty-four divorces included ended with a settlement in the billions!
Click below to zoom

Why do some divorces end with a large settlement? This is often the outcome when a couple divorces and one spouse earns a lot more money than the other, as long as there was no pre-nup in place before they got married. Divorce settlements have even led to the other spouse becoming a billionaire overnight. One such case of this was the infamous divorce between Amazon founder, Jeff Bezos, and his wife Mackenzie Scott. The two married long before Amazon became one of the most valuable brands in the world; and when they divorced in 2019 Mackenzie got 25% of the couple's Amazon stock, which was worth a whopping $38 billion. Their divorce settlement instantly turned Mackenzie Scott into not only a billionaire, but one of the world's richest women at the time. Which famous couple's split were you surprised to see on the list of the most expensive divorces of all time?