Time-lapse Videos Show the Rise and Fall of Iconic American Retail Stores
The rise of major streaming services such as Netflix and online retailers such as Amazon have had a devastating impact on once-booming American classic retail establishments such as Blockbuster Video and Toys"R"Us. This phenomenon is precisely what today's time-lapse density maps aim to visualize.
These videos come to us from Reddit user /u/V1Analytics. The user created them using Excel, Python, and Blender 2.8. They shared them on the /r/DataisBeautiful Subreddit here and here where they raked in an impressive number of Upvotes at over 90k and 57k respectively.
Blockbuster Video US store locations between 1986 and 2019
Blockbuster Video opened its first retail location in October of 1985, but this time-lapse starts 10 months later in August of 1986. At the time, the company boasted only 5 stores. The company almost immediately saw what can only be described as a viral spread of locations. One year later, there were 68 stores spanning coast to coast and by 2003, the company was hitting its peak at about 5,600 stores nationwide. But after nearly 20 years of steady growth and industry domination, the tides began to turn. The company lost over 80% of its stores with about 1,000 remaining by 2012, and was at about 350 stores at the same time the following year. Today, there is still 1 store (albeit privately owned) in operation in Bend, Oregon.
[OC] Blockbuster Video US store locations between 1986 and 2019 from r/dataisbeautiful
From August to August, here's a quick yearly rundown of how fast the company spread and how fast it all came crumbling down.
1986 – 5 stores
1987 – 68
1988 – 290
1989 – 794
1990 – 1,234
1991 – 1,578
1992 – 1,899
1993 – 2,251
1994 – 2,587
1995 – 2,942
1996 – 3,285
1997 – 3,645
1998 – 3,934
1999 – 4,468
2000 – 4,978
2001 – 5,240
2002 – 5,433
2003 – 5,569 (notice the decrease in growth from '02 to '03)
2004 – 5,690 (still growing … but barely)
2005 – 5,678 (holding steady?)
2006 – 5,315 (over 300 stores lost in 1 year)
2007 – 4,914
2008 – 4,629 (consistently losing 300-400 stores per year; now falling as fast as it was once growing)
2009 – 4,188
2010 – 3,480 (not looking good)
2011 – 2,097 (yikes)
2012 – 1,097 (1,000 stores down in one year!)
2013 – 361
2014 – 44
2015 – 24 (the final stores certainly put up a fight)
2016 – 14 (still holding on)
2017 – 9 (back down to 1986 numbers 30 years later)
2018 – 2
2019 – 1 (and that store is still open today!)
In the end, its reliance on brick and mortar and inability to adjust with the times (Netflix DVD delivery and eventual streaming services) lead to its swift and painful demise.
Toys"R"Us Stores Across the US from 1957 to 2020
And here's a similar tale from another classic bygone store. For those of you who are too young to remember, Toys"R"Us was the Shangri-La for kids; literally a full size department store FILLED with toys. The nostaliga is real!
It was glorious but simply could not compete with the major online retailers such as Amazon. See for yourself below:
[OC] Toys "R" Us Stores across the US from 1957 to 2020 from r/dataisbeautiful
Surprisingly, as of 2019, Toys"R"Us is trying to make a comeback in the United States.
Now hopefully we can convince V1Analytics to do the same with KB Toys and even Gamestop/EB Games now that they're on the way out.
What Is The Preferred Online News Sites For Each State To Get Their News From?
Fake news has become a hot-button issue in recent years, with many questioning where they and others are getting their news from. So, where is everyone getting their news from? One company, Semrush, sought the answer to this question by finding which news websites each U.S. state was searching for the most.
Click below to zoom

Utilizing the Google Trends tool, they found the popularity scores of each of the 15 most popular news websites (based on unique monthly viewers) for all fifty states. These popularity scores rank the states on a scale of 0 to 100, with 100 going to the state where the website's name made up the highest proportion of total searches. Some states were found to score a 100 for multiple news sites, while other states didn't score a 100 for any of them. To determine the most searched news site in each state, Semrush selected the one that earned the highest popularity score for that state. The states in the map were filled-in with the logo for their most searched news site, making it easy to see popularity trends for the news websites across the United States. The deep south and parts of the "The Great American West" prove loyal to Fox News; while much of the southwest prefers to get their information from Yahoo! News. CNN is the top choice for those in the northern East Coast states, with ABC News a close second. This is just brushing the surface of what this visual has to offer, check it out for yourself to see which states were found to have the most interest in searching for news sites, as well as the top 5 metro areas where each of the 15 news sites is searched for the most.
This Map Shows the Age of Every Building in Paris, France
France is known for its food, culture, and architecture. It is home to some of the oldest structures in the world. The Cairn of Barnenez is a Neolithic monument in northern Finistère, France. It dates back to 4800 BC. You can see the history of France through its many different architectural styles. When we think of old traditional French architecture, buildings like the Palace of Versailles and the Notre-Dame come to mind but, did you know the Louxor obelisk (even though it was a gift from Egypt) was built in 13 BC? The Les arènes de Lutèce, a Roman amphitheater that use to show gladiator fights, is dated in the 1st century. The Abbaye saint Germain des prés is 6th century. Many of the most famous buildings in France are located in the capital of Paris. You know of the Eiffel tower and the Louve, but there is also beautiful architecture all over the city neighborhoods. If you walk down any Paris street you see buildings that were built hundreds of years ago. This beautiful map of Paris shows the ages of livable dwellings throughout the city.
Click below to zoom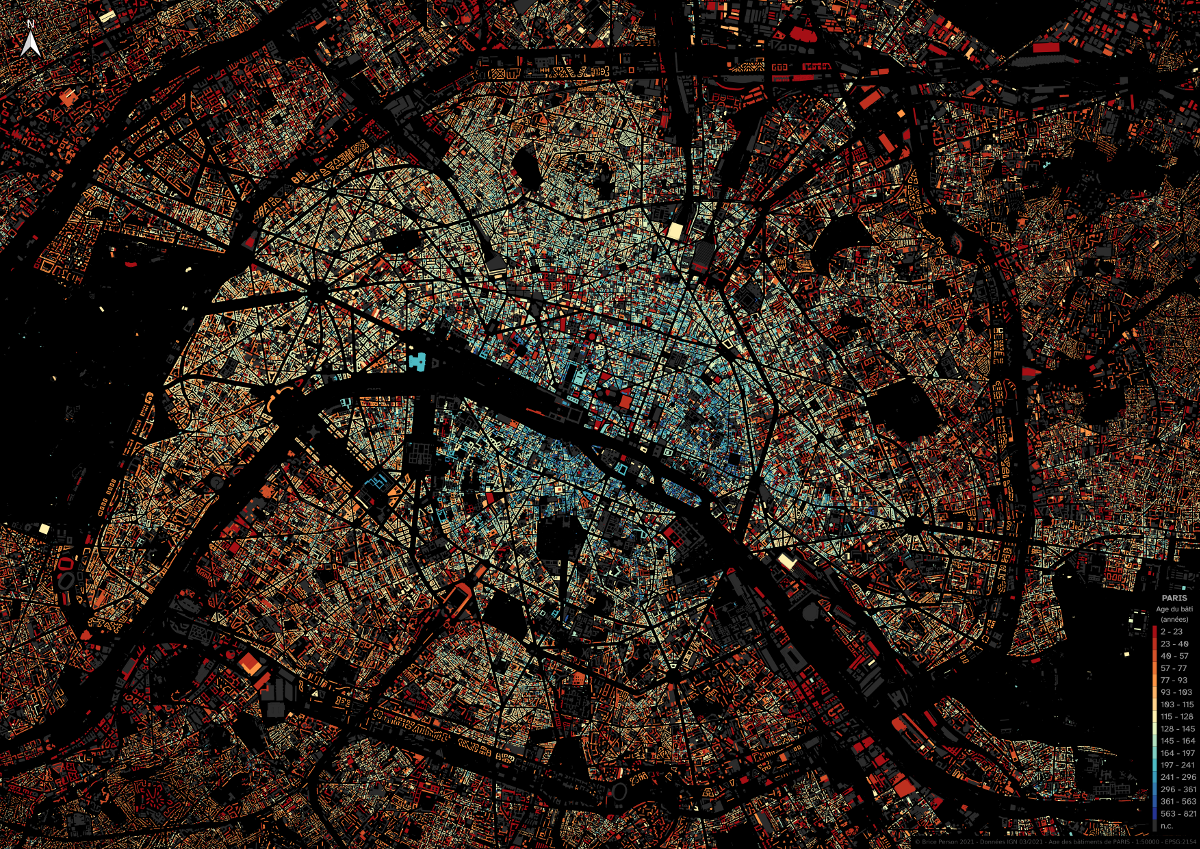 The color-coded geo map shows how old the buildings in Paris are, ranging from 2 years all the way up to 821 years old. You can see the oldest buildings are located in the center of the map and buildings outside of that tend to be newer. Imagine living in a building that is over 800 years old? The sights, the sounds, the ghost stories that must be a part habitation in such a historic location. The oldest buildings in the United States are only over 300 years old, a far cry from many of the buildings on this map.
A Visual Guide to the World's Largest Bodies of Water
Did you know that about 71% of Earth's surface is covered with water? Between the large salt water oceans and long fresh water rivers, water makes up a significant part of our planet. Some particular bodies of water like the Pacific Ocean make up the majority of water on Earth. This visualization from TowerPaddleBoards.com illustrated 50 of the largest bodies of water on Earth.
Click below to zoom

The graphic depicts the Earth's oceans, 15 largest seas, 15 largest lakes, and 15 largest river systems in an interesting way. It illustrated the outlines of each body of water and includes a photograph of the water system within the boundaries. The visualizations of the river systems also include the streams connected to the systems.
These are the 10 largest bodies of water in the world:
Pacific Ocean: 60 million square miles
Atlantic Ocean: 41 million square miles
Indian Ocean: 27.2 million square miles
Southern Ocean: 7.8 million square miles
Arctic Ocean: 5.4 million square miles
Philippine Sea: 2.1 million square miles
Coral Sea: 1.8 million square miles
Arabian Sea: 1.4 million square miles
South China Sea: 1.3 million square miles
Weddell Sea: 1 million square miles
The Pacific Ocean makes up about 46% of the water surface on Earth and 32% of the planet's total surface. It's larger than all of the land area on Earth combined! It is also home to the Mariana Trench, the deepest oceanic trench on Earth with a maximum known depth of 36,037 feet.