Where in the U.S. Have the Highest (and Lowest) High School Graduation Rates?
The United States is a colossal country with an incredible range of beliefs, livelihoods, and experiences. One thing that unifies the vast majority of America is school. Federal laws require that children receive some form of education (public, private, homeschooling, etc.) for a period of time. In 2021, the average high school graduation rate in the United States was 85.3%. This incredibly detailed chart by the U.S. Career Institute explores how this rate varies across U.S. counties.
Click below to zoom

Visually, I really appreciate the use of formal, "prestigious" colors for the heat map and throughout the chart. The header font is excellent; I am planning to use it in some of my own projects! The diploma-like border is a nice touch. Let's take a closer look at the extra-large and small counties so we can get a more complete picture of how graduation rates vary across America.
Here are the top five extra-large counties with the high school highest graduation rates:
Alleghany, Pennsylvania – 95%
Oakland, Michigan – 94%
Collin, Texas – 94%
Montgomery, Pennsylvania – 94%
King, Washington – 93%
And here are the five extra-large counties with the lowest high school graduation rates:
Bronx, NY – 73%
Kern, California – 74%
Fresno, California – 76%
El Paso, Texas – 78%
Los Angeles, California – 79%
Here are the top 5 small counties with the highest high school graduation rates:
Falls Church City, Virginia – 99%
Clear Creek, Colorado – 99%
Petroleum, Montana – 99%
Morgan, Utah – 98%
Gilpin, Colorado – 98%
And lastly, here are the top 5 small counties with the lowest high school graduation rates:
Kenedy, Texas – 26%
Presidio, Texas – 53%
Hudspeth, Texas – 56%
Clark, Idaho – 60%
Issaquena, Mississippi – 61%
I suppose not everything is bigger in Texas after all. All kidding aside, I looked into why the education system in Texas is failing so many children. Some issues I encountered are low teacher salary, dropouts from traditional schooling in favor of trade school or other alternatives, gun violence, mental health struggles, and conflict surrounding how to assess children's performance. It is such a massive state, so it is no wonder that reform comes slowly and with a lot of resistance.
How Much Teachers Spend on Their Classrooms in One School Year
It was twenty years ago that the educator expense deduction was set, and today, tax time is always a difficult reminder for teachers across the United States that the deduction itself isn't quite enough. The educator expense deduction has allowed teachers to deduct up to $250.00 for out-of-pocket classroom expenses since 2002, and the maximum amount has remained the same today.
Click below to zoom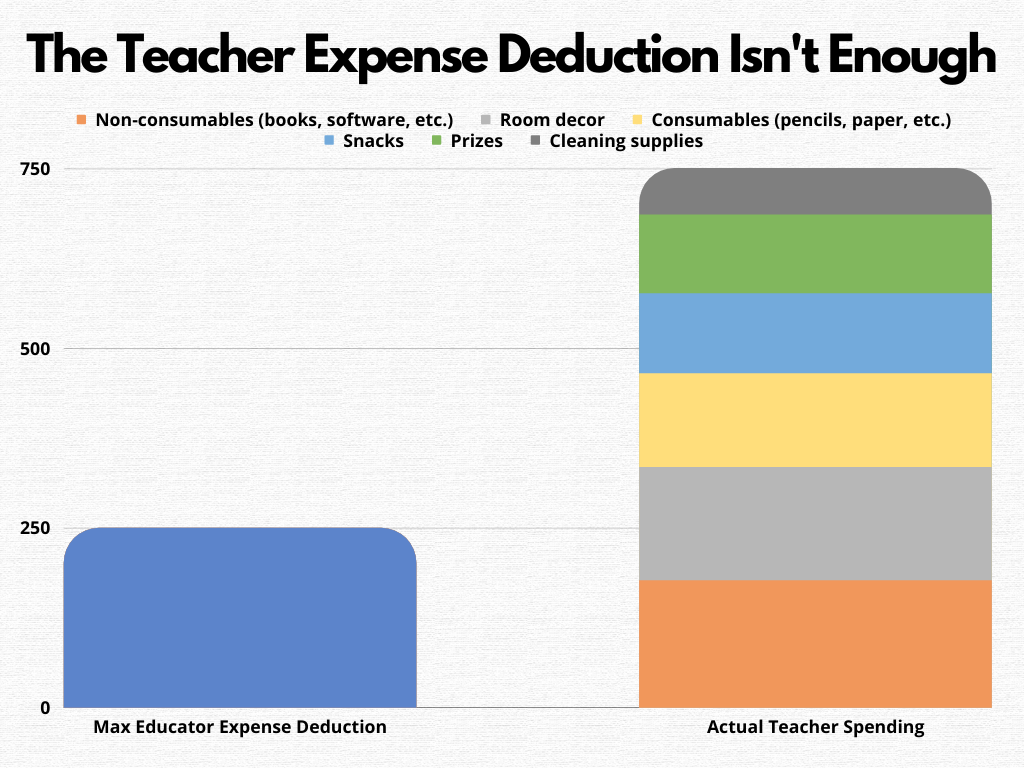 One of the major issues lies in that on average each year, teachers are spending an average of $750.00 of their own money for classroom expenses, which is an astounding three times more than they're able to deduct around tax time. In the United States alone, teachers have spent about $2.8 billion of their own money, for their students, on supplies like pencils, paper, cleaning supplies, books, software and more.
A look at this visualization, found via My eLearning World shows the breakdown of how teachers are spending on their classrooms, with this pie chart broken down into six different areas. The leading area of expense is the non-consumable supplies, which includes books and software.
Non-consumable supplies (books, software, etc.): 23.6%
Class decor: 21%
Consumable supplies (pencils, paper, etc.): 17.4%
Food & snacks: 14.8%
Prizes: 14.6%
Cleaning supplies: 8.6%
Teacher salaries have not been keeping up with inflation either. Since 2015 alone, the spending on classroom supplies for teachers has increased approximately 25%, yet they're still only able to deduct $250.00 at maximum at tax time. Some have even said that the cost of classroom supplies is $250.00 each month.
Per NPR, it's reported that about 55% of those who are still teaching as a profession are strongly considering leaving the career behind for something else, much sooner than they had originally planned to. With an estimated 567,000 less teachers than there were prior to the COVID-19 pandemic hit, the shortage of educators in the United States is alarming, but perhaps with good reason.
The Oldest Businesses in the United States
Across America, there are many businesses still in operation that are older than the Declaration of Independence! Since the dawn of the United States, establishing a business to serve the people and make a living has been a cornerstone of the American spirit. This fascinating chart created by the team at Wyoming Trust & LLC Attorney is a celebration of the pioneering backbone of the the United States:
Click below to zoom
Did you know that the Jim Beam Distillery has been in operation since George Washington was president? It was established in 1975, making it the oldest business in Kentucky. That's why I love gathering content to share with Chartistry; you get to learn all sorts of obscure trivia!
The oldest business in the United States that is still operational is the Shirley Plantation in Charles City, Virginia. The grounds were first established in 1613 by English merchant and politician Sir Thomas West, 3rd Baron De La Warr. Here is another fun fact about the baron; the bay, river, a Native American people, and a U.S. state were all named "Delaware" after him.
The second oldest business in America is Tuttle's Red Barn in Dover, New Hampshire, established in 1632. There are claims that it is the oldest known family-owned farm in America, but this has been challenged. It has been passed down across eleven generations since John Tuttle arrived in the New World with a land grant from Charles II of England. It was originally 20 acres, but it expanded to its peak of 240 acres during the 20th century. Nowadays, the farm's largest crop is sweet corn.
Which State Has The Highest and the Lowest Rate of Boat Ownership?
Where in the United States do you think you would find the highest rate of boats per capita? If you guessed Minnesota, you would be correct! According to SIYachts.com's chart 'Which U.S. State has the Most Recreational Boats & Yachts per Capita?', there are 143.6 boats and yachts per 1,000 people in Minnesota. The state boasts the most named lakes in the country with 15,291 natural lakes; 11,824 of which are larger than 10 acres making them a great option to boat on. Due to the vast number of lakes across the state, Minnesota is known as the Land of 10,000 Lakes. Wisconsin has almost as many lakes as Minnesota with 15,074; although only 6,044 of the lakes are named. A lake is commonly left unnamed if it is too tiny, a farm pond, or a minor lake in a remote area.
Click below to zoom

On the flip side, which state do you think would have the lowest rate of boats and yachts per capita? You may be surprised to find that Hawaii ranked last in the nation with a rate of 8.5 boats and yachts per 1,000 people. Minnesota's rate per capita is seventeen times the rate in Hawaii! Why is the rate so low in a state that is surrounded by water? Apparently a lack of support for the industry and its necessary infrastructure is to blame. Hawaii's limited number of marinas are small in size, and many are in need of repair. This has led to a high cost for storing boats on land, another deterrent to the state's boating industry. Which states were you surprised to see had such a high, or low, rate of boat ownership?