Which National Park is the Closest to Where You Live?
If you've ever wondered which of the sixty-three National Parks that are scattered throughout the United States is closest to you, then wonder no more! We came across this map that breaks the country down into 63 regions, to show which National Park is the closest for every area in the United States. While we originally found this map visual shared in the r/dataisbeautiful subreddit, it was originally created by esri using the Thiessen (Voronoi) polygon tool.
Click below to zoom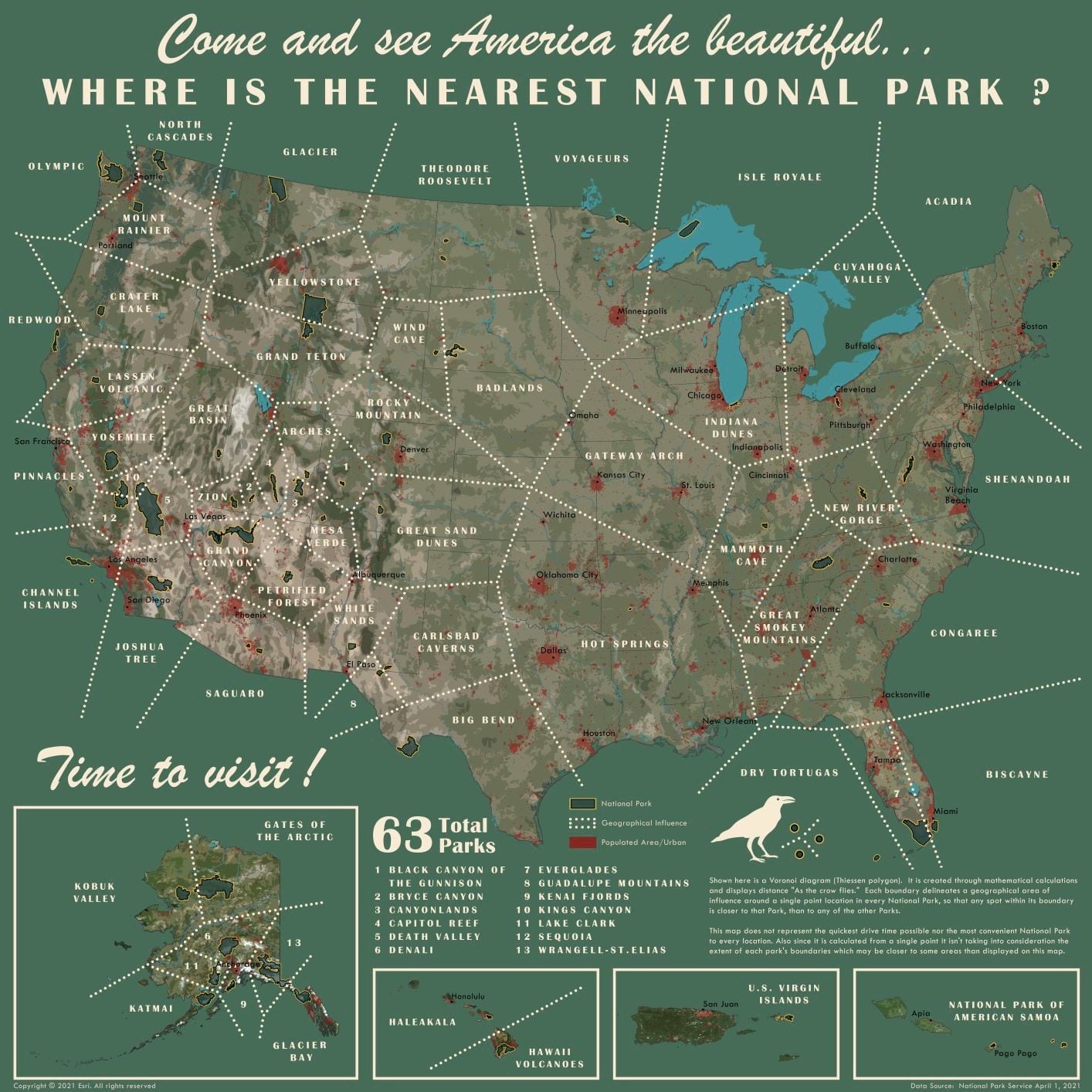 If you're also picking up vintage vibes from this map, that's because it was designed to be reminiscent of vintage National Park posters. An excellent design choice in our opinion! How did they determine which National Park was the closest to every area in the U.S.? The distance in each boundary is displayed "as the crow flies" so any spot within each National Park's boundary is closer to that park than to any other. Although these boundaries do not take into account the shortest drive time or the most convenient National Park to each location. Looking at the map you can see that there are a lot more National Park options on the western part of the country than on the eastern. This is due to the west having a lot more open land available when the National Park Service began in 1916, while the eastern side of the country had a lot more of its land already developed at that time. Which of the sixty-three National Parks is the closest to you!?
Where Project Management Specialists Earn the Most in the U.S.
If you're currently in your career as a Project Manager, are you reaching your full earnings potential? If not, there's certainly opportunity out there.
This colorful and fascinating visualization from Financial Force dives into the average salaries of Project Management Specialists, to see just where people in the career fields of project management are making the most and least amounts of money.
Click below to zoom


Where do Project Managers make the most money?
Project Management Specialists earn the most in San Jose, California, where the average annual salary is $133,950. Aside from San Jose, the only other metropolitan area in the United States where Project Managers earn more than $130,000 annually is Birmingham, Alabama ($130,250).
Per the research and data from the team at Financial Force, it was found that these were the ten metropolitan areas where Project Management Specialists earned the most on an annual basis.
San Jose, California: $133,950 annually
Birmingham, Alabama: $130,250 annually
Seattle, Washington: $125,330 annually
San Francisco, California: $124,430 annually
New York, New York: $116,230 annually
Washington, D.C.: $114,540 annually
Boulder, Colorado: $110,130 annually
Western Wyoming: $109,490 annually
Decatur, Illinois: $109,190 annually
Durham, North Carolina: $109,180 annually
Which State pays the most for Project Management Specialists?
In New Mexico, Project Management Specialists can earn an average annual salary of $123,160, which is the most of any U.S. state. Other states with annual mean wages of more than $110,000 across the United States include Washington ($120,800), New York ($111,890), New Jersey ($111,460) and Virginia ($109,980).
According to the data and research shown on this visualization, it was determined that these were the ten states where Project Management Specialists made the most annually.
New Mexico: $123,160 annually
Washington: $120,800 annually
New York: $111,890 annually
New Jersey: $111,460 annually
Virginia: $109,980 annually
Alabama: $109,100 annually
California: $108,990 annually
Delaware: $106,930 annually
Massachusetts: $106,690 annually
Illinois: $104,520 annually
The average annual salaries for Project Management Specialists in these ten metropolitan areas across the country are especially impressive considering that the average salary range in general is $65,567 to $77,401 annually.
Which State is Leading The Nation in Electric Vehicles?
Which U.S. state would you guess has the most electric vehicles? If you said California, you'd be right! Not only does California have the most electric vehicles overall due to its large population, but California was also found to have the highest rate of electric vehicles on a per capita basis. According to the U.S. Department of Energy, the total number of electric vehicle registrations in California reached a high of 425,300. This amounts to a rate of 1,083.9 registrations for every 100,000 people that live in the state. California's high rate of electric vehicles may be due to the state releasing a plan to phase out gas-powered cars by 2035 to try and improve air quality.
On the flip side, which state in the U.S. has the lowest rate of electric vehicles on the roads? Mississippi's low number of electric vehicle registrations puts it at the bottom of the list. Only 780 electric vehicles have been registered in the state of Mississippi, leading to a low rate of just 26.34 electric vehicle registrations for every 100,000 people. How many electric vehicles are on the road in all of the other U.S. states? Learn more with this chart that was created by the people at AlansFactoryOutlet.com and ranks all fifty states based on the number of electric vehicles that have been registered per 100,000 residents. Read on to see which states are leading the nation when it comes to driving electric vehicles, and which states still have a long way to go.
Click below to zoom

The Oldest Businesses in the United States
Across America, there are many businesses still in operation that are older than the Declaration of Independence! Since the dawn of the United States, establishing a business to serve the people and make a living has been a cornerstone of the American spirit. This fascinating chart created by the team at Wyoming Trust & LLC Attorney is a celebration of the pioneering backbone of the the United States:
Click below to zoom
Did you know that the Jim Beam Distillery has been in operation since George Washington was president? It was established in 1975, making it the oldest business in Kentucky. That's why I love gathering content to share with Chartistry; you get to learn all sorts of obscure trivia!
The oldest business in the United States that is still operational is the Shirley Plantation in Charles City, Virginia. The grounds were first established in 1613 by English merchant and politician Sir Thomas West, 3rd Baron De La Warr. Here is another fun fact about the baron; the bay, river, a Native American people, and a U.S. state were all named "Delaware" after him.
The second oldest business in America is Tuttle's Red Barn in Dover, New Hampshire, established in 1632. There are claims that it is the oldest known family-owned farm in America, but this has been challenged. It has been passed down across eleven generations since John Tuttle arrived in the New World with a land grant from Charles II of England. It was originally 20 acres, but it expanded to its peak of 240 acres during the 20th century. Nowadays, the farm's largest crop is sweet corn.